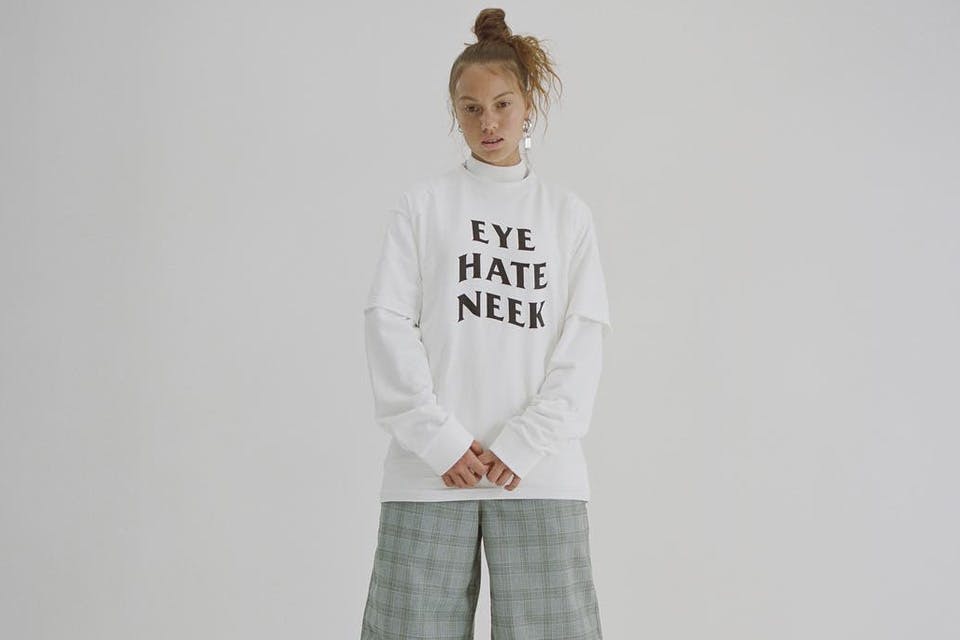 Anti Social Social Club founder Neek Lurk is quite happy to potentially flame his brand's supporters. Following continuous online complaints about late and undelivered goods, the Los Angeles-based label responded to the concerns by unveiling a very sardonic, emoji-filled SS18 collection.
The collection features a select number of slogan tees with messages that seemingly riffed upon fans' much-publicized sentiments regarding the brand's infamous delivery times — one even directly namedropping Neek. The statements included "SCHIZOPHRENIA," "WILL YOU DIE?" and "EYE HATE NEEK," the latter garnering the most attention.
Some Reddit users weren't happy with the T-shirts, claiming they effectively confirmed the brand's contempt for its customer base.
Others, however, have argued that the label is listening to its fans, albeit in a droll way.
For the latter point to make sense, one must consider Lurk's use of a growing trend in luxury fashion: irony. In recent seasons, luxury brands have adopted a streetwear sensibility, tapping into the bootlegging game and even parodying their own collections.
Gucci's Creative Director Alessandro Michele famously reworked the brand's counterfeit-turned-legit logo on chunky sneakers, T-shirts, and accessories; DIESEL dropped its own parody "DEISEL" collection on New York's Canal Street; while Fendi appropriated FILA's logo for its FW18 women's collection.
Of course, the king of irony currently is Balenciaga creative director and Vetements cofounder Demna Gvasalia, who has previously nodded to DHL, IKEA, James Cameron's Titanic and even Bernie Sanders' presidential campaign.
In an interview with BoF, Gvasalia spoke of his use of irony as a creative device, stating: "Irony is both about making you smile or laugh, but it can also be quite painful because it asks questions. With irony, you can ask questions that are delicate, but there's a thin line between irony and sarcasm so I have to be careful not to overstep it."
The question is, did Lurk cross said line with his recent collection?
It could also be argued that the statements are essentially a self-callout, echoing the complaints of customers. In preempting further criticism by way of self-judgment, Lurk acknowledges the brand's shortfalls and bypasses the need for a formal explanation; the clothes speak for themselves. As a result, shoppers who wish to continue purchasing items from the brand do so at their own risk, or at least acknowledge that the brand has readily engaged with the complaints stacked against it.
When it comes to production, fans have speculated that delays in orders can be attributed to the brand's overnight rise. Following initial reports of delayed shipments in 2017, the label issued a statement citing the company's sudden growth and change in logistics as to why orders were not met.
Perhaps ASSC's only crime may be that of growing too fast, but some fans appear understandably sour as to how the issues have been communicated back to them. It remains to be seen whether those still waiting for their orders see the funny side and purchase the latest drop, or if it represents a watershed moment that broke the camels back.
ASSC's SS18 collection isn't due to arrive until March 10. Will you be copping it?
In other style news, here's a full look at the Supreme x Nike NBA Collection.