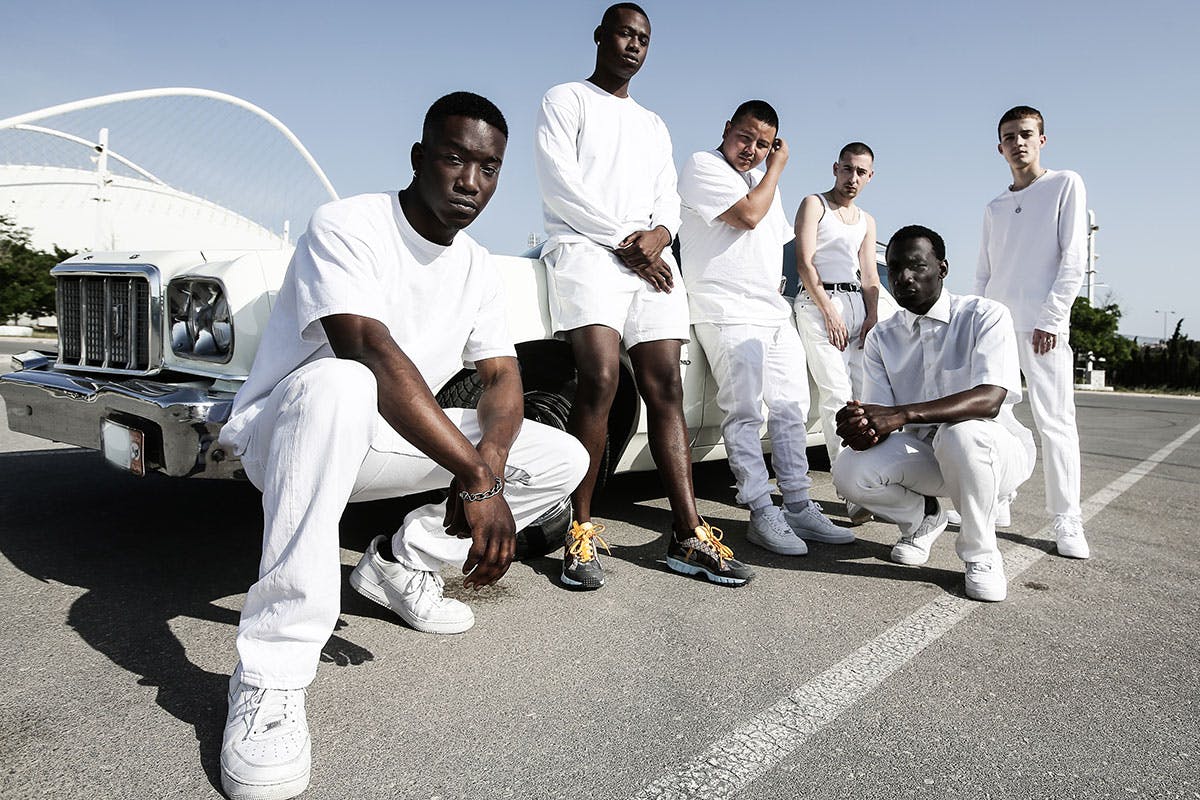 "What do people know about Athens?" asks Valentin Rivera, letter A tattooed above his left ear, visible under the neat buzz cut. "They know an ancient city, they know the Parthenon. They'd have no clue they're making rap in Athens. We want to show the city to the world, and the new wave of guys doing cool things here."
Ironically, from the rooftop bar where we're sitting, the Parthenon (the temple of Athena dating back to the 5th century BC) is perfectly visible, a focal point in the hazy cityscape drenched in bright sunlight. Rivera is right, it's not a city known for hip-hop or contemporary creativity — more for antiquity and the impending financial crisis. But in the era when SoundCloud and Instagram easily transcend borders, ATH Kids are determined to make a case for their city.
"Valentin and I grew up around the same area of Patisia, and we were both skating, so we just became friends. Around 2015 we came up with the concept for ATH Kids. ATH was like ATL for Atlanta, and kids came from Larry Clark's movie with the same name," says Kareem Kalokoh, co-founder of ATH Kids and one of the most prominent voices in the gang. "Back then, no one wanted to show the grungy urban side of Athens. We released the first track 'New Flame', and from there it just took off."
The video for "New Flame" shows the gang hanging out in a laundrette, and around gritty corner shops and coldly-lit underpasses. It's instantly relatable, because it could easily be New York or London, but it's also a recognizable snapshot of the backstreets of Athens. The Athens of ATH Kids is not the city most tourists encounter on a weekend trip; it's the city of graffiti-covered abandoned storefronts and cracked sidewalks, soundtracked by the whizz of motorcycle tires and car alarms, the city of boxy '60s housing estates which roll all the way to the mountainous horizon. It's the city which not many people — either visitors or locals— are keen to see. But for ATH Kids, it's a source of realness and inspiration.
ATH Kids is a loose creative community which currently involves eight people. It's key voices are Kareem Kalokoh, who recently released his LP CONGO and beams with confidence and candor; Nick Turay aka Majin Cost serving darker, slower, almost viscous vibes; and Dimos Kallay aka Complex Shadow, whose alluring yet detached numbers combine cold synthy sound with intricacy of spoken-word poetry. Valentin Rivera acts as a creative director, and is responsible for photography and video, alongside another video director Theodore Selekos. The sound part is handled by two beat-makers: Danny aka dazedboi and Jamal Ernesta aka Taj Jamal; and Joseph Mouzakitis who is a DJ. For everyone involved, ATH Kids has been about collaboration and community since their early days of hanging out together in Athens.
"You see a black dude, a Latino dude, a white dude — and they speak Greek and rap in English, it's a crazy mix, but that's also the most important part of who we are," Kareem adds. "Everyone in the group is an individual but we share the same vision, and it's very rare to find it."
"We also share the same experiences, because we all come from immigrant homes. So many kids here in Athens come from immigrant homes, and we have the same values", adds Complex Shadow. "But as a collective we create something you usually don't see in Athens, which comes from passion for music, culture, and art really."
Despite the influx of different cultures for centuries, Athens is still a predominantly white city, with a great deal of inherent racial prejudice. Was it challenging growing up here as a black kid from an immigrant family? "Of course," Kareem and Dimos both nod with conviction. "You face a lot of racism, you're considered an outcast, but we still rep the city, because we know the city", Kareem adds.
In 2018, Athens is a complex yet thrilling place, where global politics truly comes to the surface. A lot's been written about the challenges of the financial crisis, austerity, and unemployment. The city is also a newfound home for thousands of refugees escaping war and destruction in Syria, Afghanistan, and Iran (the number of documented refugees waiting for their asylum approval in Greece is over 60,000). At the same time, Athens attracts a great deal of artists, writers, and all kinds of digital nomads from other European capitals, which got the city dubbed the new Berlin — a term rightfully loathed by the locals. In recent years, the new wave of home-grown cultural projects emerged in the city with rougher and more honest stories to tell — and ATH Kids are at the forefront.
"In Athens, we give the inspiration", Valentin says. "We've only been around for a couple of years, but now everyone uses ATH everywhere — magazines, hotels, parties, even the new metro tickets."
Despite their success in creating the new cutting-edge brand for the city, music and art are not a source of easy cash here, more a labor of love. Most of the crew have jobs and invest their earnings into the ATH Kids creative projects. "We're not living from the music, we're living for the music," Valentin laughs.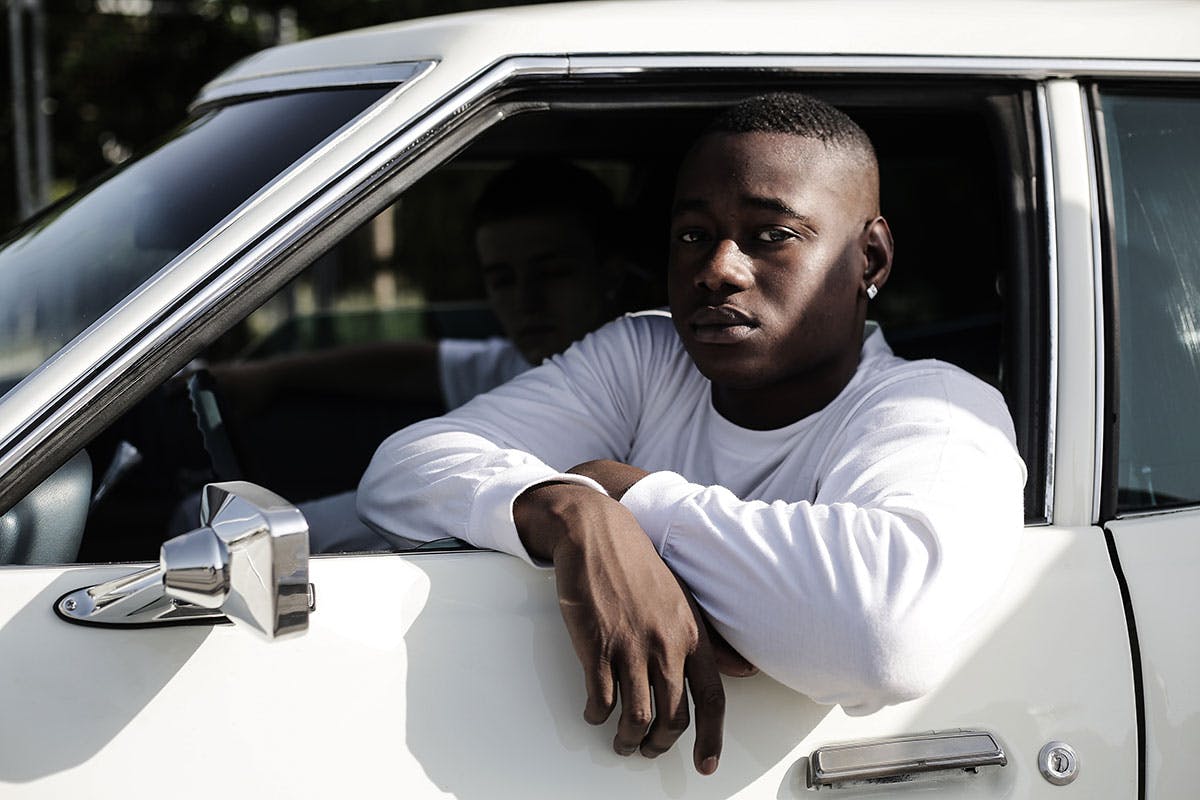 In the last year, ATH Kids played in Paris at parties from Kitsune and French-Greek label Pressure, and Eurosonic Festival in the Netherlands — their plans and ambitions are clearly bound to the global music scene. "Before it was very hard to go outside of your city and country. But today because of the internet you don't have gatekeepers. If I want to, I can be in Tokyo, or Paris, I can be there tomorrow," Kareem says. "Working in the global context makes me think of what happened with Gosha Rubchinskiy. He came and showed us a new culture, and everyone was like 'whoah, that's something.'"
The streets of Athens is where ATH Kids got their unique story, but it's also where they got their attitude. "The Greek audience [are] the most honest assholes ever," Kareem laughs, "but we got their support from the beginning. And now we see a lot of kids who are younger than us, who learn from our example, they get into music from [an] earlier age and they do it good." Although ATH Kids' ambitions are bigger than the place they're from, Athens is integral to their creative vision - and ATH Kids are integral to the new city Athens is about to become.
Fore more like this, take a look at our chat with rising African artist Kah-Lo right here.