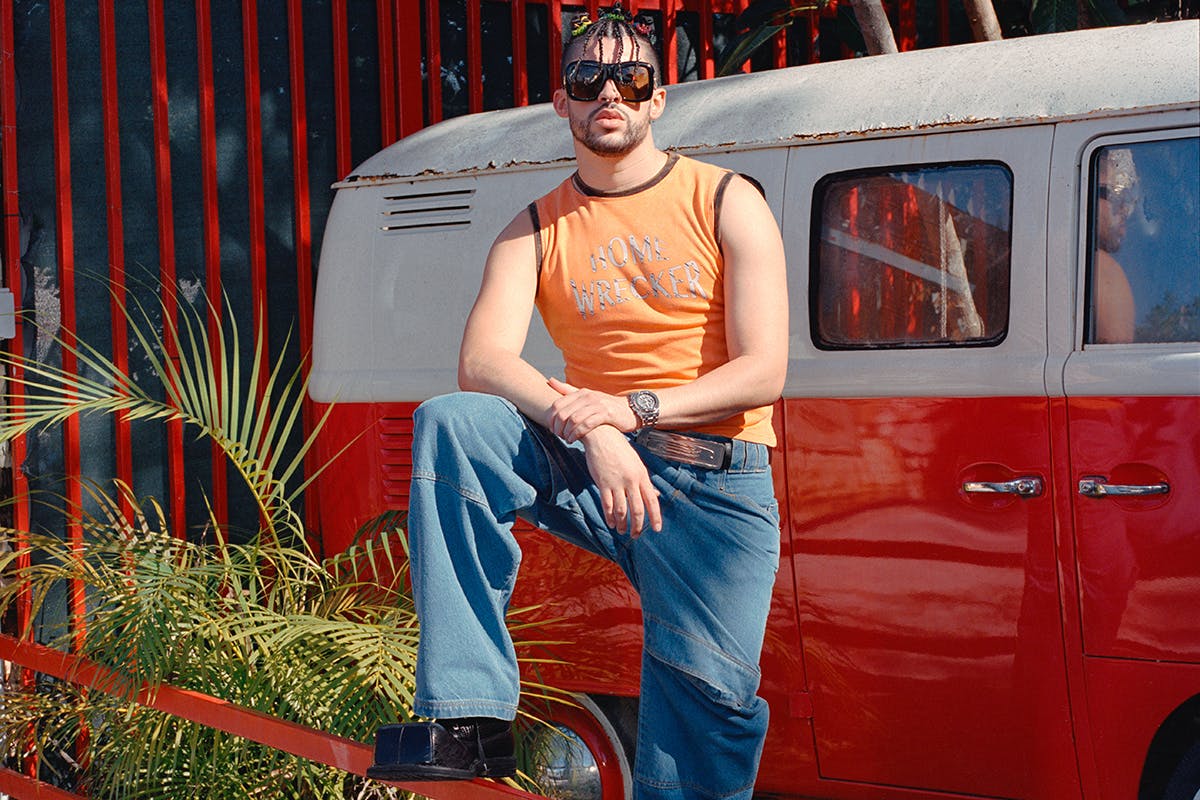 The loudest man on Planet Earth is the cover star for our debut issue of HIGHArt.
Styled by our own Corey Stokes, Bad Bunny stands against a grey Miami sky wearing a predominantly black outfit. But don't be fooled into thinking that the monochrome theme of this look means that he had dressed down from his usual eccentric uniform. Just as the look he wore to the 2021 Grammy Awards proved, an all-black look for Latin rap superstar is by no means a quiet statement. Huge feather sleeves, yellow crocs, and a massive disco ball ensure that all eyes are on the musician.
Since his breakthrough single "Soy Peor" released in 2016, the artist has had countless style moments, all of them with a through thread of absurdity and creativity. There was him performing in a giant pokemon onesie on The Late Late Show with James Corden, dressing up in full drag for the Yo Perreo Solo music video, and him turning up to the American Music Awards in 2018 with a third eye planted on his forehead. The 27-year-old has a long history of wearing whatever he wants.
With such a varied and playful wardrobe, you may be wondering where he manages to get the inspiration for his looks. Well, in our latest feature, Bad Bunny gives us an insight into this, telling us; "I'm not a fan of any specific designer — or look at big name brands... I always say that there's people in our barrios, in our cities that stunt so much that it makes me say that cabrón should be more famous than some of these other influencers. And yet they're out there just working at a mart or a local store. Those everyday people inspire me so much."
Regardless of whether it is through an unconventional accessory, exaggerated silhouette, or bright colors, Bad Bunny always manages to make a statement. Here are five times that he has nailed being over the top.
Channeling Yeezy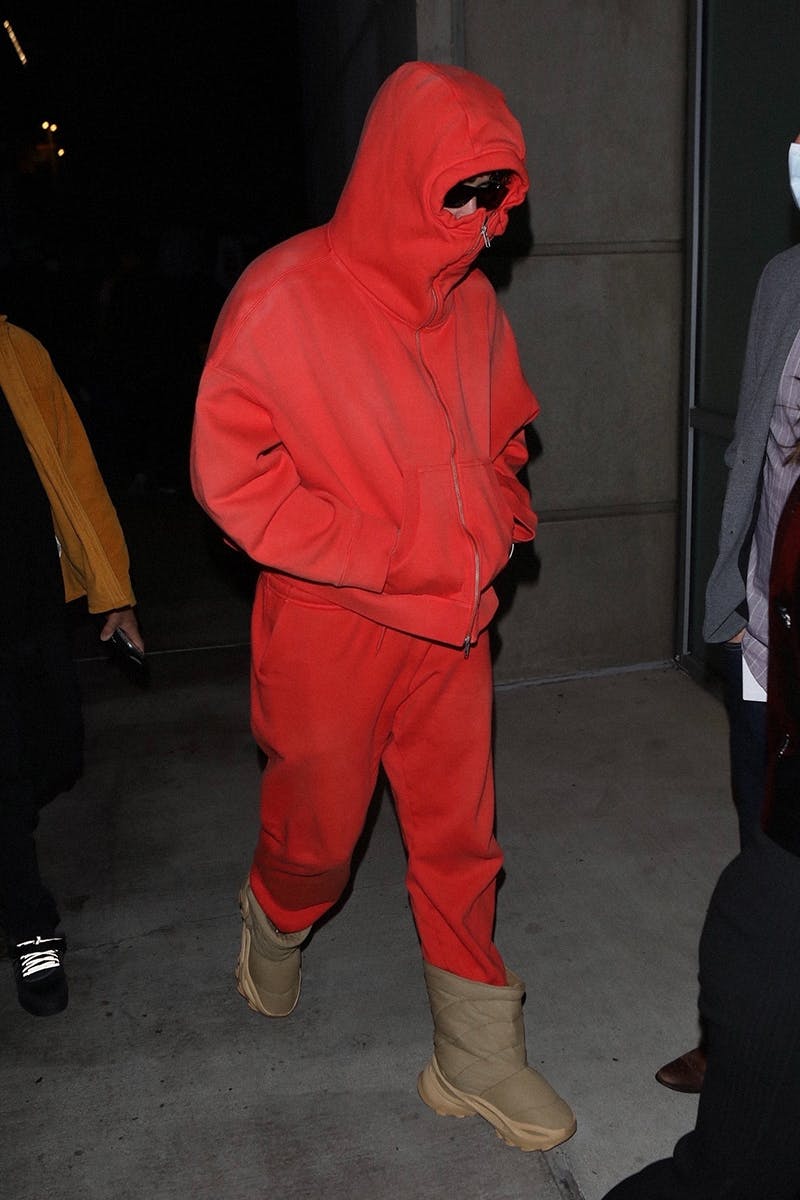 If there is one thing that Bad Bunny and Ye have in common it is that neither are afraid of being bold with their style. Here the Latin rapper is channeling the iconic look of his contemporary. The adidas YEEZY NSLTD BT, with its bulky moon-boot-like shape, doesn't need much dressing up but he managed to match the eccentric footwear with an equally-loud red tracksuit. A cozy fashion statement – we're in.
Cop the look
Big puffer jackets and futuristic shoes
With a pale blue color scheme, the boxy-fitting puffer jacket and wide-leg trouser combination appear to be quite conservative compared to some of Bad Bunny's previous antics on the red carpet. However, his futuristic shoes, which look as though they are pillows for the feet, combined with a pair of retro-style sunglasses, ensure that it is a look worthy of the Puerto Rican musician.
Cop the look
Black and yellow
As was shown on the cover of HIGHArt, combining yellow details in a predominantly black outfit is a winning formula. Androgynous dress is something that Bad Bunny has been exploring in his fashion, rocking crop tops and skirts, and he continued to do this at the Grammy awards. Wearing a long black dress, its hem was met at the artist's shin by a long black coat he layered above. The only accessory that stuck to the black color scheme was a Burberry hat with floppy ears that was paired with yellow-lensed sunglasses and a sunflower which the artist held in his hand.
Cop the look
Clashing Prints
Here's another example of Bad Bunny being a top-tier red carpet dresser. It's hard to know where to start with this look as it clashes prints and colors to be full of contrasts. JW Anderson's wool neckband is warming up the artist's neck while the top of his chest is left exposed by a camp-collar shirt that combines three different prints. The chaos of this outfit is its appeal.
Cop the look
The Gucci Suit
During 2017 and 2018, Allessandro Michele's bold printed suits could often be found adorning the chart-topping musician. There were a number of Gucci style moments that we could have selected but, in this example, he is casually posing alongside a red Ferarri that matches his red loafers to create the ultimate flex.
Cop the look
Want to keep browsing? Head to the Highsnobiety Shop for more products that we love. Highsnobiety has affiliate marketing partnerships, which means we may receive a commission from your purchase.