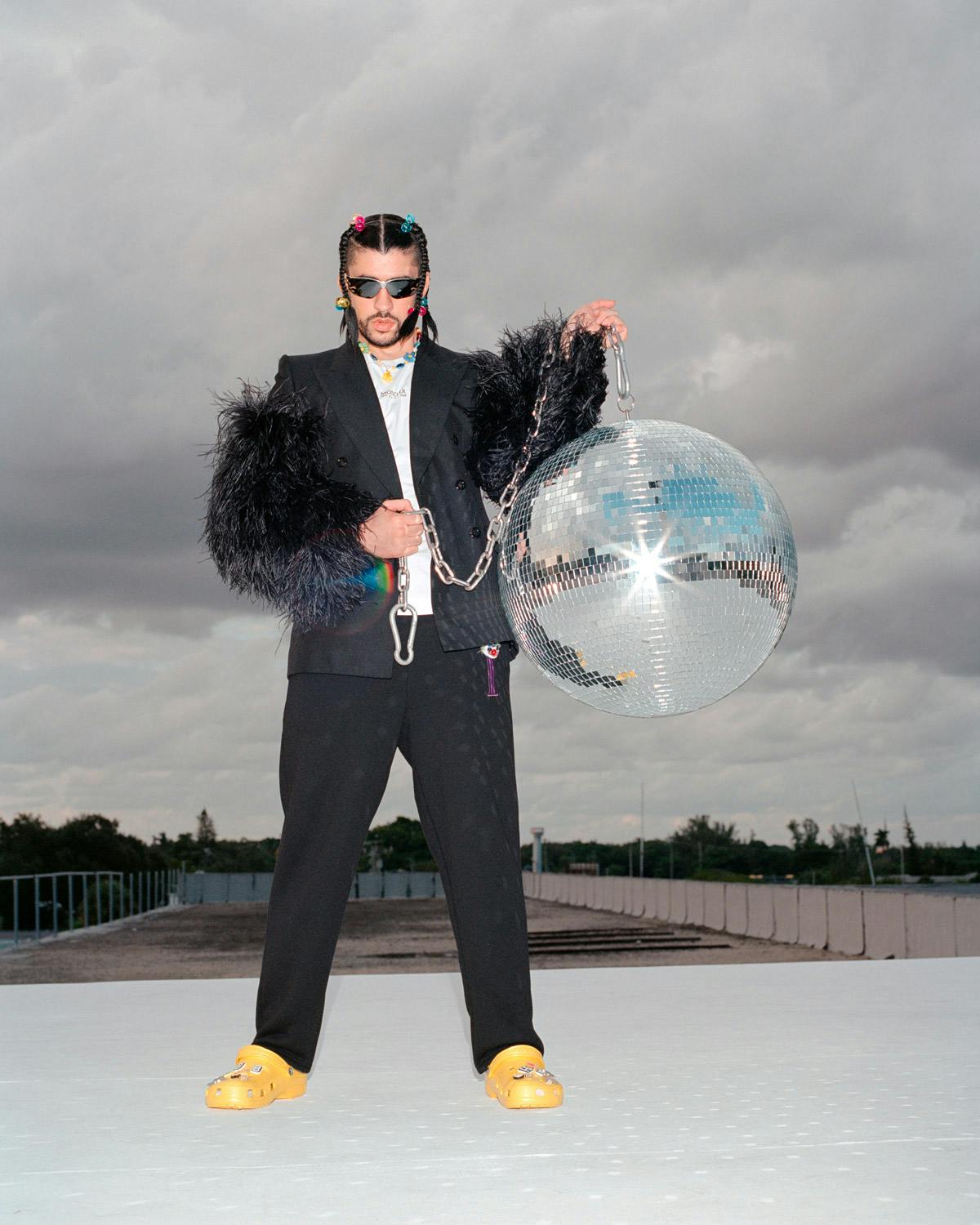 With this FRONTPAGE story, we are thrilled to announce Bad Bunny as the cover star to HIGHArt, a new magazine by Highsnobiety available from retailers around the world and our online store.
Bad Bunny is busy. It took three tries to get on the phone together, and I'm surprised it didn't take another. After all, the 27-year-old otherwise known as Benito Antonio Martínez Ocasio is a music phenomenon, one whose eclectic sound has spearheaded the contemporary reggaetón movement's infiltration of global pop airwaves.
At a time when many artists are taking a break to recharge amidst an ever-changing global pandemic, Bad Bunny calls me from the Dominican Republic, where he is filming a top secret project. This less than a year after he released his last three albums within a nine-month period, merely months after winning a WWE championship belt, and shortly after filming a TV series (Narcos: Mexico) and a movie (Bullet Train). So I understand, Bad Bunny is busy. Time works differently for artists of his caliber.
When we finally speak on Zoom, he's just a voice. The Internet is slow in his current location and streaming video would exhaust its bandwidth. His voice is deep and calm. Or as he puts it: "My voice is just enough to keep you sad without further depressing you. I give you just enough force to keep you awake."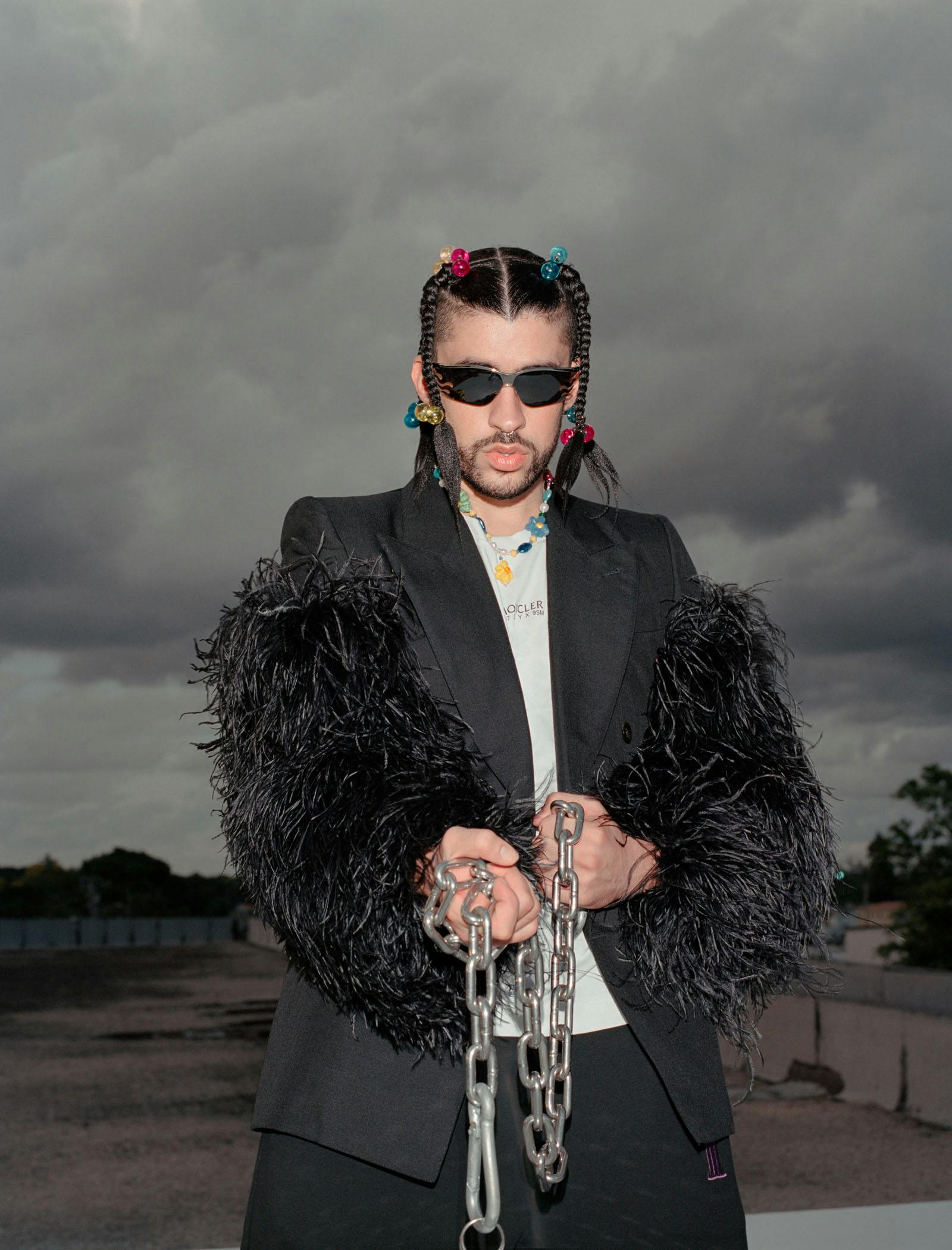 I ask him about his stay in the Dominican Republic, trying to get a glimpse of the top secret project, but instead, Bad Bunny jumps at the chance to exalt the country, as if he's been waiting to tell anyone who would listen just how much this island means to him. "It has a special place in my heart," he says. "I have a lot of history here. It's where a lot of my first public presentations were outside of Puerto Rico."
It makes sense that Martínez finds himself at home on the coasts of the Dominican Republic, having grown up in Vega Baja, a small seaside town just a speedy drive away from Puerto Rico's capital, San Juan. When I ask what is currently making him happy, he adds, "I'm happy to be in the Dominican Republic. The food here is really cabróna." Cabróna, or cabrón, is one of his favorite words. It loosely translates to "badass."
Bad Bunny has made such an impact on pop culture that it's almost impossible to believe his major breakthrough only came in 2016, when his SoundCloud upload "Diles" garnered millions of plays and the attention of notable record labels. At the time, he maintained his job as a bag boy at a local grocery store. "I was making music and working at a supermercado," he recalls. "I always kept making music. And I did it with passion. At that time, I never made music with hopes of leaving my job. I did it because I loved making music. The day that I really got the chance de irme pa'l carajo [loosely translated as "run toward a life of debauchery"] it was the best day of my life. But before that, my only goal was to make music I loved, and to improve every day."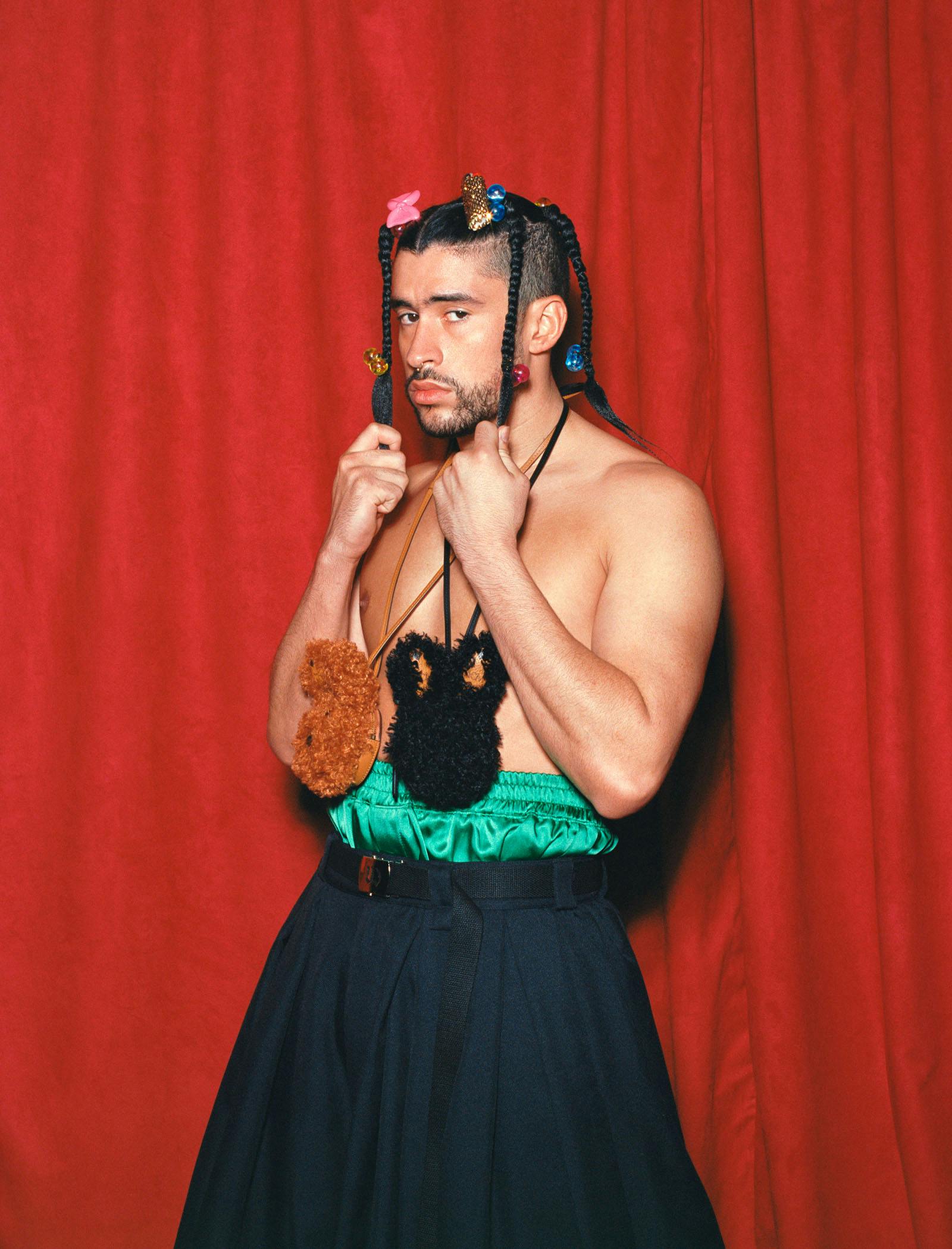 Martínez's artistry has not only improved, it has been remixed, built, rebuilt, and disseminated to everyone with a radio or iPhone — or anyone walking through any given Latine neighborhood. His discography will take you on a journey of reggaetón, boleros, emo, trap, post-punk, hip-hop, pop, rock en español, new wave, and R&B; which all amass to his contribution to el movimiento (previously known as "urbano," a genre created and popularized by Black Caribbean and Black Latin American artists). His music often carries a sonic tension, where the beats inspire listeners to shake ass like no one's watching, while the lyrics recall heartbreak or destitution. Of this contradiction, Martínez says, "It's part of our culture. In regards to Latinos, specifically in Puerto Rico, we always say, 'In Puerto Rico, we celebrate everything. Even at funerals we throw a party!'"
Yet to merely listen to Bad Bunny would be to miss half the fun of witnessing a cultural producer at his zenith. To get the full breadth of the Bad Bunny experience, one must dive into a cinematic world where gender anarchism is lauded, fashion serves to captivate, surrealism is reality, anime characters walk amongst us, and Japan, LA, and Puerto Rico are merely a luxury car ride away from each other.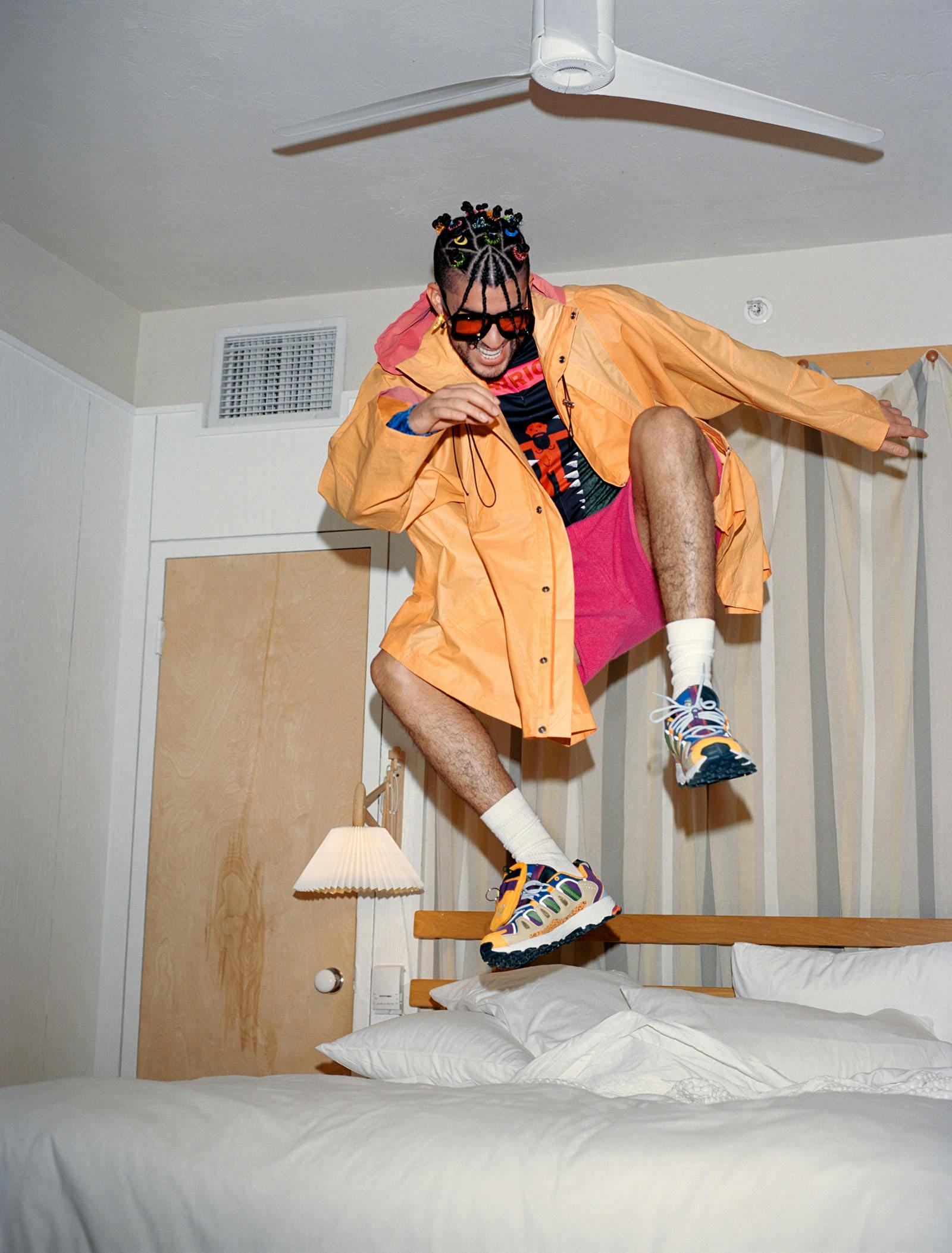 Bad Bunny's videos mark the imagination of those who feast upon them. They are as busy as the creative mind behind them. While they would fit squarely in Missy Elliott's artistic lineage, finding a direct inspiration would leave anyone scrambling for answers. It seems everything and anything inspires Bad Bunny, which he himself affirms when discussing his visual output: "There's so much around us that is art, so many people who aren't considered artists but create art. My mom and dad are artists without claiming the label. We live our lives surrounded by art without recognizing it. It's that everyday, invisible art that inspires me. Everything I've grown up around. Everything I've experienced."
Martínez's belief in his parents' artistry makes me recall how my mother knitted clothing for all of our appliances growing up. (Ever see a blender wearing a skirt? Now that's fashion!) "That's art! That's art! That's what I'm talking about!" he interjects. "The way your grandma tells a story. That's art. The way friends craft inside jokes while shooting the shit courtside. That's art. The ingenuity your dad had to muster in order to fix your basketball net. That's art. Art of the everyday. That's what I'm referring to. We experience art every day but don't recognize it."
Bad Bunny's personal style reflects the commonplace nature of his influences, as he regularly pairs Crocs and sneakers with band T-shirts, short shorts, neon suits, jewel encrusted chains, and stiletto nails reminiscent of those worn by young women and femme queers in Latine and Black neighborhoods. When asked if there are any specific designers or style icons who inform his own stylistic direction, he says, "I'm not a fan of any specific designer — or look at big name brands." He takes a moment to name-check his friend Janthony, who's also on the call, then adds, "I always say that there's people in our barrios, in our cities that stunt so much that it makes me say that cabrón should be more famous than some of these other influencers. And yet they're out there just working at a mart or a local store. Those everyday people inspire me so much."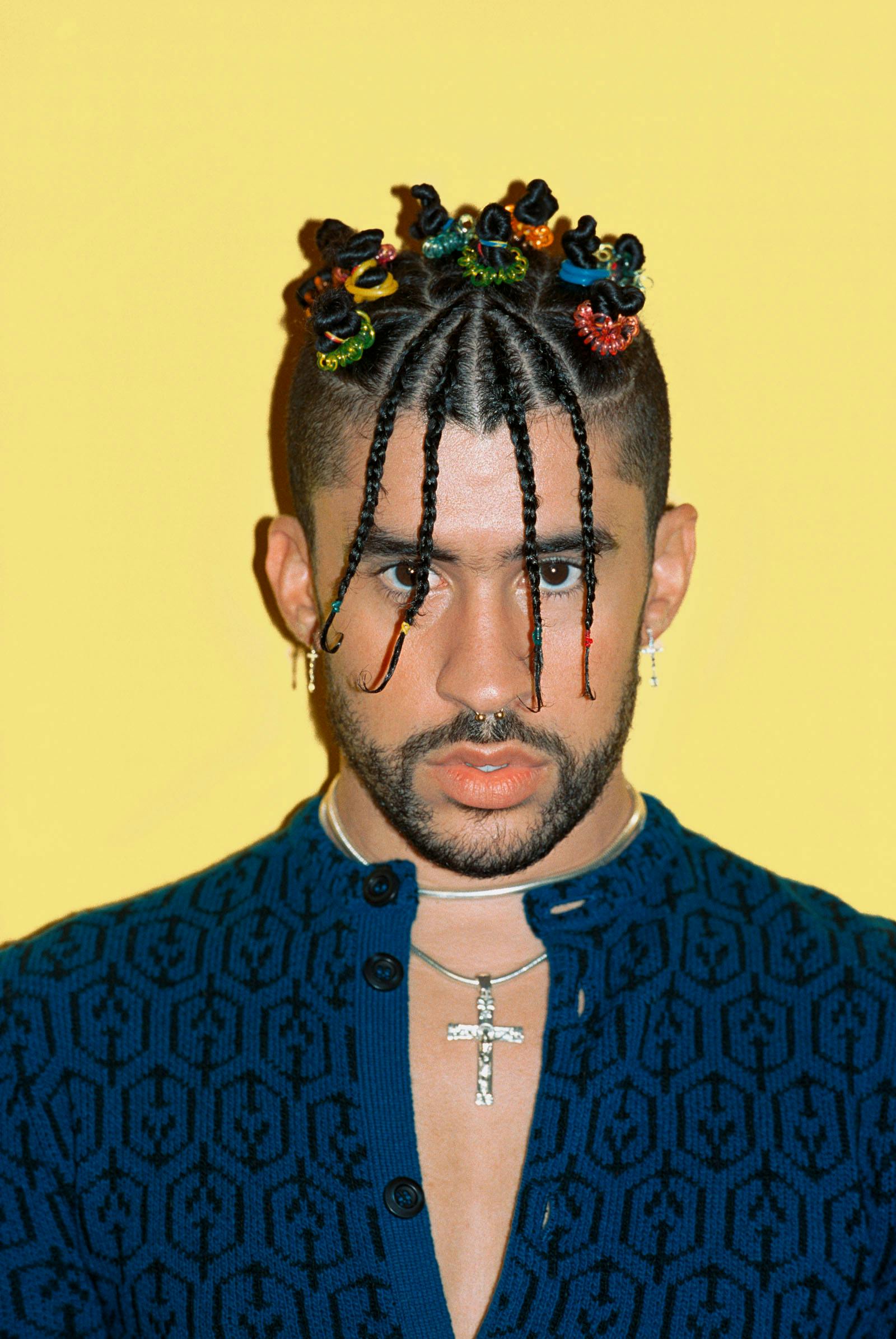 Despite his impact on global style and streetwear trends, Bad Bunny has only produced two fashion collaborations: a pair of $60 glow-in-the-dark Crocs and a creative partnership with adidas that launched in 2020. Both collaborations came naturally to the artist, who often sports adidas sneakers and helped pioneer Crocs' place in streetwear. This precise choice of creative work is an anomaly given the current market, where celebrity partnerships with luxury brands are regularly announced.
When parsing out Bad Bunny's aesthetic, one would be remiss to leave out his creative director, Stillz. The 22-year-old visual artist began as a tour photographer, but he really started to make his mark on Bad Bunny's creative world when he took on the role of director for the music video "Vete." The two have gone on to expand Bad Bunny's visual identity through the artist's videos and photography.
A few days after speaking with Bad Bunny, I speak to Stillz over the phone about his creative union with the artist, which leads him to an avalanche of praise. "Benito, to me, is a genius," he tells me. "I've never worked with anyone as creative and as hardworking as him. He wants to create something new out of the blue. So usually I'm the one to bring in a reference."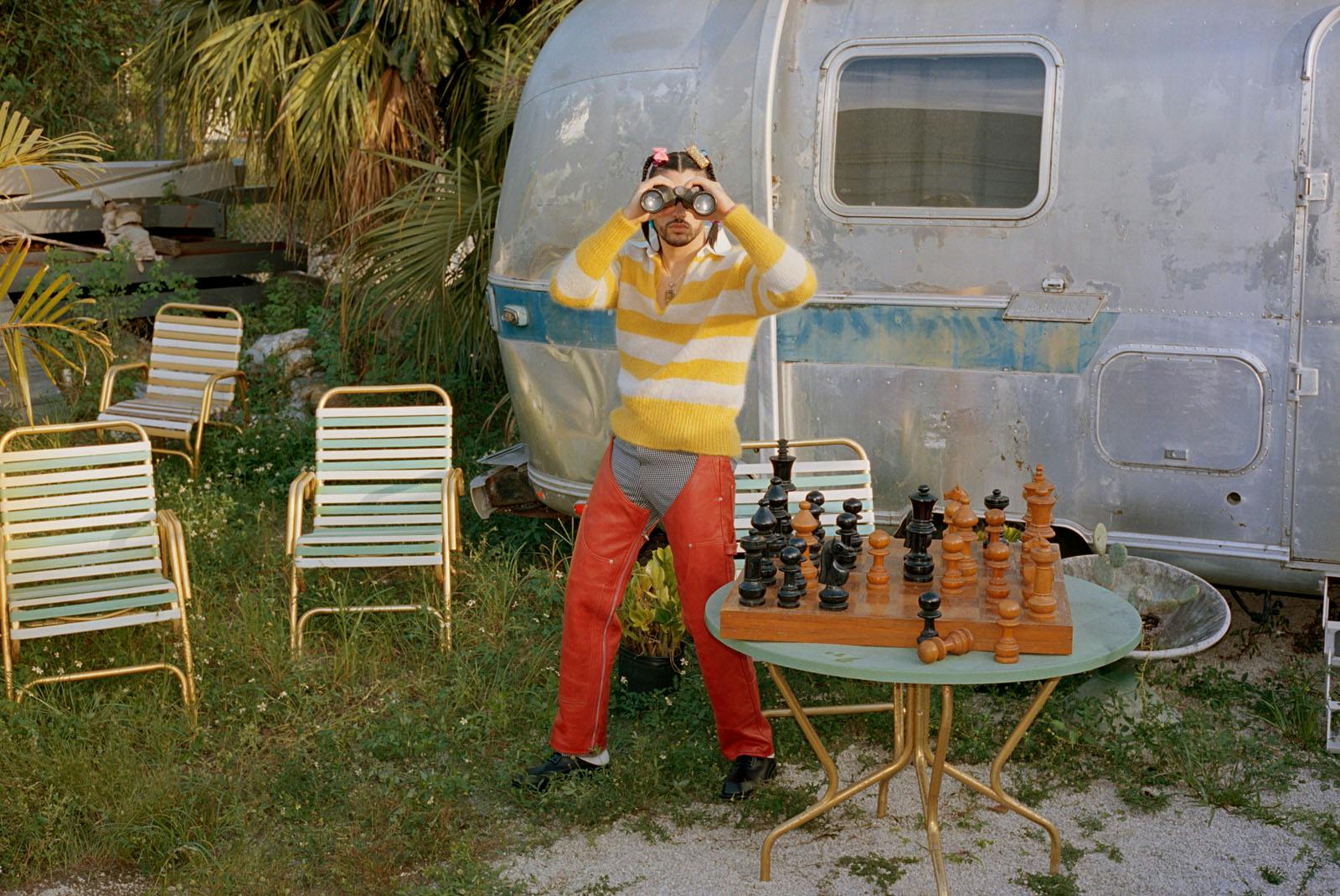 Highsnobiety / Awol Erizku
Stillz's projects pull from anime, Salvador Dalí, Julio Larraz, Harmony Korine, and Spike Jonze. Although this partnership has been key in forming the artist's most iconic moments, Stillz affirms that it is all Bad Bunny's doing: "Benito always wants to try new things. He's very involved in the writing process for every video. Sometimes he just has this wild idea, and I have to figure out how to make it come to life."
The two work together to create the effect that excites Bad Bunny the most: surprising the audience. Martínez believes life is about maintaining a sense of wonder. "Surprises will always create a delicious sensation in people when you do it well," he tells me. "When you don't expect something and you receive it, it marks you. It fulfills me to surprise people, because I know I'll leave a lifelong impression on them." Stillz elaborates on how they bring this element to reality: "He always has some crazy idea that he wants to do. And it's like, 'How do we show this? How do we create a visual out of this in a way that feels genuine to the idea?'"
One of the biggest, indisputable surprises of Bad Bunny's career thus far is his video "Yo Perreo Sola," which finds the artist dancing seductively while dressed in full drag and singing about leaving women to dance in peace. Many wondered: Was Bad Bunny a queer icon or was he appropriating queer culture as an artist only concerned with shocking audiences? But it wasn't just for shock's sake; Bad Bunny wanted men to think twice before harassing women by asking them: What if they were literally in women's shoes, just as he was himself? It's a crucial message when femicide is at an all-time high in Latin America. "We wanted this to be Bad Bunny's loudest video yet," Stillz says about its impact. "The message was important, so we thought the only way to deliver it was to do it as loud as possible."
The video is loud indeed. Watching "Yo Perreo Sola" a year later still thrills me. It makes me wonder how different my world would have been, as a young Mexican queer, if the Latine pop stars of the '90s and 2000s would have thrown gender conventions out the window in such a bombastic explosion. At a time when none of his contemporaries would dare disturb Latin American machismo to that magnitude, it matters that someone of Bad Bunny's level of mainstream success commits to gender non-conformity without batting an eye (or rather, while batting a well-applied eyelash).
This is not to say that criticism isn't important. Queer and trans people, especially those of color, still cannot publicly break the limitations of gender without the risk of violence. And without an in depth look into an artist's seemingly selfless advocacy, we encounter the problem of ignoring their impact just because their intent was noble. Bad Bunny is well aware of this conundrum: "Obviously I'll never do anything to purposely offend anyone, but we're human. If I ever do or say anything that offends people, I will have two options: reflect to see if my behavior was the one at fault and learn from that in order to do better; or if I reflect and realize it was not me who was at fault, then I can leave it up to people whether they want to engage with my work."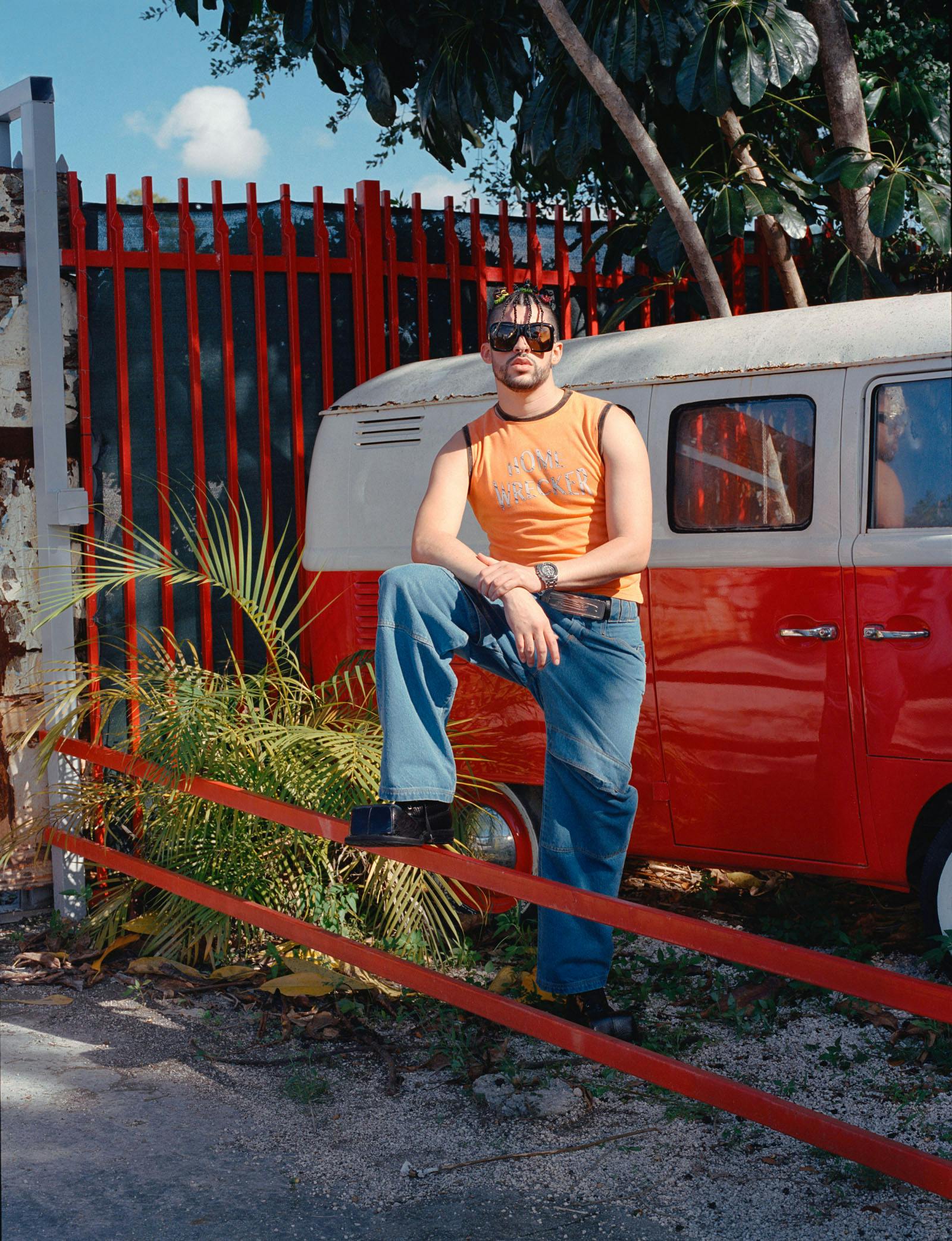 And it sure is a lot of work. After spending months preparing for his appearance on WWE, as well as his roles in Narcos: Mexico and Bullet Train, Bad Bunny is now busy at work on yet another album. Rest for the artist, it seems, means simply putting down one art form and picking up another. Social media's impact on the music industry, one that requires constant virality to stay in the conversation, might create pressure for some artists to have a constant output, but Bad Bunny asserts that's not the case for him: "I don't feel pressure from the fans or anything else. The only pressure I feel is from myself. And really, I wouldn't even call it pressure. It's a drive to create something new. I always want to challenge myself to create something different, something that excites me, something that the people will love. I always ask myself, 'How can I entertain and surprise people with something new?' And that's the pressure, but it's a positive internal pressure."
He seems hesitant to tackle the notion that his art has a deep impact on millions of people. "I still haven't gotten used to being perceived on this incredible scale," he says. "I still don't understand how people see me, or how I can possibly impact so many people. And maybe this is good. Maybe not understanding my reach helps keep me humble. It helps keep me the same Benito that I was growing up. The one that created art just because he was passionate about it."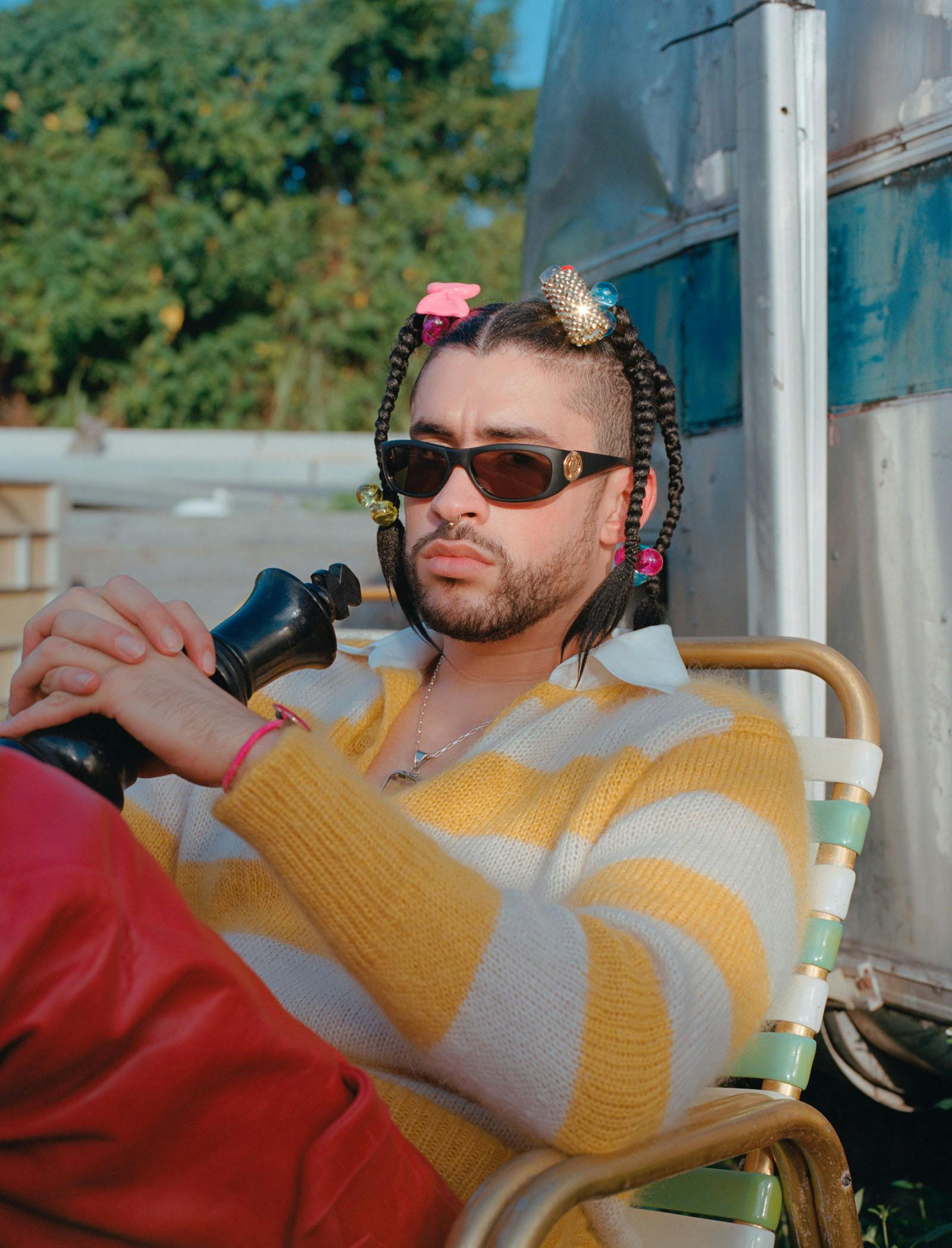 But in regards to what Bad Bunny represents to him, Benito Ocasio, he has a much clearer vision: "Bad Bunny represents a dream come true. It represents the freedom to do what I always wanted to do. To be the person I always wanted to be, or maybe the person I always was, but that the world didn't fully understand." But what does he think that means to other people? "I want my music to be a part of people's special moments. Whether they're sad or happy moments, I want my music to be their companions. And with that, I am satisfied."
Our interview is rushed to an end. His next engagement beckons. Bad Bunny is busy, after all, making his wildest dreams a reality. Whether he can understand it or not, seeing Bad Bunny live out his fantasies has created a space for countless people, unrestrained by confines like gender or capital, to imagine a new world where they, too, can dance freely.
Head here to get a copy of HIGHArt, a magazine by Highsnobiety.