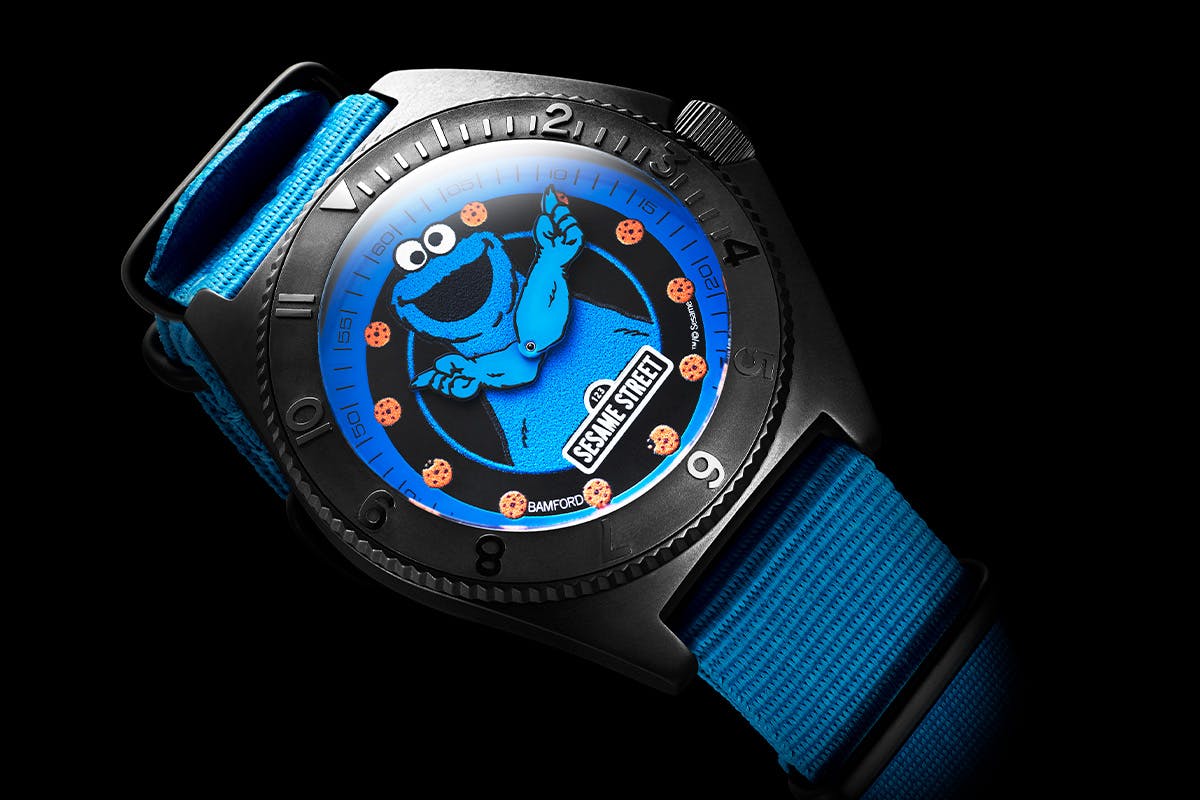 Bamford's trio of Sesame Street-themed timepieces might make you hungry. Cookie Monster is one of the three Muppet characters that graces the three designs on hand for this collaborative effort, joined by his pals Elmo and Big Bird, but the big blue critter (real name: Sid, seriously) enjoys the most playful watch of the three, surrounded by a plethora of delicious cookies, some of which he apparently already tasted.
Cookie Monster sits atop one of Bamford's Mayfair Dates, while Big Bird emerges from the center of a befeathered GMT and Elmo lends a whimsical touch to a thematic Mayfair Sport, surrounded by a plethora of musical notes as an ode to his penchant for song. Each character is well represented by the limited edition watches they occupy, with Cookie Monster and Big Bird lending colorful accents to their otherwise blacked-out timepieces and Elmo's edition enjoying an all-red makeover.
Similarly, Elmo's Mayfair Sport lives up to its name with a tough polymer case well-suited to active lifestyles, complete with water resistance, a rubber strap, and LumiNova indices for boosted readability. Cookie Monster and Big Bird enjoy more elegant but equally sophisticated watches, with the respective Mayfair Date and GMT boasting their own Swiss movements and metal or NATO straps for a slightly more mature finish — as mature as the adorable Sesame Street stars can get, of course.
"Who doesn't love Sesame Street?," asks George Bamford, Founder of Bamford London, in a statement. "The brand has reached far and wide, and we are so happy to partner with Sesame Street and have these iconic characters on the dial of our watches. We love the wonderful nostalgia these characters provide and the splash of fun and color which can brighten up your day when you look down at your wrist."
All three of the Sesame Street watches launch on Bamford London's website and at select stockists May 15 in restricted quantities: Big Bird's GMT is limited to 20 items, while Cookie Monster's Mayfair Date and Elmo's Sport only exist in editions of 50 apiece.