Supreme's collaboration with Barbour is the brand's latest version of a tried-and-true method of taking classic pieces of menswear and giving them an anti-establishment edge. But it's also a reminder that Barbour jackets don't need a box logo or a bold print to be special. For over 126 years (that's 1894 for those keeping score at home), Barbour's durable waxed cotton jackets have represented the kind of product design that earns so many less deserving garments superlatives like "timeless," "iconic," or my personal favorite, "investment piece." In Barbour's case, these might be understatements.
The waxed cotton, corduroy collar design that serves as the base for Supreme's collab can be traced back to two key styles from the 1980s—the Beaufort and Bedale—which have become the brand's most well-known items over the last 40 years. Fashionable items rarely remain completely unchanged over the course of four decades, but when they do, it's usually for good reason. And while many imitators have been "inspired" by the Beaufort and Bedale over the years, none can match the original's combination of style and quality.
The Beaufort—which is similar to the Bedale save for its raglan sleeves and slightly longer design—features no design quirks that could be described as wonky or "of a moment." Sure, these jackets don't have any wild zippers or space-age fabrication, but they do have big ass pockets that'll hold a lot of stuff and some side vents, which, in most 2020 lifestyles, are still pretty darn useful.
(Available at 2 Merchants)
(Available at 2 Merchants)
Don't get me wrong: The Supreme x Barbour jacket is without a doubt fire. For right now. See, where more like-inducing versions may be good for the 'Gram, you'll never want to flip your mainline Barbour jacket for a quick buck or to chase the next copping-borne high. What we're talking about is the difference between a new Playboi Carti song streamed on your iPhone versus listening to Funkadelic on vinyl. Fire as some new Carti may be, the sweet sounds of George Clinton & Co., like a Barbour jacket that stays in your closet forever, have proved over decades that they're still worth your time every time you drop the needle or brace yourself for a less than ideal weather day.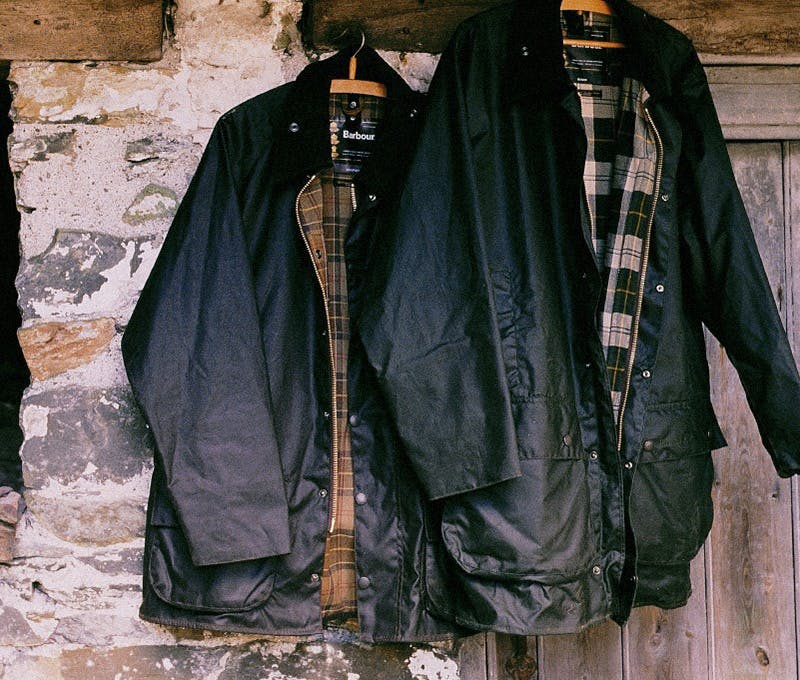 At a time when everyone is vying for attention by going bigger, more logo-o, and bolder, it's useful to keep some pieces in the rotation that won't illicit a grimace when you see a picture of yourself today in 10-12 years. Similarly, it's good just to have a jacket that doesn't require A Beautiful Mind-level calculations to pair with the rest of your fit.
None of this means a Barbour jacket isn't also capable of complementing the more eccentric pieces in your wardrobe today. But it also doesn't force your hand in that direction. It's a baseline, looks-cool-with-anything style that you can toss anything at and still come out ahead from a style perspective. Go ahead and freak it with a patterned shirt and some Yeezys. Or, embrace the traditionalism it evokes and sport it over a suit with some hard bottoms.
Barbour makes jackets that are not only good to look at for decades, but built to withstand whatever kind of nonsense you throw at it over that time, too. Like a perfect pair of jeans, their natural fabrics only get better, more personalized, and more alive, with age. The wax on the cotton wears off every couple seasons, which gives you a chance to bring it back to life by re-waxing it on a Saturday afternoon like it's an old Porsche. Unlike an old sports car engine though, your jacket doesn't quit on you—rather, it evolves like you do. And even when it eventually breaks down, Barbour is the kind of good-natured old school company that's got your back. Just send it to them and they'll patch it up, no questions asked, (for a fee, of course, but one much less than buying a whole new jacket).
Did I mention they're only, like, $400, which in today's jacket climate is about as middle of the road as it gets? If you're like me and like to assess new purchases in terms of "cost-per-wear," then it's nearly impossible to beat the value of something you'll one day bequeath to a grandchild. These days everyone likes to talk about sustainability, and yet the most sustainable thing to do is also the most obvious: don't buy a new jacket. With Barbour, you'll be lightyears ahead of your friends scooping up jackets made of 10% recycled polyester, or something.
Still not sold? That's okay. Ultimately a Barbour jacket doesn't need a hard sell. Even once you own one, you might not find yourself bragging about it. That's not the reason you buy a Barbour. You buy one because it's good on its own terms, and it's good to you.
Here are a few of our favorites on the market right now:

(Available at 2 Merchants)
(Available at 2 Merchants)

Classic Beaufort Wax Jacket
(Available at 2 Merchants)
(Available at 2 Merchants)