When Berlin locked-down in March, its hardest door closed too. But today, Berghain reopens — not as a techno club, but as an art gallery.
In a year when biennales and art fairs were canceled across the globe, Studio Berlin has brought together a staggering 115 Berlin-based artists for an exhibition staged in one of the most exclusive venues in the world. But don't expect the show to dominate your Instagram feed. The hedonistic club will maintain its strict no-cameras allowed rule.
In fact, the venue has retained many of its infamous characteristics in the temporary pivot to art hall — during the press viewing, a journalist who had flown in specifically for the preview was turned away at the door; the toilets retain the unmistakable scent of urine, and you still have to apply a sticker to your phone's camera lens upon entry.
The idea for the exhibition came about in June when Berghain's elusive owners watched museums and galleries open back up in Berlin. Michael Teufele and Norbert Thormann approached collectors Christian and Karen Boros with the idea to collaborate on the exhibition. Studio Berlin was "to send a message that Berlin's cultural life is still very much alive," explained Mr. Boros.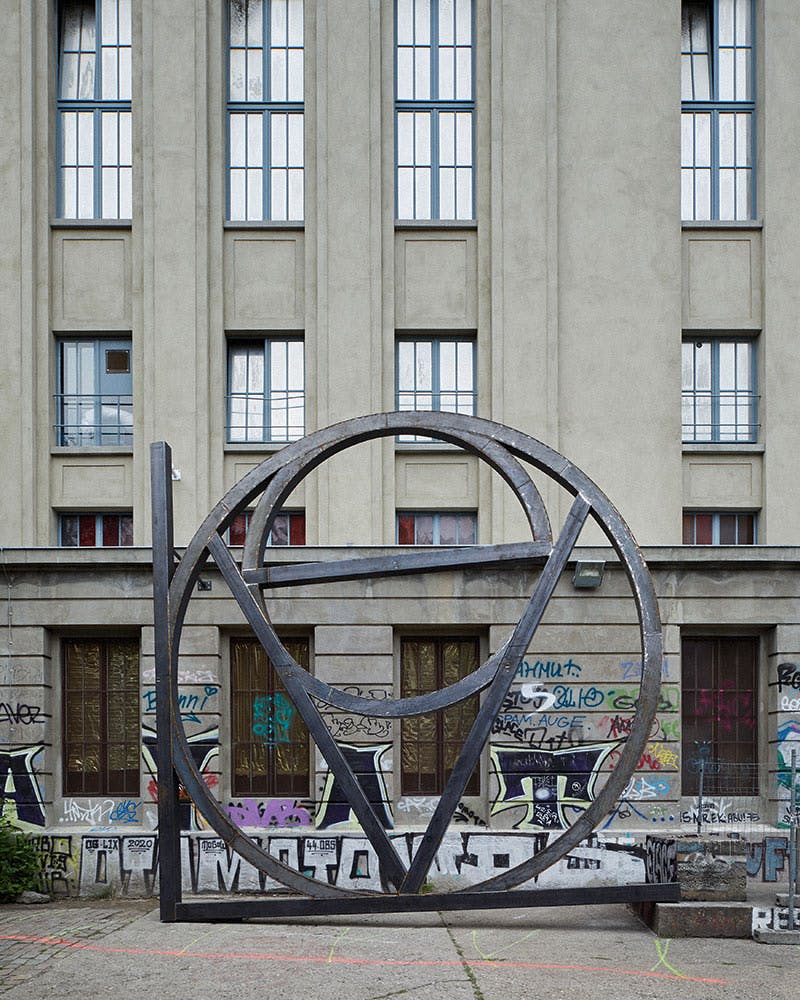 Many of the club's employees will return as tour guides for the duration of the show. In their newly appointed positions, they'll lead small groups through a sprawling cabinet of curiosities containing new works from Wolfgang Tillmans, Angela Bulloch, Olafur Eliasson, and many more of Berlin's most renowned artists.
As you might expect from an exhibition that was realized in a matter of months, Studio Berlin is, at times, conceptually messy and visually incoherent. Nevertheless, the building's severe industrial architecture has a galvanizing effect on the many and extremely varied works on display.
Looking down the list of artists, it's easy to predict who would capitalize on the awe-inspiring scale of the building. Upon passing coat check, Julius von Bismarck's 1.6-meter tall high-sea buoy, suspended by cables, descends from the floor above, before bobbling back to the "surface." Julian Charriere's And Beneath It All Flows Liquid Fire video installation serves as the immense flaming centerpiece, while AA Bronson's five-meter long soiled American flag is effectively positioned on one of its vast concrete walls.
With so many artists working in so many different mediums, smaller and quieter works tend to get lost in the noise. Caroline Kryzecki's intricate work on paper, for example, is hung so high over the main dancefloor that most of the detail is lost. Cyprien Gaillard's etching of The Land of Cockaigne might also be overlooked, yet with the aid of a phone light (if the camera sticker isn't covering it, of course) you can make out the mythical land of indulgence inscribed on the steel bathroom door.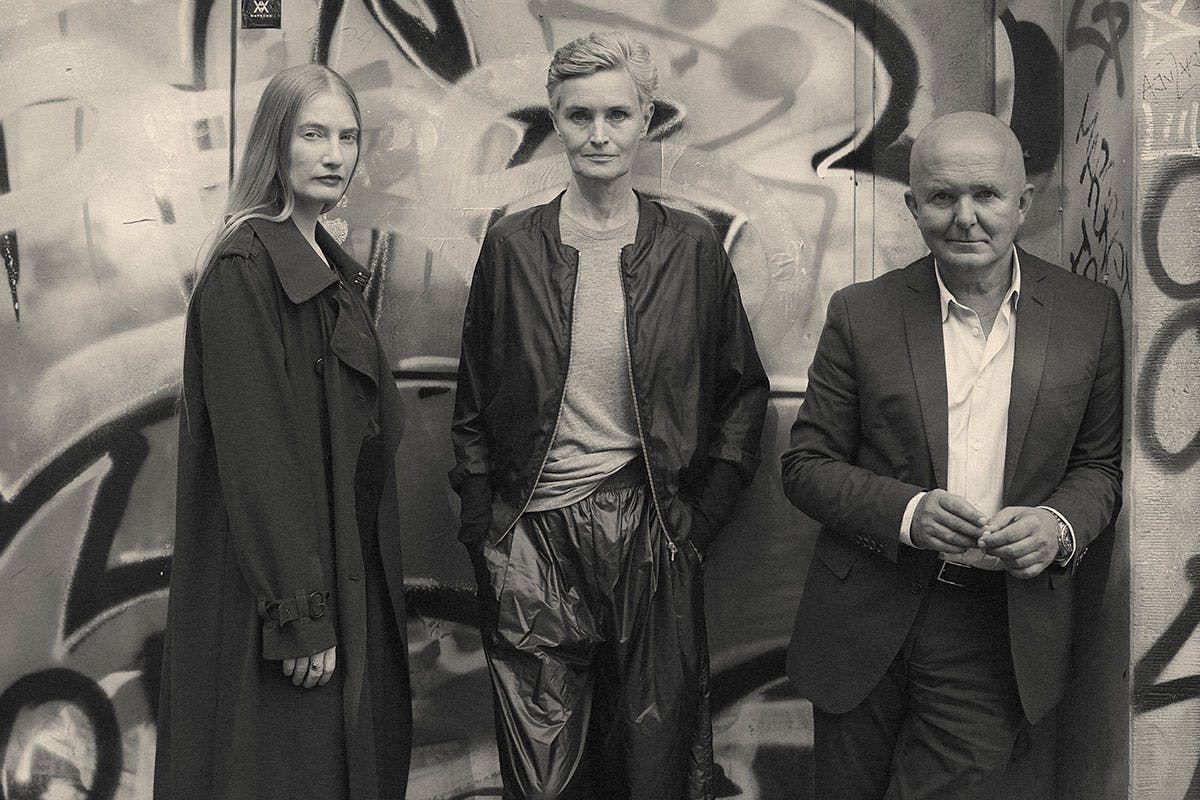 Underfoot, you could easily walk over Christine Sun Kim's work which creeps like spilled Club Mate on the Panorama Bar floor, reflecting her experience of the space as a deaf person. Though you definitely won't miss the giant flower blooming across the dancefloor, positioned at the precise point where artist duo Petrit Halilaj and Alvaro Urbano met ten years ago.
There are many such works that articulate a longing for pre-pandemic times, and for Berghain to return to its former glory, but overall, the exhibition skews towards optimism. It's clear that Karen Boros and curator Juliet Kothe reveled in combing the artists' studios and responding to the challenges and opportunities of the space.
From Simon Fujiwara's rainbow Dorito mutant ship meditation on his Siphlys diagnosis and Anna Uddenberg' stylized female "Climber (Angel Kiss)" figure, installed ass up on the Panorama bar to the disarming airhorn in Jessica Ekomane's Comedown, humor is deployed often and with great effect.
It's challenging and possibly pointless to try and find a unifying message – outside of the fact that everyone loves Berghain and we live in uncertain times. As Rirkrit Tiravanija's banner reads on the building's exterior, "Morgen ist die Frage" ("Tomorrow is the Question"). One could perhaps reason that humor has something to do with the answer.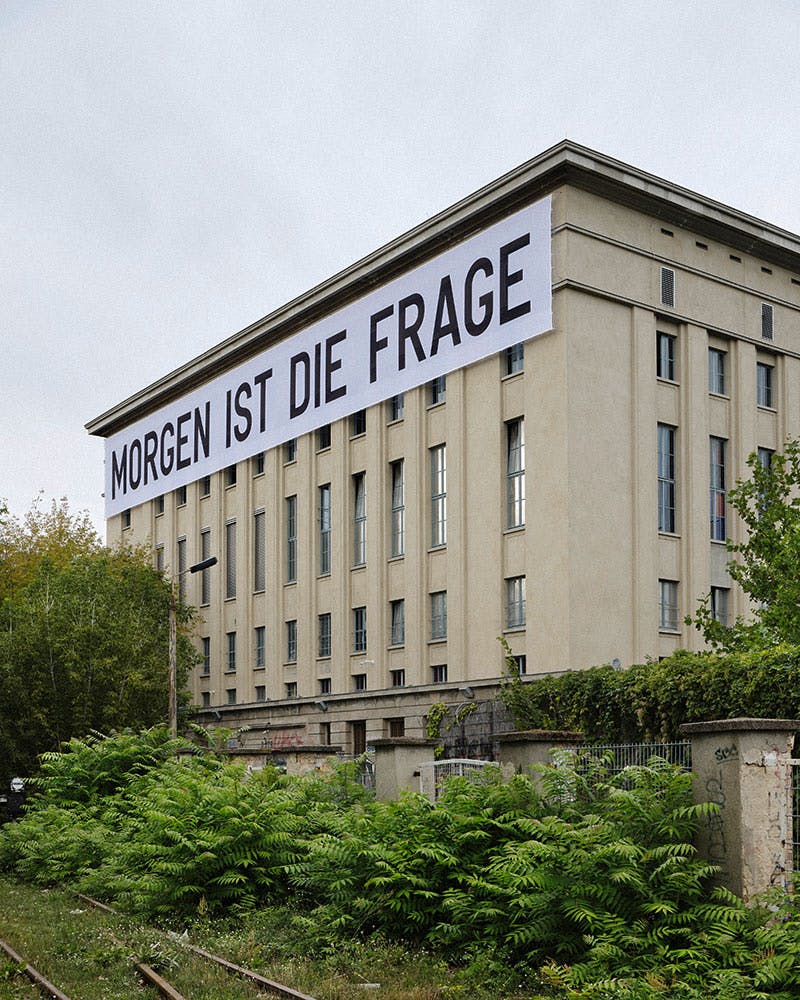 Studio Berlin's general good-but-chaotic vibe gestures towards the Berlin of the '90s when the worlds of art and techno were more enmeshed, the execution was less polished, and the artists themselves were a little less self-serious.
Regulars may balk at the thought of their dancefloors and darkrooms becoming a tourist trap. There's a legit concern that opening Berghain up to the public might sanitize the very things that make it great. Yet, as a newly published Vibelab report reveals, it is exactly these kinds of "creative business model pivots" that may protect Berlin's remaining clubs and its employees until venues are able to reopen.
Studio Berlin opens today. Book your ticket here.