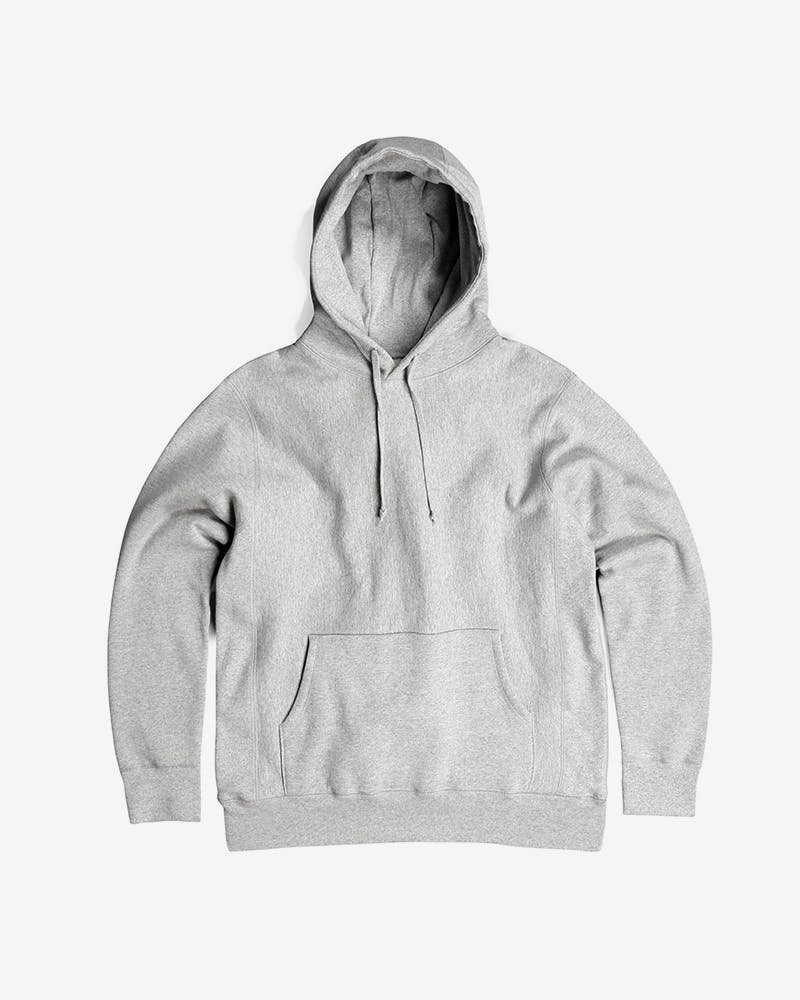 Blank sweaters are the bedrock of the streetwear game. Regardless of whether they feature a hood or not, they are universally worn garments and for aspiring designers they are some of the lowest barrier-to-entry products out there. See, to start a blank hoodie brand, it's not like you have to literally make each hoodie yourself the way you would when it comes to, say, a pair of jeans. Thankfully for aspiring young design gods, there are companies out there that specialize in making blank hoodies that can be purchased wholesale, printed on, and sold to customers.
Now, this isn't some kind of secret — every company from Supreme to a kid who just signed up for Big Cartel goes to companies who are known for their T-shirts and blank hoodies, even if it's just a jumping-off point (the big boys usually end up creating custom products using the company's access to fabric and factories).
And though we all know about Champion and Gildan, we want to explore what other companies out there are turning out blank hoodies and sweaters good enough to wear sans adornments.
Peep the best blank hoodies right now below
Axel Arigato
Axel Arigato grew to renown with a range of understated sneakers but recently we've noticed a shift in the Swedish label's output. Alongside the aforementioned sneakers, you'll now find an apparel collection to rival those who've been doing it for twice as long. This season, the sweaters really stand out, with the Tag Hoodie being our favorite. The heavyweight organic cotton build is wildly soft and in all-black, it's a versatile staple.
Seventh Stores
London label Seventh Stores has been creeping ever closer to the center of our radar recently. The brand specializes in dusty-hued essentials ranging from puffer jackets to sweatpants, all of which are made to exacting standards and given personality with bold proportions. The V2 Hoodie in Chemical Blue is our personal favorite not only because it's made perfectly but also because its striking colorway is ideal as the anchor to your fits.
Acne Studios
When it comes to subtle style, you can guarantee a win by shopping at any Scandinavian brand. Acne Studios is one of the better-known names from that neck of the woods and has been perfecting the art of blank staples, season in season out, since 1996. This washed-out lilac number is the pastel perfection you need to see you through spring and summer.
adidas Blue Version
One of the most exciting developments in adidas' output lately has been the introduction of Blue Version. This eco-friendly offshoot centers around higher-quality products inspired by the brand's fruitful archive but updated with contemporary sensibilities. This classic black crewneck is cut to a relaxed fit with comfortable raglan shoulders and a satisfyingly heavy French terry construction.
Carhartt WIP
Starting off with a classic hoodie design, Carhartt WIP has built a reputation for its line of staple items which are informed by its workwear heritage. This hoodie is its signature style, made from a cotton-polyester blend that is brushed for softness, warmth, and breathability.
Sunspel
British heritage label Sunspel began by conquering the world of underwear and has since moved on to bigger things (though you can still get a fine pair of undies there). Now regularly kitting out 007 on the big screen, Sunspel is refined, no-nonsense, and seriously hard-wearing, quite like Bond himself. While this hoodie doesn't try to match up on weight, it makes up for it with some of the highest-quality cotton in this roundup.
MINT
If you're looking to cop blank hoodies, you're likely looking for something that you can throw on every day no matter what else you're wearing. This neutral brown iteration from Mint is perfect for the all-rounder job. It's easy to style color-wise and the pure cotton build features all the classic hallmarks like the kangaroo pocket and sturdy ribbed cuffs.
Les Tien
The power of a cropped hoodie is hard to quantify, but here goes. Want to throw it under a leather jacket? Done. Can you wear it with jeans? Hell yes. Under an oversized blazer? You don't even have to ask. Though all of our choices today share some of this versatility, there is something a bit more polished about a cropped hoodie. Les Tien's blue design is one of the best options out there for a boxy-fitting hoodie.
Norse Projects
Another Scandi brand flying the flag for understated style and maximum quality. Norse Projects' unpretentious mindset is embodied in every item that passes through the brand's doors. The Fraser Hoodie is rightfully tagged with the phrase "A product of the cold, cold North" and proves that luxury doesn't lie in overt detailing, but in premium craftsmanship and materials.
FEAR OF GOD
FEAR OF GOD has emerged as a leader in the realms of streetwear blanks. Founder Jerry Lorenzo approaches the design and construction of sweatpants and hoodies with the same level of rigorous detail as a seasoned Italian tailor. Like its peers, the off-white hoodie is made from fleece cotton. However, ribbed cuffs on the hood are made from a wool and cashmere blend. An antiqued gold-tone stud fastening sits at the front of the hood while an embossed leather patch with FEAR OF GOD's logo sits on the back. God is in the details for this one.
Want to keep browsing? Head to the Highsnobiety Shop for more products that we love. Highsnobiety has affiliate marketing partnerships, which means we may receive a commission from your purchase.