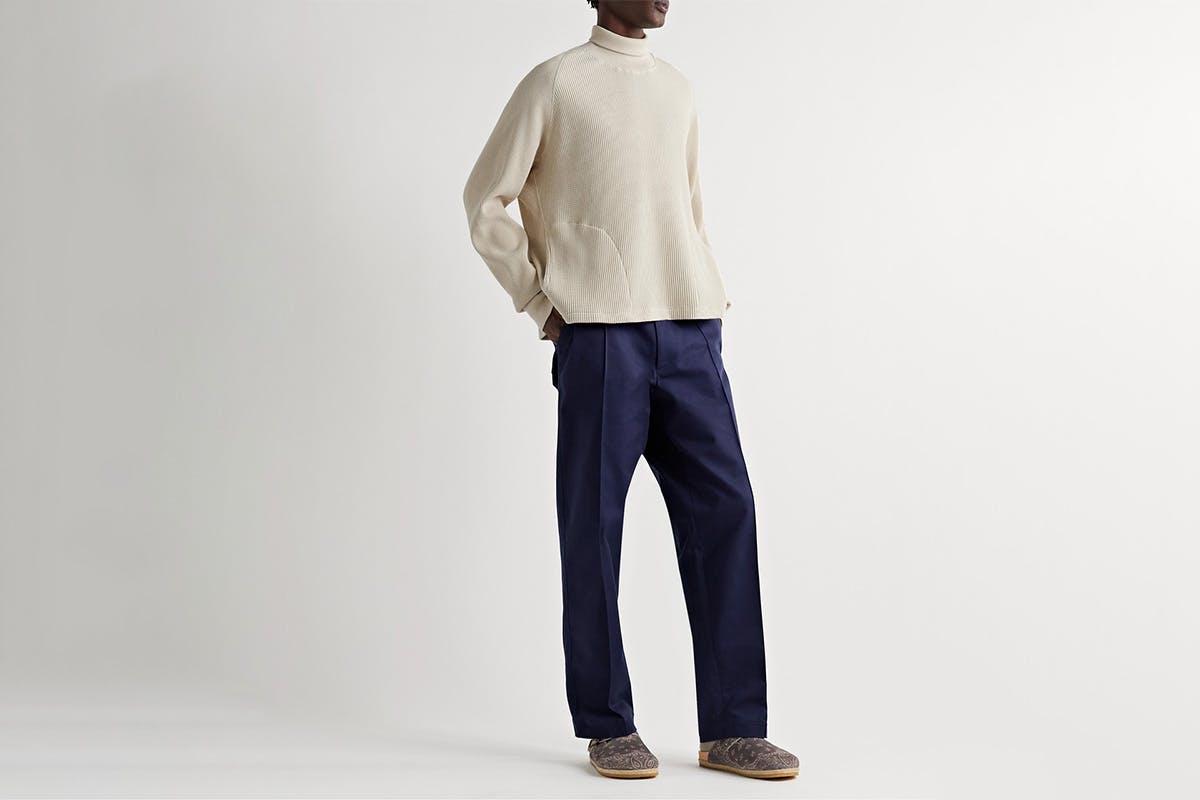 From the beatnik era to Steve Jobs' habitual donning of this staple piece, the turtleneck's place in fashion and pop culture has been storied. Though it looks good as a stand-alone item, the power of the turtleneck lies in the layering opportunities it affords — whether combined with outerwear pieces or worn under a loose-fitting tee or camp collar shirt.
As fall sets in, layering should be a central part of your styling repertoire. That means that your wardrobe should feature a strong foundation of roll-neck sweaters for the coming months. Luckily, a host of brands, from Stone Island to Jil Sander, are getting in on the high-neck action this season which makes your fall styling life smooth and easy.
Check our highlight roll-necks below.
Stone Island Roll-Neck Jumper
While much of Stone Island's offering deals in high-end tech, the Italian label knows the classics, too. This pure wool roll-neck jumper shows how great it is when the simple things are done well.
Highsnobiety Classic Turtleneck
Our own spin on a classic design, the Highsnobiety turtleneck is part of the HS line of elevated staples. Arriving in a selection of seasonal shades, the heavyweight 240gsm jersey garment boasts a double-layer rolled neck collar branded with a small HS embroidery hit.
Jil Sander Turtleneck Sweater
Jil Sander always keeps things understated which shifts the focus onto the materials. Pure virgin wool is the protagonist here.
The Row Emile Sweater
While we're on the subject, The Row is a master of understated but high-end. Woven from wool and silk, this lightweight turtleneck is ideal for layering.
Marni Turtleneck Sweater
In general, when it comes to a layering piece you want to steer clear of the bold hues. That rule doesn't apply here.
JW Anderson Anchor Jumper
JW Anderson's Anchor motif sits front and center of this stark red sweater which is cut from merino wool for a light, warm staple over fall and winter.
Fendi Wool Jumper
This Fendi wool jumper is a tale of two parts. One section comprises the neck and arms while the torso stands separately. Oh, and it has built-in mittens. This presents some serious decisions to make when layering.
Nicholas Daley Waffle-Knit Sweater
Unimposing, neutral, yet supremely confident, this relaxed waffle-knit sweater from Nicholas Daley is a verified fall/winter essential.
Marine Serre Second Skin Turtleneck
many of the heavier wool selections in this roundup will be worn as top layers but Marine Serre's signature Second-Skin Turtleneck is so thin that it functions best as a base layer.
Hyein Seo Draped Turtleneck
Made from a 60 percent Tencel blend, this Hyein Seo turtleneck sweater features a faded graphic across the chest to imbue the pared-back piece with a touch of character.
Want to keep browsing? Head to the Highsnobiety Shop for more products that we love. Highsnobiety has affiliate marketing partnerships, which means we may receive a commission from your purchase.