Not every company can say it's sold over 25 million units of a single product, but such is the case for Blundstone, whose "500" boots have found their way on numerous feet across the globe. With a history dating back to 1870, it's no surprise that the heritage brand helming from Tasmania, Australia, has long been the footwear of choice for everyone from war soldiers to today's music festival goers.
Blundstone boots have been popular in markets that include Italy, Israel, Canada, and the UK, to name a few, and the U.S. is next to join that list. Seen on celebs like Billie Eilish and in photoshoots for various fashion magazines, the appeal of a Blundstone stateside speaks to both the mass and fashion consumer.
To learn more about the brand, we spoke to Adam Blake, Joint CEO, about Blundstone's history, how the fashion industry is embracing it, and its initiatives around this year's 150th anniversary.
What are the origins of Blundstone?
John and Eliza Blundstone left England in 1860 on a boat, and came to Tasmania. They founded the business in 1870. We were founded in 1870, before the first prototypes for the telephone and the light bulb were even invented. You have to understand, at that time, Tasmania was still very much a far flung colony. It was basically a penal colony for Australia. We were one of 350 cobblers and footwear makers at the end of the 1800s. We're very proud to say that, today, we're the only ones still standing.
Probably like most heritage brands, we made boots for soldiers for both wars. In terms of us opening up to the world, the first market we ever exported to was up in New Guinea, in the 1960s. Our first northern hemisphere was in the 1980s in Europe, and 2007 was when we took our leather production offshore from Tasmania. It's really in the last maybe eight years where we've launched into being a lifestyle brand, which can cover outdoors through fashion. That's a very recent part of our history.
Can you share a few highlights in the company's history?
The introduction of the 500, that's a pretty pivotal moment. That boot's now sold over 25 million pairs around the world. In 50 years, we can't underestimate the effort that one style has done for our business. It's just amazing. And that was a real revolution for us to move away from lace-up boots to elastic-sided boots. That was a huge change in terms of what we considered a boot was, and a boot that we would make.
Just a call-out to that – a lot of people don't think about it, but if you buy really cheap boots, you find out quickly the elastic dies. We have every bit of our elastic tested. The test they do before we pass it needs 10,000 stretches. If it can't stand 10,000 stretches, it doesn't make the cut.
And there's just fantastic stories. Israel Blundstones were on the Kibbutz. The Israelis have always been amazing travelers, so they had come to Australia, they're all buying Blundstones, wearing them on the Kibbutz. So, I think that a few moments, snapshots, and moments in time.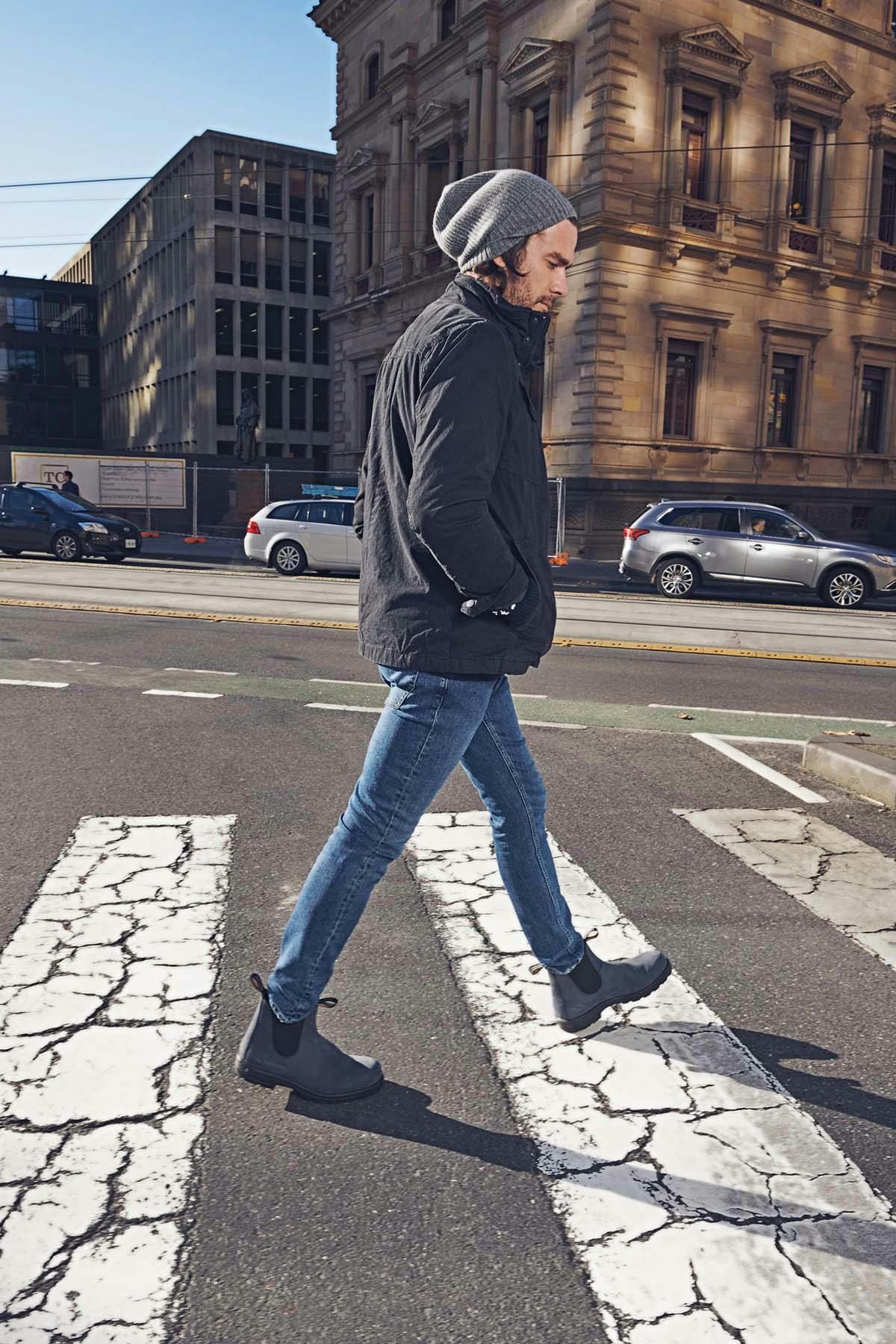 How have you seen the fashion customer embrace Blundstone?
We really don't chase fashion, but we have been brought into fashion by other people. We've got some incredible loyalists. Iggy Pop wears our boots. Maggie Rogers wears Blundstones and nothing else. Billie Eilish wore our gumboots for a fashion shoot. We only found out by accident, and not by paying anyone to wear our boots.
There's a sort of beautiful simplicity about a Blundstone. I know I'm biased as the CEO, but we still hear people say that a Blundstone is not trying to scream for attention. It's just there. Our boots are very comfortable being who they are, and I think people who wear Blundstones have that same sense of quiet confidence. I often see in Australia, you see young women going to music festivals wearing Blundstones with a dress. It's just this statement, "I'm confident, I'm here to party like the rest of you, but this also looks really good at the same time."
We've certainly had designers say they like our boots, particularly the black ones, because they are able to be paired with anything. We constantly do searches on how people are styling Blundstones by going to the handles that are organically fed by people. They really are styled with everything.
What are some of the initiatives around the 150th anniversary this year?
Well, it started really well, then Covid-19 came. That sort of blew a hole in a whole lot of events. We were going to run a global competition, which had incredible prizes for people around the world. It took all that out of the way. We've still done great stuff. So, obviously as a boot manufacturing business and brand, product had to be at the center of it, so we had the 150 boot. It's just like a 500, but it's got beautiful auburn leather, and it's got that lovely lining inside it, which is that beautiful gold leather lining with "150" printed on it. So, I think that was a lovely product.
The heritage series is an ongoing series, so we didn't want it all to be about that, as if that boot was coming and going. We thought the 150th gave us the opportunity to launch into that segment in the market with the heritage boots. They're much more premium. They're the Goodyear-welted soles, and stitched down there by hand, so they're beautiful, absolutely beautiful boots. We want to keep the collection at the level. It won't ever be huge, it won't ever be enormous, but I think we feel that's important, that was an offshoot of the launch into that.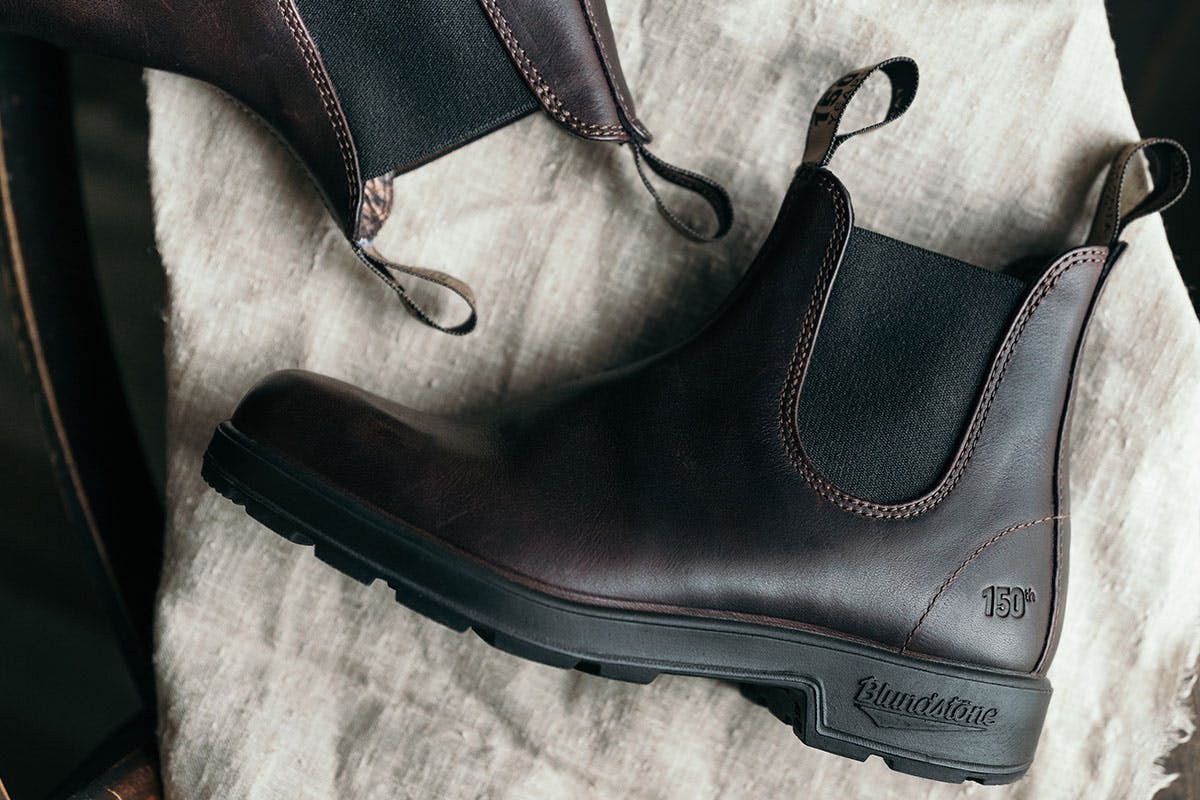 We created lots of content. It was actually a great process for us to go back into our history and really look at curating that better. We created the Blundstone150.com site, and that really speaks to the history of the business, to share that with everybody. Because our approach is that we've led the story of the brand as best told by people who wear the boots, and we've got no shortage of people who wear the boots and are proud to tell their story about that. They're just people who are living amazing, great lives who wear Blundstones 24/7.
There's a woman who works in an elephant sanctuary in Botswana. There's a woman who's been a nurse on the war front. There's a guy who rides endurance cycling, but he does it in Blundstones.
We also created a lovely history book. It sounds crazy, but we've been part of Tasmania for that long. We're part of the fabric of society.
Markets like Italy, Israel, and the UK are important to Blundstone – how have you seen people in these places wear the boots and make it their own?
In Israel, Blundstones are literally like a uniform. Everyone wears them. Just think about where they are and what the landscape's like, so they tend to go towards those lighter brown colors. They're not as much into a heel, they're not as much into the darker colors.
I think if you go to Italy, it's understated cool. In Italy, it's interesting, you'll see it in a really high fashion men's shop, a pair of 500 and 510 sitting there. To us in Australia, that just doesn't make positioning sense. Really wrong. Because, remember, we grew up with them as farm boots. You'll see the guys wearing them. It's all about the sock you wear, the roll of your jean, and the jacket you put it with.
We find in Japan a whole other fashion sense. Baggy jeans, rolled up, a really sort of smart, outdoor camping look. Blundstones, they like the new low-cut ones rather than the boot. We love it. We love traveling, just seeing how people are wearing our boots.
And, of course, in Australia people just wear them with anything, even shorts and no socks, the middle of summer, doesn't matter.
What are some of Blundstone's best sellers for men and women, and what do you attribute to that?
Without a doubt, 585, the biggest seller in the world by a long way. I think people just want a worn-in Blundstone. It looks like it's been worn in already. 500, 510, obviously, still just retain their position in the top five continuously. 063, you know, the chisel toe, black dress boot. It absolutely smashed, that boot, and that's been around forever, too. And that, I think, is just the rock-and-roll cool about it.
The craziness for us is that the 990, which is the safety boot that's been featured in Vogue shoots, it's called, "The boot you wear when the apocalypse comes," you know. It's a work boot, but there is something about the design and the balance of that boot that is amazing. It's really chunky, and it's really full on, but it's still quite beautiful in its own way. So, the 990 in Australia, people could not even imagine someone using that in a photo shoot as fashion. It would just be obscene to even suggest it.