Until recently, the luxury industry was rooted in timelessness, tradition, and heritage. Brands that possessed these values could dictate what was luxurious, while their products became wealth and status indicators. Unsurprisingly then, in a market where timelessness is so fundamental, words like new and next can send shivers down luxury brand owners' spines.
But the idea of luxury is changing. Not the demand per se—the luxury market is just as strong as ever growing, according to Bain, by 5% in 2017 to an estimated €1.2 trillion globally—but what and who defines it. From the growth reported in 2017, 85% is accounted for by millennials. This generation is putting pressure on the traditional concept of luxury, imposing their own values (think Gucci going fur-free, Louis Vuitton appointing Virgil Abloh as menswear artistic director), and redefining what luxurious means.
With more access to information, people are naturally more skeptical and less willing to drop bucks on just anything. Rather than have their desires determined by powerful luxury houses, they are demanding more personalized, unique, and transparent products and experiences. Brands need to oblige or risk falling by the wayside, and one easy way is to innovate through cutting-edge tech and personalized experiences.
With the launch of Bayerische Motoren Werke and the newest addition to BMW's M line of beefy, motorsport-inspired cars, BMW is firmly taking up the challenge of helping shape what modern luxury is. As explained to us by its Head Designer, the pinnacle of the new M line is the BMW Concept M8 Gran Coupé, an exquisite concept car that transforms racetrack performance into a luxurious leisure drive. Although it's still a concept, its sweeping form and unusual Salève Vert paintwork has already got people talking.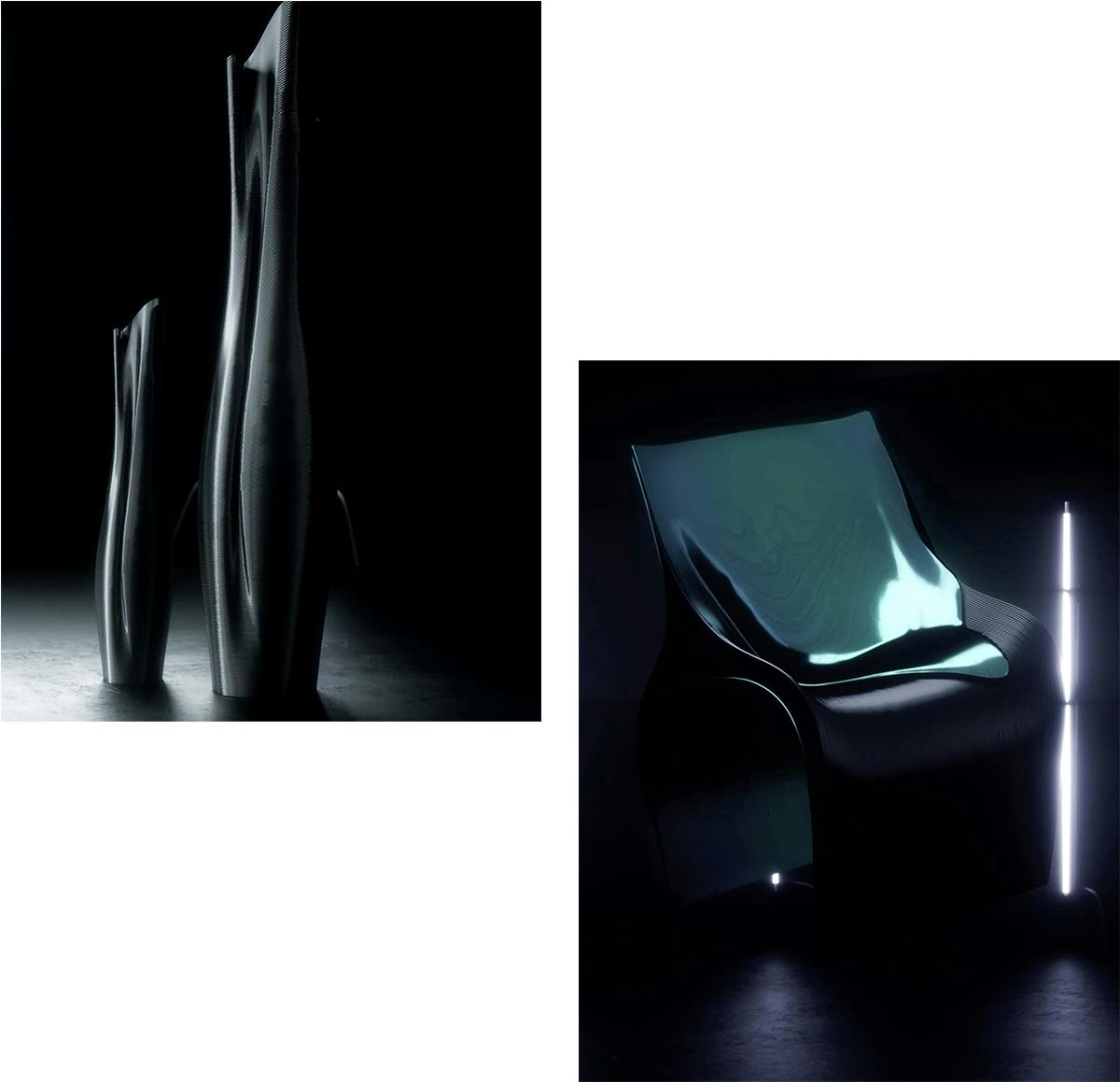 To delve deeper into the meaning of luxury in the 21st century, we tapped into an area of design and technology set to shape its future: 3D printing. Pioneers of robotic manufacturing in a tech-driven age, Nagami are ambitious to explore the future of product design and, in doing so, are creating objects that sit at the forefront of modern luxury. Just like BMW's M8, these designs are exclusive, unique, and only made possible through state-of-the-art tech.
In visual exploration combining BMW's vision and Nagami's technical expertise, we dipped two 3D printed Nagami objects in the BMW M8's unique iridescent paint. While doing so, we caught up with Nagami's founder, Jiménez García, to talk luxury's future and how it will be shaped by innovations in technology and design.
Who—or what—defines what luxury is right now?
So luxury is defined by those who have the courage to enter unexplored territories. It's made by those who create objects that we've never seen before or who offer new experiences that we could hardly imagine but, when we realize they are now real, we actually want in our lives.
So does something have to be unique or exclusive for it to be considered luxurious then?
That's a critical value. We want to feel special when we own a luxurious object, and we want that object to relate to who we are — even to be exclusively created for us.
Has this always been the case?
With the industrial revolution and the introduction of mass production, the creation of individually produced objects disappeared and, with it, the highly skilled craftsmen. They could sculpt every brick differently or weave every piece of clothing with a unique pattern. But now, digital technologies allow that same notion of customization to be brought back into objects, exploring new ways of craft in relation to the digital. This empowers design and new technologies.
So what role will technological innovation play in luxury's future?
Technology plays a vital role in luxury and generally in every product right now. Innovation allows us to materialize forms that we couldn't conceive before and to create new materials that make us rethink the way we interact with objects. But a great designer always tries to be a provocateur and think further out into the future.
Will this change the definition of luxury?
Well, innovation defines luxury more and more nowadays. Luxurious products are no longer just those of incredible material quality, not even objects that are unique or experiences difficult to access; luxury is increasing its association with technology and innovative design, manufacturing or performance, moving beyond pure functionality and offering an experience that you simply couldn't have imagined previously. As the entire world moves towards globalization; escaping normality is a sign of luxury and privilege.
Will 3D printing specifically affect how we perceive luxury?
With 3D printing, manufacturers can allow for variability and uniqueness in every single product. Designers can listen to demands more closely and with more flexible design methods. Meanwhile, the customer can participate in the design process more and create something genuinely tailored to who they really are.
What will the future of 3D printing look like then?
New technologies will make 3D printing processes faster, more reliable and more cost-effective, and their limitations in scale, shape, and material will be reduced. With the democratization of this technology, 3D printing hubs will start to emerge in cities, allowing users to make products locally, shrinking the size of the shipping industry proportionally. Not long after, those 3D printing hubs will get further distributed until they reach every home.
Which luxury items will be produced by 3D printing in the future?
I believe that most items will be 3D printed in the future, especially in luxury. Luxury is inherently linked to exclusivity, to the bespoke, to owning those objects that no one else has, those objects that relate to you, to your own way of understanding and experiencing life. 3D printing is the perfect technology to allow for a degree of customization in every single edition of an object. Soon the automobile industry will have more and more possible ways to use this technology too.
Let's talk about this project. Can you tell us about BMW's vehicle and Nagami's Peeler chair and the Nital vases.
Both the BMW Concept M8 and Nagami's 3D objects are built with an incredibly modern vision, materialized in an aerodynamic and athletic shape that resembles strength and energy. They embody luxury, sophistication, slickness, and elegance. Both are the result of ambitious design and technology evolving in parallel and coming together in an object that seems to belong to some other new dimension.
How does the M8 progress luxury?
The M8 takes those features that only exist in BMW's M cars and fast-forwards them into a future where technology and design have evolved together to amplify comfort and performance. The color changes from every angle which mutates the car's character, depending on the perspective, too.
What does the M8's Salève Vert paint evoke for you?
The paint makes the object come alive on a level we have not seen before. It seems to change color and brightness as you explore every part of its surface.
In your opinion, what's the common ground between 3D printing and the M8?
The common ground is technology. I think both reflect an inner energy that is expressed through shapes inspired by technology's formal necessities. As 3D printing can define every object's aspect differently, the BMW M8 changes color, shape, and character from every angle too.
Check out the Concept M8 Gran Coupé and all the BMW M models on bmw-m.com.