Highsnobiety / Imraan Christian
The Cape Flats is one of South Africa's poorest areas, home to a majority of the country's multiethnic so-called "coloured" population, people who were products of colonialism and victims of apartheid. But now there's a movement of sneakerheads who find hope in collecting '90s Nike sneakers with big, bubbled soles.
Today, the word "colored" grates on the ears, but it's a much more loaded term in the context of South African race relations than in most places. Here, the word "coloured" (as spelled locally) has its origins in the colonial era, and the country's apartheid government used it as a catch-all classification for mixed-race peoples as part of a policy of maintaining racial division and a system of predominantly European white supremacy.
The pejorative label grouped millions of mixed-race people into something loosely defined by the powers that be and without any unifying self-definition. South Africa's "coloured" population has its roots everywhere from native Khoisan, Xhosa, and Zulu peoples to Great Britain, Ireland, Germany, India, and Malaysia, as well as Dutch Afrikaner settlers and nomadic Trekboers.
"We got car culture, we got taxis, we got fokken dress and fashion sense."

Rolo Rozay
A racial minority in South Africa, coloured people are the biggest racial demographic in Cape Town. During apartheid, coloured people were forcibly removed from urban areas around the peninsula and placed in the Cape Flats, a vast area with massive poverty, encompassing several townships and ghettos. The Cape Flats was a creation designed to encourage the demise of a people whose identities were disparate and as such simply "other," but a distinct cultural identity emerged instead.
For decades, coloured people in the Cape Flats have been promoting a culture that has now caught on globally. And it starts with Nike's Air Max technology, which debuted in 1979 and revolutionized the sneaker industry in 1987 with the release of the Air Max 1, Tinker Hatfield's classic silhouette with its midsole window proudly housing the iconic Air bubble. The status of OG Air Max kicks as grails for the sneakerhead community worldwide is nothing new, but "bubbles," as they're called locally, are a much bigger deal in Cape Town.
In South Africa, "takkies" — local slang for sneakers — were status symbols worn by people fortunate enough to have plenty of disposable income. Similar to the American ghetto, more often than not these people were drug dealers and gangsters who turned athletic footwear into walkable signifiers of personal wealth. What the gangsters wore influenced what others wore, setting trends for young men aspiring to dress better and define themselves in a world that looked down on them. The growth today of groups such as Unwanted Kicks and events like Sneaker Exchange show how the self-styled uniform of the area's coloured people has now spread beyond the Flats.
"We got car culture, we got taxis, we got fokken dress and fashion sense," says Rolo Rozay, sneakerhead legend and founder of Cape Town sneaker boutique Sneaker Cartel. "Bubble culture is big in the south: Wynberg, Grassy Park. The bubbles just had you."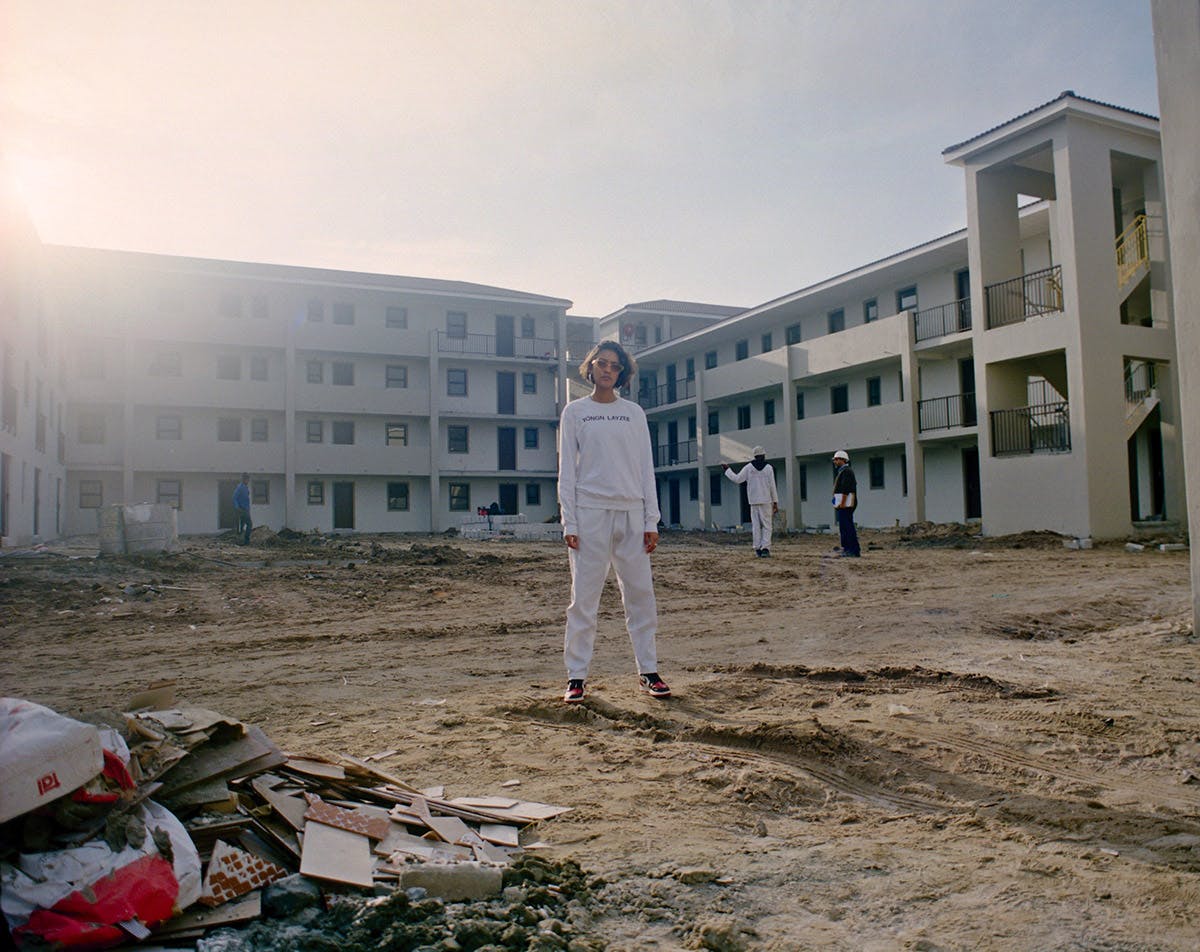 The bubbles here are kicks such as the Air More Uptempo (made famous by Chicago Bulls legend Scottie Pippen), Air Griffey Max 1 (the signature sneaker of MLB icon Ken Griffey Jr.), and various iterations of Jordan and Air Max designs replete with visible Air bubbles on the sole. These '90s kicks are held in high regard everywhere in the Flats, from the corners of Klipfontein Road to the wayfarer alleyways of Wynberg.
According to Justin Ronne, who runs the Bubble Koppe website and Instagram community (the name means "bubbleheads" in Afrikaans), the preference for the Air More Uptempo in particular dates back to the '90s, when the shoe first debuted on court. The sneaker got global recognition when Pippen's navy and white "Olympic" colorway hit the hardwood at the 1996 Olympics in Atlanta, Georgia.
"These days obviously we collect and it's not anything unusual," says Ronne. "But what about those cats who've been collecting for 25 to 30 years? I mean, they were doing it before even Nike knew what was going on."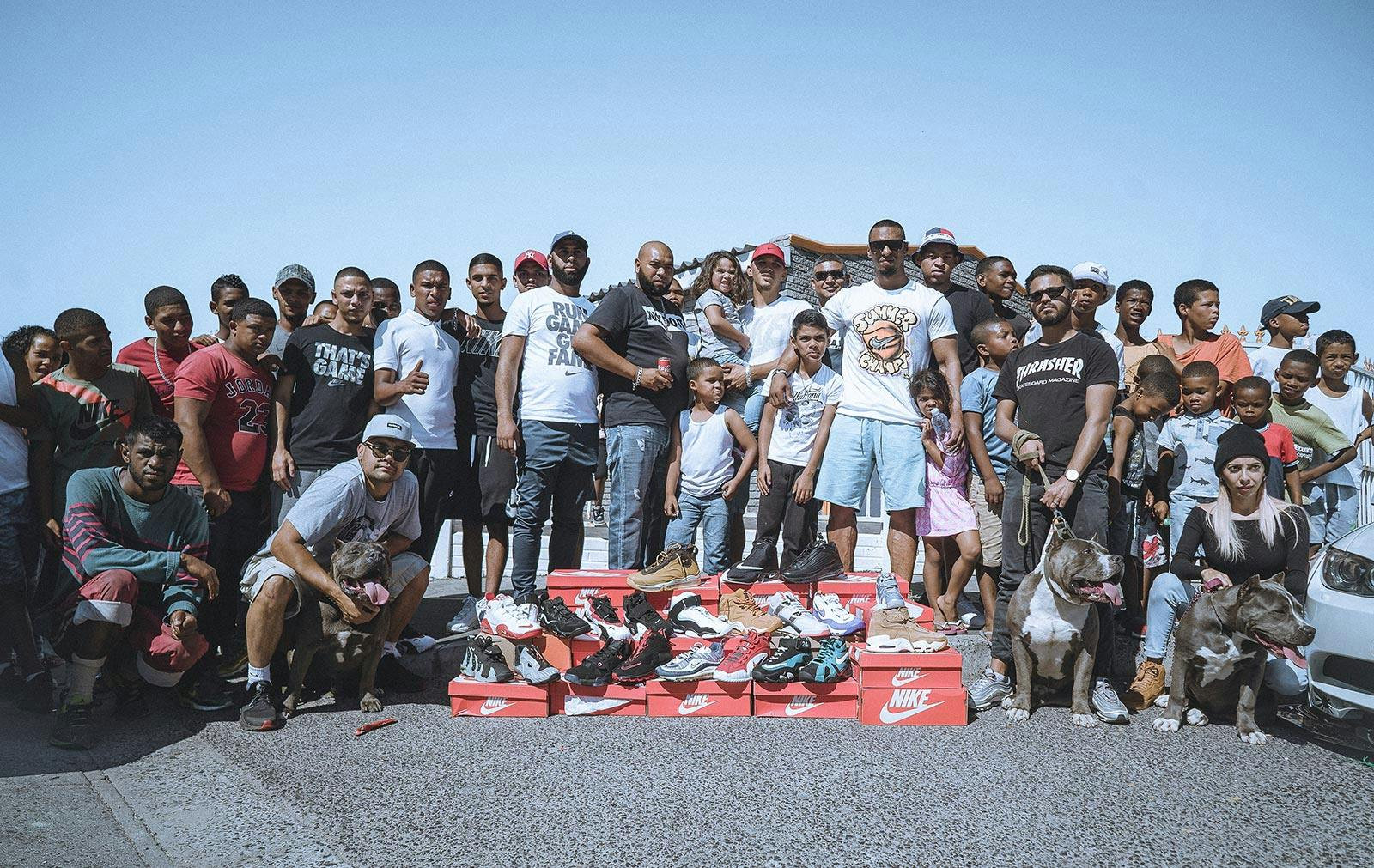 Highsnobiety / Imraan Christian
Ronne says Cape Town's earliest sneakerheads, eager to get their hands on the kicks, hustled pairs across the Atlantic into Cape Town's southern slums. Even before the internet and social media made it easy to discover the newest kicks, demand among the bubbleheads of yore was fervent — and that unwavering desire for those covetable translucent soles still burns in the community today.
"Bubbles are a phenom," says Rozay. "Now you have kids wanting the shoes their uncles may have passed on. They saw photos of shoes that's not available anywhere, but they want that shoe."
Rozay calls Cape Town's sneaker scene a "culture of transcendence." One that exists partly as a lived experience and partly as a hopeful gift from generation to generation. Although it's well documented that certain types of Air bubble soles are prone to deterioration, crumbling over time (as evidenced in Ronne's @bubblekoppe posts) — particularly in arid climates such as Cape Town's — that doesn't stop Rozay and other bubbleheads from accruing new pairs to keep their shoe game fresh. And with Nike's recent retros of covetable models, there are now even more kicks to stock up on.
One of the most prominent figures in the scene is Riyadh Roberts, better known as YoungstaCPT, one of Cape Town's most prominent and prolific hip-hop artists. This year marks the release of his 30th mixtape, To Be Continued, soon to be followed by his debut album 3T. His videos for recent songs "Yasis" and "Wes-Kaap" have been watched hundreds of thousands of times on YouTube (big numbers for a localized scene). According to the rapper, Cape Flats bubble-rockers use the shoes to uplift themselves both literally and figuratively, the Air cushioning elevating every step, a reminder that they too deserve to look fly.
Rolo Rozay
"We've always been put down. We've always been sidelined. We've always been forgotten. And yet we come out of the kak [Afrikaans for 'shit'] looking better than those that have money, than those who are the elite," Youngsta says. "We naturally want to excel, and bubbles make us feel like we up there somewhere in the clouds."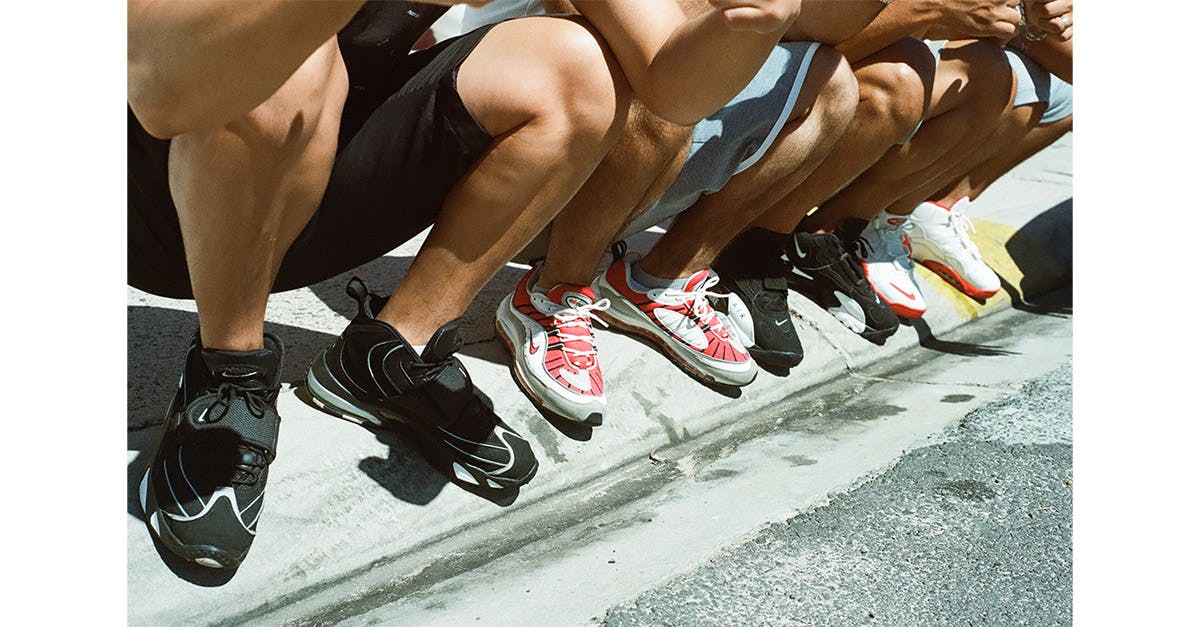 YoungstaCPT features prominently on the Unwanted Kicks Instagram account, a digital community and online sneaker store that started with just five pairs and now sells more than 50 a month. Unwanted Kicks co-founder Yaya Jeff understands that the products he moves aren't mere sneakers, they're wearable gateways to a better public image. That's why plenty of his customers prioritize copping a pair over other things in their lives.
"In the Cape Town coloured communities, people don't earn much, they live off the minimum," Jeff says. "But when it comes to street swag, clothing, and especially footwear, they would have less to eat but they will be wearing the most expensive kicks. They put their all into it."
The spirit of this indomitable swagger is what visual artist Imraan Christian captures in his work. His photographs became one of the most striking documentations of the 2015 "Fees Must Fall" protests led by South African students in response to increased university tuition fees. That exposure led to commercial work with sportswear giants Nike and adidas, which he used as an opportunity to provide exposure for the local community, illustrating how people operate, survive, and thrive.
In 2017, Christian worked with adidas on a campaign to support the revival of the '90s EQT line. He selected South African models born in the '90s, a generation known as the "born frees," having come into the world post-apartheid, turning the campaign into a layered examination of what it means to be born free. His work highlights the dichotomy of coloured people as front-runners in style and sneaker culture but also among the country's poorest and most neglected demographics. It's why he doubled as an adidas-backed mentor, offering aspiring creatives in the community the help they needed.
"But when it comes to street swag, clothing, and especially footwear, they would have less to eat but they will be wearing the most expensive kicks. They put their all into it."

Yaya Jeff
That same year, Christian cemented his role as a leader among local youth, establishing a partnership with Nike and Highsnobiety to highlight Cape Town's urban golf culture and the born frees claiming new ownership of a sport that would have historically all but excluded them from participation.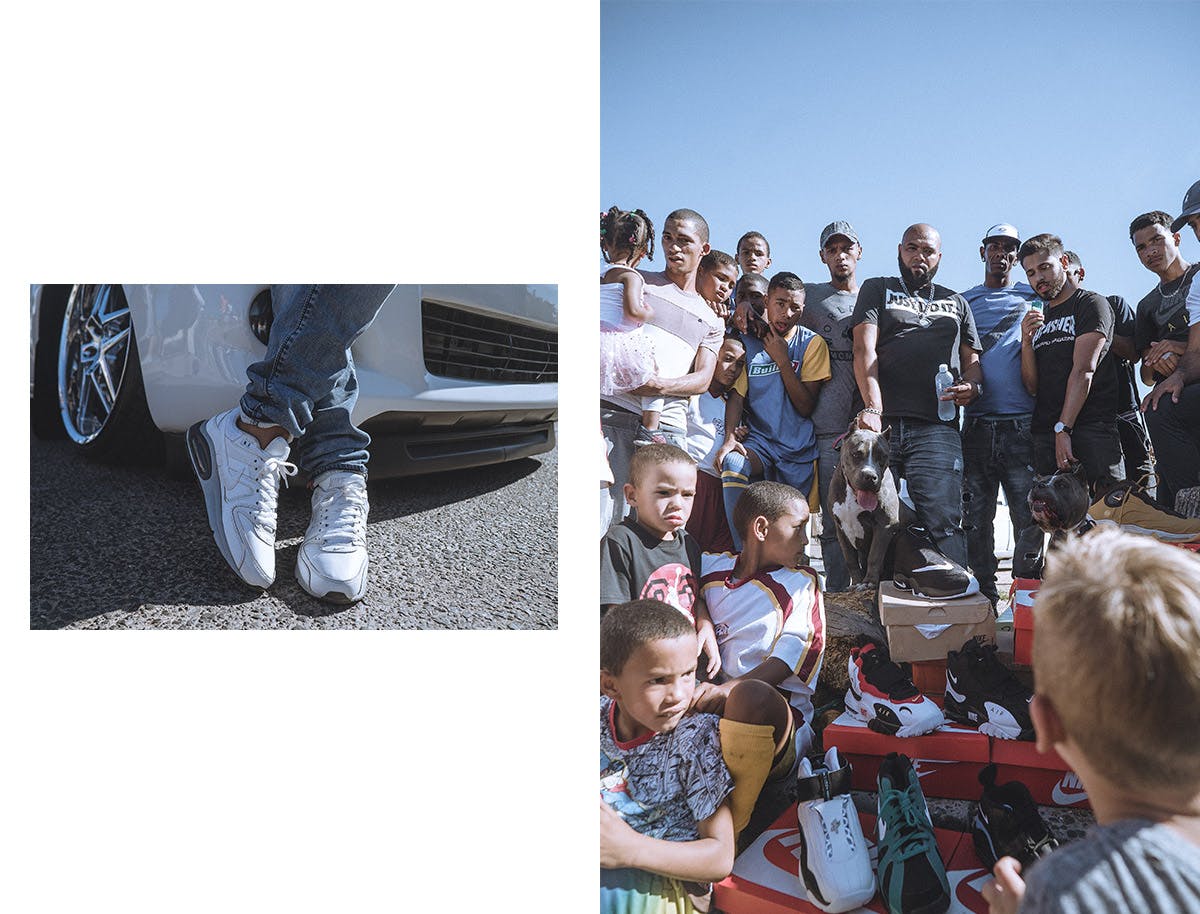 Highsnobiety / Imraan Christian
Founded in 2013 by Zaid Osman and Tebogo Mogola, Sneaker Exchange bills itself as Africa's largest sneaker trading event, drawing nearly 3,000 attendees to gatherings in Durban, Cape Town, and Johannesburg. According to Osman, Cape Town was the ideal choice to host the first ever Sneaker Exchange five years ago because its culture of seeking out the best and rarest kicks makes it a hotbed of super-engaged collectors who are almost always on the hunt.
Like similar sneaker events around the globe, Sneaker Exchange is part exhibition, part enthusiast convention, and part trading floor. It's where attendees come to show off their massive collections, outdo each other with the kicks on their feet, and flip limited-edition sneakers at inflated prices. It might not be the first of its kind, but it shows how far South Africa's sneaker scene has progressed, attracting old and new generations of sneakerheads, its attendance rate growing every year.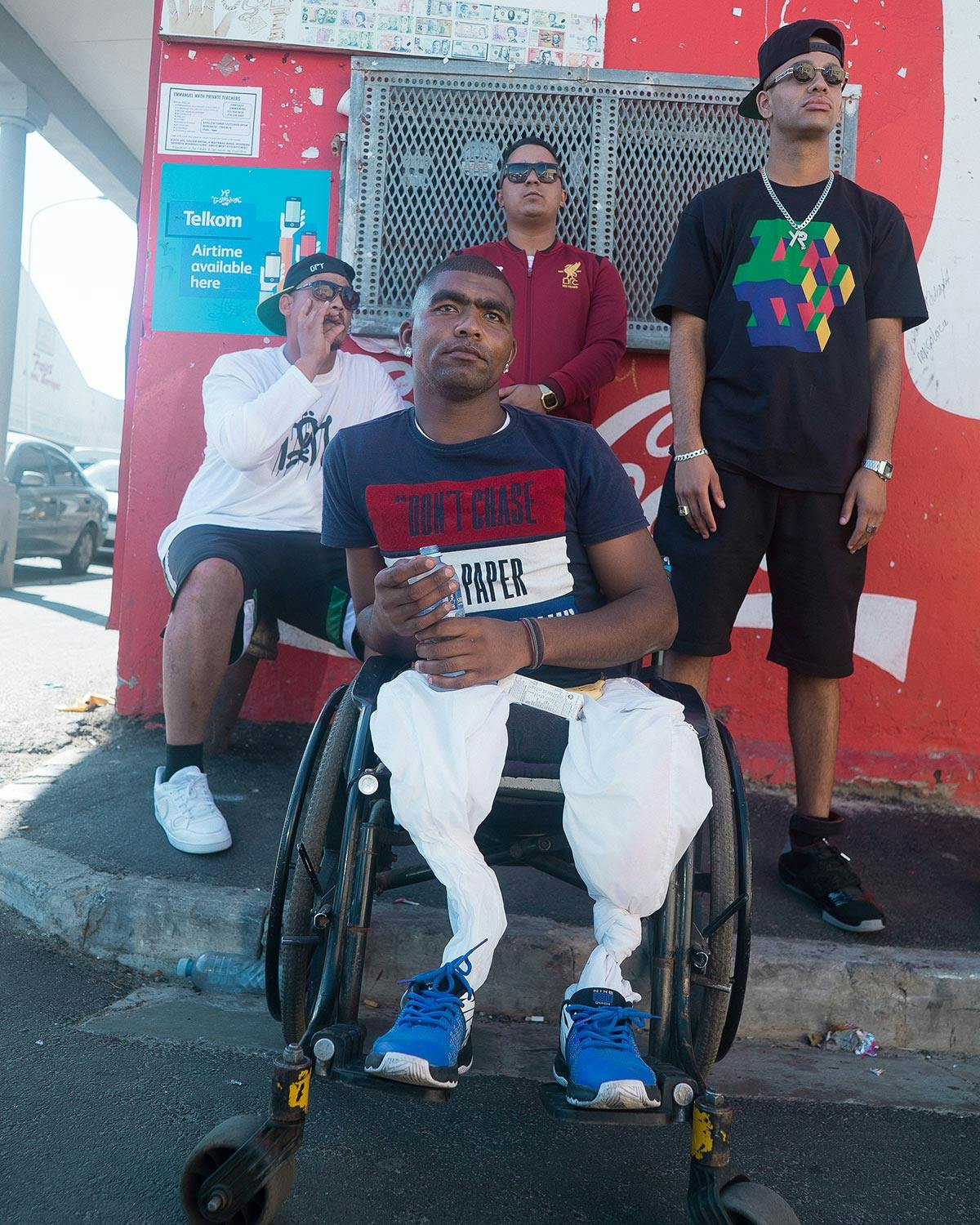 And as the sneaker business continues to grow, the Cape Flats bubbleheads remain effervescent in their shared passion. Poverty, unemployment, and gang activity continue to blight the area, but the men and women who comprise this diverse scene of collectors are forging a positive shared identity. Their love of takkies isn't just a survival mechanism, it's a hopeful movement built on transcending their circumstances and celebrating a love of life.
Yaya Jeff of Unwanted Kicks lives by a phrase taken from South African slang: "We dala what we must." Loosely translated, it means something along the lines of "Do what you feel is best," or, "Do what makes you happy." According to Jeff, that's how those in the Flats move forward in life, step by bubbled step.
Jeff