There's a reason New York is described as the city that never sleeps. Its pace of life is so frenetic and fast, and its energy so strong, that to adequately describe it people revert to metaphor. You'll 'either sink or swim' in New York, be 'swept along or get left behind', or, as the photographer and Bronx native, Renell Medrano, puts it, in New York "there's no sleeping or you'll get slept on."
Capturing the energy and buzz of the city, we turned to Medrano, Jonah Levine, and filmmaker Shadi, to give us a snapshot into their urban world in the final part of our City Charged film project. In collaboration with Nike Sportswear and the new Lunarcharge sneaker, City Charged asked local filmmakers from five global hubs to capture the stories of the people whose lives are as fast as the cities they live in.
The final film took a deep dive into 12 frenetic hours with the Levine and Medrano, with us only managing to grab a few quick questions in between the shots. The ironic element to all of this though was that, for two people whose lives are defined through the uniquely fast-paced lifestyle that New York seems to generate, both seemed calm and composed in outlook and attitude. Medrano's creative self-expression comes through working on her nascent brand and creative agency, Ice Studios, as well as through the capturing and freezing of time itself through her photography. Meanwhile Levine takes an almost philosophical approach to the pace and the speed of life that he's forced to live in New York. Instead, he prefers to slow things down and bring it back to the physical, actually venturing out and moving from A to B to meet people face-to-face, rather than through the virtual, impersonal world that modern social media, in his view, seems to create.
See how Nike's Lunarcharge powered them through the city in the final film, above, and check out what they had to say, below.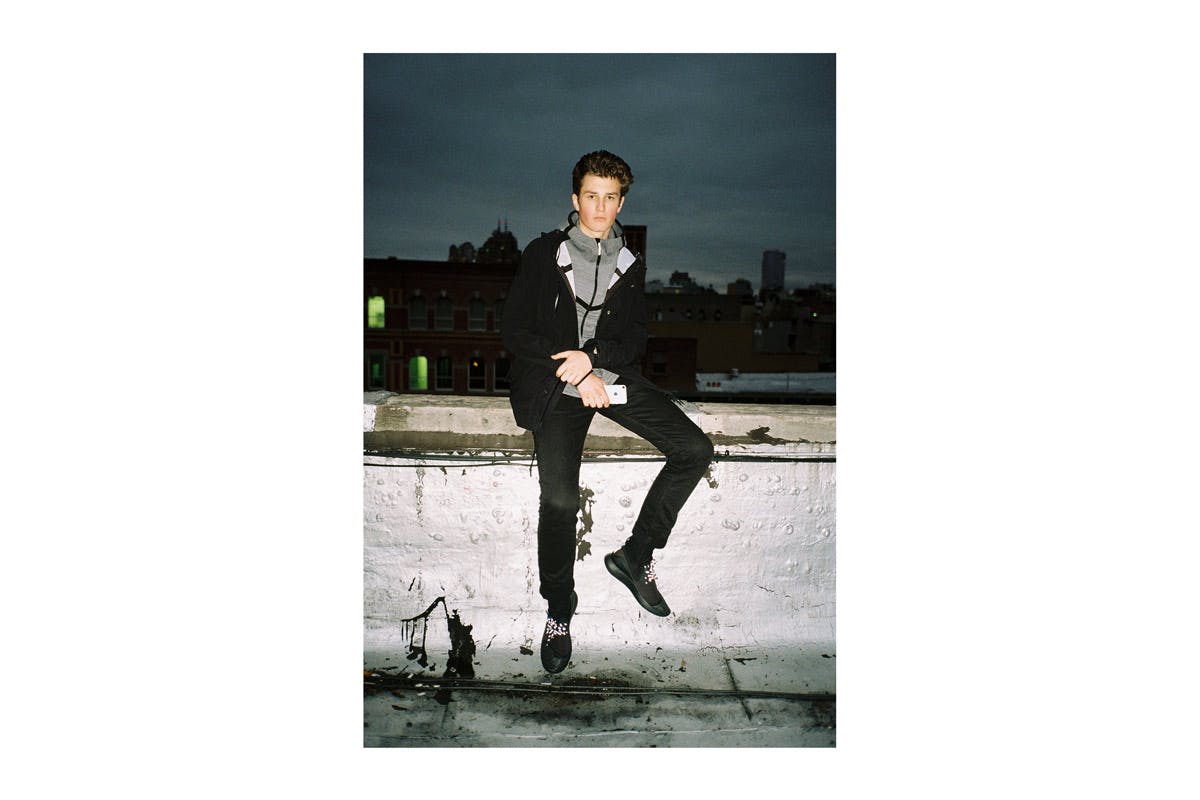 How did you start off doing what you're doing Jonah?
JL: I've always had evolved taste for my age, so it's always been easier for me to talk and relate to people older than me. Because of this, I've never really had to intern or be anyone's assistant. I would just build an authentic relationship with someone and next thing you know they want to introduce me to their boss or their business partner. All of a sudden, I've skipped five to 10 steps in whatever field it is I'm involved in because I made a good impression on the right people. Most kids I grew up with are struggling to find a summer internship that they don't even want.
Tell us about the Ice Studios merch, Renell.
RM: Ice Studios is just something fun I created for my friends and I. It represents me and eventually will be my very own creative agency. I want a team full of young creatives.
What brands are you currently into?
RM: I don't have anything in particular but I love how there are young designers taking over.
What did you last buy?
RM: A pair of Nike vintage sweats. I've always been a fan of old school Nike... the colorways more than anything. You'll catch me buying cozy pieces all year around.
And how did growing up in the Bronx inform what you're doing now?
RM: I started documenting the Bronx when I first got into photography and that documentary aesthetic has played a big part in what and how I shoot my subjects.
Can you tell us about one of your photography projects then?
RM: Got a few projects in the works but one of my favorite projects was shooting these four teenage girls who resided in the Bronx. I was infatuated with them because a piece of them reminded me of myself. I was raised in the Bronx, but never got the freedom to experience it the right way, so I pretty much lived vicariously through the girls. I was attached to them for two years documenting their lives: hanging out, parties, intimate moments. Things like this. I was going for a raw feel for this project. I wanted the audience to feel as if they were there with them, too.
So why NY and not somewhere else?
RM: Because NY will always be home, the energy here is like no other. There is so much versatility and culture in the city. It's the only place that keeps me inspired.
How would you describe its energy?
RM: Fast. There's no sleeping or you'll get slept on.
JL: Fast paced. Competitive. You kind of feel like you're on your own out here, but that's the fun of it, in a twisted way. It's a sad place, but if you embrace the sadness, it becomes the appeal.
Is NY treating you okay?
JL: It's pretty exhausting. There aren't enough hours in the day. But I couldn't imagine living anywhere else.
You seem pretty grounded, if you're Twitter is anything to go by... What are you currently driven by?
I always thought the evolution of the social world was cool, but now it's starting to get dangerous. I don't like how disposable everything is becoming. Human interaction isn't even a necessary part of forming a relationship in 2016. So lately, I've been going back to the textbook way of doing things. I'd rather have a meeting over coffee than Facetime or email. I want to bring back the appeal of meeting face-to-face. When talking to someone, all you really want is their full attention, and social media is taking that away. I feel like it's up to my generation to make sure human interaction doesn't become extinct.
Watch our entire City Charged film project, with circuits in London, Paris, LA and Berlin. Cop the sneaker that's designed to move faster than the city, the new Nike Lunarcharge, over at Nike.com.