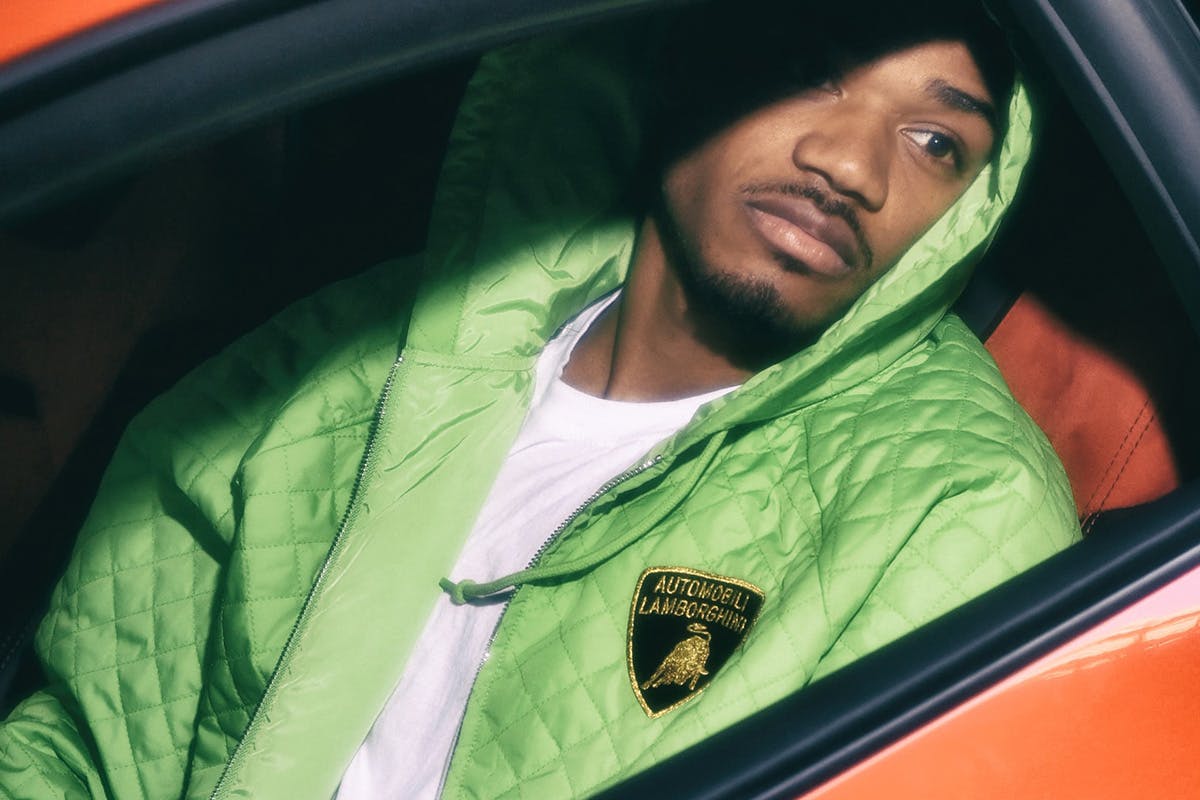 Since this article was first published in May 2020, we've seen team-ups from Kith x BMW, Virgil Alboh x Mercedes, and now, Balmain x Porche. Read on for a deeper dive into how fashion houses are making cars cool again.
What makes sneakers special is that they empower kids to own a piece of their favorite athlete's greatness. By slipping on a pair of Air Jordans, you can, to some degree, "Be Like Mike." And as an adult, a new pair of sneakers can connect a person with fond memories from their childhood.
Yet as sneakerheads mature — as do their disposable incomes — more "adult" objects like furniture and cars often take a front seat to the fleeting nature of fresh kicks. It still doesn't make owning a hard to find, next-level expensive, vintage Ferrari (say, MJ's 550, which inspired the Jordan 14) any more likely, but as streetwear evolves, its references to the newfound interests of its customers must, too. That's just business. In 2020, there's a way for these more adult shoppers to scratch that itch for both cars and clothes, thanks to a new wave of auto-inspired fashion from the likes of Aimé Leon Dore, Supreme, L'art De L'automobile, and Period Correct.
The connections between streetwear and car culture are undeniable. In Supreme x Lamborghini, which dropped in April of 2020, you see the same kinds of things you'll find at a cars and coffee meetup on a Saturday morning in Scottsdale, Arizona: The instant visual signifiers of taste via logos, the one-upmanship, and the desire to collect rare, hard-to-find things. Beyond that, there's the fact that both cars and clothes can be aesthetic extensions of their owners. The guy who loves vintage Patagonia fleeces and J80 Land Cruisers evokes different sensibilities than the man who rocks Saint Laurent and drives a Lamborghini Urus. And while both are items built primarily as commercial pieces, with the right combination of passion and taste, they can ascend to the level of art. Engineering, materials, and performance are all critical factors in both clothing and automotive design, whether it be the latest Air Jordan or Aston Martin.
Bryan Calvero, who founded the car-inspired label Period Correct (itself a reference to the various parts and pieces of a certain model) in 2013, puts it simply: "If you like good design, you'll like cars." He calls cars "the best form of art," and in 2018, collaborated with McLaren on a collection to honor the brand's F1, which debuted in 1993 and held the record for fastest production car in the world for over a decade. The things that make it great — its timeless design, its center driving position, the fact that it was the first fully carbon fiber body ever made on a car, and its 24K gold engine lining — are the same kind of innovations that sneakerheads or fashion obsessives glorify in new collections.
Calvero represents the guy who's a fan of both worlds, and demonstrates how loving style and cars can spawn out of a similar sensibility. At the same time Calvero was developing a love of cars, he was also getting into Polo (he proudly calls himself a 'Lo Head), and cites Ralph Lauren — one of the world's greatest designers and greatest car collectors — as an inspiration for how to mesh the two passions together.
"I appreciate the level of detail in his collections, and I saw that we have so much in common," he says, claiming how throughout the years, he's even spotted his idol at the world famous Pebble Beach Car Show. Lauren lives the aspirational lifestyle that his collections evoke, and that lifestyle doesn't stop with clothes. Living the Ralph Lauren way means bringing that love of The Good Life into every corner of one's existence, including the home they live and, of course, the car they drive.
Similarly, Dunhill, the British menswear label that was founded in the late 19th century by creating accessories for new motorists, is interested in tapping into the 360 degree visual identity of car enthusiasts. Its Spring/Summer 2020 collection, titled "Automotive," was conceived by creative director Mark Weston to honor the brand's heritage and enhance the lifestyle of who he perceives to be The Dunhill Man.
"It is more about building an identity. I work a lot with what I kind of call design codes, which are references that talk to either a certain material or whether it speaks to a certain item or piece," Weston says. In other words, because cars can become such a part of a person's lifestyle, they serve as useful references when trying to discover who an ideal customer is.
But because not everyone can emulate Ralph down to his fleet of Ferraris, clothing that simply references this lifestyle is now a viable alternative as well as more readily available, thanks to the rise of streetwear. And his influence on people's love of clothes and cars can be felt in collections of some of the hottest labels today. Take Aimé Leon Dore, which in February 2020 collaborated with Porsche on both a capsule collection and a one-off, Loro Piana and Schott leather-lined 964 Carrera 4, are a 2020 update to the kind of 360 degree brand experience that Ralph Lauren ushered in. While ALD's taste level is arguably unmatched, it allows its customers to buy into its love of cars without expecting them to drop $100,000 on a vintage car, but rather through an embroidered logo on a coach jacket or a T-shirt that gets right to the point, i.e. "Porsche / Aime Leon Dore / 964 Carrera 4."
Then there's Paris-based L'Art De L'automobile, which since 2017 has taken the cars x clothes lifestyle to a literal level, operating as both a clothing brand and a high-end dealership for rarified, expensive models. Having a fleet of old Mercedes and BMWs shows people that L'Art de L'automobile's founder, Arthur Kar, is not just an enthusiast, but a real-life collector. That authenticity is imparted upon graphic T-shirts, sweatshirts and caps. Kar explained in a recent interview that at the heart of his label is a desire to combine authentic car culture and fashion, even if he doesn't see himself as a designer per se. In a world where fans are constantly looking for a reason to call bullshit, that kind of honesty only helps his cause.
Despite the quick-hit nature of a T-shirt with a manufacturer's logo, being a label that references cars in 2020 doesn't necessarily translate to the simple formula of automaker logo plus garment equals hype. For its Fall/Winter 2020 runway show, Off-White used split-in-half-cars placed vertically to look like they were growing out of the ground as set pieces. Goodfight, an LA-based contemporary label whose Spring/Summer 2020 collection is titled "My other car is a Singer," is inspired by cars, but expresses it in a much more metaphorical way.
"You don't see any logos, per se, because when it came to silhouettes and everything, I was thinking more on the level of how the car is put together," says designer Calvin Nguyen, who in his daily life drives a Subaru WRX. "I was more interested in what kind of materials they use, how they're put together, as opposed to the overall aesthetic of the car." Still, the resulting collection of modern suits, baseball shirts, coach jackets, and other minimalist staples, signal how automotive design can cross over into the world of fashion in less obvious ways.
To a certain extent, streetwear and fashion are constantly on the hunt for new niche cultures to reference, and cars are just the next in line. But nostalgia often informs those references, and right now, with streetwear's earliest adopters entering their 30s and 40s, it's the perfect time for car references to take center stage. There's no denying that these beautiful, expensive, somewhat dangerous objects have a unique way of captivating the soul — and why, like sneakers, they tend to stick with us from the time we're children. There's also a sensory experience that comes with cars, and the fact that they (quite literally) move you. And thanks to movies and Hot Wheels and the Internet, we can tap into that nostalgia for cars even if we've never driven them or seen them in person.
"Whether it is the sixties, seventies, eighties — I think people have a connection, whether you see it in iconic films, [...] something like Steve McQueen in Bullitt, when you've got a Mustang there and there's a real sense of [...] character from it… or it's The Thomas Crown Affair," says Dunhill's Mark Weston. And these clothes, whether they reference a model or maker we love, or simply have that automotive touch baked into their fibers, remind us of that roller coaster feeling we had in our dad's convertible, a poster on our wall, or a time when things were simpler.
Ultimately, what connects fashion and cars boils down to some combination of yearning for the past, engineering interest, and cars' potent ability to do a lot of a brand's world-building for it. Cars evoke cool, and allow a brand to leverage that in infinite ways, both through overt references to specific makes and models as well as tapping into what being a car-lover means. Even though enthusiasts still aspire to own their dream car, for almost all of us (especially those living in cities like New York), it's probably not going to happen. But buying clothes that allow us to feel closer to that dream than ever is a viable alternative — at least for the time being.