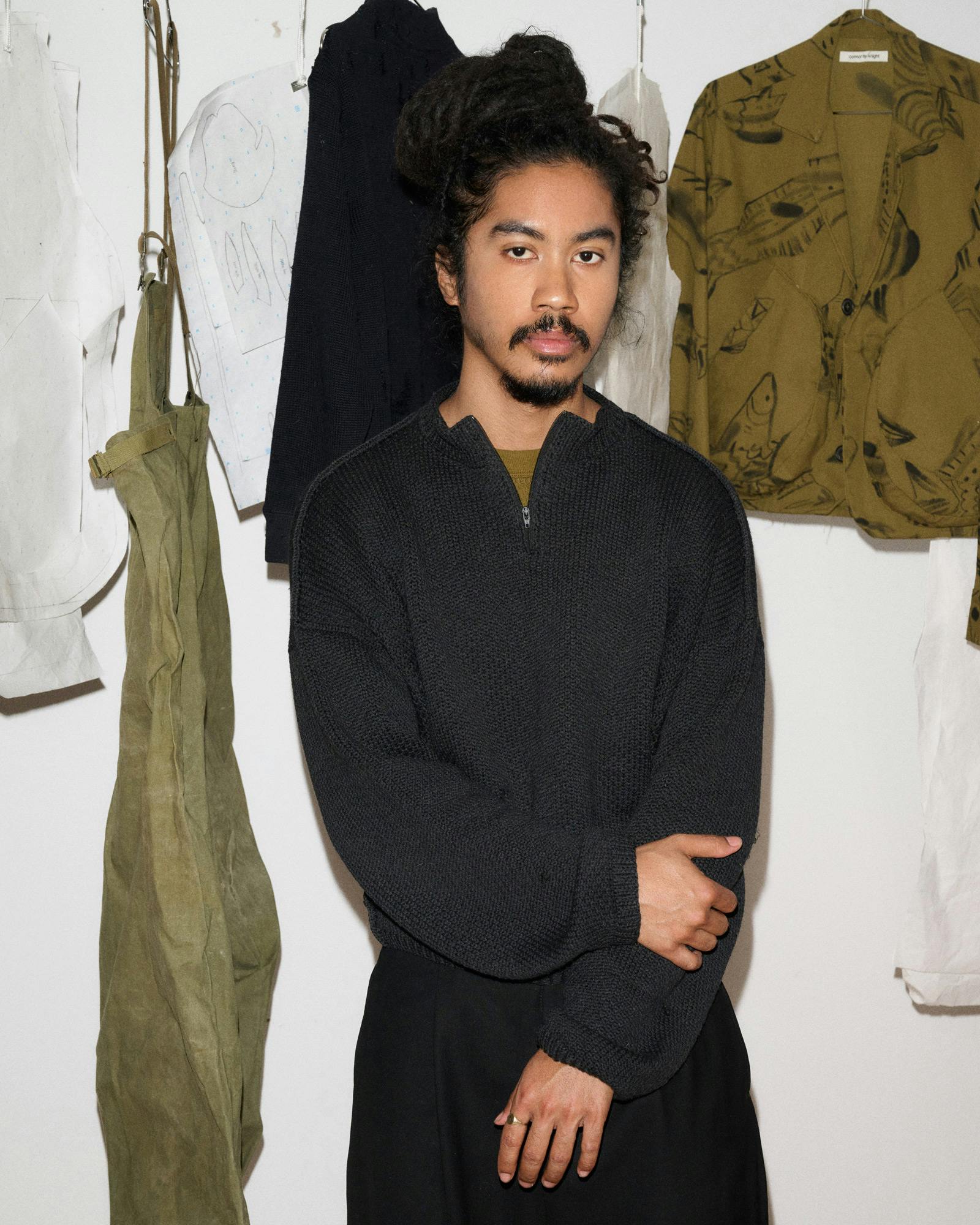 This week's FRONTPAGE puts the spotlight on Connor McKnight, a designer whose work is the equivalent of a luxury whisperer.
Fashion designer Connor McKnight is a Brooklyn designer, through and through. Operating in the neighborhood of Bed Stuy (where he has lived for the last two years) McKnight's brand — which he started during the pandemic from unemployment checks he collected after leaving a job at Bode — has, after its fourth season, been garnering attention by not vying for attention. His clothes are muted and mature. He prefers the word "refinement."
"I start very general," he says about his process. "I have a broad idea of something that I want to make. And then as I'm patterning, I make changes along the way that sort of inform that product. A lot of the time, that's where my design choices are made."
While a designer like Telfar identifies with nightlife, McKnight designs for hiking, climbing, and fishing — suburban leisure. Today, McKnight's retailers include Ssense, Mr Porter, 10 Corso Como, and Highsnobiety Shop. When designing, he asks himself, "What can I wear to death? What's a staple piece I can have for 30 years?"
In his studio just above Houston Street, he met me wearing all black with distressed Levi's. From the racks, he showed me the brand's best seller, the brown and black checkered tile-knit rugby pullover — it's giving Dad on a Saturday morning. In outerwear, one hot item is his black puffer jacket, which has drawstring bungees at the sleeve: a sign of his clever, even humorous relish for detail. His palette hovers around browns, olive, black, and tan — earthy, and ground-level.
It's an aesthetic that far surpasses his age: 29. The impatient, darting eye will easily overlook his clothes. He has an intriguing term for his aesthetic — "the Black Mundane" — which speaks to the intermediary moments of Black life that flourish in the snatches of afternoons in between events, when the mind permits itself to drift. More autobiographical than most designers, he draws deeply from the sights, sounds, and stories of his mixed-race family life growing up in the suburbs outside of Washington DC. He has a group chat of almost 30 family members, where he asks questions about family history. "He calls me all the time," his father Vince McKnight tells me. "We have lots of discussions about African American history, and the struggles that people have overcome."
Vince lives in a house Connor's maternal grandfather built in 1960. "We have old pictures of grandparents, great grandparents. When they're all over the house, Connor looks at them, at how people dressed," he says.
Vince — a Black man who works as a lawyer for whistleblowers, and plays Blues guitar as a hobby— sometimes feels like he's "General Counsel to this fashion business," because of how often McKnight asks his opinion, or about his younger life in midcentury America. When Vince was younger, he often went to New York where, during a show for jazz composer Roy Ayers at Rust Brown, a white Ferrari showed up outside the venue, from which emerged Miles Davis for an unannounced performance. At Brown University, Vince was a Jazz and R&B DJ.
McKnight's mother, Cynthia — half-Chinese, half-Indian, but raised by a Black family — worked for the Equal Opportunity Commission, yet had always dreamt of going to Parsons to become a fashion buyer. When McKnight was a boy, Cynthia took him to New York at least once a year, often to see plays like The Lion King or Fame on Broadway, where his aunt performed as an actress. To persuade McKnight to come with her on these trips, Cynthia would take him shopping at places like Flight Club, where he stared at sneakers along the wall like ancient Egyptian masks. ("I'm a retired sneakerhead," he tells me — his current collection still holds "Virgil Off-White™ Nikes," and "Jordans.")
As the youngest of three brothers, McKnight played football, basketball, and baseball, and he was taken by the quotidian mystery of sports uniforms. His mother had a sewing machine, which he would use to tailor wide-leg jeans into skinny-jeans for his friends for $5-10 each. He dreamt one day of moving to New York, where his oldest brother went to study fiction writing at The New School. New York always held a contained glamor to McKnight. It was a city of the saxophone, of stairs attached to library stacks, of cigarette-stained playbills. McKnight first went to the city to study business at Fordham University, and then later, after an instructive design internship at Kith, enrolling in Parson's for fashion design, eventually fulfilling his mother's stymied dreams.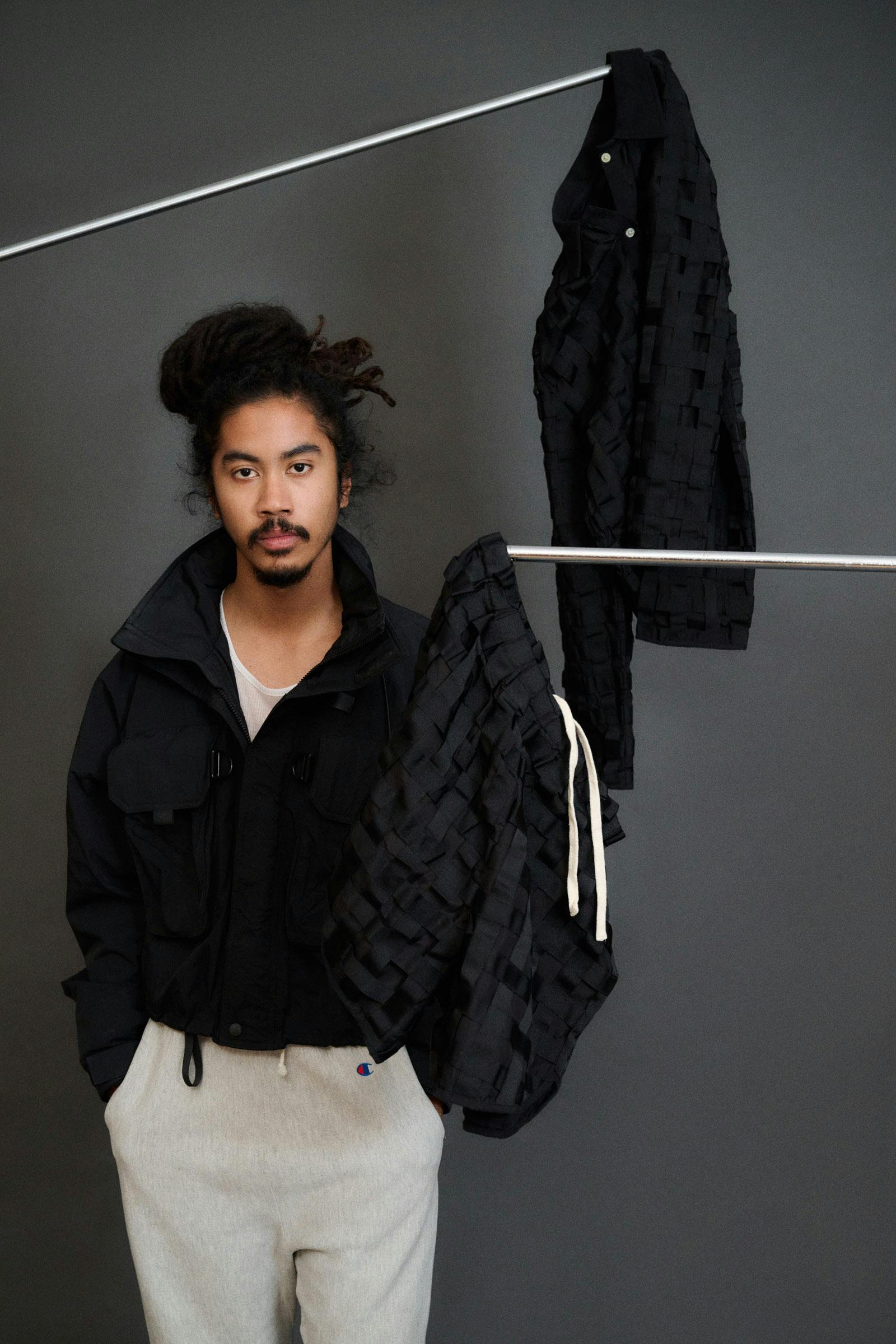 As par for the course, he might make a collection with 10 looks and be expected to have a common thread running through all of them. "You have to create concepts for multiple collections at once in a very short amount of time, which is really important when you're developing your whole collection in the real world," he said.
For his final project, he made his first puffer jacket ever, which was unusually ambitious. When he proposed it, his pattern-instructor Joyce Scrima said, "As long as you really go for it. Because I can't help you stuff a jacket." McKnight remembers bringing in a giant bag of goose down, which drifted upward once he opened it, as if lighter than air. Reflecting on this time, Scrima tells me that, even in class, McKnight demonstrated himself to be a "talented designer" who was "diligent in his work."
During his final year at Parsons, McKnight was already working for fashion designer Emily Bode as a production manager. Often from class, he would head straight to Bode's apartment on Clinton Street in the Lower East Side, where he arranged buying appointments, or spoke to the press. This was in 2018, when he watched Bode move from having just a presentation in New York to a runway show in Paris.
With his second-oldest brother Devin, McKnight went on from Bode to start his first collection, which is the first time he worked with a factory. "I've had factories tell me that like, okay, you skipped a step here, you made a decision on the sewing table that you didn't include in your pattern. Things like that are part of the reason why it was so important for me to make that first collection."
In 2022, he began turning heads in the crowd of New York Fashion Week. Rachel Tashjian called him "undoubtedly the menswear star of New York Fashion week" in GQ Magazine. In Vogue, Christian Allaire wrote, "His clothes, often tastefully pared-back, offer a whisper of luxury instead of screaming it out loud."
I'm surprised when he tells me that his biggest influence was Giorgio Armani, who isn't exactly known as a godfather of gorpcore. "They have these really amazing nylon and outerwear pieces that were some of the early building blocks to things that I was coming up with," McKnight says. He calls Rick Owens "Uncle Rick" — not explicitly a design influence, though McKnight admires Rick's "sculptural" ways. As a third influence, he cites Issey Miyake — "beyond the pleats" — whose workwear and sports sub-label Issey Sport were major sources of inspiration for his label.
Consistently, McKnight will draw silhouettes out of the cultural archive of African American history, either from the Reconstruction era, or from the 1970s jazz clubs where his father liked to spend his time. "It's really interesting to explore the universe or the community behind them and find out what people were wearing in some of those contexts," McKnight tells me. His collections tell a story, one that narrates the rise of the Black middle class in America after the Civil Rights Movement, to which his designs have given visualization. He's intentionally trying to challenge what he sees as the dominant narrative of "the rose that grows from the concrete" where "somebody started from nothing, blew up, and became really famous." He goes on, "In the conversation of Black wealth in the United States, that's surely one avenue," adding, "But I think for most of us, that's not going to be the path we take."
Instead, McKnight is playing the long game. His clothes are not designed to catch clicks on the internet; they're made to be loved and lived in over decades. They are made by someone like him for someone like him — aspirational customers who want something less flashy than Off-White™, but more sensible and technical than Wales Bonner. These people might have grown up with Christmas presents from L.L.Bean and Patagonia, but are now looking for something with a sharper degree of sensitivity that flatters their jazzy sensibilities and relaxed intelligence. Before McKnight, there wasn't quite anything in the luxury world to offer this consumer, who was easily overlooked by the Louis Vuittons of the world. McKnight has given voice to them.
"Growing up middle class is a very common experience for a lot of Black folks in the United States," McKnight says. "I want to highlight that the experience in the mundane is okay. It's better than okay. It's really nice. There's peace there."