Don Julio is paying homage to craftsmanship with a series of Devotion Diaries. We chat with makers who show that commitment to creativity will never go out of style. This article is sponsored by Don Julio Tequila.
To step into Roberto Sanchez's Mexico City studio is to step into what can only be a sun dappled version of his brain. Deep green vines mingle with an array of mood images taped like leaflets to his walls, a woven straw lampshade disperses light in patterns across the room, a lime and tangerine orchid blooms. At the center of it all is Roberto Sanchez, hard at work on a desk scattered with beads, polaroids, and technicolor pens.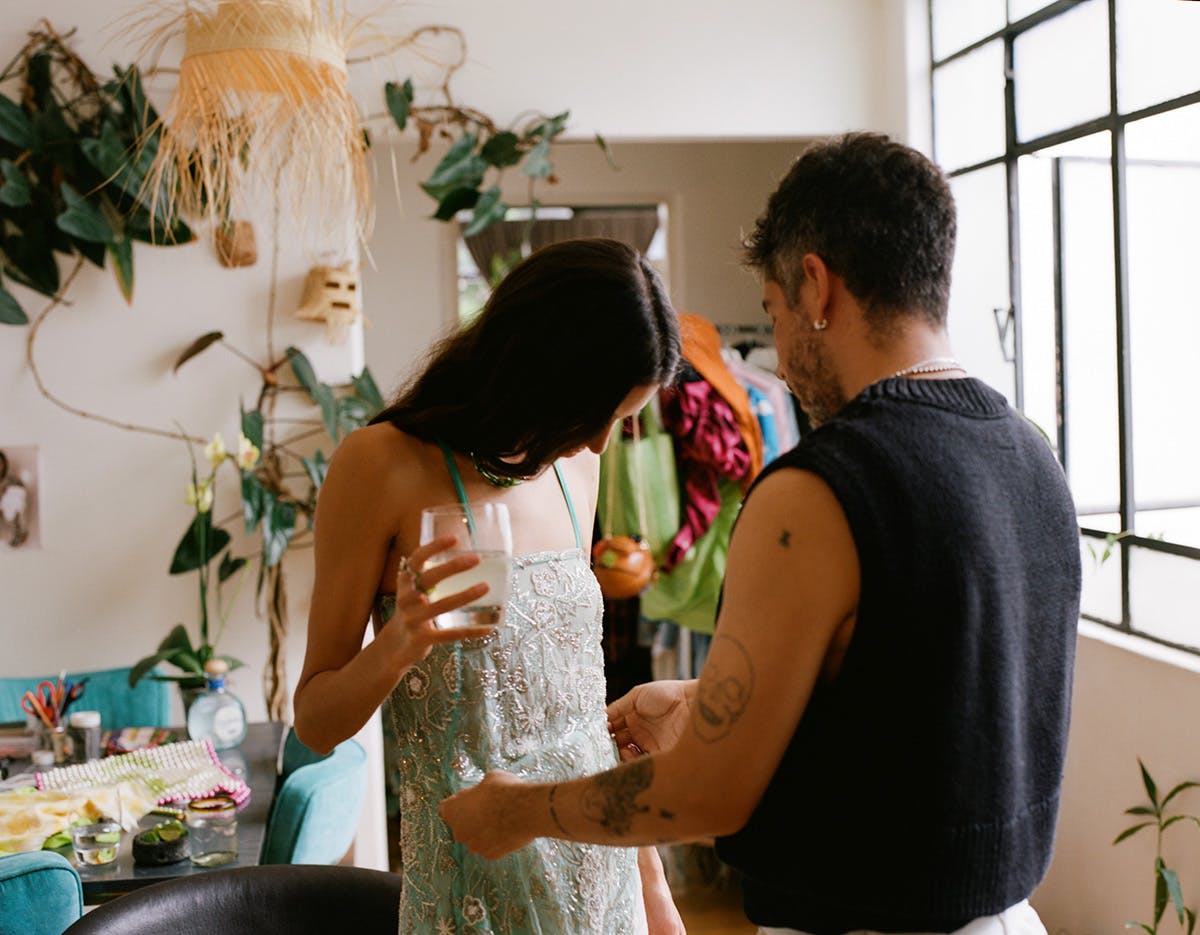 Entering the space, it's easy to see where Sanchez gets the inspiration for his eponymous line. Vibrancy and energy abound in the space where he brings his signature clothes to life. Since starting his company six years ago, the through line from environment to product has always been a part of his process: "When I started, I only made the collections in order to create a feeling, regardless of whether it was pleasant or sad, for example. The brand was born only to share my ideas, emotions and fears."
The devotion to his craft feels woven directly in to the clothes—a detail that drew Tequila Don Julio to the designer for their series of Devotion Diaries. Much like Don Julio Gonzalez who founded the brand with a steadfast emphasis on craftsmanship, Sanchez displays a particular reverence for his trade.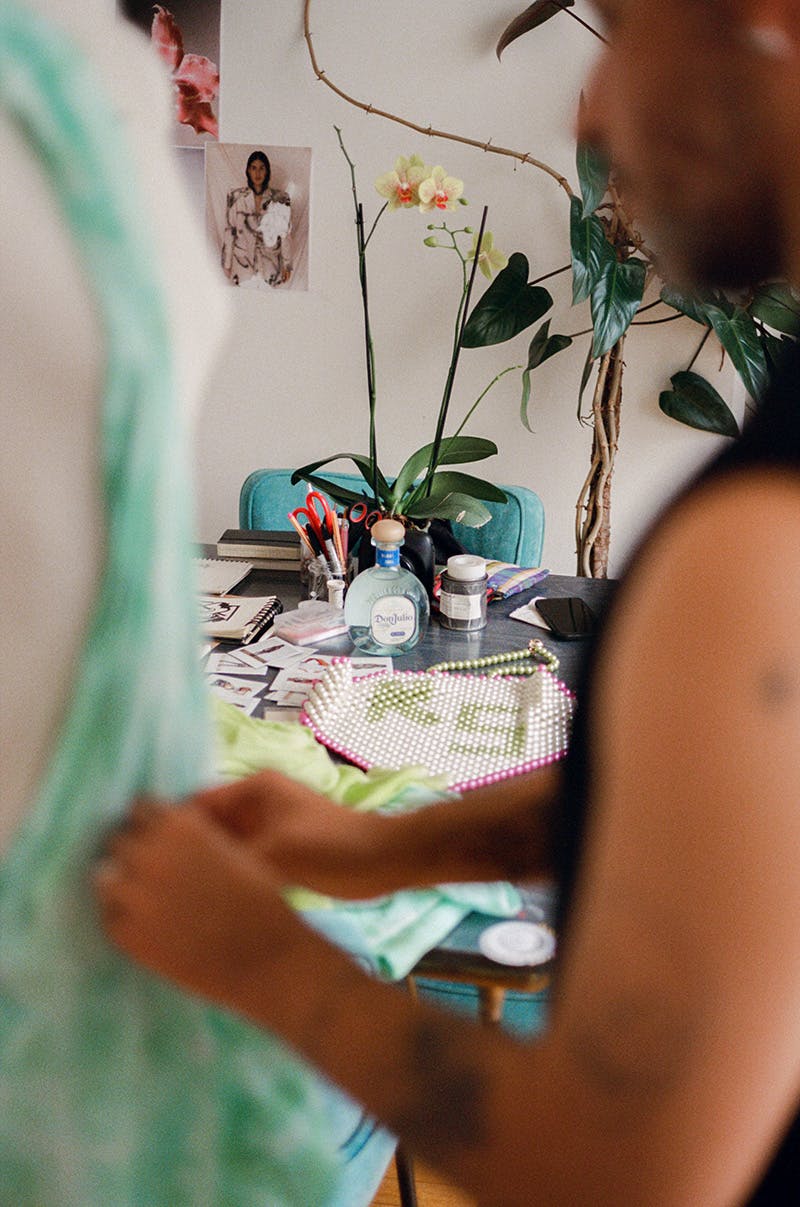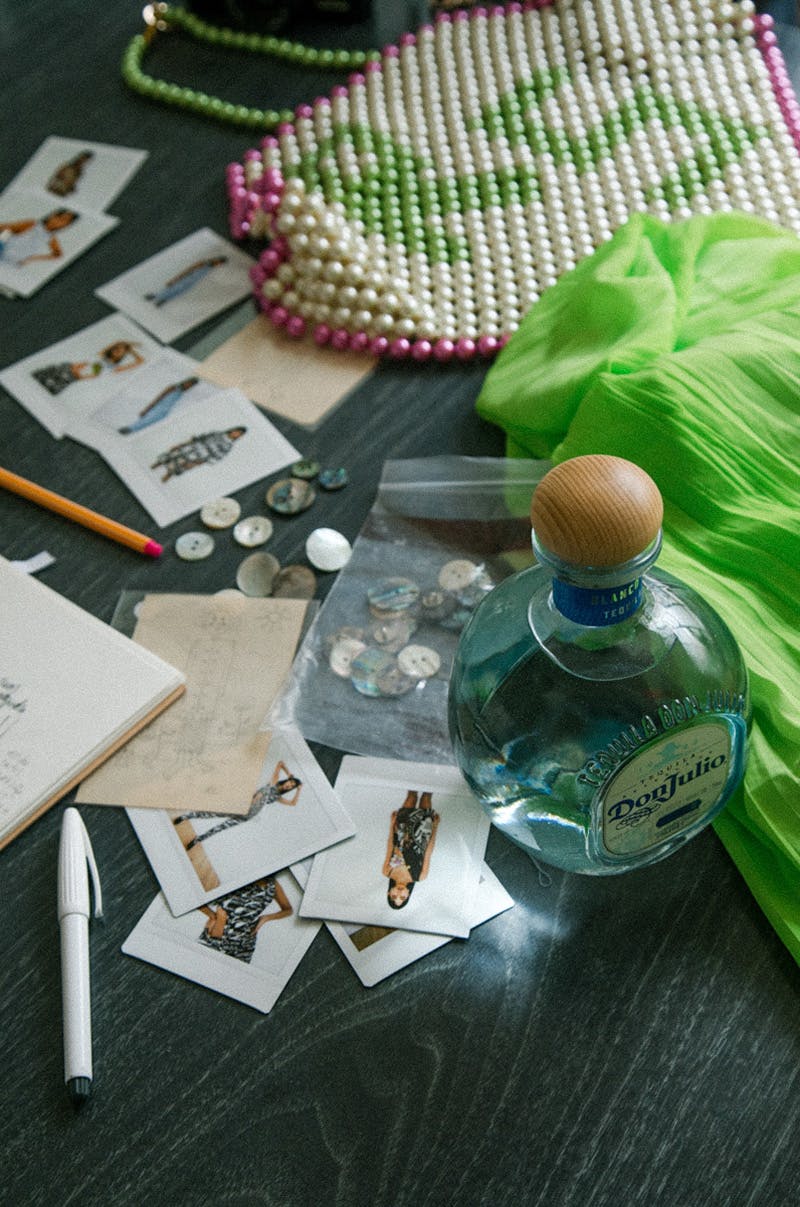 Sanchez's clothes convey a thoughtful sense of whimsy. Perhaps his most famous series of pieces feature a blue and white airbrushed print of a baby wearing a full face of clown makeup. He's emblazoned the Pierrot-like imagery across sweatshirts, dresses, jackets, even water bottles. Bad Bunny wore an entire look replete with the print for a promotional photoshoot.
Other pieces revel in zebra print, intricate beading, metallic finishings, ruching, and playful iterations of paisley. "I feel that our project is the mixture of different languages, emotions, like a collage of ideas that together mean something to everyone," Sanchez says of his tendency to mix-and-match at whim. "There are pieces full of color made from scraps of fabrics, or garments with classic constructions but with hand-painted fabrics, visually the garments are fun and with the use of color and textures it has its message."
He eschews the traditional structure of seasonally oriented collections, opting instead for a steady stream of individual and stand out pieces. "I feel as if in each piece there is a part of me that is endless, that exists and persists." One gets a sense, when looking at Sanchez's work, that the temporary nature of collections would only serve to corral his boundless creativity.
In the studio, he's known to blast the stylings of Agustín Lara, a 20th century Mexican composer and singer of boleros along with a selection of other Mexican love songs. "When I draw or imagine situations to wear the clothes I design, I choose places that are well lit by the sun, full of plants, smells of wood or drawers with old clothes and smells reminiscent of old churches," he says.
As his business grows, Sanchez finds comfort in knowing that his customers are those who have faith in his design process. When pressed to describe his ideal client, he describes them as "someone who understands the creation process, the concept and everything that exists beyond each physical garment. But if you ask for a name… I would say Rihanna."
For more information on where to buy Don Julio in your area click here.