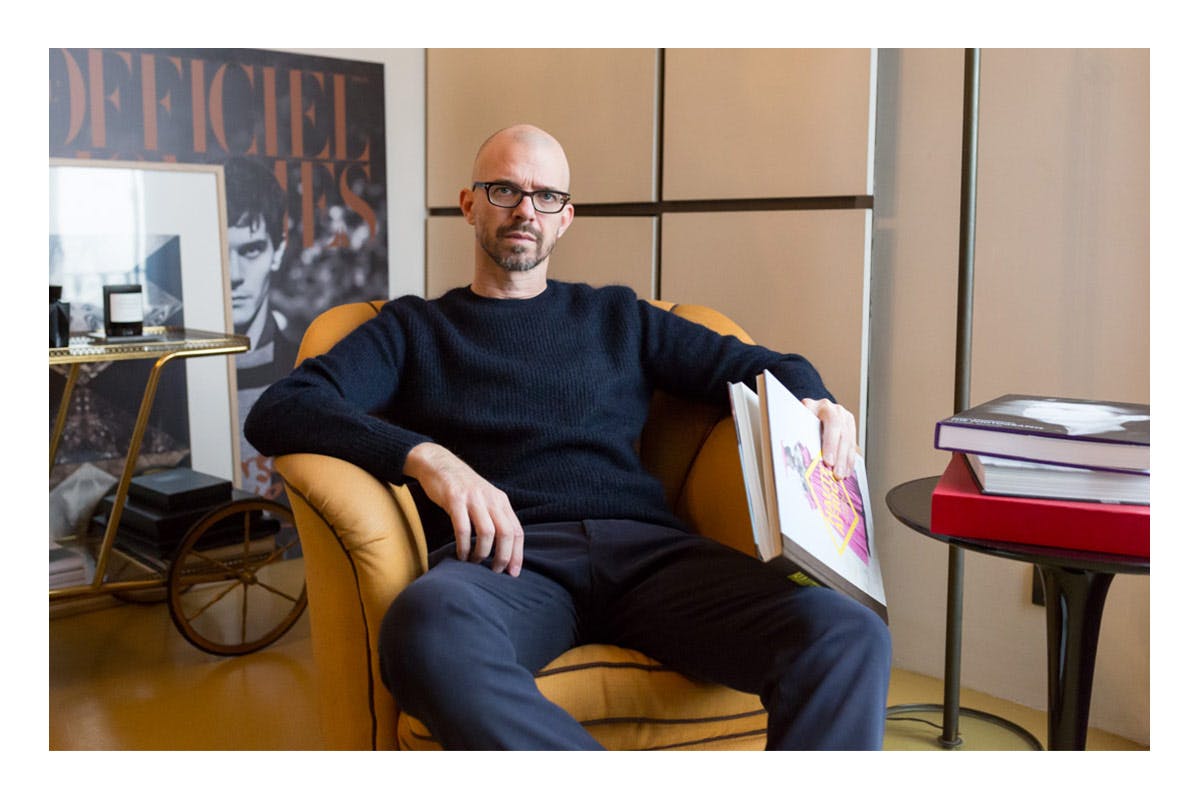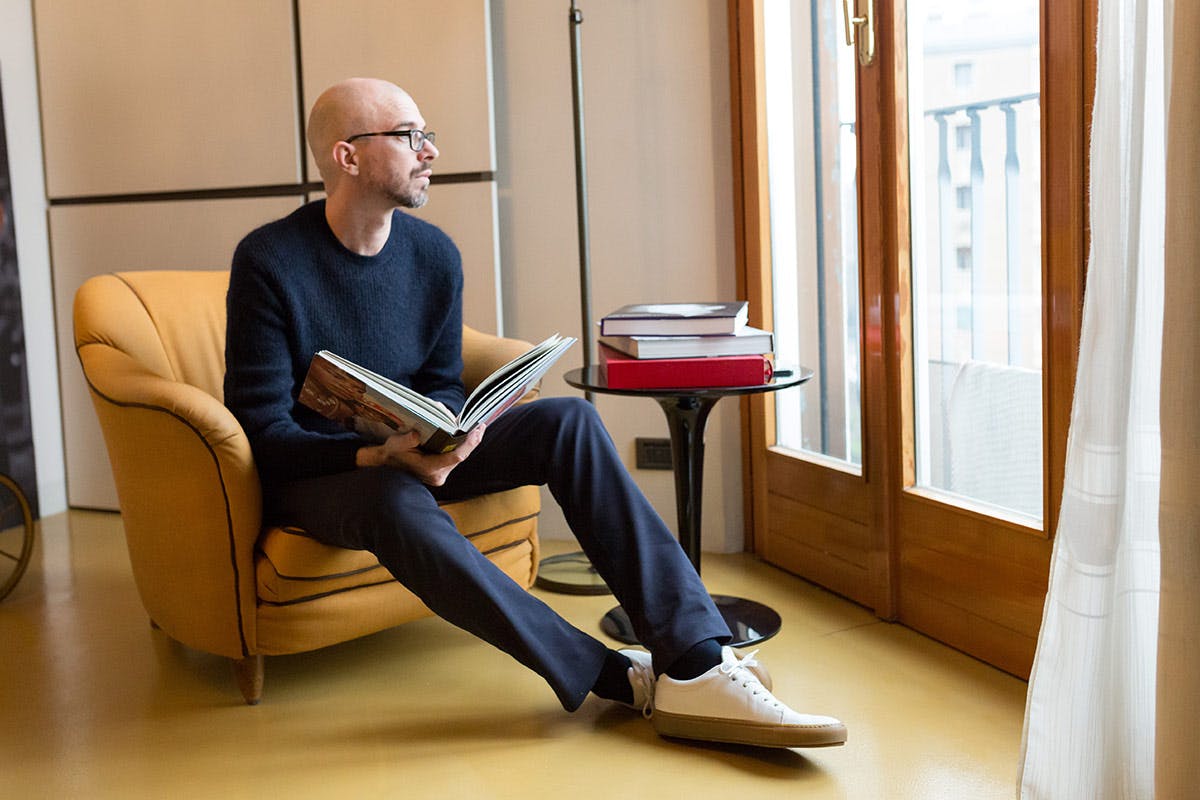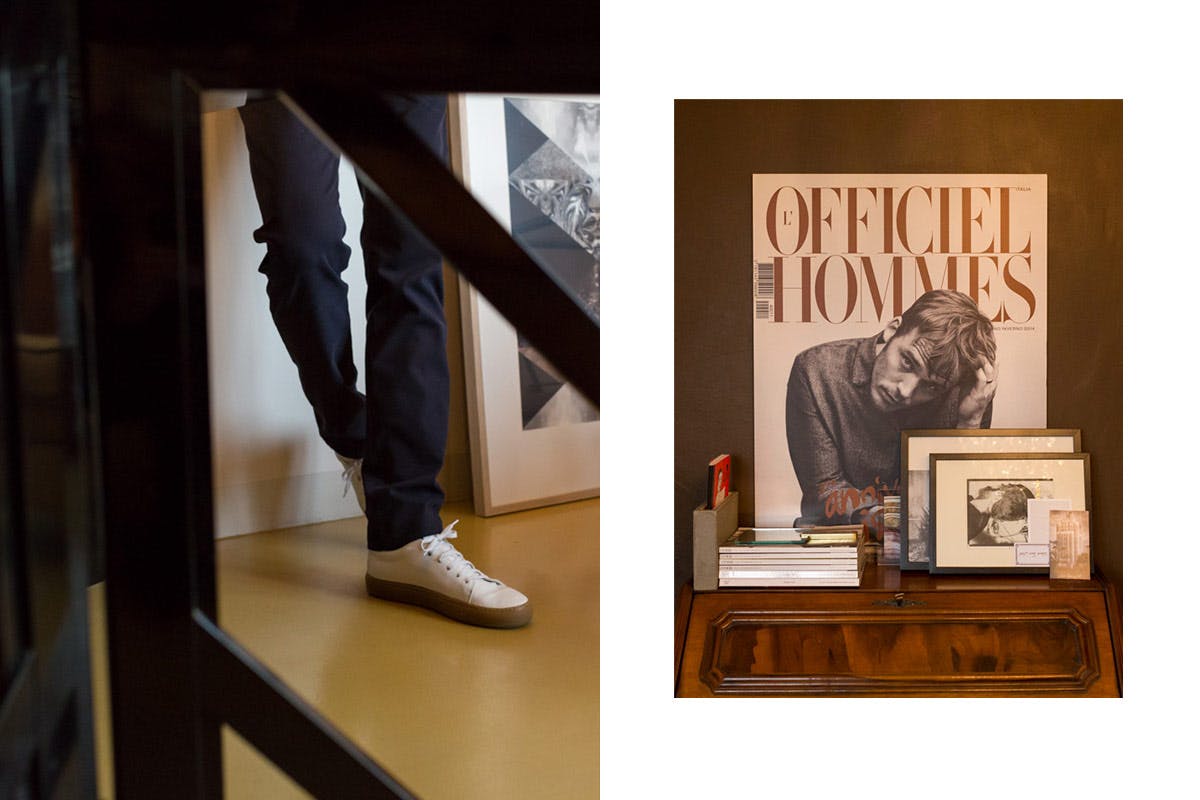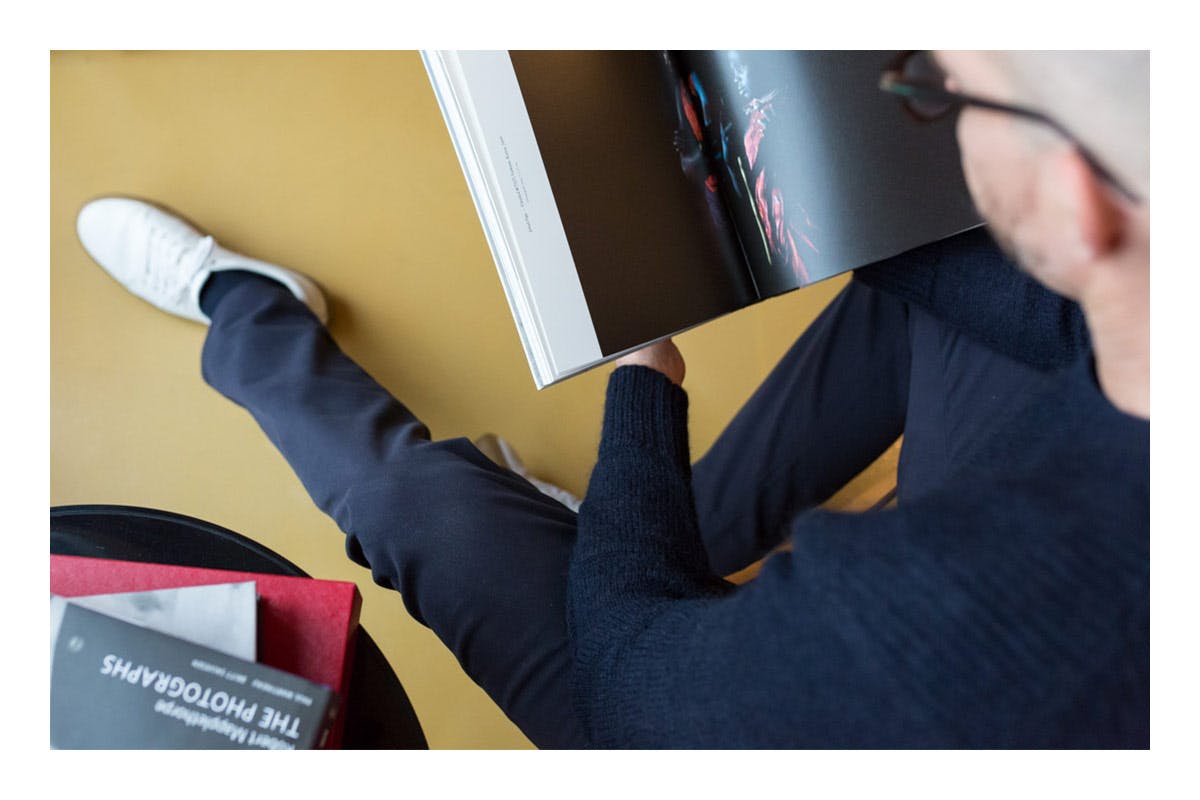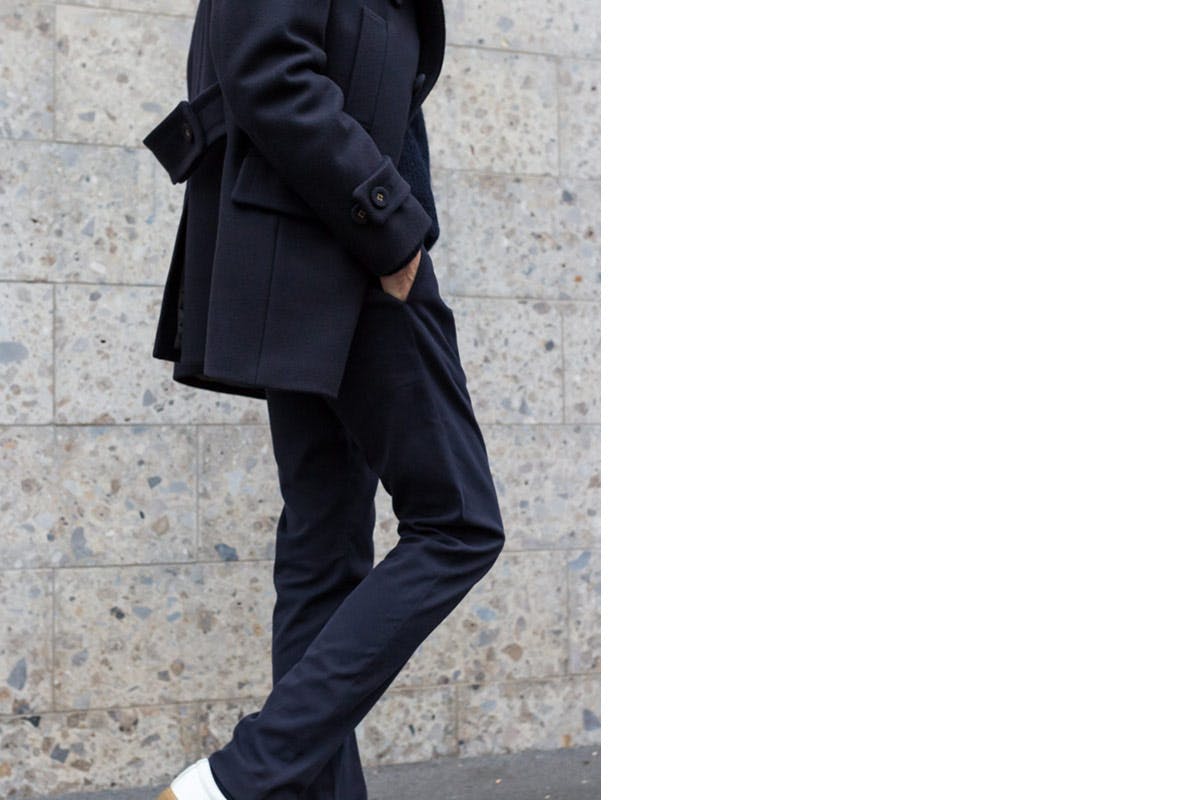 Chinos are a contemporary fashion icon and a wardrobe staple: in our latest editorial project, we celebrate the popular pants and their supreme diversity with heritage brand Closed. Together we selected five avant-garde fashion experts to style its expertly designed fits and share their fashion insights.
Starting with handmade denim in 1978, Closed has gone on to design full clothing collections for both men and women. Despite its valued German heritage, the brand has never fallen behind and maintains a progressive attitude and forward-thinking approach demonstrated by the five stylish individuals and their chino styling.
Since their inception as part of military uniforms during the 19th century, chinos have been popular with the public for decades. As with many military garments, chino pants' primarily functional design and stripped-back aesthetic makes them a timeless piece of clothing that transcend fashion fads. Closed's chinos are a testament to the brand's diversity with various fits to compliment any fashion aesthetic.
First to interpret the designs was Milan-based fashion director and stylist Emil Rebek. We had the chance to sit down with him following the shoot to discuss his career, approach to styling and Closed.
Explain briefly who you are and what you do?
I was born and raised on the Slovenian seaside, but I have been living in Milan for the last decade. I am a stylist and fashion consultant, focusing mostly on menswear mostly since my appointment as fashion director of L'Officiel Hommes Italia. In addition to editorial work for several international publications, I also enjoy consulting and styling fashion shows. I find it extremely challenging to translate creativity into something that can serve the clients' goals.
Tell us how you became interested in fashion and how you got into the industry?
I have been keen on drawing since I was a kid and during my teenage years it was almost exclusively fashion sketches. Frankly, they were quite good, and some of them even won awards. I graduated in economics but I never really gave up fashion. During my university years I started to contribute to fashion magazines - at the beginning as a fashion journalist and a few years later also as a stylist. This is when I found my true passion which I have been pursuing in my professional work ever since.
How has Milan helped you pursue your passions?
Milan always felt like an obvious step in my career. Since starting in the fashion industry, I have been aware that a fashion career in Slovenia could easily restrict my aspirations. Looking back I have to admit that luck was on my side; however, my career was never fast-tracked. Milan started slowly for me, and many people thought I was crazy coming to Milan to become a fashion director.
I kept working hard, stayed focused and tried to seize every opportunity given to me. It took me a few years to achieve my goal but when it finally happened it felt like the right moment. You discover that whatever the career, it is always a "work in progress" because you can always do more and better.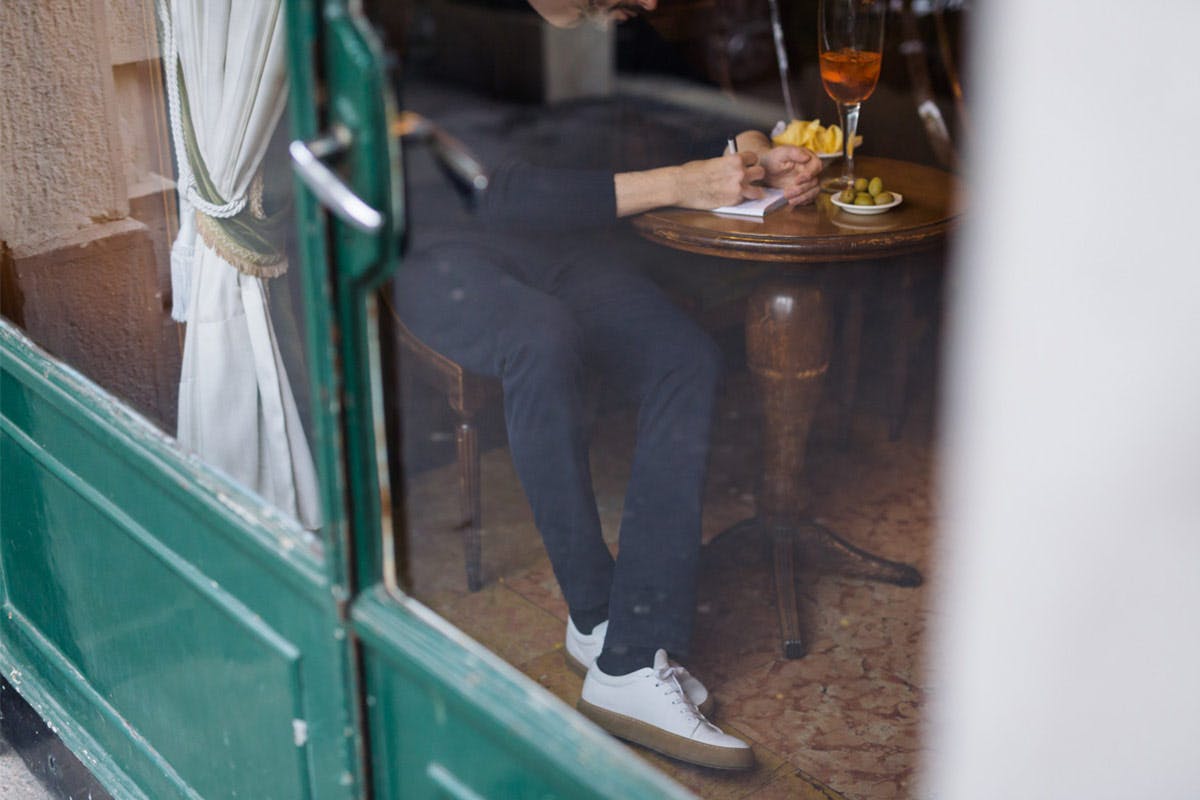 When you're not working, what do you enjoy doing?
I am not sure where to draw the line between my work and my free time. It is strange but sometimes I still feel as curious as a kid; I just cannot stop looking for new creative ideas. There is so much inspiration out there, and I can spend night after night researching. I very much enjoy this process, but I believe it is part of my job at the end of the day.
I have traveled a lot for work in the last few years, and I like spending time in art galleries, museums and bookstores. I like to take weekends off when I am in Milan, and I especially love to spend that time with my friends; it is more about the company than about what we do. Sometimes it is just going on long walks through the city, discovering hidden spots. We always end up with having an aperitivo at Bar Basso and endless dinners in good "Milanese" restaurants.
Talk us through how you styled the chinos, what you wore with them and why?
I kept it quite minimal, and the total navy is an obvious choice for me. It makes the process of styling effortless and allows me to pack insanely fast when traveling. On this occasion, I went for a Wooster + Lardini peacoat jacket, a Neil Barrett mohair and wool-blend sweater, Acne Studios sneakers and a wool cap by Borsalino.
Why are chinos a modern menswear essential?
I really cannot imagine my wardrobe without an extensive selection of chinos, mostly slim fit and in dark tones. I just feel truly comfortable when wearing them since they are very functional and suitable for various situations whatever the place or time.
What other menswear items can you not live without?
Recently I found myself in love with what would most likely be considered the basics: white T-shirts, white long-sleeved shirts, black turtlenecks and navy sweaters. When I find the one I like, I usually buy a few of them and keep buying the same ones for a few seasons.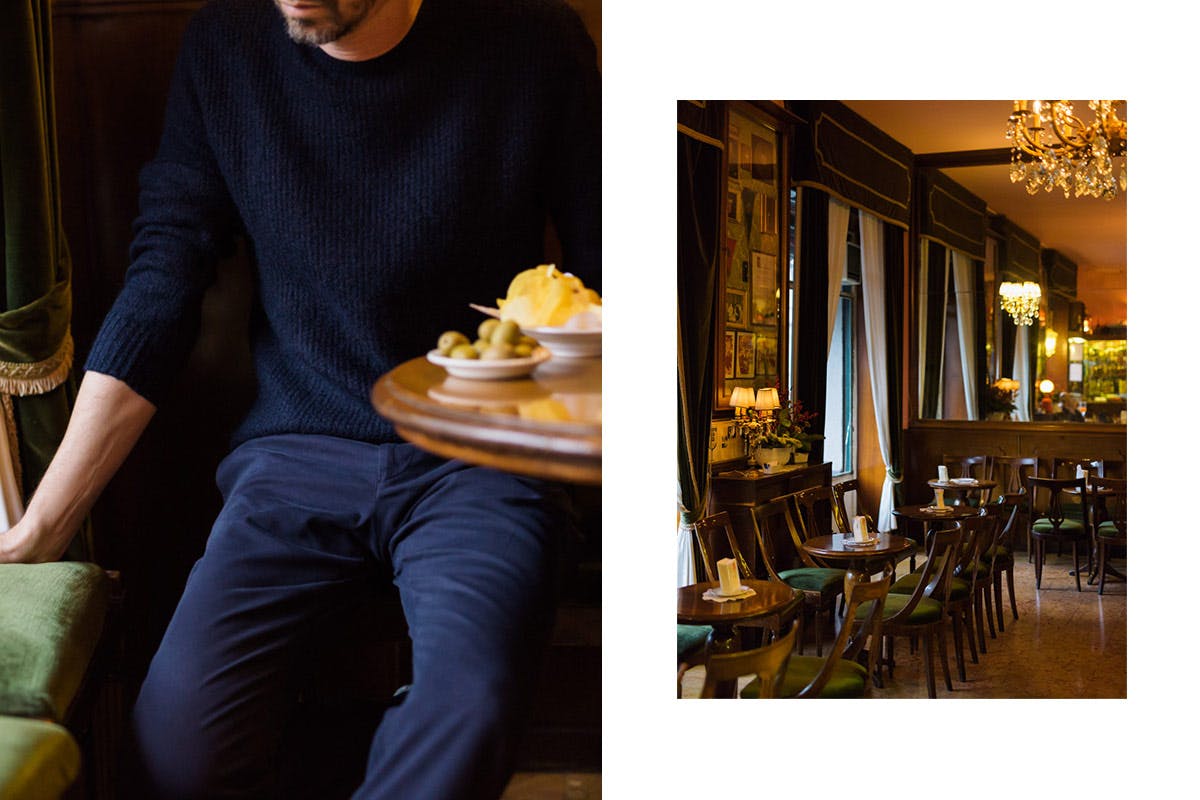 I spend most of my time thinking about how I should style fashion editorials and what trends to include in the magazine, so I do not want to spend too much time thinking about what I should be wearing myself. So it has to be minimal but of course good quality. In the absence of accessories in my wardrobe, I have just recently started to wear my zodiac sign necklace given to me at birth. Who knows, maybe I am having a "back to roots" moment.
What trends should be left in 2016 and what trends should people be taking note of in 2017?
Well, in my mind, it is not just about new seasons. I try not to think strictly about trends, at least not consciously. I can survive any trend, as long as it does not look as though I'm trying too hard. I wish the fashion peacocks would take a break. It is nice when people realize that they should dress for themselves rather than for others.
How would you define timeless style?
When I think about style, I think more about people and their confidence than the clothes themselves. It has to do with a certain harmony, and I believe that, eventually, it comes down to personality.
With fashion moving so quickly and being so cheap and readily available, why should today's consumers be interested in brands focusing on quality like Closed?
I believe the whole world has been moving too fast recently. I feel like I am dancing and constantly late and out of rhythm. I think we should stop for a minute and reflect. I wish we would consider real values rather than trying to be the fastest, most-followed and highly liked.
When it comes to fashion, uniqueness should be making it inspiring and desirable again. You need to understand the world around you and know what you are buying. I am sure there are still consumers who are willing to wait to get the quality rather than buying quickly-produced and ethically questionable fashion pieces.
Shop Closed's chinos and all collections now via the link below and then read our interview with Hirofumi Kurino on United Arrows' collaboration with Closed.