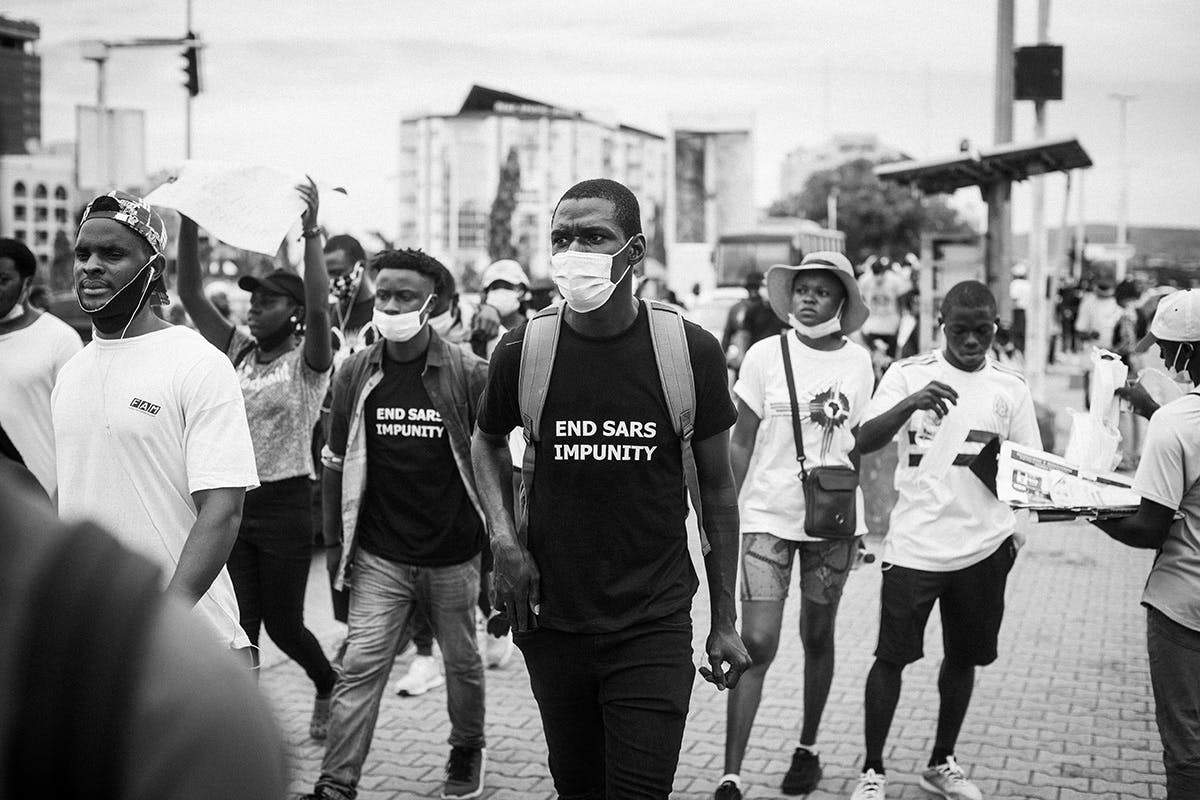 Once again, police brutality has carried its mantle of injustice to oppress a nation of innocent lives. "Enough is enough," tens of thousands of protestors chanted across the streets of Nigeria, following a viral clip of a man killed by armed patrol forces. SARS (Special Anti-Robbery Squad), also known as Nigeria's police set up in 1992 to fight armed robbery, have long been given wide-ranging powers that cause the exact crimes that the troubled unit were set up to eradicate.
Social injustice has hit new extremes since October 8, morphing into severe protests that chronicle the hardships of the future of the country. Research finds that half of Nigeria's population lives in precarious conditions, highlighting that 40 percent of people in the continent's most occupied cities live below its poverty line of 137,430 naira ($381.75) per year, representing roughly 82.9 million citizens. It's worth remembering these figures, given how the #EndSARS movement is exacerbating the lives of the hopeless at the expense of those in power. Given the country's high crime rate, these factors obstacle the youth from progress and increases corruption. This also amounts to a severe level of political negligence which, just like the SARS case, causes a worryingly disproportionate benchmark of social injustice.
"We, the youth, have started understanding the power we have just in numbers and the power of the internet and how its helping to get our voice and message out to the world," remarks Nigeria-based designer Tokyo James. "People are starting to talk about the election in 2023, a time where on most occasions, the youth can only hope for change to happen. People don't want to be pulled by the same political party anymore, and as people die, they simply want a changed Nigeria for the generations to come."
Could acts of protests be an awakening for Nigeria's citizens in order to implement a significant impact on the country's social landscape? The nation's political revolution certainly has a force to be reckoned with. We spoke to a handful of young Nigerians on the ground.
Camille, 28
In light of everything that has happened, one thing I can bet on is that SARS officers are waiting for things to go back to normal, at which point they'll come back out with a vengeance. Right now, or rather, before the protests and before the COVID-19 lockdown, young people evaded certain routes when going out, or cancelled their outings completely when there was word that SARS was out. At this point, there's a high possibility that people will be unwilling to go out due to imminent threats. Feeling like prisoners in our own country, there would be no one else to face but the government, who have been very much aware of this problem for years but did nothing.
I think accountability and transparency are very important, which we never get. My entire 28 years on earth, I have never witnessed a transparent administration. When money disappears, we're told wild stories that are very obviously impossible, which shows how much they don't care. We need them to be honest, to have more women in positions of power. Women have basically run the different streams of people that have contributed to making the protests a success, and they did it seamlessly and transparently. You want a situation where if integrity is called into order, you were open enough that the evidence will speak for itself. The unfortunate thing is that the people at the top set the tone. So, the politicians are corrupt, then the police are corrupt, and then it trickles down. You cannot build a house on shaky ground because it will eventually collapse.
Growing up, the line we were fed frequently was that we're the 'leaders of tomorrow', and it's glaring the kind of leaders we don't want to be. We're fighting for a better country, yet the government dismissed our cause and treats us like petulant children acting out because they didn't get what they wanted. Dead people can't fight, so the protests have been called off for the foreseeable future, while we strategize and think carefully about our next steps. One thing that's glaring is that the government continues to underestimate us, and I believe that's the worst thing they can do at this time.
Temilola, 31
The youth have emboldened themselves to say no more to the harassment and intimidation from the Nigerian police as a whole. I believe this is the main win. As per the unit, the force will still absorb those elements to corrupt new units. There's still more work to be done.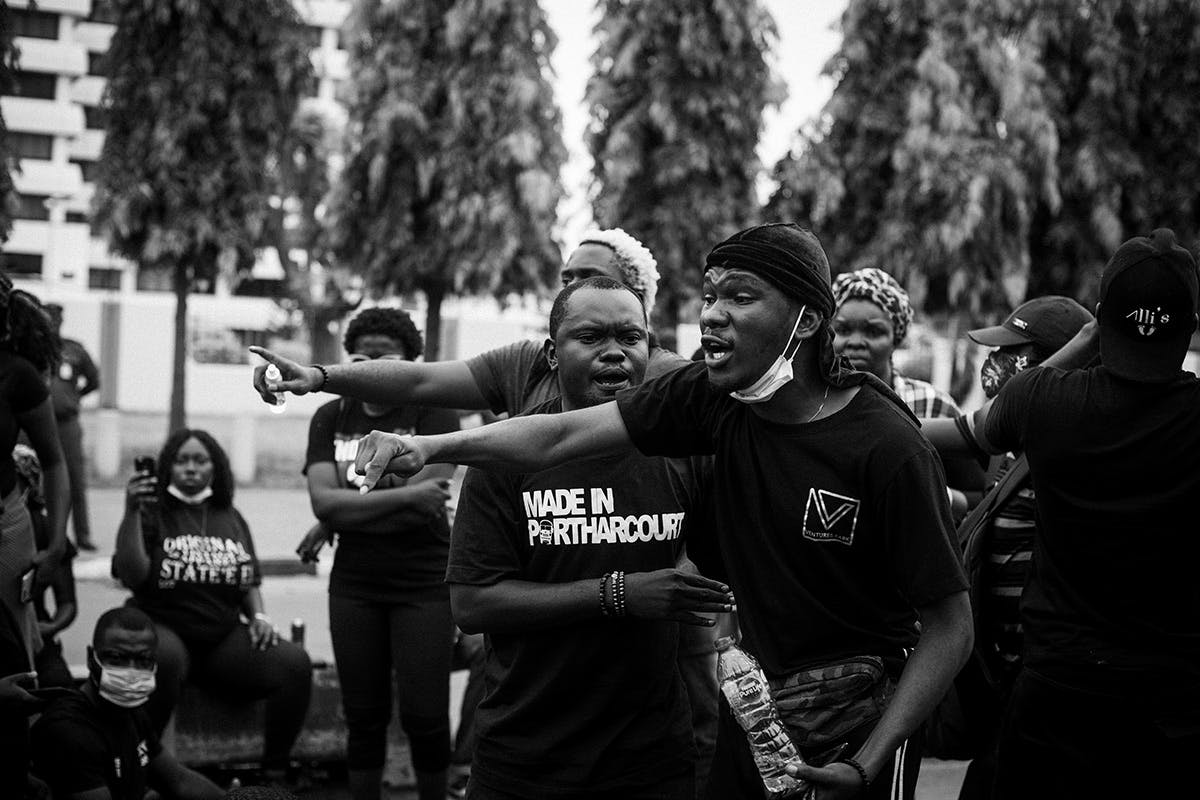 Kitoye, 29
SARS has been a menace for quite a while and recently they've become more ruthless and have gone more rogue. The long-term effects stem from the trauma and fear caused by the stories and encounters with them. People literally have to avoid certain areas and certain times because of police operatives who are meant to protect us. Corruption in this country can only be fought with technology, adequate compensation and extreme consequences which will lead to long term cultural change.
Nathan, 25
We, the youth of Nigeria, have been protesting for the past couple of weeks for the end of the Special Anti-Robbery Squad (SARS) who are known for harassing, extorting and killing a lot of the youth in Nigeria. Over the past couple of weeks, a lot of old and new videos and stories were brought forward on social media showing the brutality of SARS across the nation and certain events had put this frustration over the top. The youth en masse came out to peacefully protest for an end to SARS all over the country.
In Abuja where I stay, the first couple of days of peaceful protests were met with force from the police trying to disperse the crowds, throwing teargas, spraying water, and beating peaceful protesters. These attempts to intimidate us only strengthened our resolve to let our voices be heard and our demands be met. Over the next week of protests, the numbers would double across not just Abuja but all over the country. The demands also become more than just #EndSARS but a cry for change across the policing system in Nigeria.
A complete reform of the police, justice for victims and also the welfare of the police, just to mention a few. #ENDSARS had become more than just a protest for ending SARS, it had become a movement for change in Nigeria gaining momentum with each day of protests. Attacks by paid thugs to destabilize the protests became the order of the day all around the country, injuring and killing innocent peaceful protesters and citizens in the process.
Now with the protests temporarily halted by the violence, we haven't lost any morale because we've set the wheels of change in motion and awoken a nation. In whatever way we choose to protest next, let it be known that we won't stop until the change that is necessary comes.