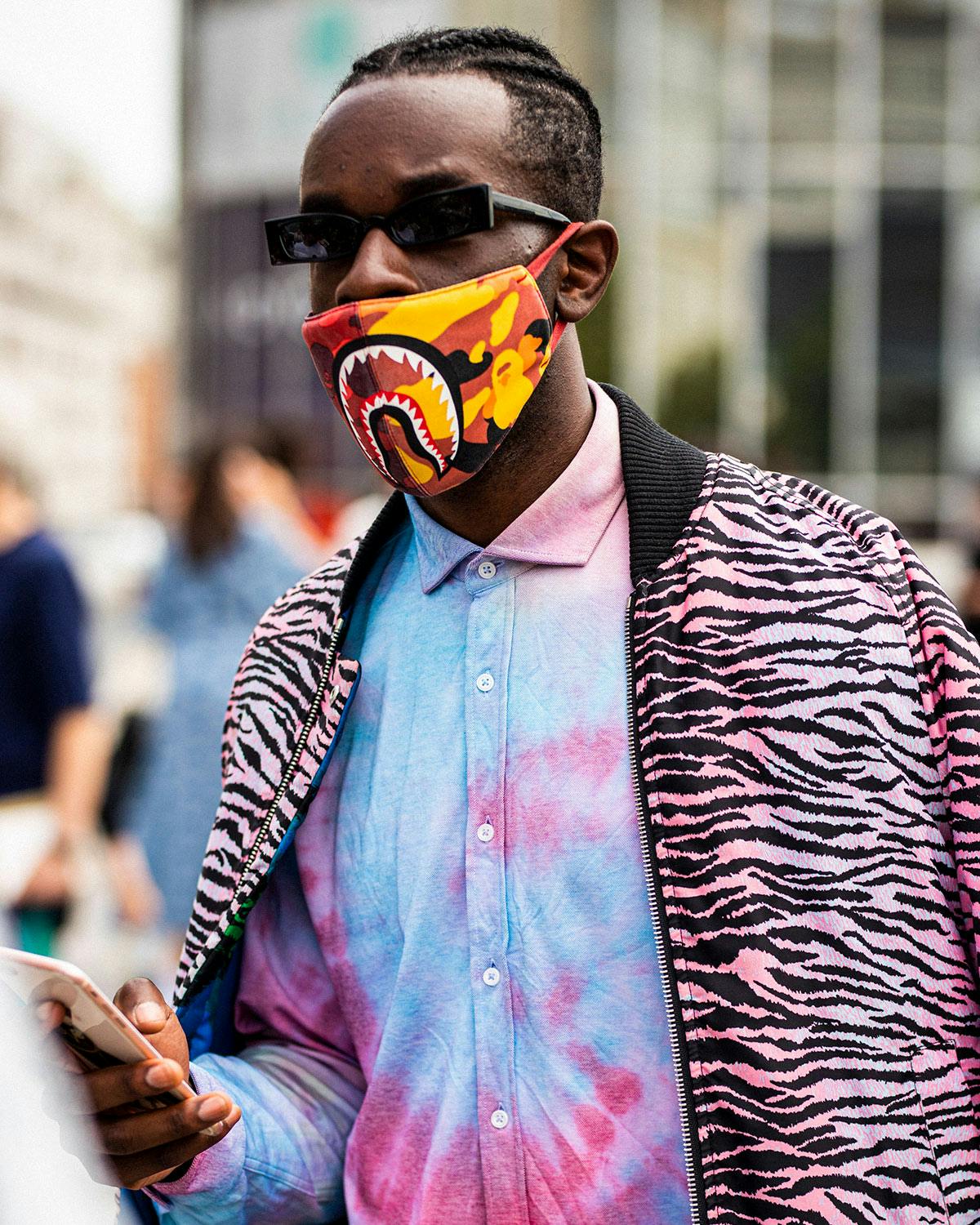 Man, you would not believe how many pitches I've received about face masks in the last few weeks! Not just over email, but in my DMs on Instagram, LinkedIn, and even Facebook (yes, I still have Facebook). After weeks of claiming otherwise, the Centers for Disease Control and Prevention recently revised its guidelines to protect against the coronavirus, recommending people wear cotton face masks or cloth facial coverings when going outside. That's given rise to a new mega-market overnight, where designers of all walks — established, bedroom, sports, luxury — are churning out fresh styles with the efficiency of a German automotive production line. The future is here, and its mouth is covered by Guy Fieri flames.
It feels a bit weird to trivialize the face mask as a trend, given people are wearing them because they don't want to catch a life-threatening virus. They are not a must-have accessory, but a literal must-have to help avoid, like, dying. Still, self-expression lends itself to any blank canvas, and it goes without saying that some masks are cooler than others. The designer type in particular has been experiencing a boom in popularity in the Western world. In Asia, they've long been a part of the everyday wardrobe — not only as a shield against pollution in countries like China, but out of hygienic mindfulness for others.
If you're looking to cop a mask directly from a brand, good luck with that — recent events have seen most sell out quicker than you can say "pass the hand sanitizer." That means resale sites like StockX have been doing a brisk trade as the fashion-conscious look to level up their lockdown looks. We reached out to the company, which confirmed the obvious by telling us how they first observed an uptick in early March. Having looked at the 117 listed face masks and analyzed buyer activity over the first three weeks of the peak pandemic period (since March 12) against before, they observed that 90 percent of face masks increased in resale price, while 80 percent increased in sales volume. Not only that, but overall mask sales increased by 75 percent, and overall mask spending was up by an astonishing 167 percent.
When it comes to what's hot, StockX tells us it's all about BAPE and Off-White™ (which is no real surprise, given both have consistently produced masks, partly owing to their popularity among Asian consumers). The Off-White™ Diag has nearly doubled its resale price since early March and tripled its price since January, whereas BAPE's Camo mask, which was released in March during the pandemic, has already tripled in less than three weeks. StockX reveals BAPE's Color Camo mask didn't record a single sale for the first two months of 2020, but since the pandemic has been snapped up more than 30 times.
Looking at the data, could masks soon be as covetable as certain sneakers? Perhaps not yet, but the idea isn't all that preposterous, at least if the revolution is postponed and our consumption habits remain largely intact. If half the people in America buy one, that still equates to some 165 million sales. That's a lot of money. Masks might lack the same history and provenance, but hey, every story has to start somewhere.
We're still in the early days of the virus, which means demand is naturally going to be at its highest. But in the post-Covid-19 world, the lingering memory of the pandemic means people will surely continue to be extra fastidious when it comes to managing their own germs. That means adopting face masks as part of daily attire, like the places we mentioned before. When demand levels out and other cool brands start muscling in on the market, the same laws of aspiration will surely still apply — at least for the fashion crowd. Right now, LVMH and Kering are sowing exclusively for the medical community, but how long before they begin collaborating with pharma conglomerates on medical-grade masks that wind up in retail?
Marine Serre's $295 collaboration with Gwyneth Paltrow favorite Airinum completely sold out upon release last month, so it's not far-fetched that a ballistic nylon-complemented version from Prada would do the same. Hell, people have already started crafting their own elevated versions, like Louis Vuitton menswear RTW designer Abzal Issabekov (above), who recently showcased his Celine-branded handiwork on Instagram.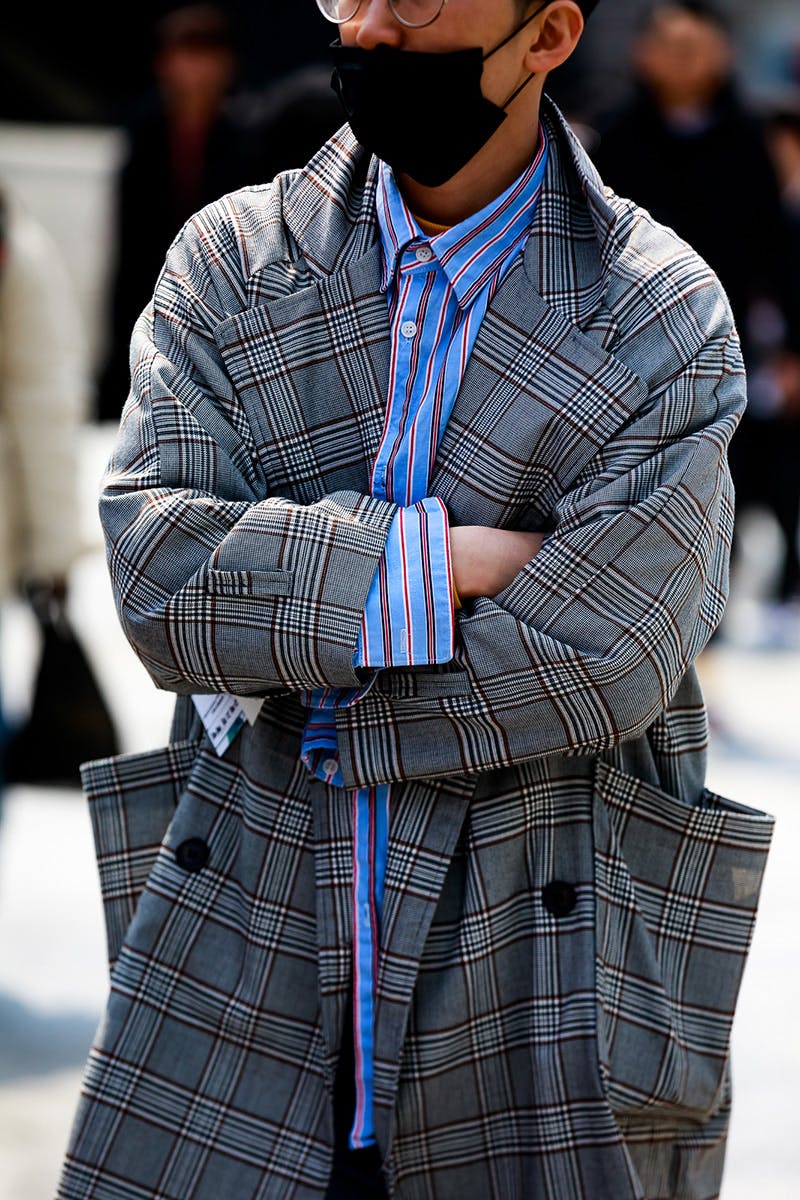 Similar to how Off-White™ and BAPE have made masks that fit into the aesthetic lifestyles of their respective consumers, American labels like Greg Lauren, Eric Emanuel, and even LA-based board short company Birdwell have come through with versions of their own. What's interesting is how these differ in terms of design, catering more to the higher nose bridges that tend to be more prevalent in western consumers.
One big caveat to all of this is the fact that fashion is still classed nonessential business. The cynic might assume that a lot of brands have got into manufacturing face masks to make their operations seem more imperative than opportunistic. But in a shrinking economy where businesses shutter on the daily, can you really blame anyone for trying to stay afloat and give back simultaneously? Pivoting to making masks may be the only way some companies can possibly survive. Not all of them intend to be in it for the long haul.
Even if you always thought face masks were lame — which, let's be honest, a lot of us did until fairly recently — it would appear they're here to stay. Frontline health workers need medical-grade versions more than any of us right now, so until demand levels out, I'll be buying a cloth version from a younger designer, giving some money back to the people in our world who need it most right now. In the future, maybe I'll be able to buy an N95 version by Stone Island Shadow Project that changes color in the rain. Now that really would be something.