Dedicated to Shace Winfred Mensah.
Freeing the youth is a big mission statement. But in Ghana, a young brand is doing just that, one tongue-in-cheek garm at a time. "We make clothes," Free the Youth co-founder Maposh Richard Ormano tells me. "But we don't just sell clothes. We are selling stories. We are selling hope."
Coming from anyone else, such a statement would sound aspirational at best, but truly, Free the Youth is our only hope. As the Ghanaian government propagates an increasingly conservative culture, stifling its young budding creative community, the Accra-based streetwear collective is pointing a fearless middle finger at the establishment with their off-the-wall style, freewheeling confidence, and singular point of view – letting their city, their country, and the world know that it's Africa's youth's turn to shine.
Founded in 2013 by Jonathan Coffie, Kelly Foli, Shace Winfred Mensah, and Ormano, the streetwear imprint has collaborated with Daily Paper, Off-White™, and Footlocker. But it's a far cry from where everything started. When the quartet first joined forces on the streets of the Ghanaian harbor town Tema, there was no grand scheme to begin with, just a shared passion for fashion. "We know each other from the hood. Some of us used to go to school together. We used to sell clothes to each other," Coffie (who famously goes by Joey Lit) explains. "So during high school, we just started taking photos in cool clothes, looking fly on Tumblr, Facebook – at that time we weren't even on Instagram." That hustle laid the foundations for what Free the Youth is today. "We were different," says Kelly. "I think because we were wearing baggy clothes and not doing what everyone else was doing, people would be like, 'Yo, you should free the youth.' Then when we'd post on the internet we used the hashtags, free the youth. Free the youth on everything... And people loved it. So we were like, 'We should just put this on a T-shirt.'"
Next to their budding passion project, Coffie, Foli, Mensah, and Ormano tried to pursue "real jobs" outside of fashion – I'm told of aimless bouts in the military, college, wood-work and accounting traineeships. In Ghana, creative pursuits aren't taken seriously, Coffie explains: "It's a very risky industry to touch, you know. It's like one out of 100 people will do that shit and succeed [...] But we got the courage to lay the blueprint for African streetwear. Hopefully when we're done this will be a profitable industry for kids to look up to and even have a career [in]." Their sartorial intuition paid off. Now the collective has grown to include photographer Philip N. Boakye, event producer Prince Brefo, production lead Gilbert Quansah, Design Advisor Mecha Clarke, and NGO managers Asia Clarke and Sunshine Duncan. And Free the Youth is trailblazing Africa's first wave of streetwear fashion.
While world-conquering brands from the US, the UK, and Japan – like Supreme, Palace, and BAPE – wrote the book on streetwear, it's safe to say today the term has very little in common with what it used to be. We live in a world where Supreme is a billion-dollar brand and there's a market just for flipping rare grails. An over-reliance on hype and never-ending collaborations has watered down the culture, assimilating it into the mainstream fashion sphere. If streetwear by nature is anti-fashion, then Free the Youth is as legitimate as it gets. Their street influence comes not from hype culture but their own lived experience, examined and expressed through garments like their "No Taxis Allowed" tees, ridiculing economic discrimination implicit in the familiar signs outside many hotels and private buildings, or the "1000 injured" tee paying homage to victims of the Accra Sports Stadium disaster of 2001.
"That's the most important thing, educating people on African culture through streetwear," says Ormano. The clothes are authentically for the community that inspires them without the pretensions of high fashion. And unlike some of their increasingly washed out peers across the pond, Free the Youth's growing cult of die-hard customers is being served at a relatively accessible price point – the average FTY piece is about $40 and is quick to sell out. "We have to make it affordable for our community," Foli explains. "Most of our supporters are youth, you know? Remember when we were back in high school and wanted to buy something, we had to save for months just to buy a T-shirt. We don't want kids to go through the same thing for us. Most of our clothes too are telling a story and we can't spread that story if no one can buy it."
And while we're on the subject of making streetwear accessible to all, it's no secret that it traditionally caters specifically to men, treating women consumers as an afterthought. Well, according to Coffie, Free the Youth wants to do things a bit differently: "As Free the Youth was getting more popular, we realized everything we were doing was masculine, we were favoring that part of our community. And you know, we're feminists, women rule the world, so Free the Youth had to get a women's collection, that's how babe YOUTH started. It's an introduction to our feminine side."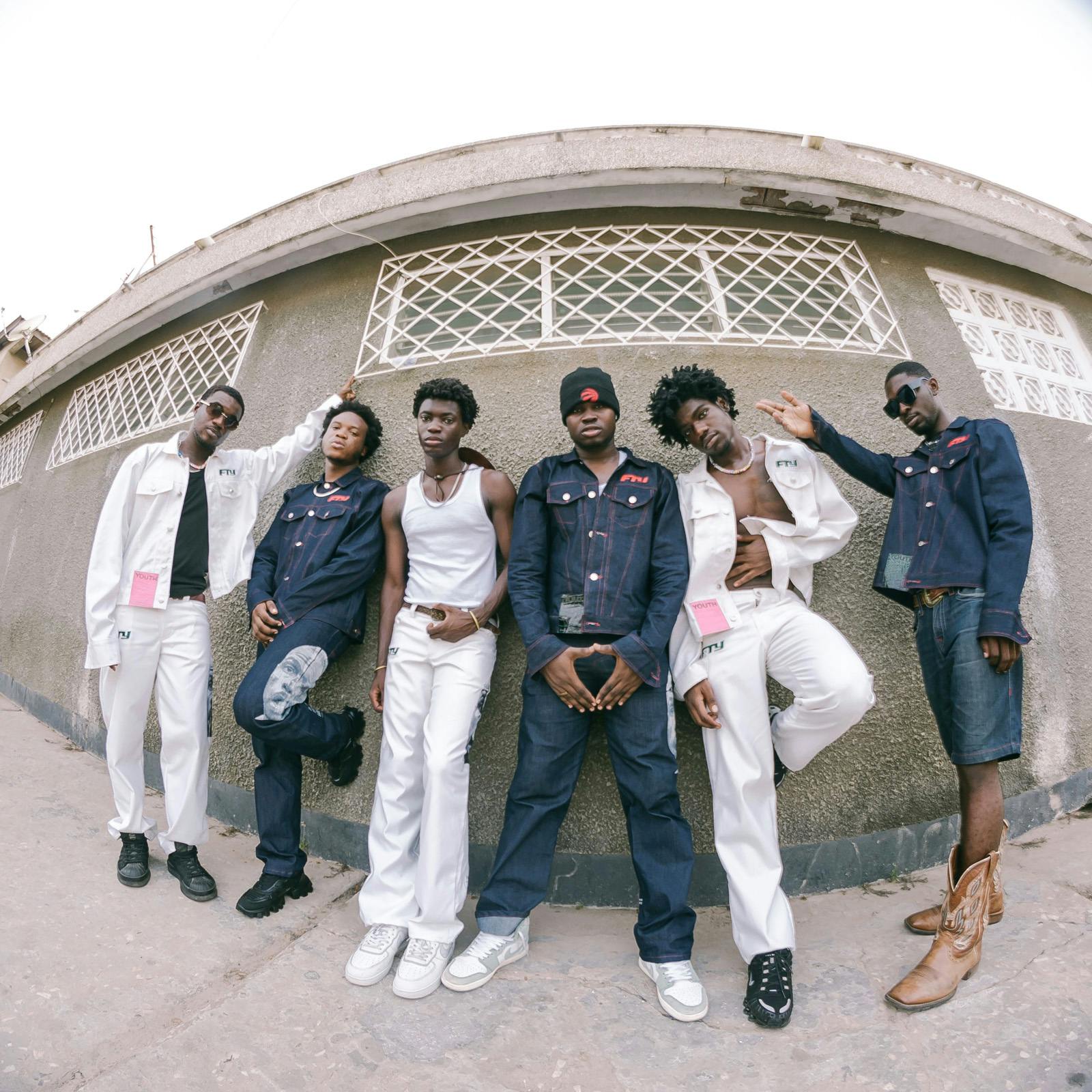 Launched in June with its own babe YOUTH pop-up, the sub-label is all about giving the "galdem" a fashionable seat at the table, complete with tiny purses, provocative "BLOCK HIM" crop tops, and a tribute tee to the ultimate Y2K babe, the late Ghanaian actress Suzzy Williams. But Free the Youth doesn't see this as a one-off collection, womenswear is an integral part of the brand's vision. "Next year we're going hard for babe YOUTH for real," Coffie continues. "We're going to have collection after collection, we're gonna treat it very special. babe YOUTH is going to grow like crazy, I think it's even going to blow more than Free the Youth."
In an era where every brand is striving for authentic community engagement, Free the Youth demonstrates that the formula is quite simple: start by actually caring about the people you're making clothes for. The way the brand operates in Ghana, where infrastructures for creatives are wanting, shows you "Free the Youth" is not a hollow name. The brand's latest "Up N Coming Graduate" collection features pieces modeled off throwback exercise books – anyone who went to school in Ghana or Nigeria recognizes the nameless young man with his graduation cap – are tied to a charitable initiative where each purchase sponsors an exercise book for a kid in Ghana. "This government of ours is really moving mad," Ormano says emphatically. "We feel we have to bring these issues to attention like with this collection we're telling the government, 'You guys should be investing more in education, and kids stay in school because you are the future.'"
And that's not even the bigger picture. As the world wakes up to the cultural and commercial significance of Africa through its musical phenomenon Afrobeats, Free the Youth's disruptive voice joins a chorus of young African creatives leading the moment. Just as hip-hop gave rise to streetwear labels like F.U.B.U and Patta, Free the Youth also revels in its strong ties to Africa and the diaspora's rising music scene. Look closely at the now-international genre's key players, they're all rocking FTY; from Ghanaian hip-hop collectives La Même Gang and Asakaa, South African Amapiano sensation Uncle Vinny to UK afropop group NSG and Afrobeats superstars Davido and Wizkid – Joey Lit even designed Wiz's Made In Lagos tour merch. "We're entitled to more than just fashion. Fashion is only the beginning for Free The Youth," Foli says matter-of-factly. "We're putting Africa on the map. That was the vision when we were even creating the logo, that's why we put in the globe. Because we're doing something worldwide."
But we can't say all of this about Free the Youth without talking about the loss of Shace Mensah. None of this would have been possible without him. And when he passed away in March, everything changed. There's a gaping hole in Free the Youth where Mensah used to be and Coffie, Foli, and Ormano (as well Ghana's wider creative community) are only now coming to terms with moving forward without his strong force. "If I really want to talk about Shace, I'd go on and on… I'd go on and on…" Ormano searches for words. "When Shace left, nothing was the same. He was a go-getter, he was a motivator, he helped many of the youths to get to where they are today," Foli continues, "Everybody loved Shace. He was our soldier."
Grief sometimes involves inventing a new world where the dreams of the deceased are as alive as he once was, that's what Free the Youth wants to do for Mensah. "Shace is someone who stood with his values and stood with his beliefs. When he believed in something, he didn't look left or right," Coffie says solemnly. "I want everybody to know that there's someone like this who stands as the motivator for a group of guys doing big stuff in the world."
And these guys are just getting started. With their country and Shace behind them, nothing is impossible. Free the Youth has already become Ghana's flagship hub for streetwear collabs and the local youth zeitgeist. Now they've got their eyes set on world domination, and they're taking everyone with them. "In all we do, we remember Shace," says Ormano. "His mom, his family, and everybody he touched should watch us, we're going to make them proud. We won't forget about him. We're still in the pipeline. We're still working so hard to make his vision come true. Everything he wanted, we're going to do that."