As the first one-venue art fair to return to the city, there was a lot riding on this year's Frieze New York. One tried-and-tested metric for success is high sales prices — and mega-galleries, in particular, have been reporting huge numbers from last week's event.
According to an Art-Net report, David Zwirner sold out its booth on opening day, selling five Dana Schutz works for between $5000 and $1 million each. Meanwhile, Hauser & Wirth sold Louise Bourgeois's Blind Man's Buff (1984) sculpture for an estimated $1 million.
With fewer galleries offering works to fewer collectors, you would expect to have seen less robust sales numbers, but a more local focus seems to have reaped rewards all around. Whereas past editions of Frieze New York have drawn collectors from around the globe, travel restrictions and health concerns made for a distinctly regional turnout. Galleries were similarly focused on American artists.
At Hauser & Wirth, for example, sold George Condo's newly completed painting The Drifter for $800,000; Rashid Johnson's Bruise Painting "Blue Bird" (2021) for $750,000, a small Simone Leigh sold for $300,000, and an untitled Ed Clark painting from 1954 for $650,000.
Elsewhere, Artsy reports that Goodman Gallery sold William Kentridge's monumental drawing Waiting for the Sibyl, (Comrade Tree, I report to you) (2020) for $700,000, as well as two quilt tapestries by Hank Willis Thomas for $120,000 and $84,000.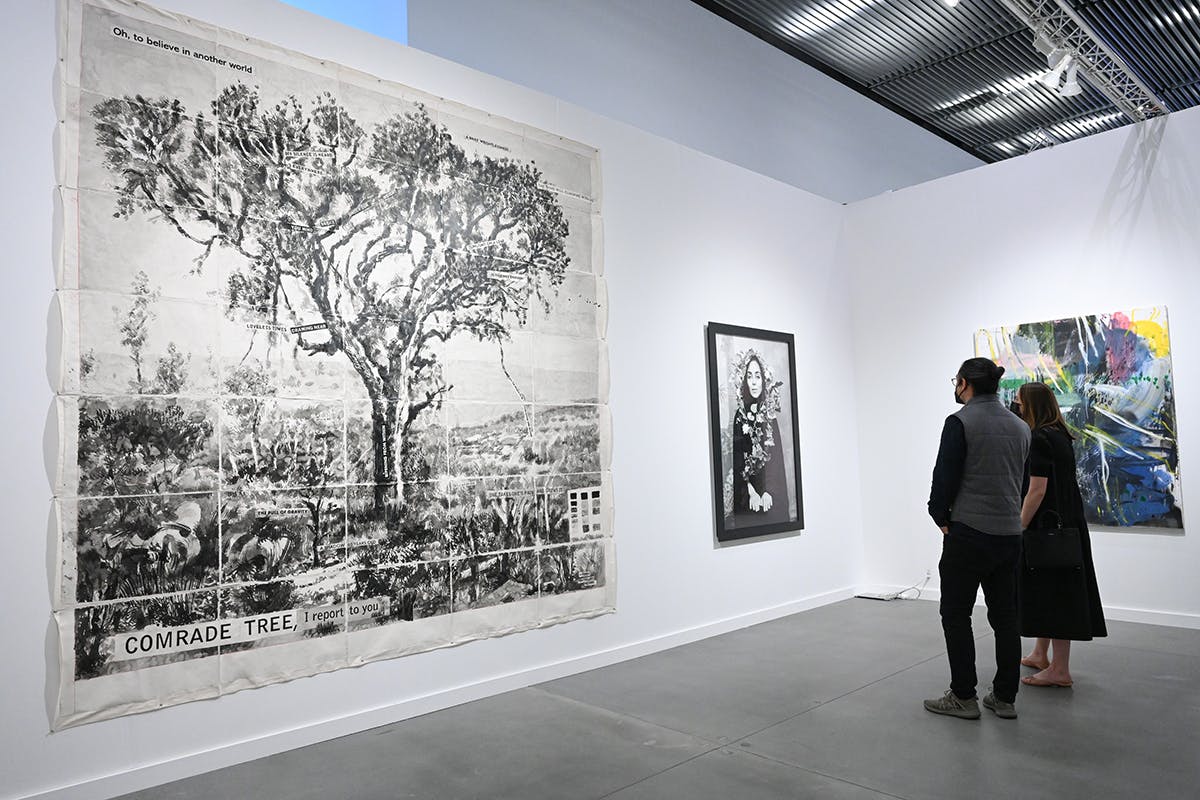 Other highlights included Lehmann Maupin's centerpiece, Hernan Bas' gigantic six-panel painted folding screen titled The Suspect (2021), which fetched between $350,000 to $400,000. According to the gallery, all three of their paintings by rising star  Dominic Chambers sold in the opening hour for between $35,000 to $40,000.
Rebecca Ann Siegel, Frieze's director for the Americas and content told Artsy, "The ongoing travel restrictions are real, and being able to reach audiences digitally, who are abroad, as well as our local audience at The Shed, has been really wonderful."
Among the 160 digital presentations on Frieze's online viewing, New York's 303 Gallery sold a Doug Aitken lightbox work for $225,000, an Alicja Kwade sculpture sold for over $63,000, and a work on paper by Tracey Emin sold for $32,000 and neon fetched $105,000.