God can't destroy streetwear. If ever there was a sentence that summed up the mood of fashion and pop-culture right now, it could well be that emphatic statement. Of course, it's a ridiculous, fantastical statement—almost surreal. And GCDS, the loud and vivid Italian label started by Giuliano Calza, encapsulates all of that: very much not taking itself too seriously, but also doing a serious job of making statement pieces you can't help but want to wear.
The brand has always produced vivid collections, with its four letter acronym name liberally applied across anything from sports bras to knitwear, and its campaigns have been as equally stark to match. But for SS18 GCDS went one step further. For its 'Bumfuck Nowhere' campaign film and shoot (sub-titled 'Fabulously glorious outsiders'), Calza worked with acclaimed independent British filmmaker and photographer Nadia Lee Cohen to 'kill' Pamela Anderson, capturing her demise 'for the first time' in front of a lens.
This is Pamela Anderson we're talking about here—the Pamela Anderson; the woman whose sun-soaked, red swimsuit-clad sex appeal found its way onto posters and in many a teenage boys' bedroom from 1990 right into the '00s. Anderson owns the shoot, surrounded by 'gram stars Leo Mandella (aka Gully Guy Leo) Caroline Vreeland, and Lily Summer, as well as rapper, singer, stylist, and former stripper Brooke Candy. Cohen and Calza's wild, gonzo, carnivalesque aesthetic almost recalls David LaChapelle at his most hyper-saturated and weird. But at the same time, the shoot's dreamy, half-drugged feel seems very much filtered through a European (or should we say, Italian) understanding of the American underbelly—except it's had a whole load of sugar thrown into the mix while the 'enhance' wand has been waved a couple thousand times.
We got into an email convo with Giuliano Calza at GCDS's base in Milan to understand his vision and how GCDS began.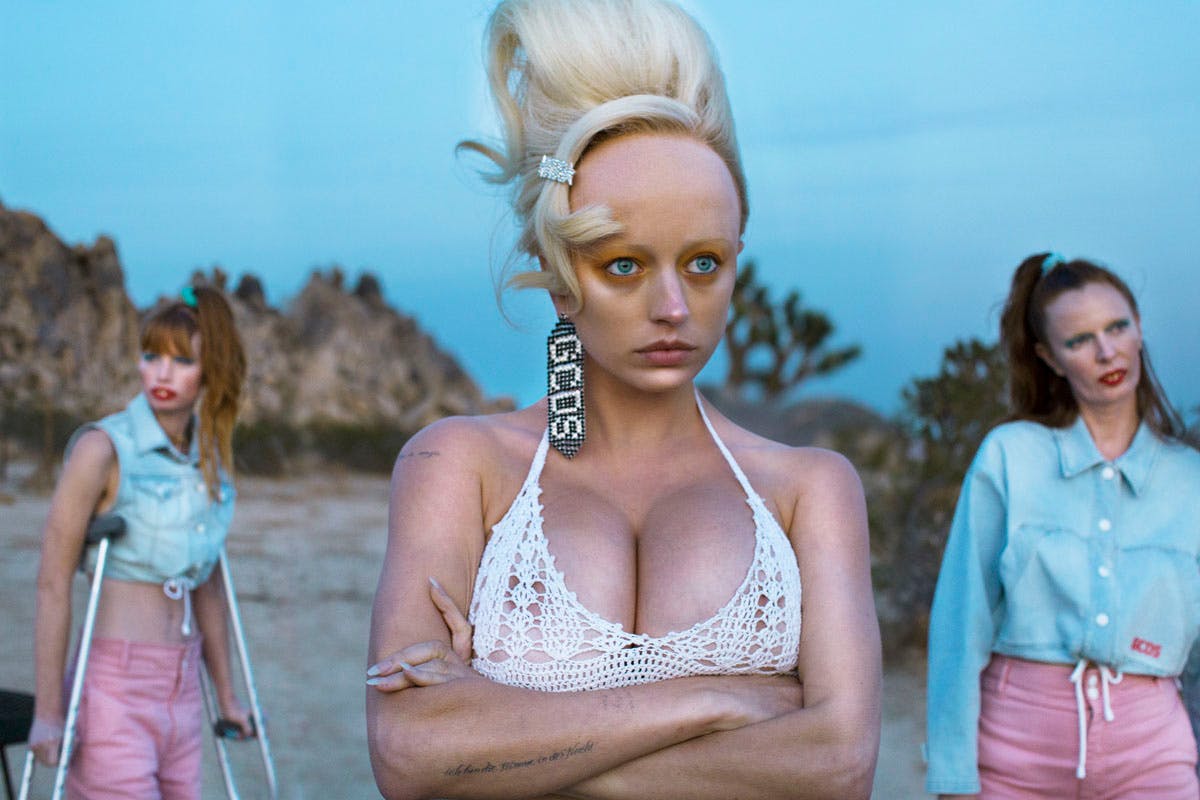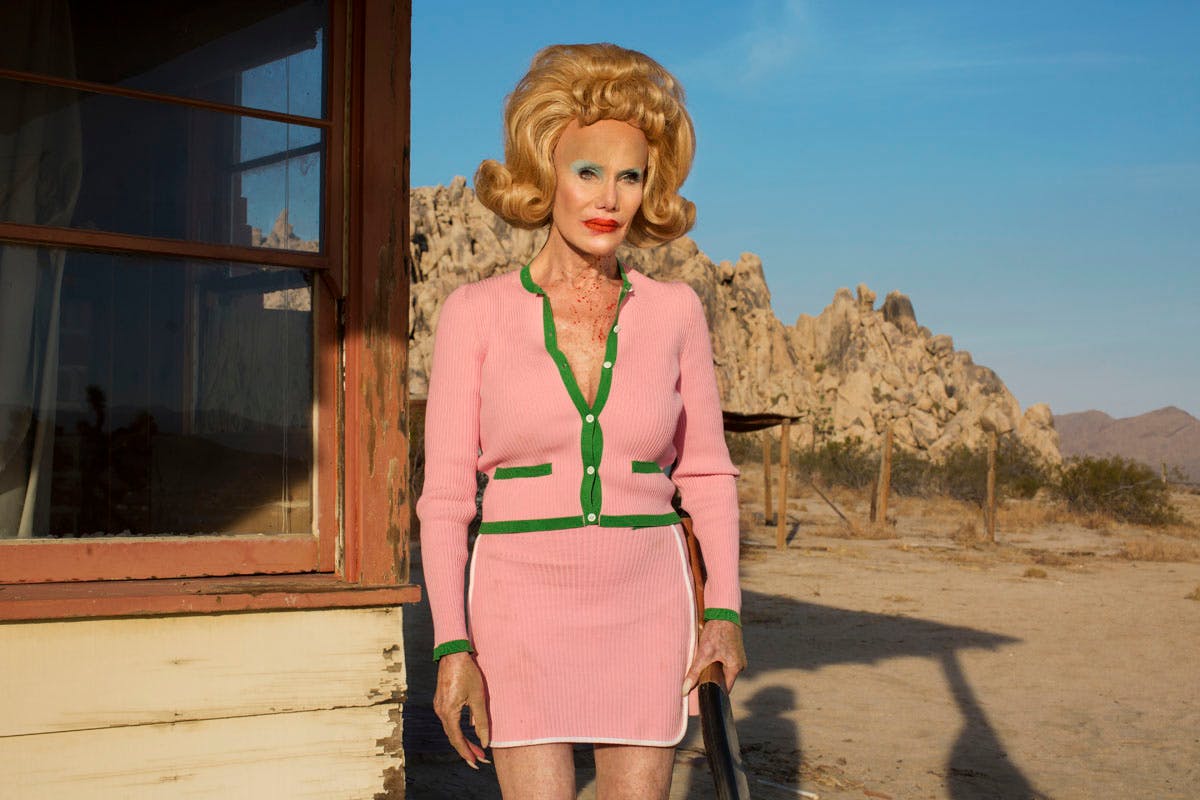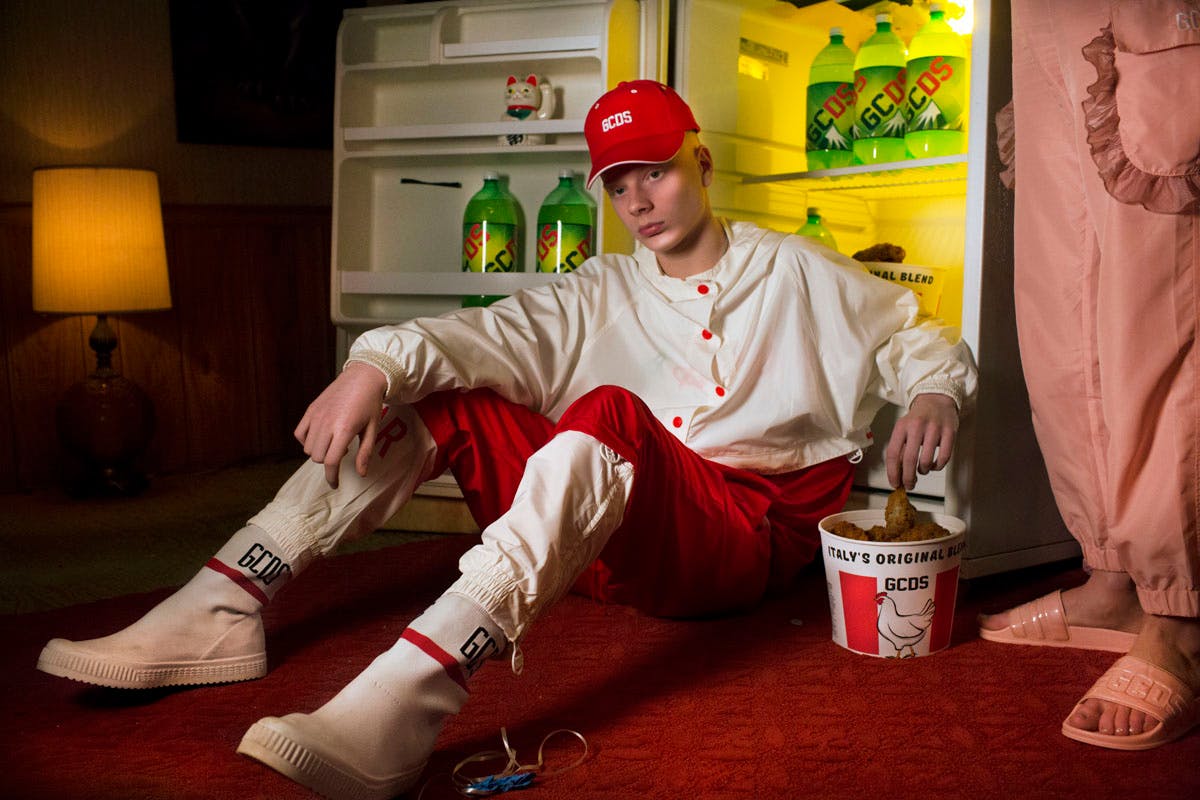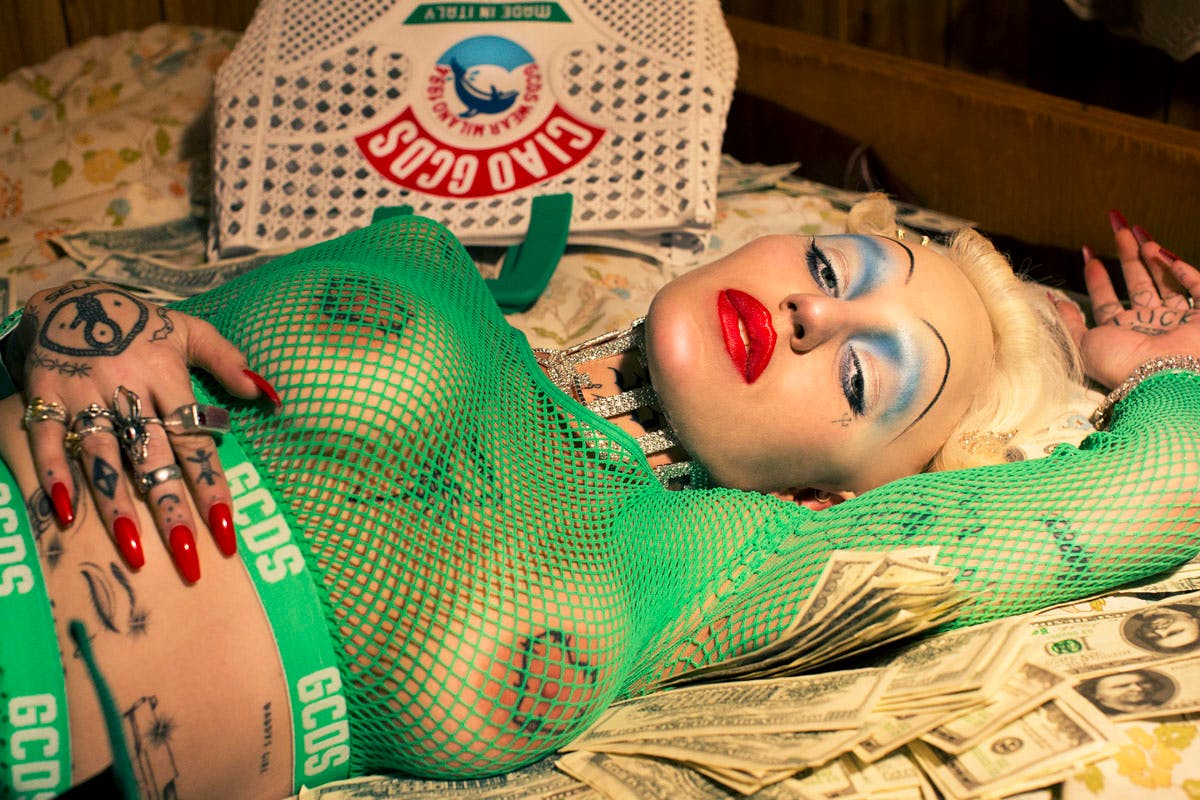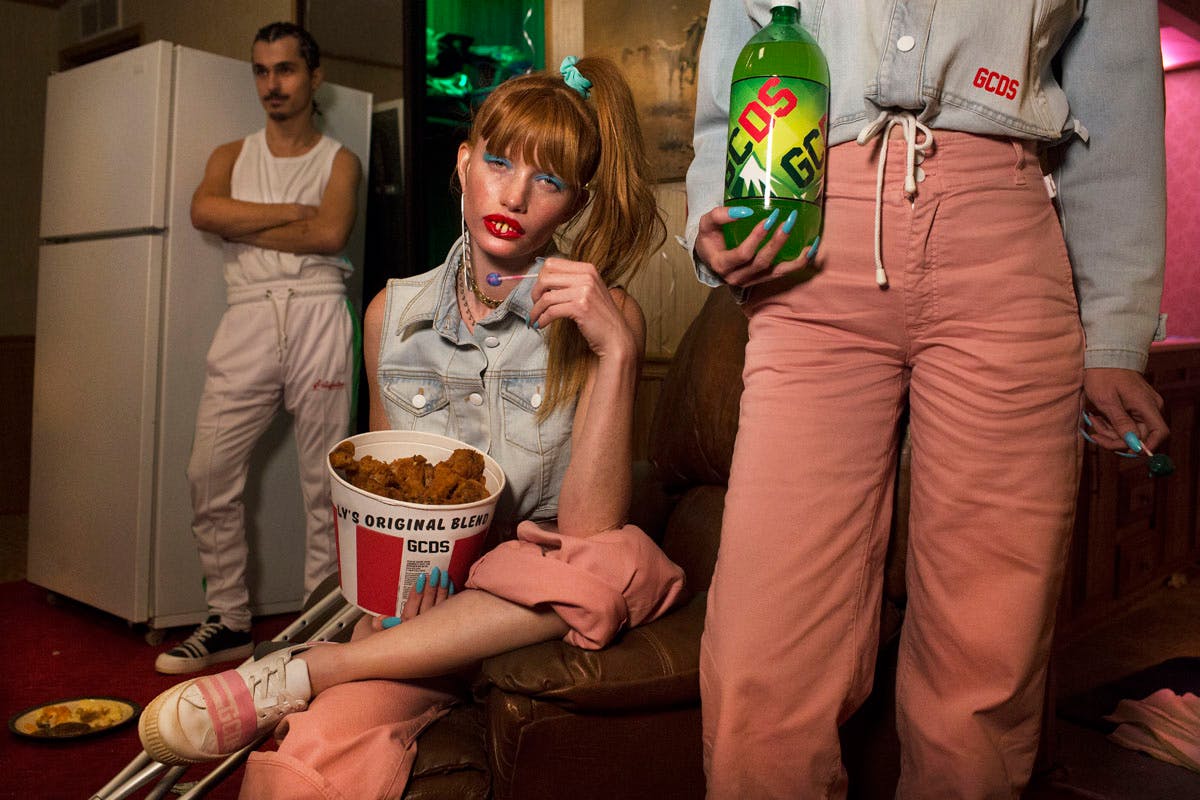 First off, tell us how GCDS got started.
In 2010, I moved to China to help my brother with his company, taking care of its brand image and communication. But it wasn't fashion. I always knew I would go back into fashion, but before that I wanted to have a good understanding of the Asian market. Then in 2014, I launched GCDS in Milan as an online project.
Why do you do it?
Apart from building a company that speaks to my generation and the satisfaction that that brings, I see all the responsibilities that it brings along as we grow helps my own personal growth. I mean, GCDS started with sweaters and socks but every season I challenge myself and my team to bring new ideas into play.
So what's your exact position at GCDS then, and how does that translate to what we see coming out from the label.
When the first collection from my online project was sold out, me and my brother decided we needed more structure in place. So we founded the company together properly, but today I'm the creative director. There's so much work to do that I find myself changing cards between doing interviews, designing collections, organizing shows and parties, packing up boxes for DHL—I sometimes feel like I'm interning for myself.
When we look at GCDS, we think it falls very much within the Italian fashion tradition—would you agree?
I agree. My aim was to build a Made-in-Italy brand with an international edge. I started in fashion at Blumarine so most of my pieces reference Italian fashion, but I combine that with my love of '80s and '90s hip-hop and the culture surrounding it. I am an '88 kid at the end of the day.
Your campaign shoots have been incredibly striking these past few collections—almost recalling the hyper-saturation of David LaChappelle or the colorful surrealism of Maurizio Cattelan & Pierpaolo Ferrari's work. What's been behind this aesthetic?
I am really into contemporary art and also inspired by those names. Working with Nadia Lee Cohen was a true luxury for me though. I'm inspired by various things that sometimes sit on opposite sides: the surreal and romantic works of Michel Gondry; the popular but usually 'splatter' works of Tarantino; anything from Japanese subcultures or contemporary artists like Eddie Kang or Cao Fei—all sit in my iconography.
What do you want GCDS to say as a brand through its designs and collections?
I want to keep it fresh and I want to make clothes for kids like me. I hate taking fashion too seriously: it's a self expression and GCDS wants to rennovate and I'm personally growing with the product and the company.
In your latest for SS18, you worked with director Nadia lee Cohen to have Pamela Anderson "die" on screen, alongside Brooke Candy, Lily Summer, and 'gram stars Caroline Vreeland and Leo 'Gully Guy' Mandella. What happened?
We wanted to make a "cult" glamorizing misfits who live in the middle of 'nowhere'. Pamela didn't confirm until the last minute but I wanted to wait at all costs. This is because having such an icon do a cameo in this fashion film would be an iconic moment for kids like me who grew up in those years. Working with Nadia Lee Cohen was very interesting as we are more or less the same age but with different iconographies... Mixing both aesthetics and ideas in this film proved out to be an exciting experience.
With your name being what it is, how do you define 'streetwear'? Is it now more just progressive, but accessible, fashion?
I think streetwear is not something you can delineate through a sentence. It's a movement. In this hysterical moment of change we're living through, I think many of us have found a place where we feel like we belong.
What's next? Besides this incredible campaign, what's 2018 got in store?
I'm cooking up many new things, and getting ready for exciting new projects. In March, I'll drop a capsule collection with Teyana Taylor that closed the GCDS NYFW show, and it was a pleasant path to explore.
The GCDS SS18 collection drops February 22 during Milan fashion week. Available via GCDS.it.