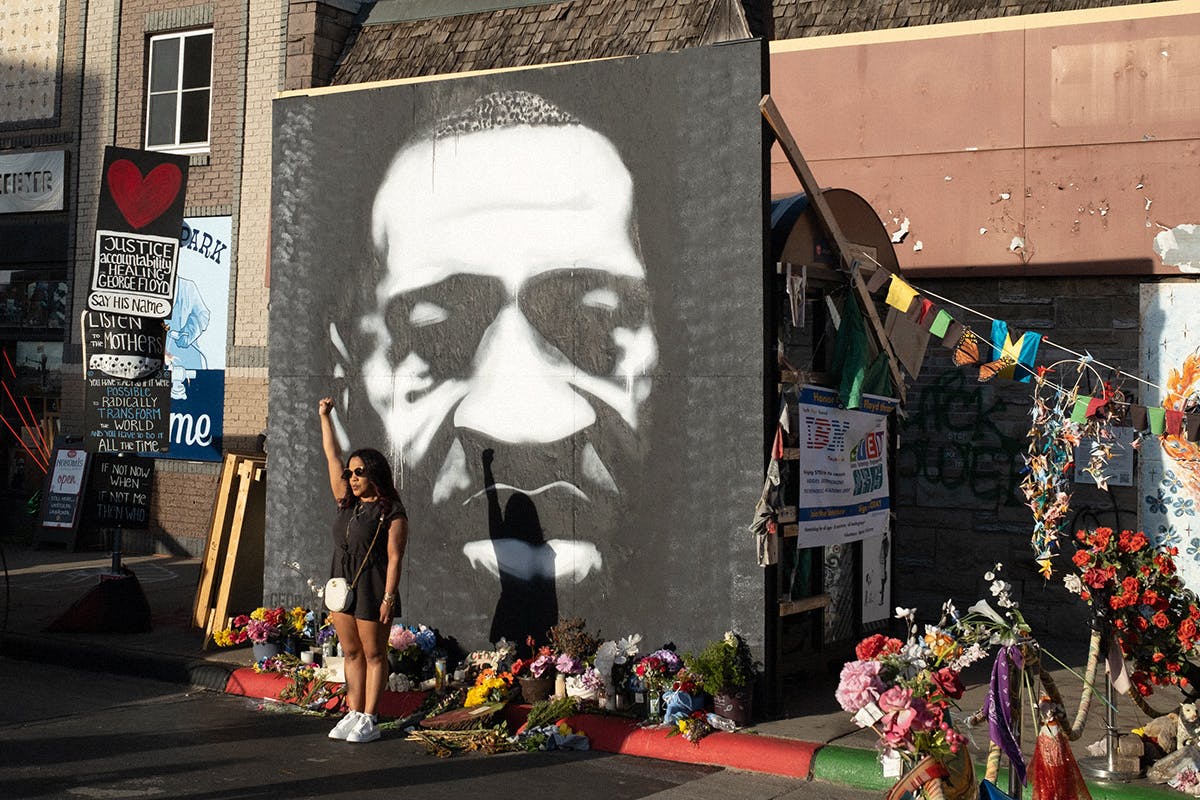 Yesterday marked the first anniversary of George Floyd's death. His murder at the hands of a Minneapolis police officer on May 25, 2020 was filmed and watched by millions around the globe, sparking worldwide protests about police brutality, systemic racism, and the demand for racial justice.
Memorial events took place across the US yesterday with communities, activists, and political leaders showing up to pay tribute to Floyd, who has become a symbol for change. In Minneapolis, the George Floyd Memorial Foundation threw an event that has been widely described as a celebration — a temporary stage was erected and huge speakers blasted gospel, hip-hop, and R&B. Speaking to the crowd, Floyd's sister Bridgett said: "It's been a troubling year, a long year. But we made it. They say with God all things are possible and I'm a true believer in that. […] The love is very outpouring today. The love is here. George is here."
The love and solidarity was shown in many other cities, too — memorials were unveiled in Houston, a minute's silence was held in New York, and vigils took place in LA, London, Glasgow, and beyond. In Washington, members of Floyd's family (and Lil Baby) met with President Joe Biden and Vice-President Kamala Harris at the White House. Yet while this picture was also one of solidarity — Floyd's brother Philonise dubbed Biden a "genuine guy" — the surrounding conversations pointed to a lack of legislative action. Namely that the George Floyd Justice in Policing Act (containing reforms such as a ban on chokeholds), which was supposed to pass in Congress by yesterday, is yet to be put into action.
The White House explained: "The President called for it by the anniversary [May 25] but meaningful talks are still going on and it's better to have a meaningful bill than worry about a deadline." In response, Democratic senator Cory Booker, Republican counterpart Tim Scott, and Democratic congresswoman Karen Bass said in a joint statement: "This anniversary serves as a painful reminder of why we must make meaningful change. While we are still working through our differences on key issues, we continue to make progress toward a compromise and remain optimistic about the prospects of achieving that goal."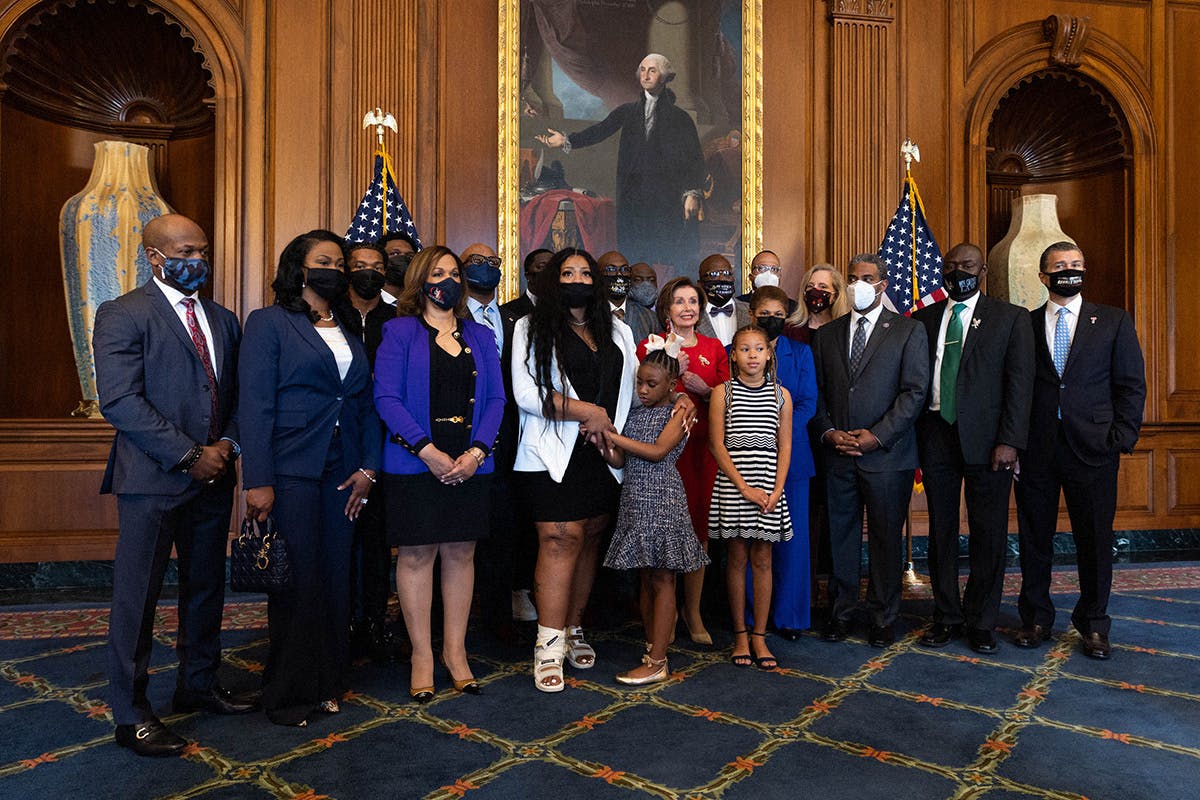 Remaining optimistic while pushing for change is perhaps easier said than done, particularly as many seem to be returning to "business as usual." In light of that, we're choosing to revisit some inspiring words from those leading the racial justice movement (as opposed to those leading the country), all of which provide a rich reminder of how strong we are when we act together. Below, you'll find some quotes that meant a lot to us last year and still do — maybe they will be meaningful for you, too.
Black Lives Matter Toronto co-founder Janaya Khan: "In this time that we're in, I think about how stories, myths, and beliefs have really shaped this entire society around us. We forget we have to write ourselves into existence — we have to fight ourselves into existence. We are in the great battle of beliefs, and now we are being called to the fields. We're being called into a higher purpose. We are the shields and the stones. We are the sentinels. And that requires a deep kind of love. Because pain may have brought us all together, but love brings us back. We don't fight because we hate a system. It is because we love ourselves, and we love each other."
Pyer Moss' Kerby Jean-Raymond: "We're at a turning point in history where it's like: Where do you want to be in this chapter? Where do you want to tell your grandkids you stood? And who do you really think is going to win? I'd bet on the winning team, if I was you.
"Here's the thing: If evil prevails, there will be no history books. In order for there to even be a history book where we're talking about 2020, good has to win over evil before 2050. We have to accept it as a moral issue. I don't want to liken this to other genocides and other tragedies that have happened in the course of global history, but a lot of us would feel like if we could go back and undo certain parts of human history, we would. We're at one of those points right now. We can collectively make the change we need to make: completely dismantle the current policing system."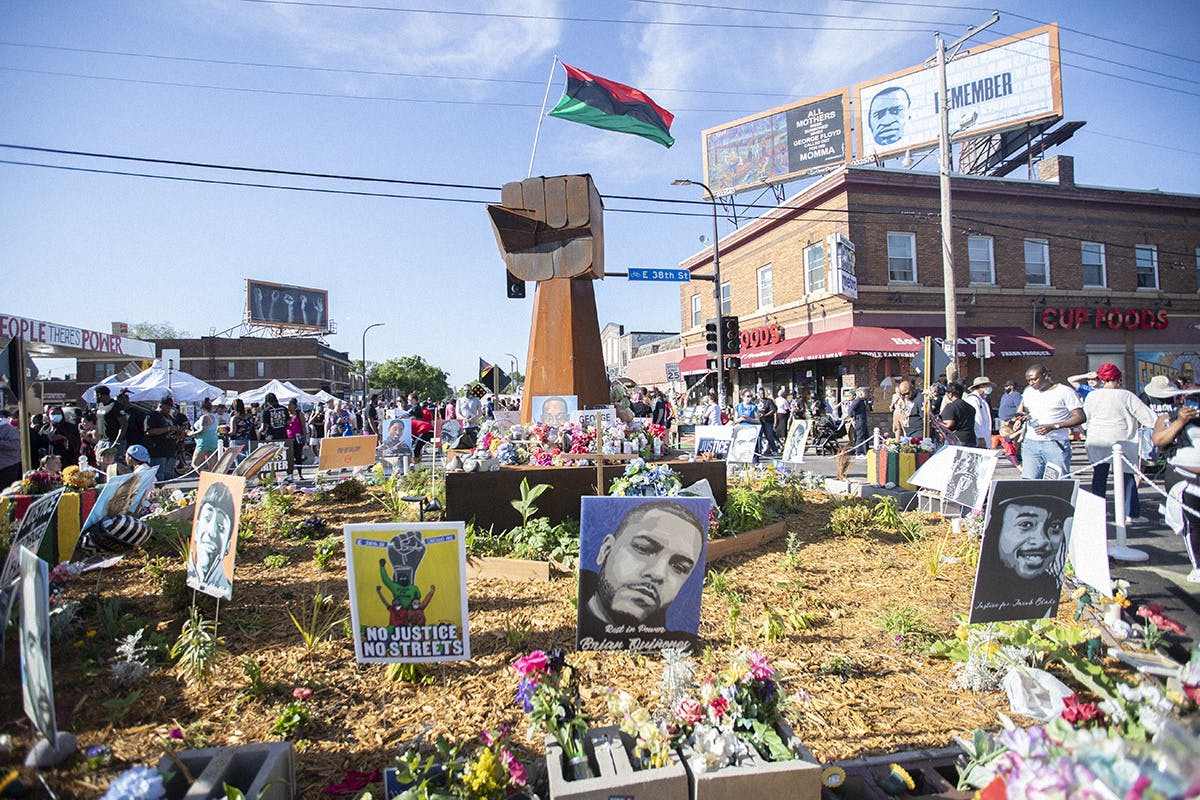 NYC Democratic Representative Jamaal Bowman: "We have a history of the system cycling new forms of oppression in the form of laws, whether it's red lining and similar policies, or allowing guns and crack cocaine to enter certain communities. And all of that is… overwhelming. What we're going through right now is its own sort of healing and awakening. Realizing a power that I have as an individual and sharing that power with my students, with my family and others, to say, 'Listen. If you want these things, if we want these things, we gotta organize, strategize, and mobilize, and demand it at every level of government.' From the school board to city council, to county, state, and federal office. We have to do everything we can to re-acquire power for the people, not just a few elites at the top.
"This is the opportunity for America to really become a humanitarian leader around the world. Our bellies are full. We're the wealthiest nation on earth. We have the strongest military. We've acquired so much land and so many allies and so many resources, but now, how are we gonna use that power for good? How are we gonna use it to uplift humanity? These are the things we have to figure out right now, and the things we have to stay focused on figuring out moving forward."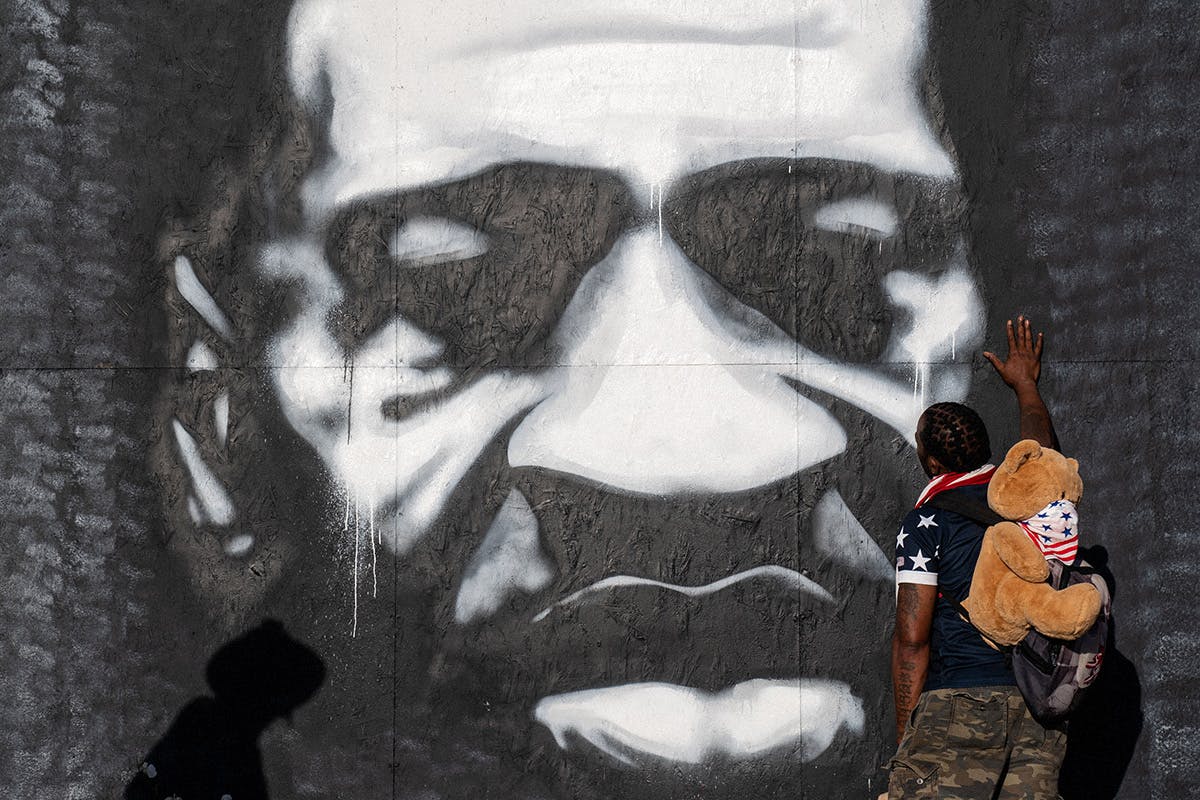 Wu-Tang Clan's RZA: "I see this as a test to balance our own selves. Hopefully the people of America realize that we are at a crucible point in our history, one where we can actually elevate ourselves to be the greatest nation in history just by balancing ourselves with each other."
NYC Mayoral candidate Maya Wiley: "You just do not stop, because the only way people keep suffering is because people stop fighting. So I'm not going to stop."
Related reading: 
How the Police Contribute to Gentrification & How You Can Lobby Against It
What Is the George Floyd Justice in Policing Act?
What Is Qualified Immunity & What Does It Mean for Police Reform?  
This Is Why Police Unions Have So Much Power in America
America's Need for Prison Reform Is Long Overdue