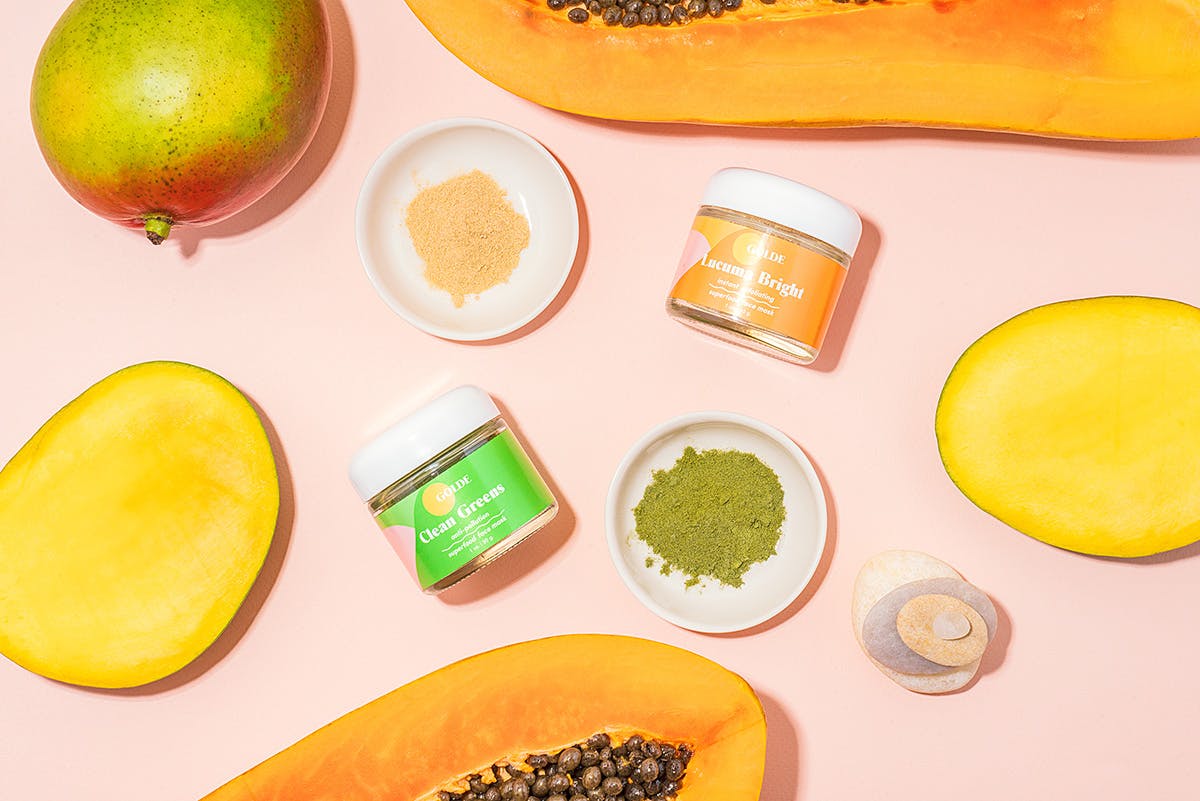 When partners Trinity Mouzon Wofford and Issey Kobori established Golde in 2017, they set out with one mission: to create a more inclusive wellness brand by attracting people of all races, genders, and sexual orientations. "I felt that there was just something missing for the everyday consumer. The one who is interested in the concept of wellness, but doesn't necessarily have crystals under their bed," Wofford says. "We wanted to make it as easy, approachable, and inclusive as possible."
The brand has grown rapidly over the last two years, moving from wellness drinks to beauty products. Its new edible face masks in particular have become a cult-favorite among beauty editors at women's fashion magazines. They're made using so-called "superfoods"—ingredients with nutritional value like turmeric, matcha, and cacao—that also help to do things like reduce inflammation and breakouts, or combat the effects of city pollution on your skin.
Face masks remain something of an insider's secret among men who care as much about their skin as their wardrobe, but that could be about to change as more gender-neutral products like Golde's continue to seep into the market. Wofford, who at 26 became the youngest woman of color to launch a brand at Sephora last month, agrees. We recently sat down with her to discuss the origins of the brand and how something as simple as a face mask can show a shift in the wider societal landscape.
When you first started the brand, how did you decide on what products you wanted to make?
My partner and I had sort of a blessing in disguise which was the inherent limitation of being two 23-year-olds at the time with no money. So a lot of the fancy, crazy supplements that would take years of research and development were not something that we had the resources to develop. We had to think about what we could build out that was easy for us to create by hand at the time, and what was also going to be really effective, really delicious, and at an approachable price point.
I got into turmeric specifically through my mom because it was anti-inflammatory and it was working wonders for her rheumatoid arthritis. I started playing around with getting the whole raw root at the farmers market and cutting it into big pieces, and found that it was really, really great for my skin and my immune system. So that's where I was first opened up to that side of things, and realized that this could be an awesome product to make easily because juicing turmeric is messy and creates a very small amount.
I want to hear more about the making of the masks, and expanding into the beauty market.
I knew that we wanted to do something in beauty eventually. At the time, my mom had a house upstate that she was getting ready to sell, and she wasn't living in it anymore. We were there for about six months focusing on the business and not worrying about rent. I don't think that there's a way that we could have somehow done all of this while being in New York constantly, but the point is I got back to Brooklyn eventually at the beginning of 2018 and my skin erupted.
The transition was too much, the pollution in the water and air. I tried everything and even if something would work for a few days, it almost felt like my skin was being stripped by all this stuff that I was putting on it and then more pollution seeped back in. I got to a point of desperation and started putting superfoods on my face because it was what we always happened to have in our home office area because we're always playing around with different possible formulations and ingredients. It was the first thing that worked, and it was so powerful. The texture had completely changed.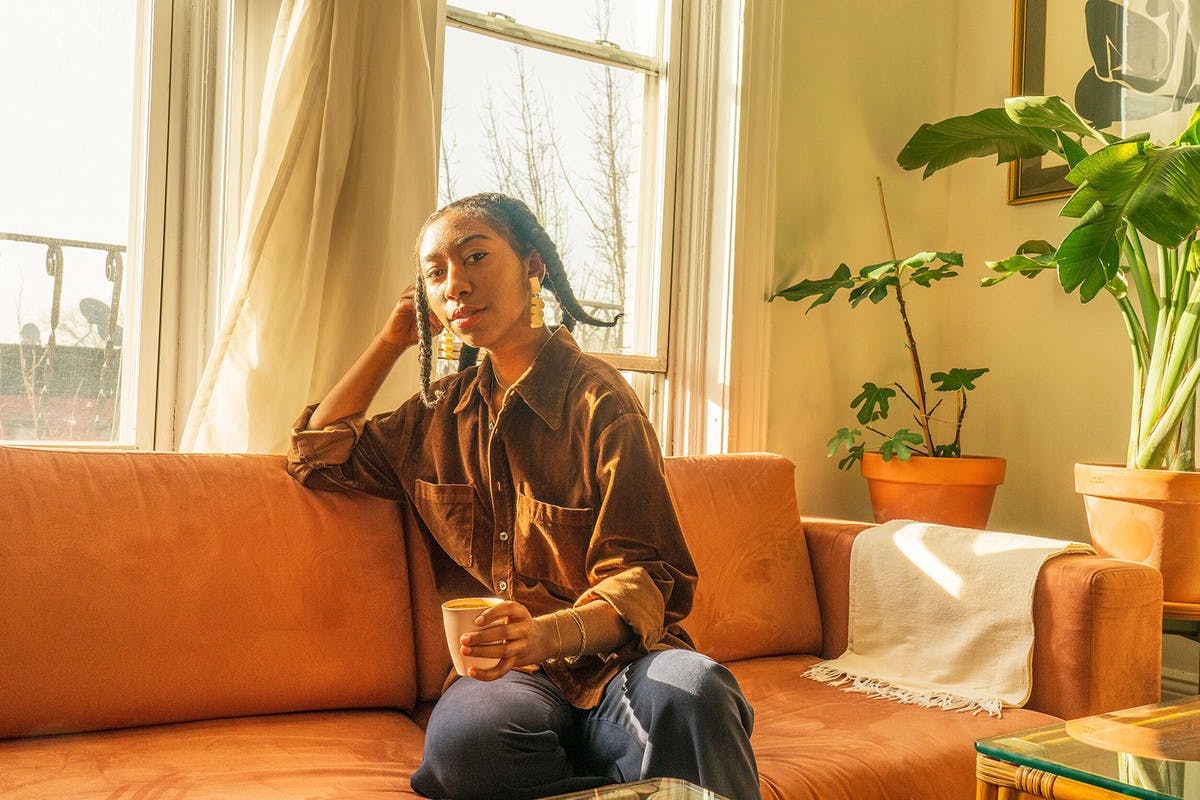 It's really interesting to see men diving in to skincare and wellness. Has it been a little bit more organic for your partner to get into?
He's half-Japanese and was born in Japan. He came over to the United States when he was two years old, but went back and forth between the two. Wellness is embedded in a much more ancient culture there. I think that's why wellness is such a huge movement in the United States, because we don't have that embedded in our culture. We don't have grandmother's giving us herbs for those reasons in our culture.
I'm excited to see that it's opening a little bit more, that it's not just an extension of beauty for women and instead it's about how you take care of yourself. There's nothing inherently feminine about drinking matcha. The more we can do to normalize it for everyone whether you're black or white, fat or thin, male or female, that's where we want to take it.
How can we get more men to incorporate masks into their skincare routine or the lack thereof?
I think that it's tough because we often talk about toxic masculinity as it applies to women, but we rarely talk about how it's impacting men. Men are being told that they can't take care of themselves because it's too feminine, and it's very similar to the way that black women are being told that they can't take care of themselves because that's too white. It's all the same bullshit. I think that the best thing that we all can do is try to normalize it more. We'll get there, but I think it's tough. Men have been told for generations that they need to avoid appearing feminine and weak at all costs, and there are few things that come off as more feminine than putting a face mask on and caring about yourself and your skin.
But we're making progress. Men's fitness used to be all about performance, it was very testosterone driven. Now it's moving toward more of a balanced lifestyle. Men are drinking green juices so it's moving in that direction, but it's moving slowly. The more that brands like Golde can show a guy in a face mask or a black person engaging in wellness in any way, the more we can make it a safe place for these people to come and engage. That's really the best that we can do.
Also, it doesn't hurt to have more brands that are targeted toward men. I think that's oftentimes a safer place for them to start, and them from there they can sort of branch out. But the messaging today is so female-forward, and it's hard to avoid it. So I think it's happening, but it's gonna happen over the next decade.
Masks have become such a big part of the commercialized version of self-care that has a tendency to be quite materialistic. What does self-care look like for you?
I like to make lists. It's not sexy. I can't take baths because my tub is too small—I tried recently because I had a cold and my knees were sticking out. I like to make lists because I have a little bit too much going on at any given moment. It really helps me to be able to be organized because as soon as I get the slightest bit unorganized, I become anxious and things come up that I'm not prepared for. I use an app called Monday which has been my life-saver.
I think the whole self-care concept, like you said, it's become very materialistic. For us at Golde, it's really about how can we make products that are just easy, accessible, and help you get to that place of feeling like your best. That is to me what's really at the heart of self-care. You don't need to look a certain way, you just need to feel good.