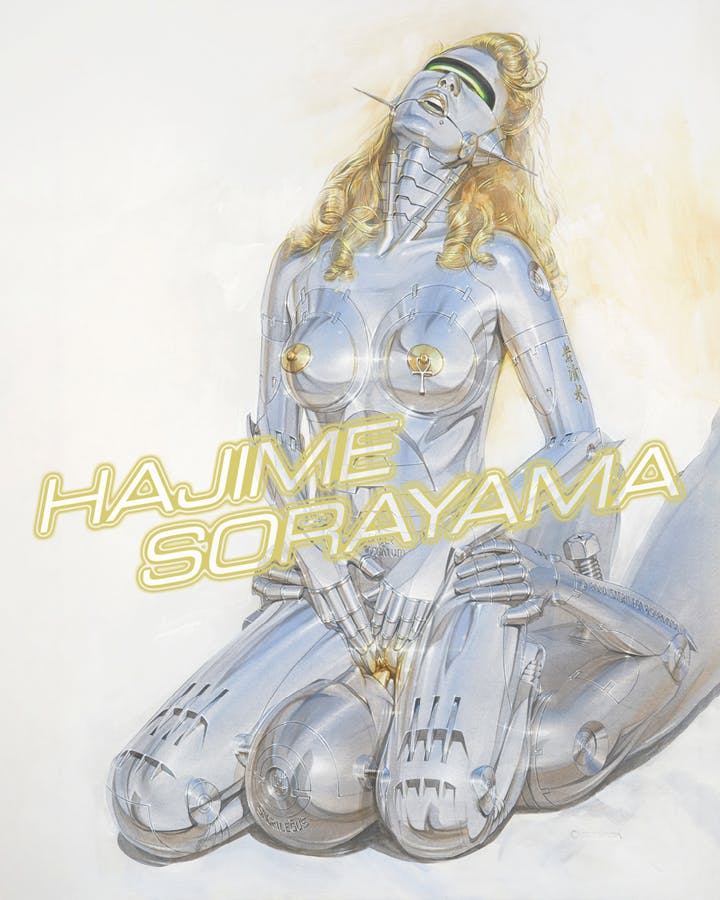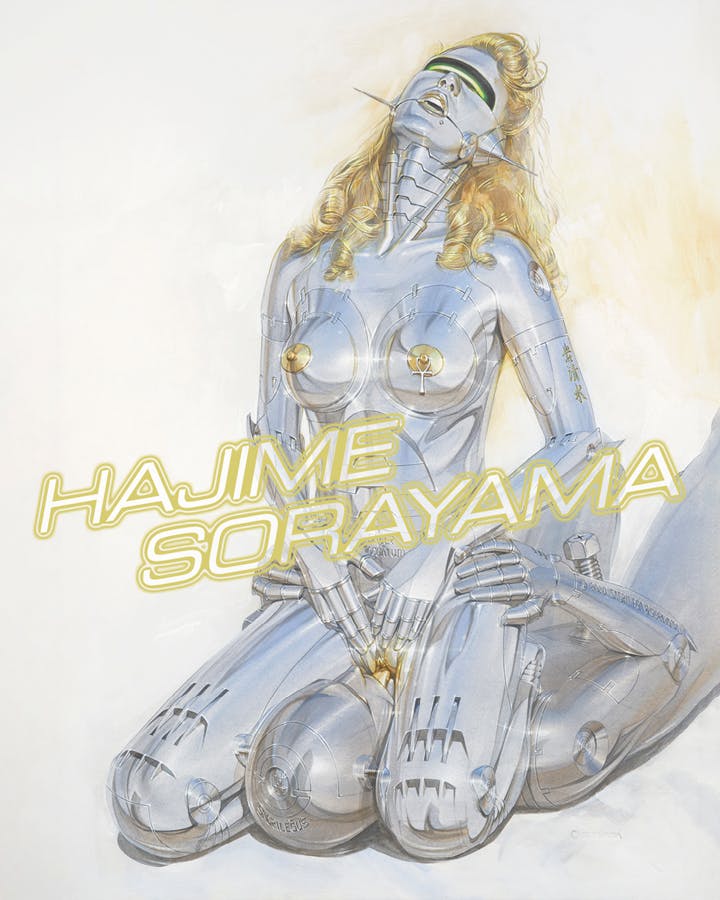 For the latest edition of FRONTPAGE, we caught up with legendary artist Hajime Sorayama at his Tokyo studio to delve inside his inimitable, chrome-plated world.
On the twelfth floor of a Tokyo apartment block, behind an unassuming residential door, lies Japanese artist Hajime Sorayama's cavernous man cave strewn with sketches, erotic ephemera, and eyebrow-raising visual references. As we enter the artist's studio and living space, we leave our shoes by the front door genkan and venture into the rooms filled with images and artifacts squeezed into any possible space. Not to be confused with a teenage boy's bedroom, Sorayama's studio is more like an unorganized yet deeply fascinating museum, or a sideways glance into the artist's cerebral cortex.
Sorayama himself is small and robust in stature. He greets us with a warm enthusiasm, offering what is possible in his modestly-sized space: Japanese drip coffee or tea. Inside, we see a photograph of a young Sorayama with NIGO and a photo with Penthouse's 1993 Pet Of The Year Julie Strain. Deep in the piles of ephemera on Sorayama's desk sits his 2005 Future Mickey Retro figure created with Disney and Tomy, and beside it, a silver-chrome No Future Companion by OriginalFake, as well as his collaboration with KAWS and Medicom Toy in 2009, inspired by the former.
In the back room lies an eclectic accumulation of vinyl toys, books, and collaborator gifts that include everything from Be@rbricks to women's lace underwear. "It's like sightseeing in here," Sorayama jokes, alluding to how many personal artifacts he has crammed into such a small space. Occupying an entire wall is a 6ft x 4ft print of an artwork from his latest exhibition "SEX MATTER," currently on view in Tokyo at Nanzuka Gallery. The exhibition presents life-size fiberglass and bronze sculptures, and an adults-only room of unseen, highly-eroticized illustrations.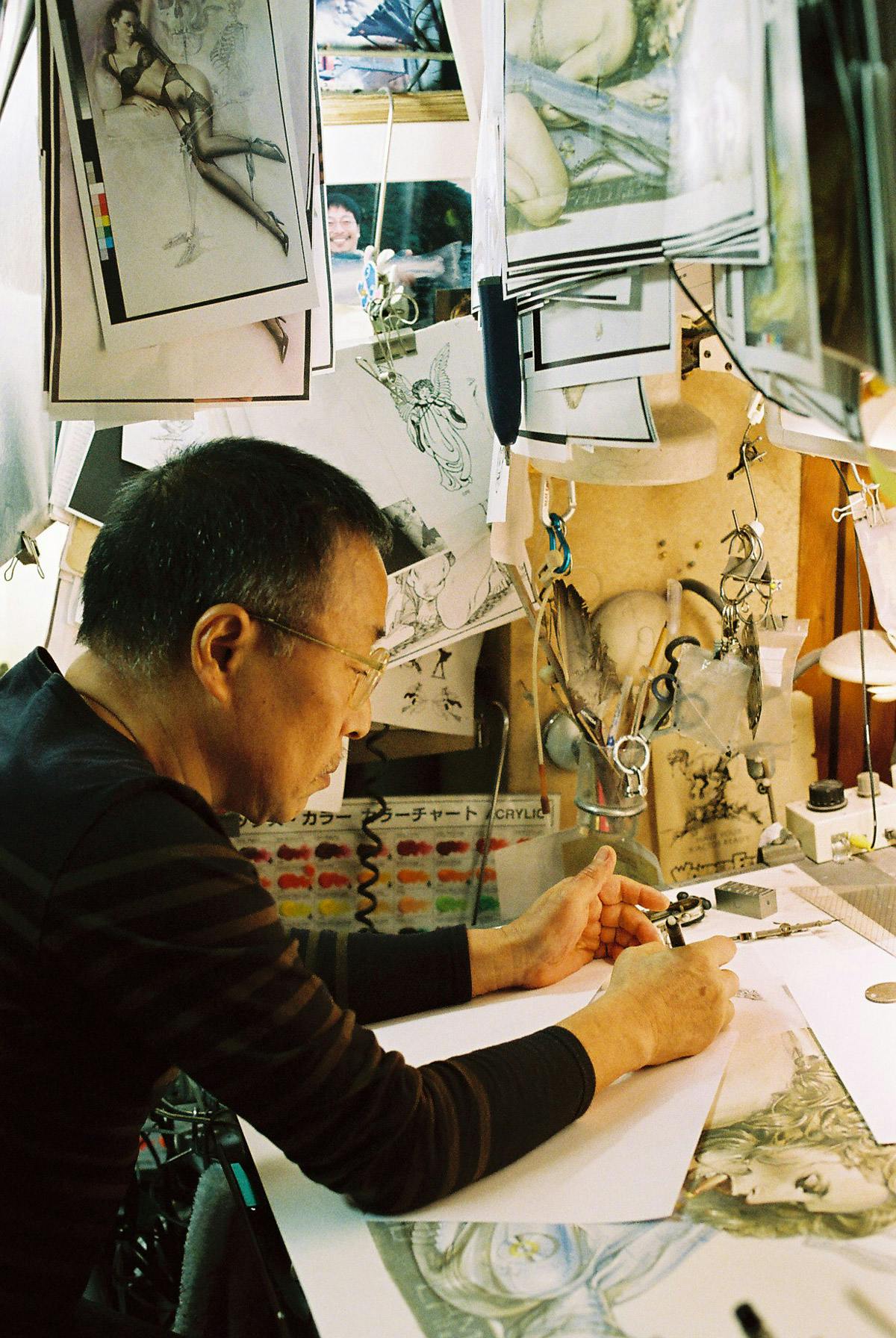 Sorayama is best known for the airbrush paintings and hyperreal illustrations that have made him a pioneer of the sci-fi erotica genre. Over time, his depictions of robotized women in erotic poses have elevated him from cult hero to internationally known artist. Since the beginning, Sorayama's works explore all the ingredients for taboo in our society, creating images that combine fetishism, bondage, and genetic manipulation, always presented with the intention to provoke. Influenced by American pin-up art from an early age, the majority of his drawings depict an unattainable, idealized woman, or, as he puts it, a "search for the ultimate feminine beauty." His signature futuristic Sexy Robots series, first created in 1983, were both revered and seen as controversial at the time. His obsession with the female form is not to be taken purely as eroticization. Rather, Sorayama's women are an idealization of a future where women are free from patriarchy and celebrated as deities or goddesses. "It's difficult to see what's right under your nose," Sorayama tells us, addressing the irony that his studio is located directly across from the Osaki Police Station. "I've been here for 40 years. I'm trying to make it like a red light town, an erotic city." Facing his desk are a plethora of mechanical pencils, scalpels, and acrylic paint that sit at arm's length as he turns in his well-worn, leather swivel chair. These are his tools, used for his drawings and paintings, which grow from experimental collages: a combination of various references from books, clippings, and Polaroids. Above him hangs a drawing of a robotic silver-chrome and gold couple in an intimate, NSFW embrace. In the image, he captures their metal shine and galvanized texture with improbable realism.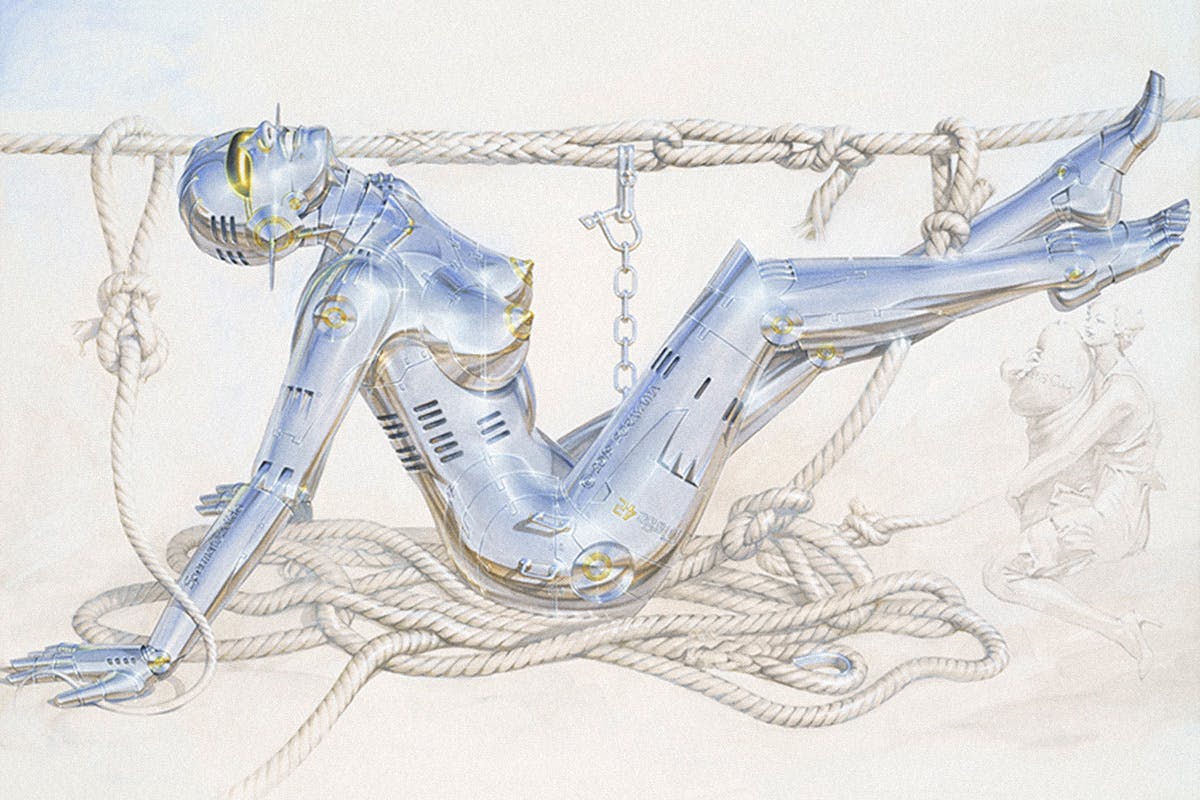 Sorayama's subjects reflect a softness or flexibility in their impenetrable skin, atypical to the hard metal qualities of robotics. How he continues to achieve such hyperrealist perfection in his technique continues to baffle many, yet he puts it down to pure dedication and practice. "I've never had any assistants, and I never had a mentor," the artist says. "If you're really talented and skilled, you'll find your way. You don't need a guideline. You just find your way to be successful. All the artists I respect internationally, when you look at their background, they normally haven't had a mentor or worked for anybody. If you look at all the great artists in history, they are all self-taught, and that's what makes their work original."
Sitting across from Sorayama, irreverently slouched with auburn-tinted prescription glasses, it's hard to imagine he has led a career spanning almost half a century. After graduating from Tokyo's Chuo Art School in 1968, he spent a year at an advertising company before leaving to become a freelancer working across the film industry, with involvements in various sci-fi and robotics-related films such as Timecop (1994) and Space Tracker (1997), and was even invited to present a lecture at George Lucas' Industrial Light & Magic studio by Spawn director Mark A.Z. Dippé.
Highsnobiety / Momo Angela
Sorayama's work remained fairly underground, with cult-like status akin to now-legendary art contemporaries such as Keiichi Tanaami, Harumi Yamaguchi, and Toshio Saeki, whose work also crossed themes of eroticism and anti-authoritarianism that were considered too radical at that time in Japan. It was in 1995, during Tanaami's tenure as art director of Penthouse magazine, that he gave Sorayama a monthly column for his drawings. A few years later in 1999, Sorayama achieved Japan's highest design award at the time, the Grand Prize of Best Design, for his concept design for Sony's robotic pet AIBO.
Now, at the age of 73, Sorayama is achieving a whole new level of global recognition. As the star collaborator of Dior Men's Pre-Fall 2019 collection, Sorayama worked closely with creative director Kim Jones on a presentation and accompanying collection that included his iconic imagery and futuristic logotype interpreted onto clothing and emblazoned across accessories. "Kim Jones came to my exhibition opening reception and asked if he could visit my studio the next day," Sorayama recalls. After a joint lunch at an eel restaurant, Jones proposed the collaboration. "At the beginning, we talked and brushed up a lot of ideas, but when we physically began to collaborate on the merchandise — clothing, fashion, everything — it wasn't that easy. In practice, it was a challenge to transfer my artwork and context into fashion. But I trusted him on the result. His position is kind of like a translator, between fashion and art."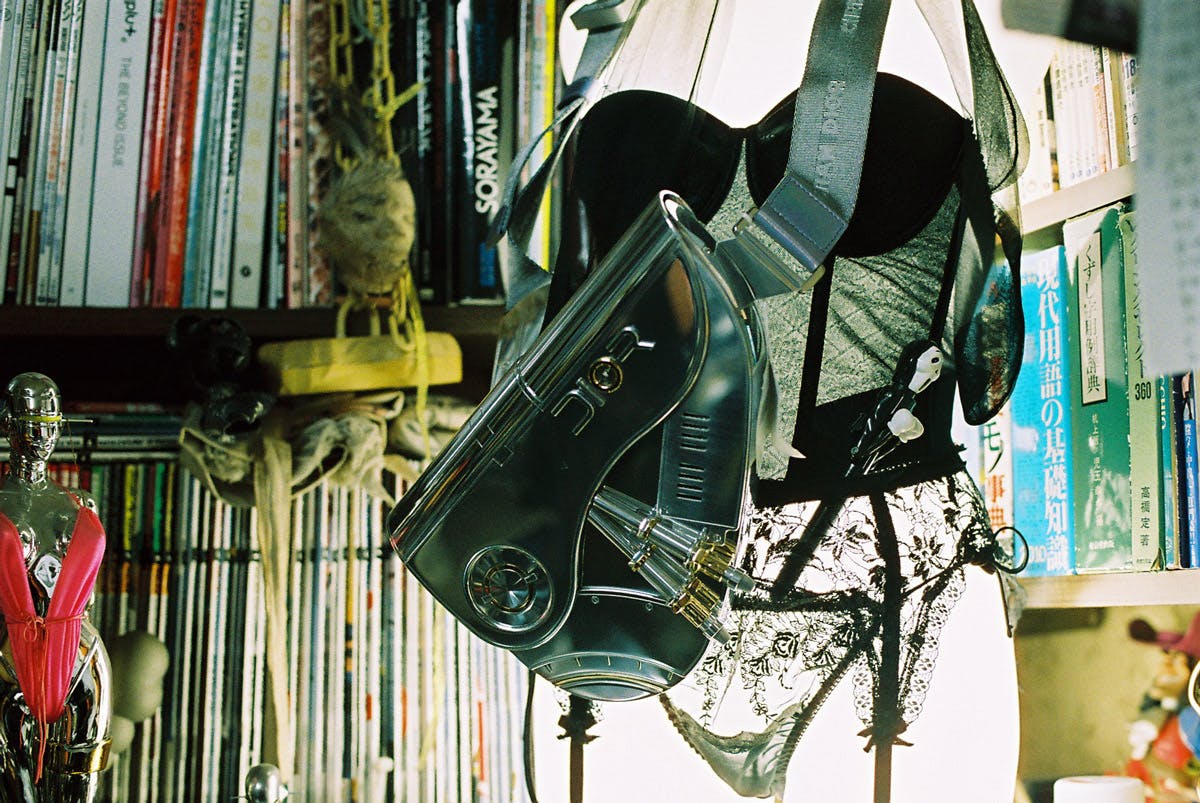 The crossover to fashion wasn't unfamiliar. Sorayama previously worked with the French couturier Thierry Mugler, almost 25 years earlier. After discovering that the designer was a fan of his work during an exhibition in Los Angeles, the two met, and together created a wearable version of fembot armor for Mugler's AW95 couture collection. Yet the recent Dior collaboration has arrived at a time when the fashion industry leverages collaborative involvement in a way that hurls art into the domain of pop culture. This realignment introduced a whole new fan base to Sorayama that catapulted him from underground legend status into the mainstream. 
In an upcoming group exhibition in Tokyo this June, Sorayama will present some of his earliest unseen drawings, such as an illustration of a navy ship that he submitted to a Japanese newspaper at the age of 16. As he recounts these early works, a nostalgic glimmer comes across his eye and he raises a proud smile. He takes us back to his initial dreams of becoming a sword craftsman, then a Japanese shrine carpenter, and then a pilot (although he was told that his eyesight wasn't sharp enough for the latter). It was one of his teachers who had noticed his talent for drawing, which led him to a career in illustration: "I then recognized that it was a calling for me."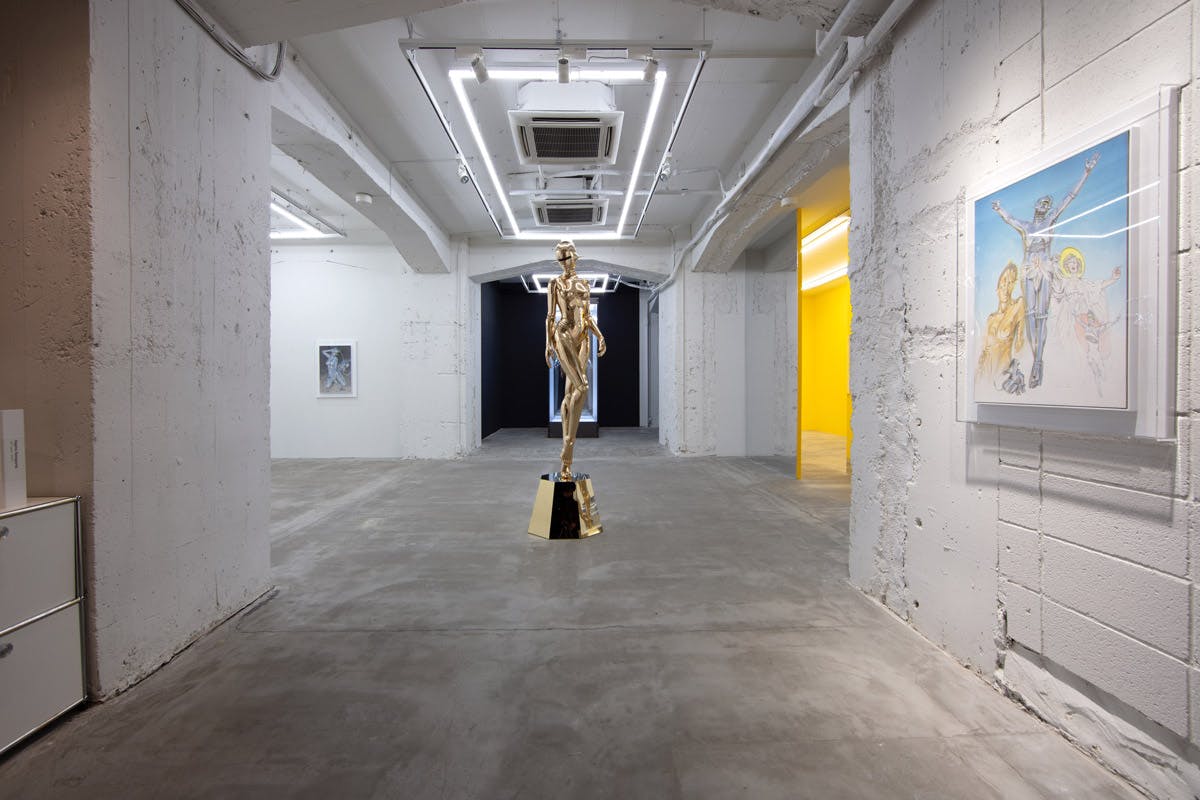 Sorayama claims that the longest he sits down drawing is five hours at a time, with the Swiss grandfather clock in his studio playing Elvis' "Love Me Tender" at every hour mark. It is not only a tool to keep track of the time, but a notion that explains a lot about Sorayama in general: his American influence and his sense of romanticism, where human liberation and sexuality can be free and unrestrained. Although a self-confessed perfectionist, he genuinely loves what he does. "I never feel like my drawings are complete or perfect," he confesses almost proudly. "Da Vinci also… he kept changing Mona Lisa until he died. But I never think [I should] work to finish any paintings as my effort or due; it's based on my own pleasure."
While his work reflects an imagined future, Sorayama himself only works and lives in the present. "It's only my gallerist and my fans that look at my past," he jokes. Sitting behind us is gallerist Shinji Nanzuka, who presents a textless visual A4 gloss magazine with a blue and silver cover featuring supermodel Bella Hadid as a fembot. It is Sorayama's latest print that includes a rare insight into his creative process — a magazine simply made just to give away to fans. "All those artists, even Murakami or Kim Jones, they watched my work when they were young. This is for seeding to the next generation." 
After a few hours in Sorayama's studio wormhole, the clock chimes, and just like that, Sorayama returns to work on one of his very own chrome-plated Renaissance icons.
Scroll down to shop the Sorayama x Mizuno Wave Prophecy 10