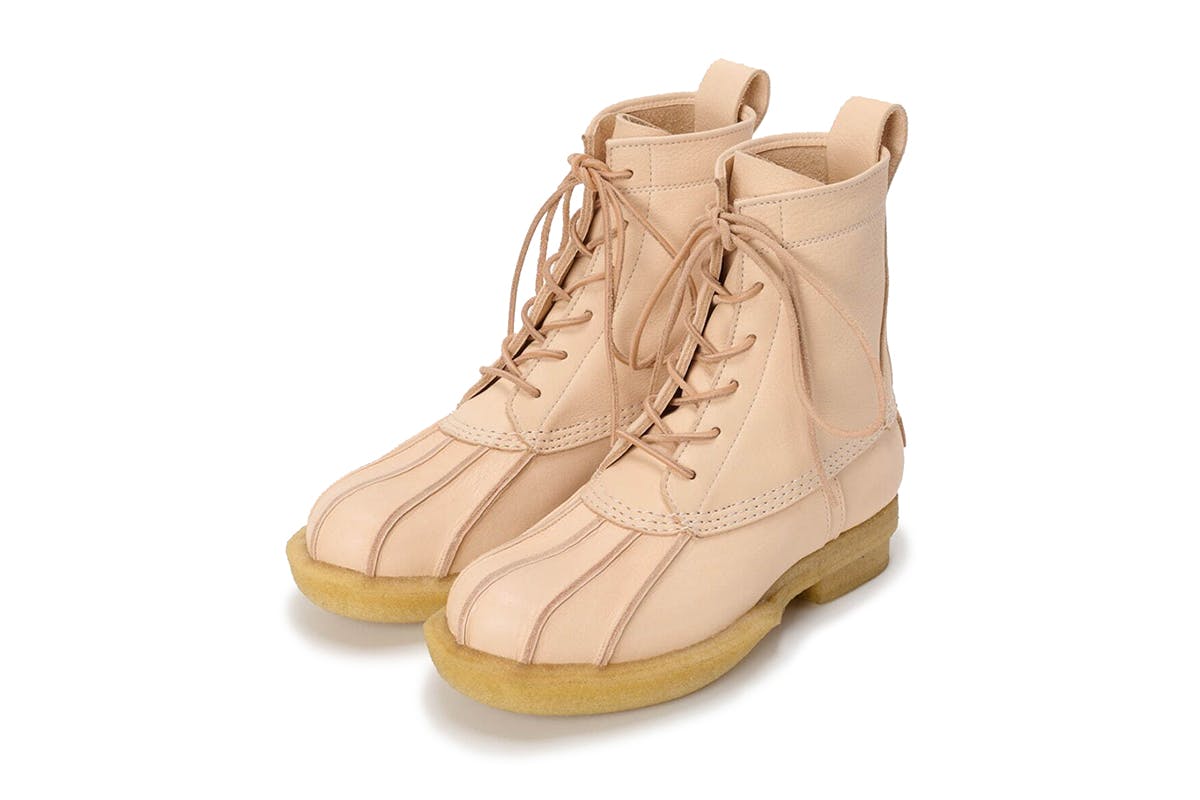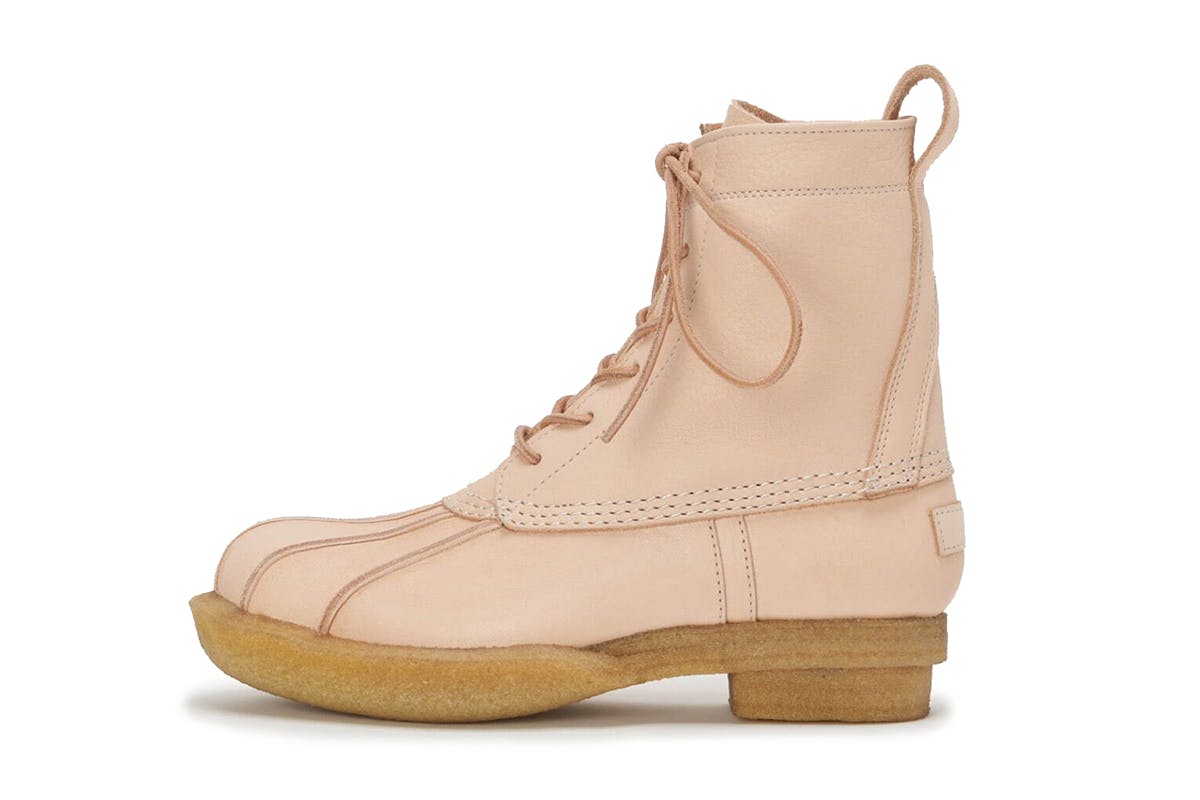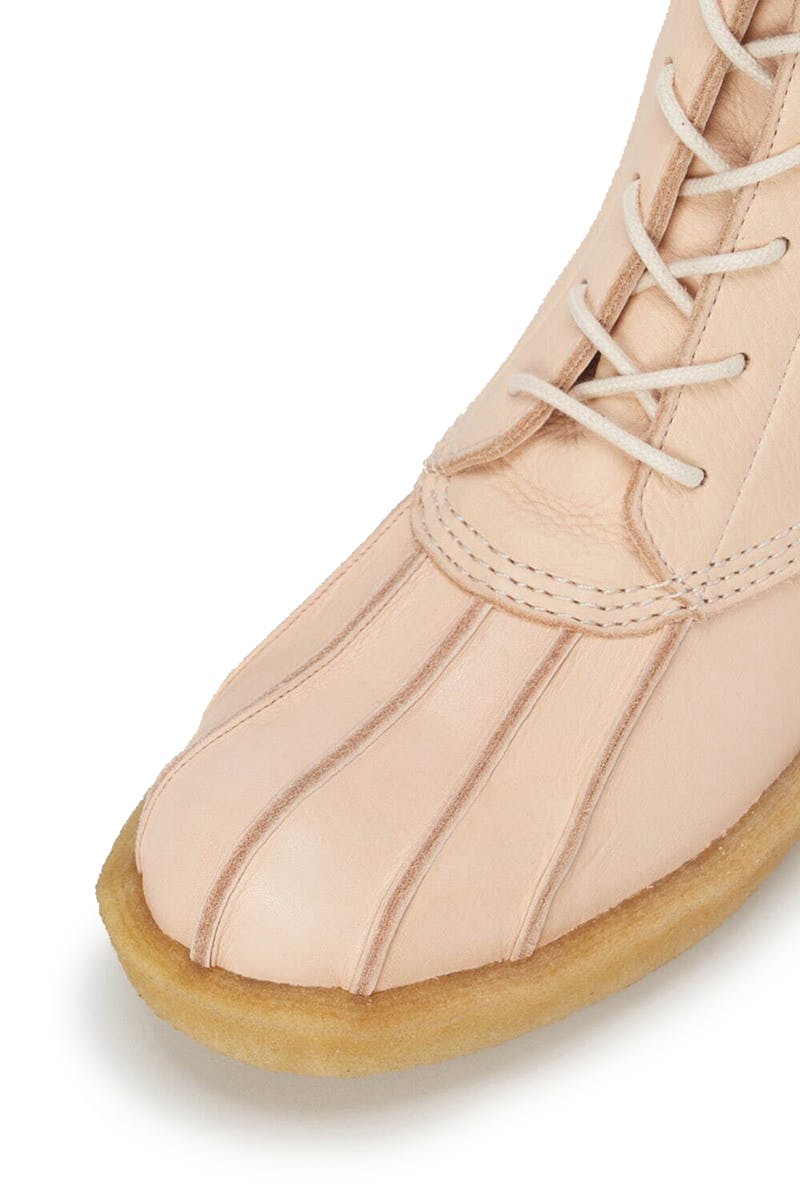 Brand: Hender Scheme
Model: Manual Industrial Products 26 (Duck Boots)
Season: Winter/Spring 2022 (seriously)
Price: ¥69,300 (about $600)
Buy: Sukima, ARKNETS, Digital Mountain
Editor's Notes: Hender Scheme's luscious leatherworks span far beyond the references to familiar footwear silhouettes like the Air Max and Crocs clog. Sure, that's what most Western fans are familiar with, but the Japanese brand also produces a complete collection of in-house designs, accessories, and home goods infused with a consistent level of top-tier craftsmanship.
Nevertheless, Hender Scheme's Manual Industrial Products (MIP, also known as "HOMMAGE") series remains its most popular offering and I get that. What's not to like about a familiar footwear style made ultra-premium?
We can all agree on the appreciable aesthetics of a veg-tanned variation on Vans' Slip-On. In plain English: the MIP shoes just look sick!
Which brings us to the latest MIP design, number 26. Like the previous designs, Hender Scheme's newest tribute is pretty clear in its inspiration: the humble duck boot.
LL Bean's Bean Boot basically sets the standard for this type of shoe with its century-long pedigree. Plus, given Japan's love for the Bean classic, it's preeeeetty much guaranteed that this is a direct wink at the heritage-minded Maine company.
Of course, the irony is that Hender Scheme's tall fleshy shoes lack the entire utility of the OG duck boot.
The original boot was designed tall and sleek to shrug off moisture, its ridged toe box useful for sluicing through Maine's slushy terrain.
Hender Scheme's boots, meanwhile, are made of its signature veg-tanned leather, a beautiful material that ages gracefully. I've owned a pair of MIP shoes for a few years and can confirm, the aging process is super satisfying.
I can also confirm that they absolutely cannot handle water. They inflate when wet and soak in stains. Oh, and Hender Scheme also fitted its duck boots with a crepe sole for a cushy feel that gets extra slippery atop wet surfaces.
Obviously, you aren't paying an arm and a leg for Hender Scheme for the functionality.
In fact, though the MIP footwear recall sneakers in shape, they're actually assembled in the vein of traditional cordwaining down to the lasted uppers and stitched leather soles.
So the irony in designing a water agnostic duck boot is clearly not lost on the Japanese brand. If anything, it was intentional and that makes it all the better — insert quote about the impermanence of time and such.
​​To stay updated on everything happening in the sneaker world, check out the best sneakers to add to your rotation this week, follow @highsnobietysneakers on Instagram, and sign up to our newsletter for early access to the best drops sent straight to your inbox.