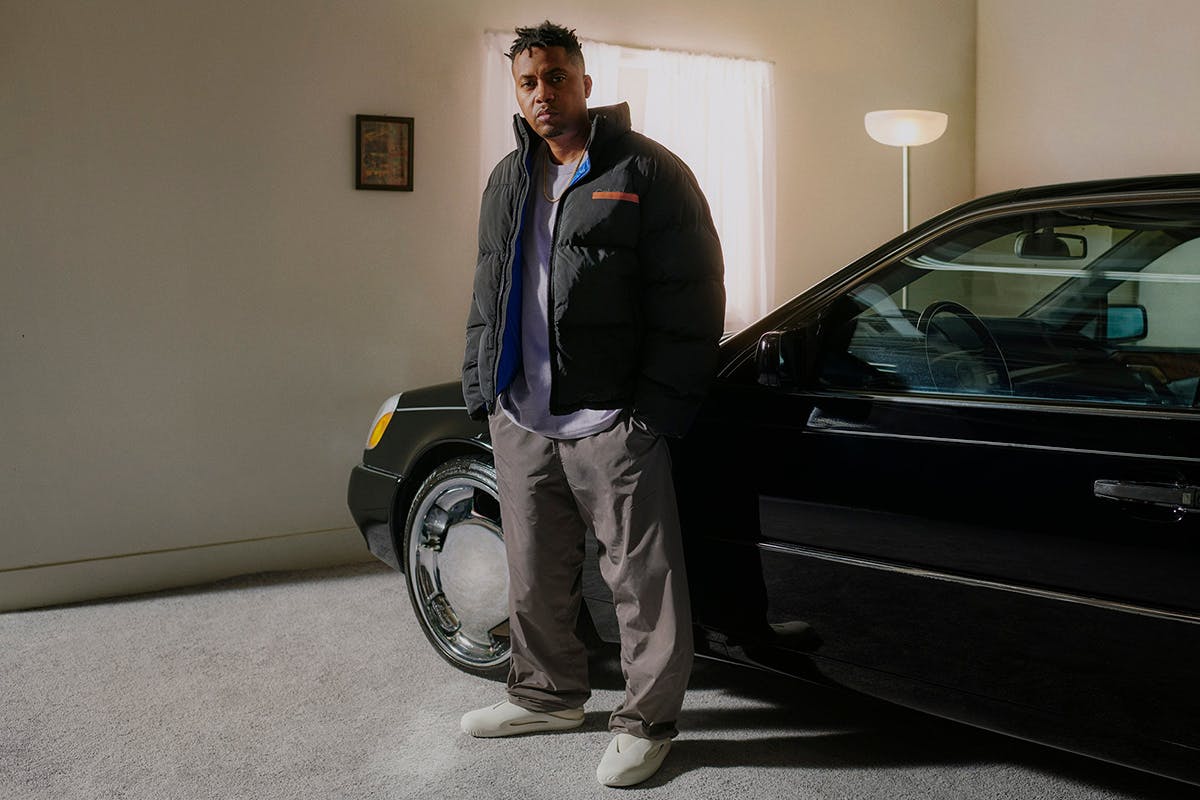 Heron Preston has done it again. Following up a debut collection for Calvin Klein where he, according to some, made the best hoodie in the world, the pressure was on to come through with an equally dope follow-up.
So did he nail that difficult second album?
Preston's first collection was all about opulent basics for the post-pandemic world. This effort is much the same, which is no bad thing. Why change something that isn't broken? After all, there are some bands who make a career out of the same riffs.
Everything in the collection is meant to be worn on the daily. Featuring pants, shirts, tees, a puffer jacket, and denim, there's something for every wardrobe. Branding is as subtle as you'd expect for basics; the Calvin Klein logo in Preston's signature shade of orange decorates the whole collection. The attention to detail is exceptional. Even basics such as underwear have been redone with a luxe twist.
We sat down with Preston for a chat about his creations.
Calvin Klein is the world's most iconic underwear brand — how do you improve upon such iconic?
No pressure, right? I remember looking at a million different Calvin Klein interviews that night, just really trying to channel the man himself. I really took this seriously. It wasn't just about picking a nice color and calling it a day. I wanted to kind of sink my teeth as deep into these pieces as possible. And again, it started with the underwear because Calvin Klein is obviously so famous for it.
How much scope for creativity do you have when working with something like underwear? Is it more a material thing?
There are all these parts, pieces, and design details that go into designing the underwear. I wasn't so aware of that until I started working on this project. On top of that, you have the fit. We talk about "fits" because that was one of the most important aspects to our collection. I think about all of these pieces in the collection by how they fit. So a million underwear fittings later, as well as developing these waistbands and the right elasticity of the material, we were asking how will these fit at the end of the day?
How do you consider the modernization of fits in the collection? How do you see silhouettes changing?
I like to call them codes. You know, when I look at how people wear clothes on the street, if you look at a million different people, all of a sudden you'll start to get a good understanding of how a hoodie is being worn today. By studying these codes and then designing them into these pieces they feel modern, new, fresh, relevant, and relatable to fans of Calvin Klein and fans of Heron Preston. A lot of studying goes into these basic and minimal pieces.
If you absolutely had to pick, what piece in the collection got you excited the most?
It was the T-shirt. When I first sat down with the team I was like "man, I want to make the best three-pack with white tees." It was the Spring/Summer season that we were kicking off first and that's all I wear at the end of the day. On top of that, I kind of found it difficult to find a really solid, good, beautiful fit, heavyweight tee. So it was the T-shirt that I really got excited about. Also as a designer, it's always been a personal quest to have the best fitting white tee.
How does working with Calvin Klein feed into the rest of the Heron Preston creative universe?
I think what I've learned with Calvin Klein is this idea of focusing and defining these pieces that are truly relevant and essential to wear. This isn't necessarily a fashion exercise, this is a clothing exercise. I've been focusing on cutting out the fat and really identifying what the pieces for fall and winter that will be bulletproof are. It's just like really focusing on designing with purpose speaking to every person around the world.
Shop the Men's Collection Below
Shop the Women's Collection Below