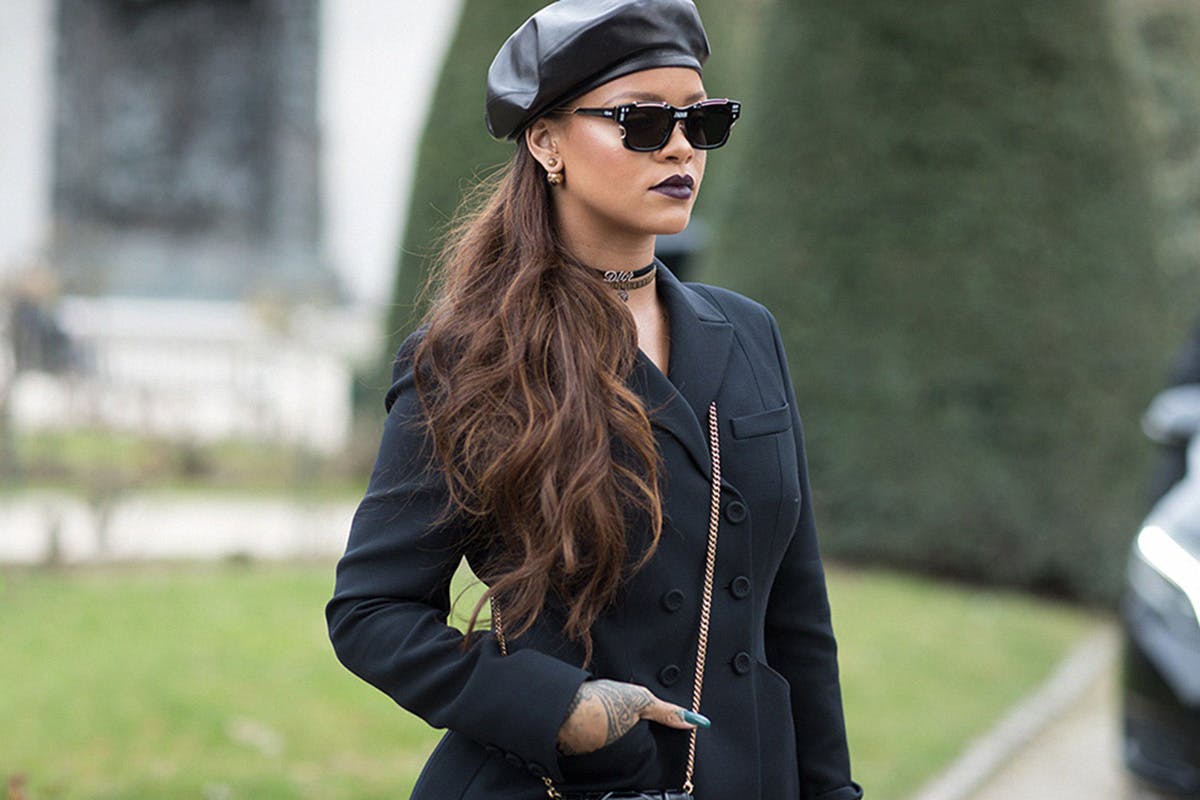 Berets are a contentious fashion item if ever there was one. Although it's not quite in the realm of the fedora (whose unfortunate connotations range from adults who do magic, to chronic 4chan users with neck-beards), berets do have something of a reputation as being pretentious and over-the-top, but tides seem to be turning in their favor.
Mercury prize-winner and UK style-god Skepta finessed the FW17 cover of AnotherMan in a steezy leather beret from Loewe, Rihanna turned up to Paris Fashion week in a black option from Dior and then we saw style-heads rocking them on Instagram.
All this made us think, "Wait, are people gonna start wearing berets now?" While dad caps may reign supreme as the hat de rigueur, the fashion climate feels ripe for berets to be returning in a big way very soon.
But first, a brief history.
In recent times, the beret has occupied two very different spaces in the collective consciousness; one of artful, beatnik hipsterdom, and one of military and political revolution. Both are good and both are valid.
During the 14th and 15th centuries, berets had been adopted by the poorest classes in society – farmers and artists – because of the cheap availability of felt at the time. Although they weren't called berets (they were imaginatively named "felt hats"), the distinctly soft, circular silhouette remained the same. The associations of berets with artists and struggling creatives stretched well into the 19th century; iconic painters such as Picasso would often don a beret or depict his subjects wearing them in his paintings.
The military beret, as worn by soldiers all over the world – including the famous cuban style as worn by Che Guevara - shows how the beret has been recontextualized as masculine, defiant and powerful. In the United States, the Black Panther Party of the late 1960s adopted black berets, along with leather jackets, as part of their uniform to combat social injustice and systemic racism. A$AP Ferg and Dapper Dan touched on the impact these politicized styles had on modern hip-hop visuals in our conversation with them from Highsnobiety's latest print issue.
The hat's loaded history and sense of duality is what makes it such an applicable style move for today's political climate of division, disruption and empathy (or lack thereof).
So now we've talked over the beret's historical and social context, we arrive at the tricky issue of how to wear them. Due to their unique shape and dubious connotations mentioned above, trying on berets can flood the wearer with questions such as "am I doing this right?" and "do I look like a dick?"
To quash these beret anxieties, we spoke to Rosabelle Forzy, the CEO of Laulhère. This French heritage brand has been making authentic berets since 1840. Using only handcrafted production and the finest wools, all their berets are made from scratch in the same original factory located at the foothills of the Pyrenées Mountains.
To put it bluntly, they really know their shit when it comes to berets.
Rosabelle Forzy has outlined the four essential steps to get your head around before trying to get a beret around your head.
Know Your Angles
"In our Parisian shop, we advise to follow four essential steps to properly wear berets.
1. Make sure the knot is located to fit at the back of the head 2. Place the leather band or wool on your forehead 3. Pull the rest of the beret on the back of the head 4. Proceed to adjust to your liking, pulling it onto one side or backwards"
So there you have it, a four-step guide to putting on a hat. Now, what style to choose?
As with most things, it's best to keep it relatively simple. This dude from Instagram, @darts.vader, has exemplified this, opting for a classic black beret with a leather band, which he's paired with a monochrome fit via some FW17 Raf Simons and Margeila sneakers.
There's also wavy colorways on the market, like this orange faux leather trim beret from Gosha Rubchinskiy. Since the hat will be making most of the impact here, it's advised to keep the rest of the outfit relatively neutral. Here, the vibrancy has been balanced with a white hooded sweatshirt and black faux leather and shearling jacket, all from Gosha Rubchinskiy.
The direct impact of a beret – a seen in OFF-WHITE's fall menswear lookbook above – is a refreshing antidote to the rigorous functionality of dad caps. In an interview with Brendon Babenzian, Sam Lobban of MR PORTER argues that the prosperity of "dad style" stems from a thirst for clothing to be as functional as possible.
So, we ask, what is the function of a beret? Its function, above all else, is simply to exist. Wearing a beret serves no direct purpose other than to possibly make the wearer look like they're i) about to overthrow capitalism or ii) pioneer a new art movement. It's this tenacious yet tongue-in-cheek effect that makes us think, come various fashion weeks in January, 2018, will it be a big year for the beret? Maybe the thirst for ironic garms is still too strong, but we really look forward to the moment when someone can pair a fire outfit with a beret just because they can. Not forgetting that in our turbulent political climate of coalition governments, military coups and the eternal struggle for equality, the politicized nature of the beret feels more apt than ever.
Will you cop or not?
In other style news, check out the steez at Vetements' Hong Kong pop-up.