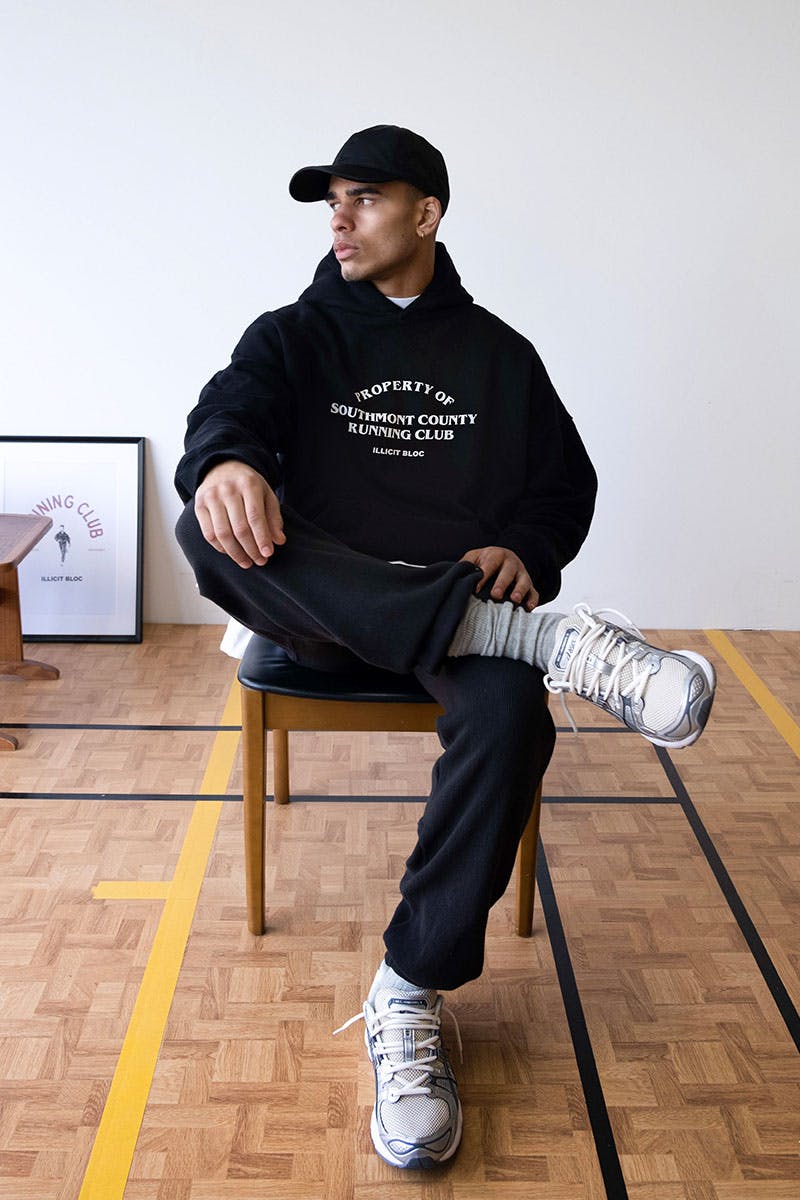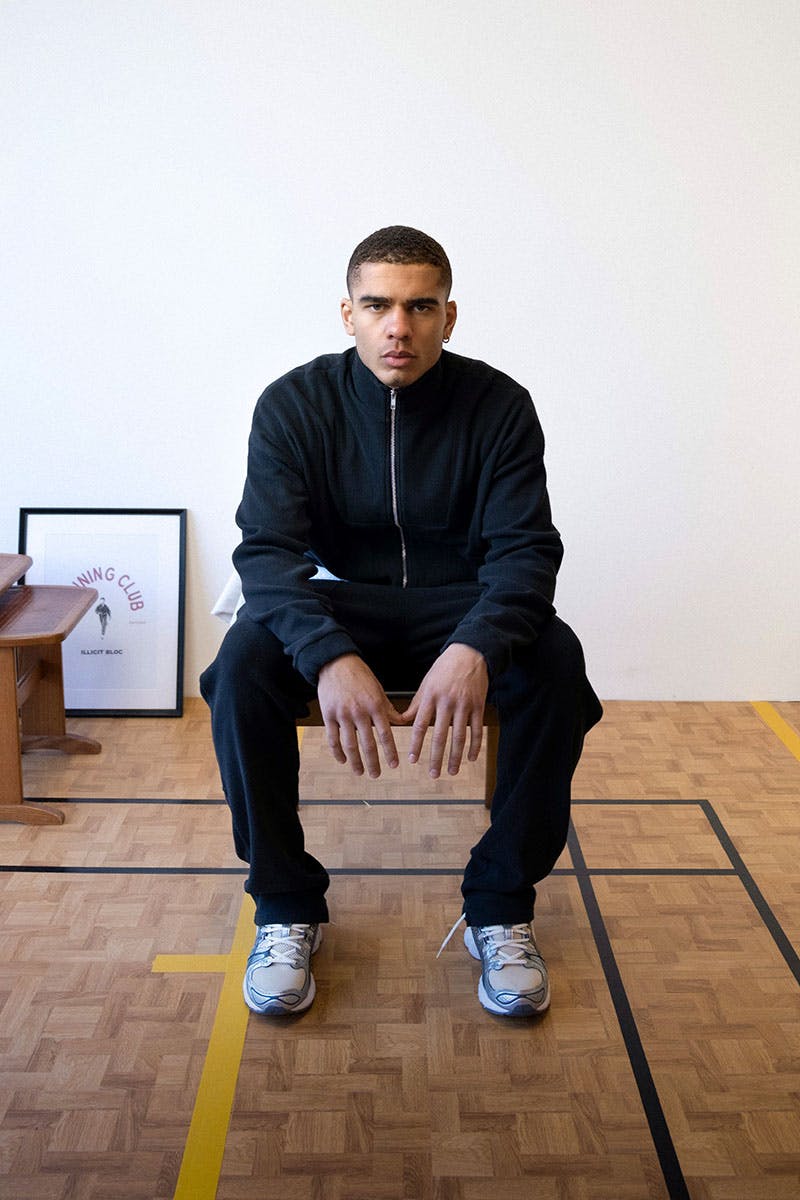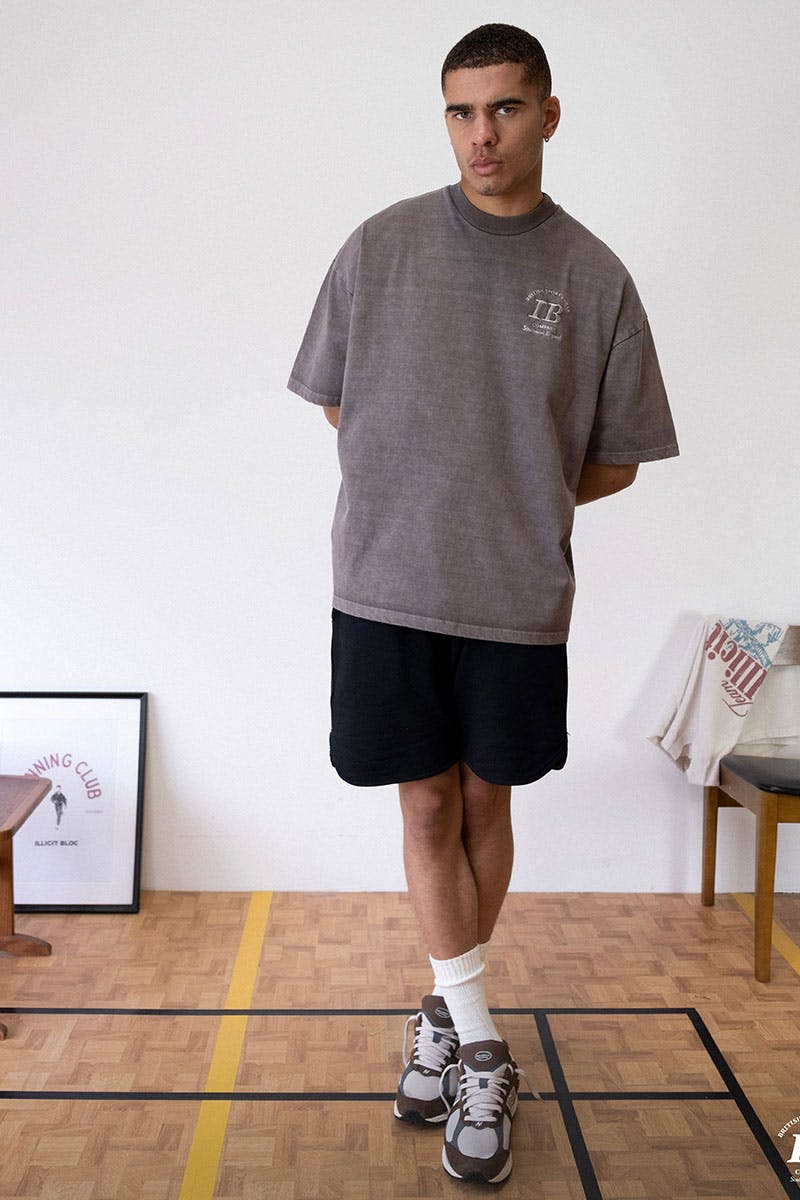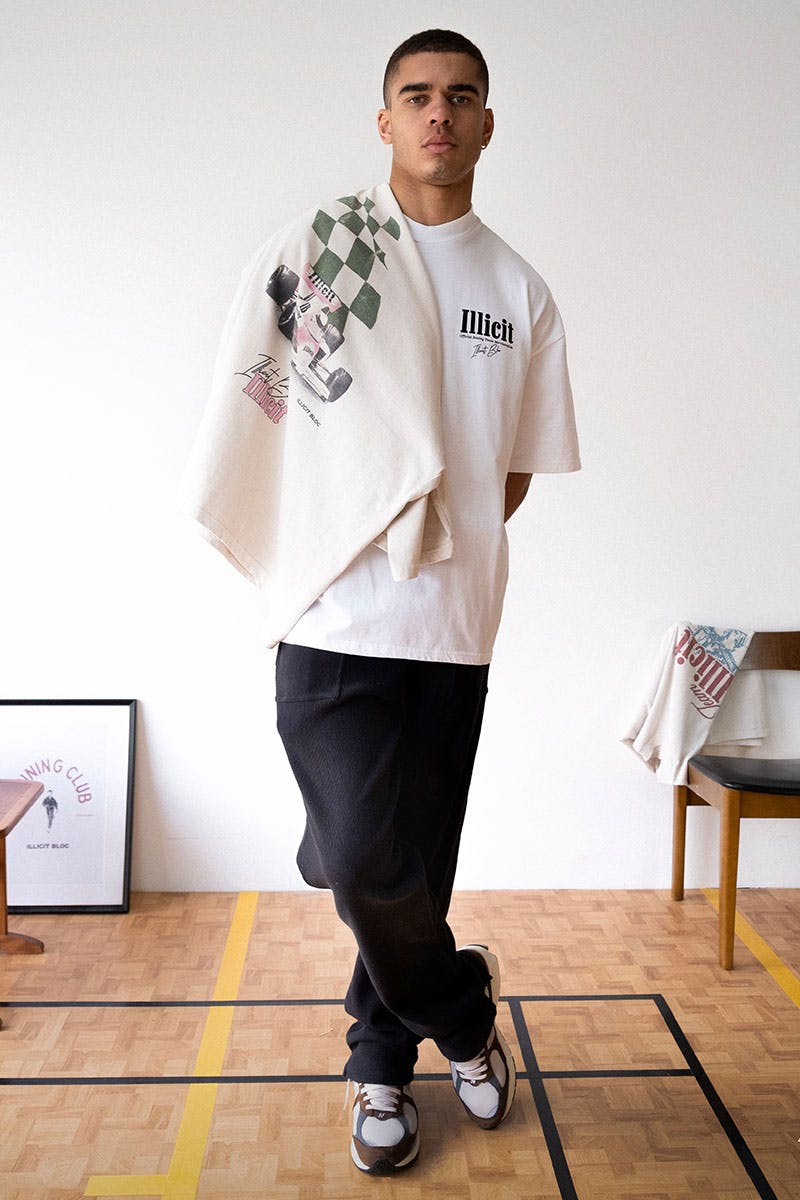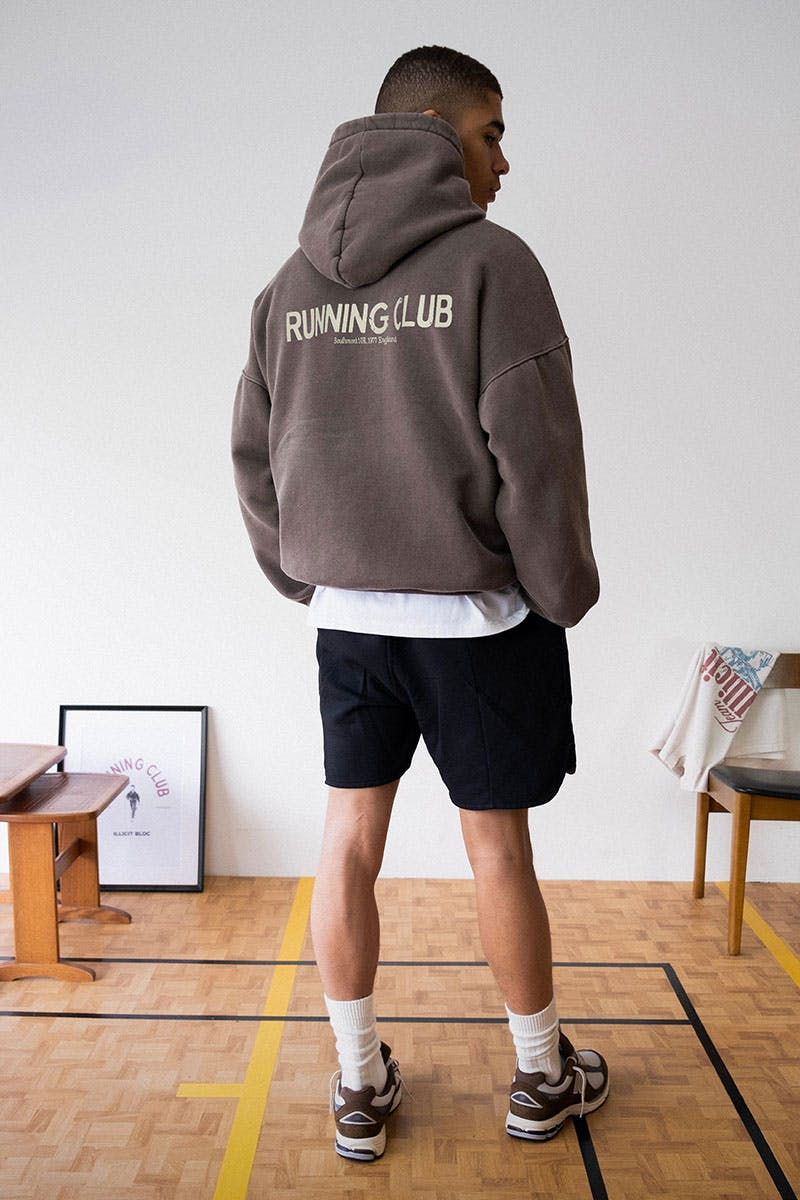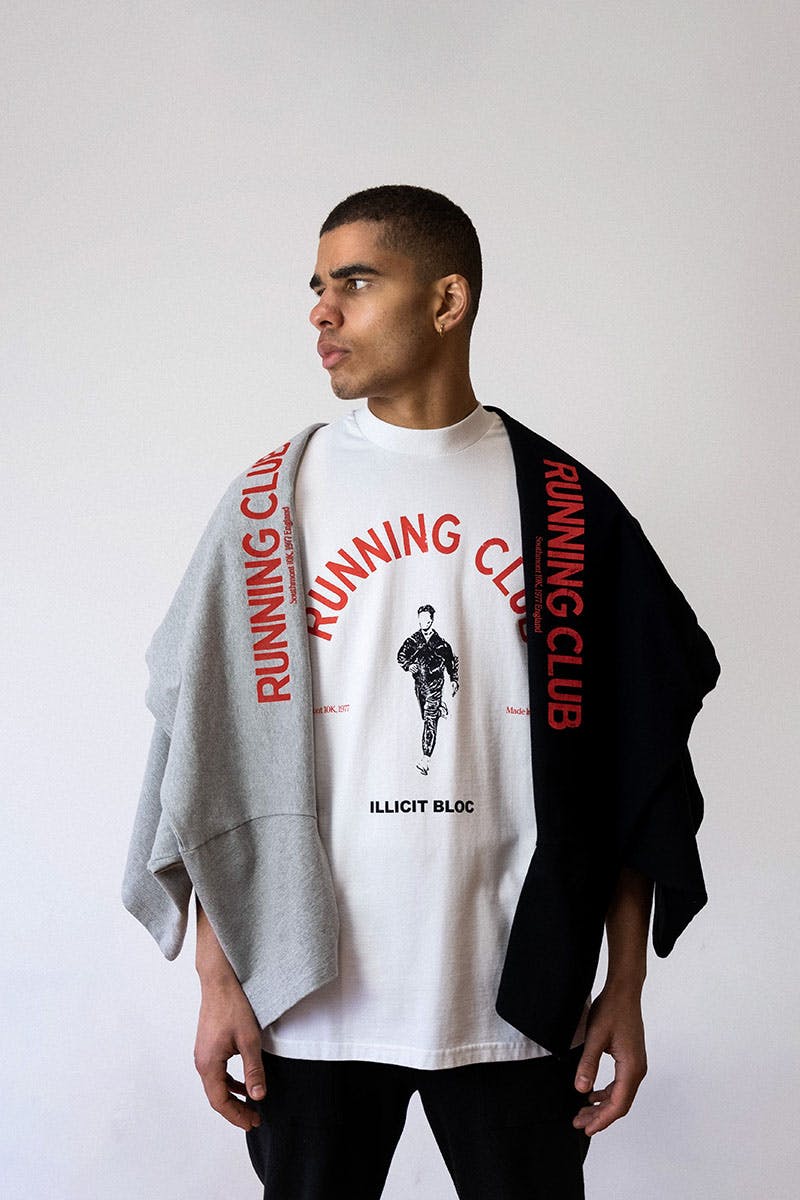 Building a brand from the ground up is no easy feat. Whether you've had a formal education in garment design and business or not, there will always be unforeseen, unique challenges to overcome.
Thanks to social media, we're given intimate insights into a brand's evolution over time, yet more often than not, a crucial piece of the puzzle is missing. For every success comes a setback, and without setbacks, a brand cannot truly grow in a way that ensures its future wins.
For brothers Josh & Arran Stewart, this learning process has been something they've undertaken together. Working tirelessly alongside their 9-5s, they've set the foundations of Illicit Bloc.
Since its founding, the boys have pumped endless passion into sustaining its growth, learning on the fly to ensure they possess the ability to create with complete freedom. The result is a fledging sportswear brand that's about to launch its biggest collection yet.
With Black Friday mere days ahead, we sat down with the brothers to pick apart their journey as Illicit Bloc and find out what the future holds.
Let's start with the name. Why Illicit Bloc?
We would love to say there is a romantic story behind our brand name, however unfortunately this isn't the case. When starting the brand, the name was almost the last jigsaw piece of the puzzle. We wanted to create a brand name that had an air of mystery but also looked good aesthetically when spelled out.
We took huge inspiration from iconic sporting sponsors and quickly understood the name wasn't necessarily the defining factor or an important aspect of the brand. It was, in fact, what the brand represented.
Name in check, what were your first steps towards building what the brand is today?
As both of us do not have any formal educational background in the fashion industry, it was really important for us to take a hands-on, headfirst approach to learn and study what it takes to make a high-quality garment from scratch. Arran started learning how to use a sewing machine and would make alterations to an existing garment.
From this starting point, we would go on to handpick heavyweight fabrics from various UK mill houses and start the journey into sampling with our factory. There's been a huge amount of trial and error with every single piece we have done to date and lots of time/money spent in the process!
We fully understood we were novices in the industry, however, we knew exactly what it takes to make a high-quality garment. We wanted to strike a balance of mastering a fairly simple silhouette whilst creating a very desirable and unique piece.
This tracksuit was the result of sampling various fabrics and washes over and over again. This part of production, in particular, made us fall in love with the process, we love that such a two-dimensional garment when pigment washed could take on so much life and depth. We knew from here on in this hands-on approach to creating and experimenting with various fabrics and washes would become the DNA of our brand.
What were your key inspirations when developing your product offering?
We have both always been obsessed with the way a product should fit and wanted to translate this into every single piece we produce. Before starting the brand we curated a collection of high-quality garments from eras gone by. This allowed us to handpick certain elements from particular pieces to then factor into what we wanted to design. We would find these curated pieces were much heavier in weight (GSM) and would also find the quality of construction was far superior to what was on the market today.
We loved the sun-blasted/broken-in effect these garments would have after years of wear and wanted to emulate this when designing our pieces. Another key learning for the development of our brand and product offering would have to be the ability to tell a story through a single garment.
The master of this would have to be Massimo Osti. We both loved the way that he could take a very functional product and add layers of detail and meaning to the garment. This taught us that storytelling could be as important as creating a high-quality garment. We enjoy the creative license to expand on ideas and the stories behind each piece we create.
When people can relate and understand the story being told behind the garment, only then will they buy into it.
What are the biggest challenges you've faced so far?
We have encountered more challenging days than plain sailing days to be completely honest. For example, to create one single garment this has to pass through five different specialist UK factories. We have to micromanage and take a hands-on approach to every single element of production and can find this very difficult to ensure there is no communication lost in translation between these different factories.
We are both still to this day part-time with the brands and both work 3 to 4 days a week on the road so often have to pull the strings and chase different factories up whilst working our 9-5's. Like any start-up business, cash flow has been a challenge at times, especially while trying to scale the brands in terms of production and output.
Do you feel there's an advantage to operating a business with family?
Yes, we do feel we have a particular advantage being brothers and best mates as we have an almost identical taste levels when it comes to fashion and design. It's very much a yin and yang dynamic between us as we both know each other's strengths and weaknesses.
For example, Arran is very much the driving factor for our brand direction and takes a hands-on approach to the way the garments should fit and in particular the silhouette that we create. Whereas I (Josh) have a background in art and graphic design and will often bring these initial ideas to life. All of the artwork that can be seen within the brand has all been done in-house and again being brothers we find it much easier to refine a design without taking it personally. We both believe we simply would not be able to run the brand on our own or with anyone else.
What's been your favorite piece so far?
For us, our favorite piece so far has been the running club tracksuit. This really set the tone for the brand and gave us a solid foundation to build off. This was the first ever piece we designed and the reaction to it was mind-blowing. Having never sold a single garment to then selling out was a feeling that we have not been able to replicate even though we have had several sellouts on a much greater scale.
Which was the most challenging to develop and why?
Hands down our Race Suit was the most challenging piece to produce. The concept behind this piece was to create an everyday tracksuit that encapsulates the functional paneling/aesthetics of a genuine vintage Formula One race suit. The problems arose when trying to replicate the functional paneling. We struggled to find any UK factories that could replicate the level of detail required for our tracksuit. This meant we had to strip the initial idea right back as we were simply trying to create a piece that the factories could not achieve.
What comes next for Illicit Bloc?
We have huge aspirations for where we want to take our brand. Right now we are enjoying organic growth and looking to expand at a rate that does not compromise our quality across the board. We want to keep expanding on our growing collection of silhouettes whilst experimenting with new fabrics and washes. We both feel we have not even scratched the surface of what we can go on to achieve and we are really excited to take our consumers on this journey with us.
The next milestone for us would be to do a pop-up store where we get a chance to meet the customers and interact with them as this is something we can only currently achieve via social media. We would love to collaborate with a well-established brand that has a catalog/archive of pieces that we could tap back into and put our stamp on. We are both been consumers of various collaborations and the concepts that can be created when two like-minded brands that operate in similar fields can be very special.