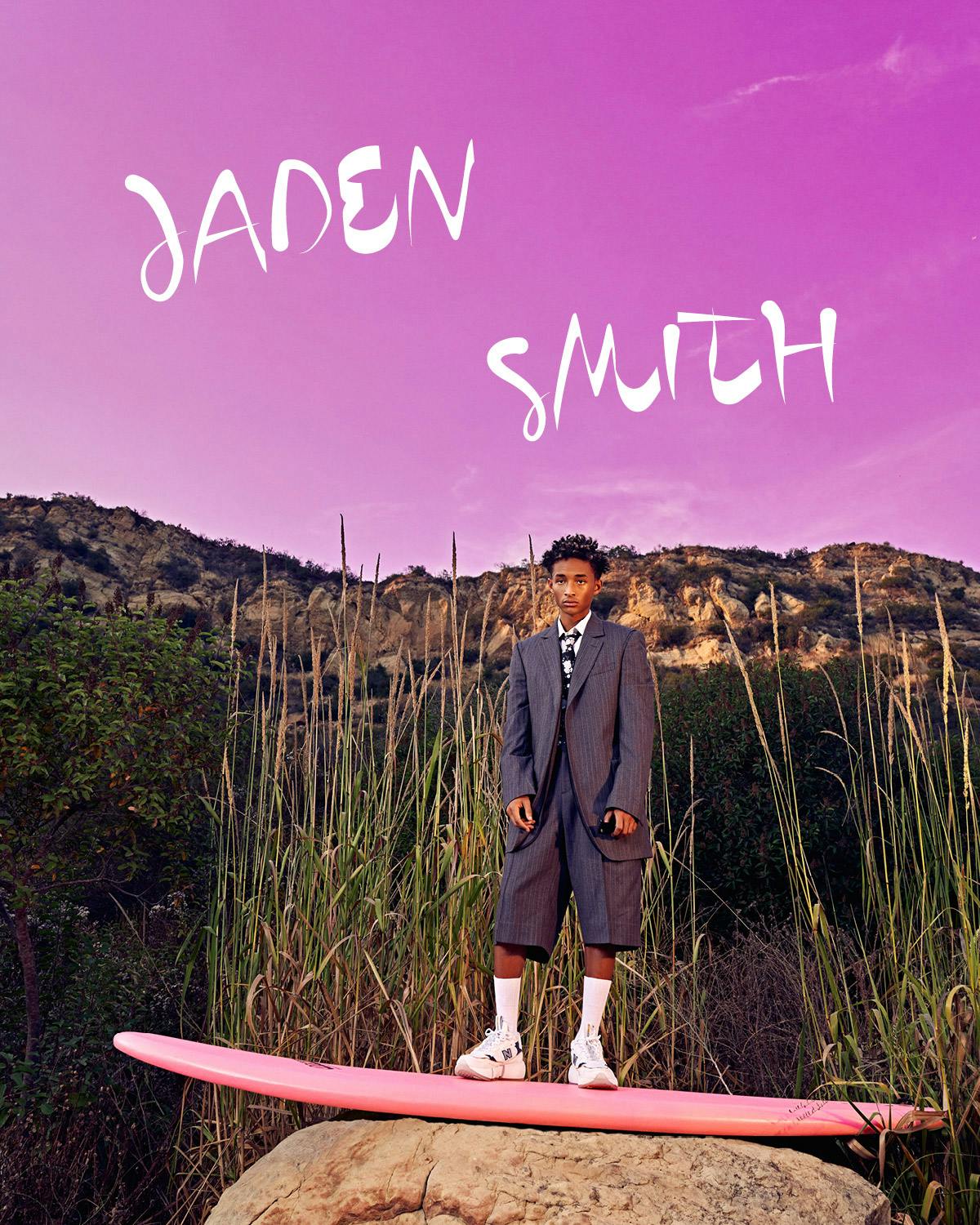 For this edition of FRONTPAGE, we spent time with the one and only Jaden Smith. Ahead of the launch of a new album and in the midst of a fashion collection, a sneaker collaboration, and ongoing activist initiatives, Smith is fully ascending into a young Renaissance man.
Smith also served as the special guest on the latest episode of our "Vibe Check" podcast. Stream the episode in its entirety below.
In the metaphorical sense, Jaden Smith lives on his own planet. And, all things considered, who wouldn't want to astral project somewhere else? Between the global pandemic and racial reckoning, it feels like Planet Earth as we know it is in shambles and nobody knows where to even start cleaning it up. Our interview happens to fall on what would have been the late Oluwatoyin Salau's 20th birthday while also coinciding with natural disasters like Hurricane Laura and the California wildfires. The next day, news of Black Panther star Chadwick Boseman dying from colon cancer sends shockwaves across the Internet.
But in spite of a persona built on being perpetually spaced out, Smith himself feels the grief of these events like a weighted blanket of sadness. He's been aware of this messy reality pretty much his entire human existence, but recognizes that this traumatic moment is a massive wake-up call for people who "wanted to turn a blind eye to racism and try to ignore it." And yet, the most turbulent times are when Smith seems to find the most creative inspiration.
Maintaining a busy schedule in lockdown has kept him in a productive flow of eating healthy, working out, playing guitar, and reading slave narratives and books about Woodstock and Malcolm X. "Before this all happened, my dad made me stay in town and not travel for a really long time," Smith admits. "So I was on a little mini-quarantine before quarantine started." True to his sun in Cancer, he's a very deep and curious thinker, often speaking in vivid metaphors and almost tripping on his words while reflecting on emotional memories from the distant past.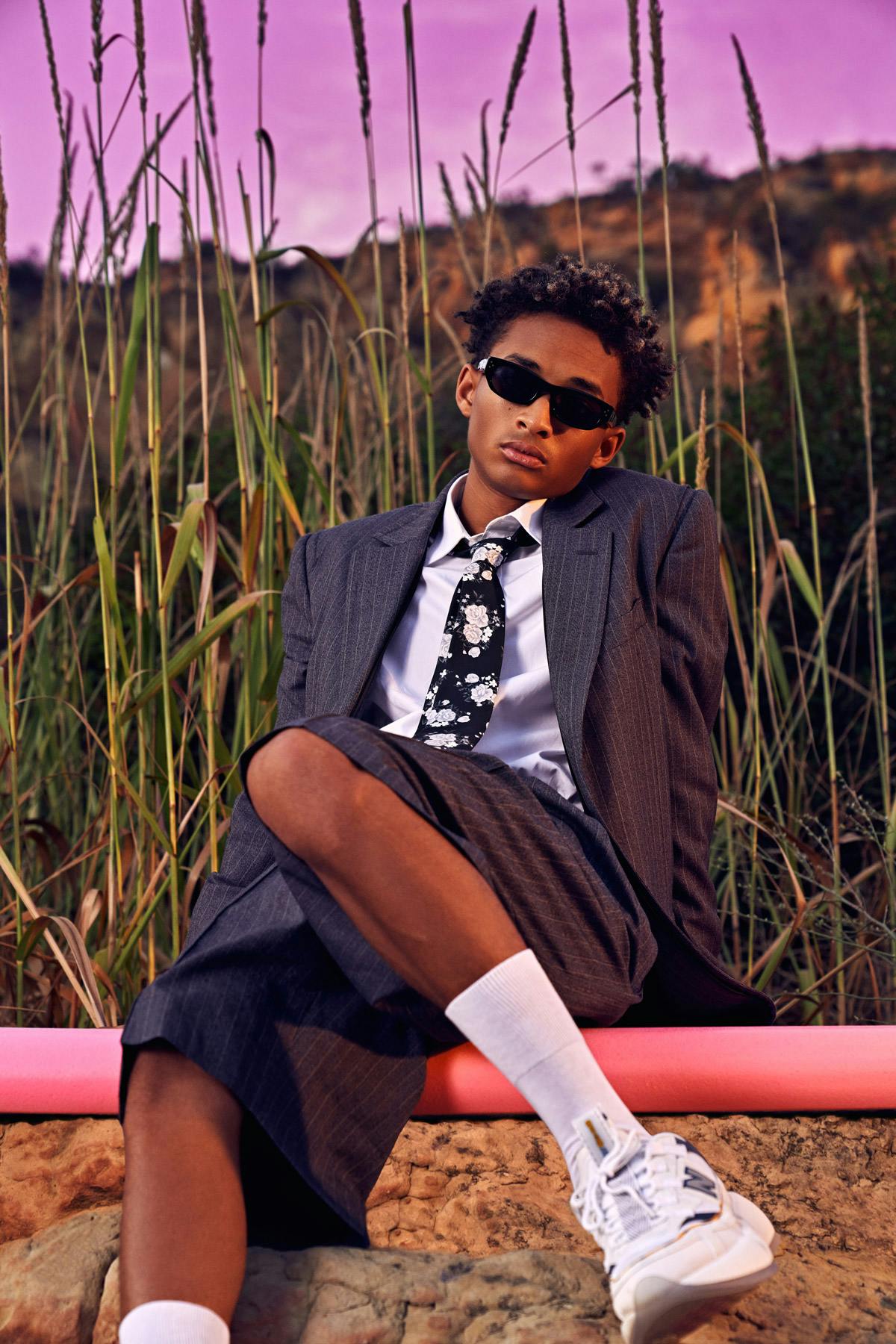 Prior to the pandemic, Smith had already been experiencing his own self-imposed quarantine for around three years in the wake of true heartbreak. In the making of his debut studio album, SYRE, he endured a brutal fall out with an ex-girlfriend, along with some of their mutual friends. During that painful period, Smith defined his sound as "pop runk" because the overall vibe was rusty, like a decaying tractor that he once found abandoned on a hill. He stepped even further in that direction when he embarked on tour for a month with Fall Out Boy and learned what it takes to be a real rockstar.
Smith spent the past year working on his latest album, CTV3: Cool Tape Vol. 3, which serves as the prequel to this saga — he defines it as the tale before he got "trapped in the sunset." Justin Bieber and Raury make special guest appearances on the album, but their features are mostly complementary; supporting roles that don't take the attention away from Smith's nostalgic narrative. One of the more visceral tracks is "In the Hills," which he describes as the "peak of the trip." Smith waxes poetic about the sensation of dripping in sweat and stuck in a state of confusion while navigating a twisted road; kind of like when you're so overheated that it feels like your mind is melting into a puddle of mush.
There's a part on a song called "Sunburnt" where Smith makes a reference to chakras aligning before dropping the playful line, "Bae, you like the moon / I need a peek of the backside." You can feel the smile radiating from his face through the black screen as he excitedly breaks down a lyric that he was convinced no one would ever notice. "That's another way of saying you want to see a specific part of your partner, which is a common thing that's said in rap songs, but I wanted to say it so differently," he explains. "It's like Pink Floyd, the dark side of the moon — I need to know what's on the dark side of the moon. That's what that line is about, but I'm disguising it in the way of saying, 'I want to see this girl that I like, I want to see her body from a different angle.' But I really am talking about the fact that I want to see the back of the moon."
CTV3: Cool Tape Vol. 3 was mostly recorded in the Bahamas, the tropical energy of which is channeled into the psychedelic cover art that taps into his whole "trippy summer" theme; multiple versions of Smith are scattered on a hill covered in flowers and rainbows with a gorgeous sunset in the background. The visual subtly references The Beatles' Sgt. Pepper's Lonely Hearts Club Band album, one of Smith's most prominent influences. "This is an exaggerated version of a world that I would want to see that I created in a photo which was enough for me," he adds. "We can create different worlds with each other, and if we come together, we can make things better together."
The closing track, "Boys and Girls," is more or less an anthem for the revolution; a call-to-action. Smith's mission as an artist is to empower the youth to come together, demand justice, and rebuild society. Overall, he wants listeners to take away ideas for peace and love that they can use as fuel to spark real change, because he truly believes that music can save the world. "I hope that this album will help to expand their consciousness and make them think about things they didn't think about before," he says. "I hope it'll inspire them to create a new world."
For some people, connecting on Zoom with the screens turned off is akin to talking into the void, but Smith's mind isn't off the grid floating in the cosmos — it's buffering in another dimension where he envisions the future of a brighter and better world. There's no such thing as a "new normal" when you're someone who is breaking all the norms.
Highsnobiety / Joshua Kissi / shirt MSFTSREP pant KENNETH NICHOLSON bracelets JADEN'S OWN
Sustainability is a huge part of that inquisitive picture, which he is leaning all the way into as well. From the comfort of his library, Smith tells me he's sitting on a custom chair made out of Coke bottles that is positioned across a table fashioned from JUST Water bottles. Last weekend, his debut collaboration with New Balance finally made its way into the universe — a vegan-friendly Vision Racer in a "Wavy White" colorway made out of sustainable and partially recycled materials. He nods to innovators in the field like Boyan Slat of The Ocean Cleanup and Dave Haskins of Precious Plastic, whom he considers as friends. Smith is extremely passionate about upcycling and repurposing plastic into pieces of furniture, because it's both a sustainable and stylistic choice.
"If everybody had hundreds of pounds of [recycled] plastic in their house hidden in furniture, tables, and shelves, we'll be able to recycle a lot more into things that are not being reused," he explains. "You want to upcycle that [water] bottle into a chair, a table, something you're not going to throw away that's not going to float [in the ocean]. Something that can be passed down and down and down and down to future generations, so they can have this same chair that will be ridiculously durable. I'm really looking to physically manifest those things and to start a company that does that, or to collaborate with EMCO on a chair or any other recycling plastic company."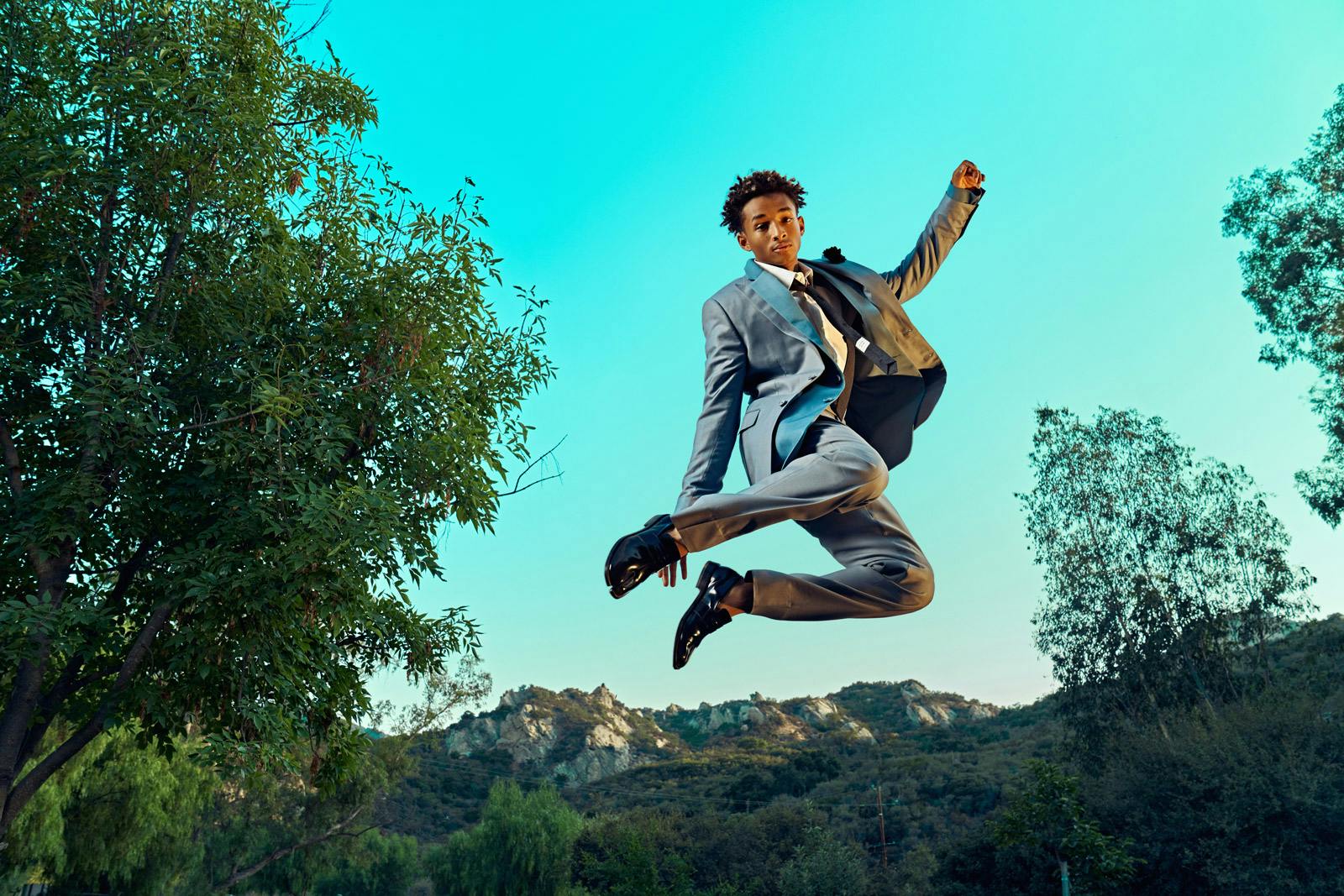 Smith is widely known for his philanthropy efforts through endeavors like JUST Water, his direct response to the ongoing crisis in Flint, Michigan, which began in 2014. Activism, however, is a brand-new territory for the multi-hyphenate to fully explore. As Americans quickly approach the upcoming presidential election at a time where voter suppression is shamelessly exhibited, Smith is already doing what he can to leverage his platform to raise awareness about political issues on a larger scale. If any civilian is capable of saving the USPS, it's probably the guy who once told Highsnobiety in a 2017 cover story that "I'm taking the fire, so you can stand behind me and not be burned by the fire of the world," but in the meantime, he's partnered with vote.org to encourage the younger population to register and get informed before hitting the polls in November.
When asked if he identifies as an activist, Smith starts off by explaining how he regularly corresponds with "amazing" Black activists who are out on the frontlines, but still view their roles as being "active in this space." As someone who genuinely cares about the causes he stands behind, Smith wants to inspire other kids to do the same thing, so he has no reservations about associating with the term. "I just want to show people that you can do it and that you don't have to be afraid," he explains. "It is a scary world, but you can still do it right."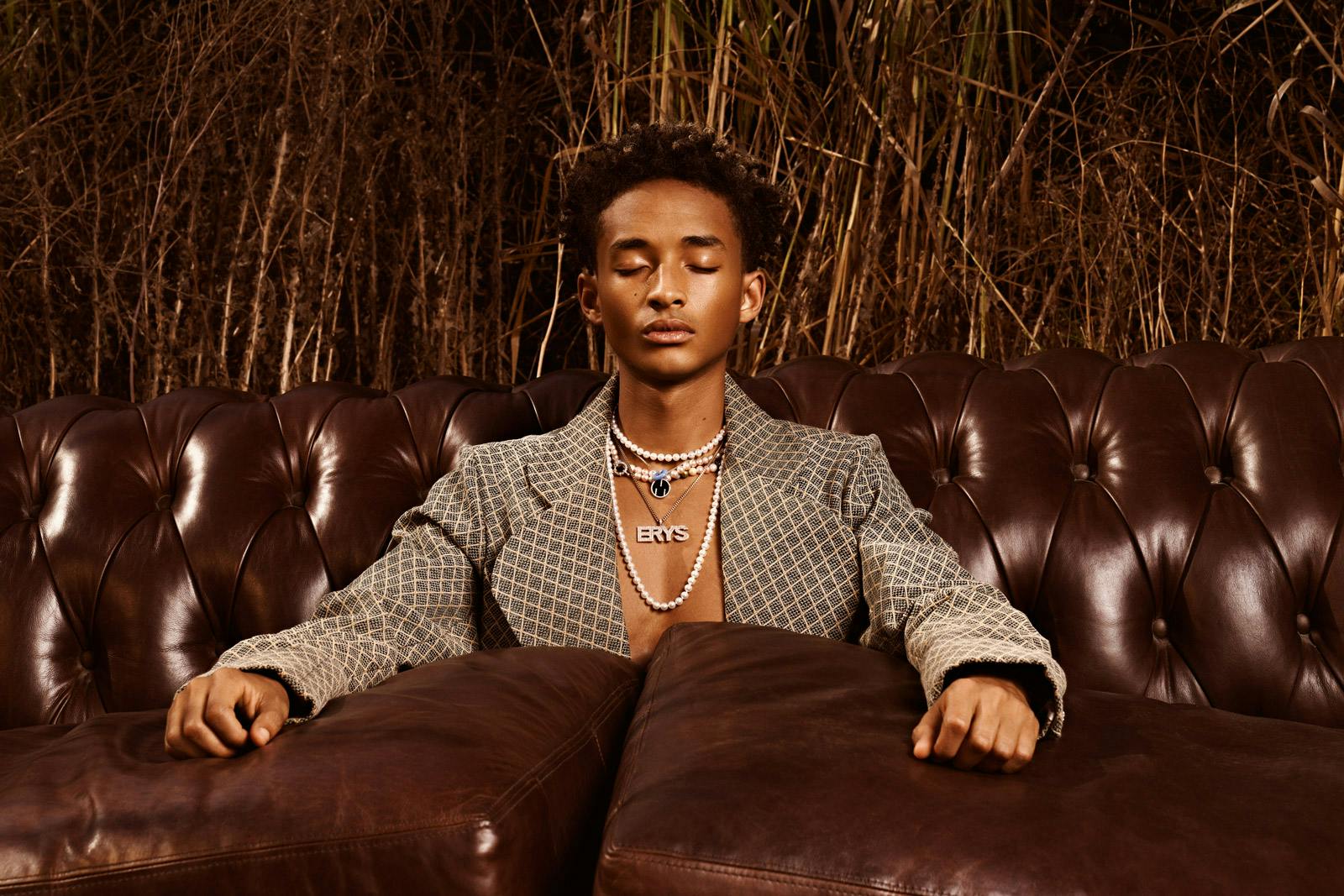 Highsnobiety / Joshua Kissi / blazer KENNETH NICHOLSON pearls MIKIMOTO necklaces JADEN'S OWN
Celebrity culture in the surveillance age is a cross to bear, but the 22-year-old has navigated an organic approach where he uses social media as a tool to illuminate the most authentic – and weirdest – parts of himself. To some, his one sentence long capitalized tweets might come off as a touch performative, but he's an artist after all, and the character box is like his blank canvas. (He has also recently partnered with TikTok to further "impact youth culture" with the promotion of his new project.) Smith is willing to push the boundaries in every capacity because he doesn't want Black people to feel bound by the shackles of stereotypes and stigmas. He reminds us that the Black experience is not monolithic; it is multifaceted. "I want to show people that there's layers, and we're all humans and we can all accomplish various amounts of different things that a lot of people would not expect," he says. "I want to show people such an extreme example that they're like, 'Wow, well, he's doing that over there, I'm just trying to do this over here…' I know that I can do it. I can put my mind to it and I can get it done with my team."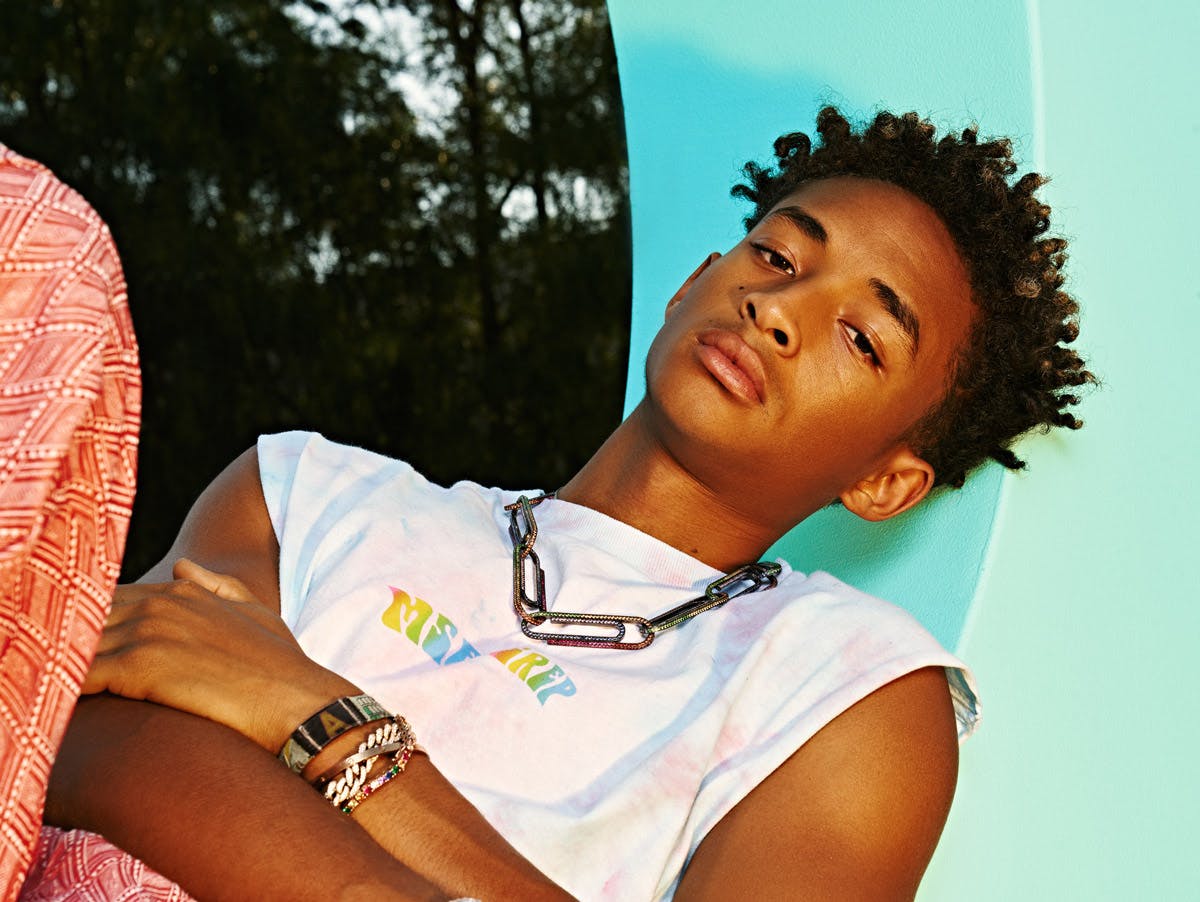 Not too long ago, Smith premiered the lookbook for MSFTSrep's upcoming Trippy Summer collection. In the process of creating the new line, he also came up with this concept of being a "vibe generator." His methods for manifesting positive vibrations in his own life consist of "thinking about really positive things" that he wants to happen, writing them down, and then speaking them out loud in conversations with friends, "so that we can get the energy out into the world." (After conducting a personal vibe check, Smith confirms that his energy is 100 percent "wavy baby.")
As of right now, he's looking forward to looking back on this time in a year, and seeing what progress has been made. In most situations, Jaden Smith gets what he wants, so if we're lucky, perhaps the stars will align and he'll turn out to be some sort of prophet with a greater purpose, and not just another Hollywood progeny full of dreams. Until then, you can find him transcending light-years ahead, patiently waiting for us to follow the trail of cryptic clues he left behind and catch up to his speed before the apocalypse hits.