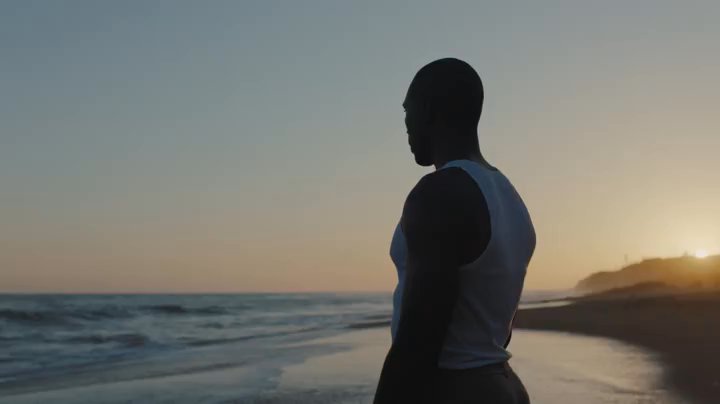 This piece is a part of the Armani Beauty series where we celebrate the brand's latest fragrance, the new Giorgio Armani Acqua di Gio EDP. Stepping into the world of three different artists, we learn more about their unique perspectives on the fragrance as well as their experience with its leading inspiration, the relationship between humankind and nature. Learn more about the new Giorgio Armani Acqua di Gio EDP here.
Digital creator James Acai finds inspiration in authentic simplicity. By incorporating familiar tones, fabrics, textures, and silhouettes into his personal aesthetic, Acai seamlessly creates content that is able to eternally resonate amongst wide audiences. The same can be said for the new Giorgio Armani Acqua di Gio EDP.
Stig De Block, Stig De Block
Introducing its latest iteration, Giorgio Armani embraces future generations with sustainably-driven ingredients and packaging. Paying homage to the relationship between nature and humankind, Acai and Armani Beauty take to the beaches of California to commemorate the scent and blend their shared nature-inspired visions.
To gain more insight into the new Giorgio Armani Acqua di Gio EDP, we spoke to Acai about his connection with the Earth and his first impressions of the fragrance.
Can you describe the last project you collaborated on that felt most authentic to who you are?
I recently collaborated with Asimigold which an emerging jewelry brand defined by its classic shapes and minimal design. Each piece in the collection offers a powerful sense of beauty, durability, and strength. I aspire to maintain each of those traits, and showcasing the line through my creative lens was a unique opportunity to display accessories that mirror my own values and qualities.
What specific nature-inspired elements inform your creative direction?
Nature plays an invaluable role in maintaining balance in my mental health, physical well-being, and spiritual strength. Specifically, I closely associate water with tranquility, sand with bold foundational texture, and flowers with bringing color and life to any environment. It's important to surround myself with each of these elements as frequently and effortlessly as possible and to share imagery of them through my content often.
What does the scent of Acqua di Gio EDP make you feel? Does it make you think of anything in particular?
My approach to selecting a fragrance is based largely on the experience, emotion, and feeling that it generates. Giorgio Armani Acqua di Gio EDP makes me feel sexy, confident, and inspired. It stimulates me to venture outdoors, be active, and soak in the Southern California sunlight.
Stig De Block, Stig De Block
How would you describe the scent of Acqua di Gio EDP?
When I smell the unmistakably fresh scent of Acqua di Gio EDP, I envision a soothing aquatic breeze sprinkled with complementary notes of cedar that combine to reflect a clean, cozy, and sporty vibe. It suits my nature-oriented active outdoor lifestyle as well as my daily wardrobe selections, serving as a subtle organic accessory that is important yet not overpowering.
What does the power of the ocean mean to you? How does this sense of rawness relate to your own practices?
The ocean is Earth's greatest, yet most gentle, force. It provides shelter, it nurtures, it is calming, and it is a source of eternal reflection. The sheer magnitude of its strength is mystifying, and it is truly a wonder to behold. I connect with its raw qualities through routine meditation and genuine gratitude for the many ways it supports, protects, and cleanses our global communities.
What makes Aqua di Gio EDP different from other colognes?
Beyond Acqua Di Gio EDP's sporty element aligning with my active lifestyle, I find the classic look of its signature bottle attractive, elegant, and sophisticated. So not only does the fragrance smell remarkable while also making me feel incredible, it is packaged in a way that speaks to my design preferences.
Stig De Block, Stig De Block
How does smell encourage you to connect with nature? 
Although I tend to be inherently drawn to nature in general and to the ocean specifically, smell plays a role by opening up my senses and creating a desire to be outdoors. Acqua di Gio EDP encourages this connection by functioning as a welcoming scent that emanates an outdoor vibe, one that with each spray draws me closer to the ocean and all of nature's foundational elements.
Acqua di Gio EDP is carbon neutral, refillable, and made with ingredients sourced with the planet in mind. Can you talk about what it means to be a steward of the planet?
I am aware that some people believe that as individuals we are too small to have a meaningful impact on the health of our planet. Yet I believe it is our responsibility to make choices and decisions that improve the quality of life on our planet for future generations. This includes (but is not limited to) purchasing, using, and becoming advocates of sustainable products, limiting or eliminating the use of precious and endangered resources, and developing an enhanced appreciation of all living species and their respective roles in our ecosystem. As a creator, I strive to serve as an example of this awareness when developing brand-related or personal content.