It's 2am, pitch black and raining doggedly. Along with the smell of gasoline and clutch fluid, there is a precariousness in the air – and that's not just because inches from the edge of this narrow Japanese mountain road is a sheer drop into the black pine trees.
I've come to Gunma provence, in the Kanto region of Japan, 55 miles north west of Tokyo, on a dank Friday night to experience first hand Japan's secretive illegal drift scene. Outlaw street racers, known natively as hashiriya, puff cigarettes in the darkness and chat with the kind of hushed reserve you might find in the smoking area of a inner-city dive bar.
But with anything from 300hp to 500hp on tap from highly-tuned, turbocharged engines, channeled through semi-slick rubber onto slippery tarmac, and only a few shin high barriers between the road and a black abyss, drivers are understandably edgy.
"All I hope is that I don't crash, I survive the night and the police don't come," says Aki veraciously, a 21-year-old Gunma drifter whose heavily modified hot pink R32 Nissan Skyline is the first car he has ever owned. The car is fitted with a full racing roll cage, lightweight bucket seat and a steering wheel usefully marked with the straight ahead. "But it's worth it – right in the middle of the corner when I get the perfect drift is the best feeling I know."
The race track is simply a fully-operating public road and most drivers come to drift: a driving technique where the driver deliberately loses traction and slides the car sideways across the tarmac. It requires scalpel-sharp reactions and every inch of the street on both sides of the road is utilized, regardless of the occasional city car that comes pottering down the hill. Front tracks are enlarged to increase steering angle, and vents cut out of hand-forged bodywork.
This is no Fast and the Furious. There are no scantily-clad models waving flags, no snorting nitrous, no Vin Diesel, no pink slips, no blaring hip-hop; just a group of people in the dark with competition machinery and a will to push them as fast as possible without getting up close and personal with the forest floor.
A few months ago I'd made contact with Albo, a Canadian living in Gunma, who is acting as our fixer. Albo had arrived in Japan five years ago to teach English, and bought a canary yellow Mazda Roadster from a neighbor.
Through an introduction from a friend, he became the only foreigner in this area to have made connections and immersed himself in this underground scene. Before long he had set up the YouTube channel DriftHunterAlbo and created Drift Hunter, an ongoing documentary series on YouTube. He is hoping to create a full-length documentary on Japanese drifting.
"Drifting is like juggling glass," he says. "You put so much work into your car and you go and almost crash it every night...To find out the limit you have to go over the limit. You only know when you're peeling it off the barrier."
The drifters are friendly but understandably cautious of our presence – Albo is doing a good job of explaining in rapid fire Japanese who we are and handing out Kit Kats as a peace offering. They all come from different backgrounds. Young rich kids who have snuck out from their parents' houses rub shoulders with hard-up grease monkeys who have arrived with a borrowed set of part worn tires. A couple of middle-aged guys in flip flops – they drive in bare feet – have escaped from their families for the night in Toyota sedans they have hand-built for drifting.
Much like a lot of Japanese society, showing off in the drift scene is frowned upon – something that's hard to understand initially, considering this could be the most extravagant form of motorsport on the planet.
But Japanese people are, in general, very modest and have a strong sense of humility, downplaying their skill and ability. There is glory in the respect of the mastery of skill from your piers. The Japanese have a word for it: kenson; skill before swagger, if you like. The guys who are successful are those who really, really want it, and are prepared to practice every weekend for years.
The history of Japanese drifting is as hard to define as the perfect line through a bend – everyone has their own version. It is thought that the story began in the 1960's on roads like this. A group of racers called the Rolling Zoku raced on the serpentine mountain roads trying to set record times on a designated course.
Former motorcycle driver, Kunimitsu Takahashi, popularized the art in the All Japan Touring Car Championship of the 1970s, and later the tofu delivery character Takumi Fujiwara in anime Initial D would immortalize it. The series takes place around Gunma and the mountain roads he hits in his Toyota Sprinter Trueno are all real – we are standing on one tonight.
Drifting is not only a way to add excitement to an otherwise mundane Friday night in rural Japan, it is part of Japanese culture. A lot of younger drivers inherit their love of drifting and even their machines from their fathers – you'll find that the young guys are actually driving their dad's old race car. Drivers have a sense of carrying on the legacy left by those before them, and the older drivers, often referred to as sempai, will often turn up to check out how fast the new generation is.
I'm just about to find out, too. One of the drivers has offered me a shotgun ride in his Toyota Cresta. Alongside the Toyota Corolla Sprinter Trueno, Nissan Silvia S14s and S15s and Honda S2000s, the Cresta makes for a good drift car. Despite a 1,480kg kerbweight, the model that finds its way to the mountain is the twin turbocharged, 2.5 liter 1JZ-GTE with 280hp as standard.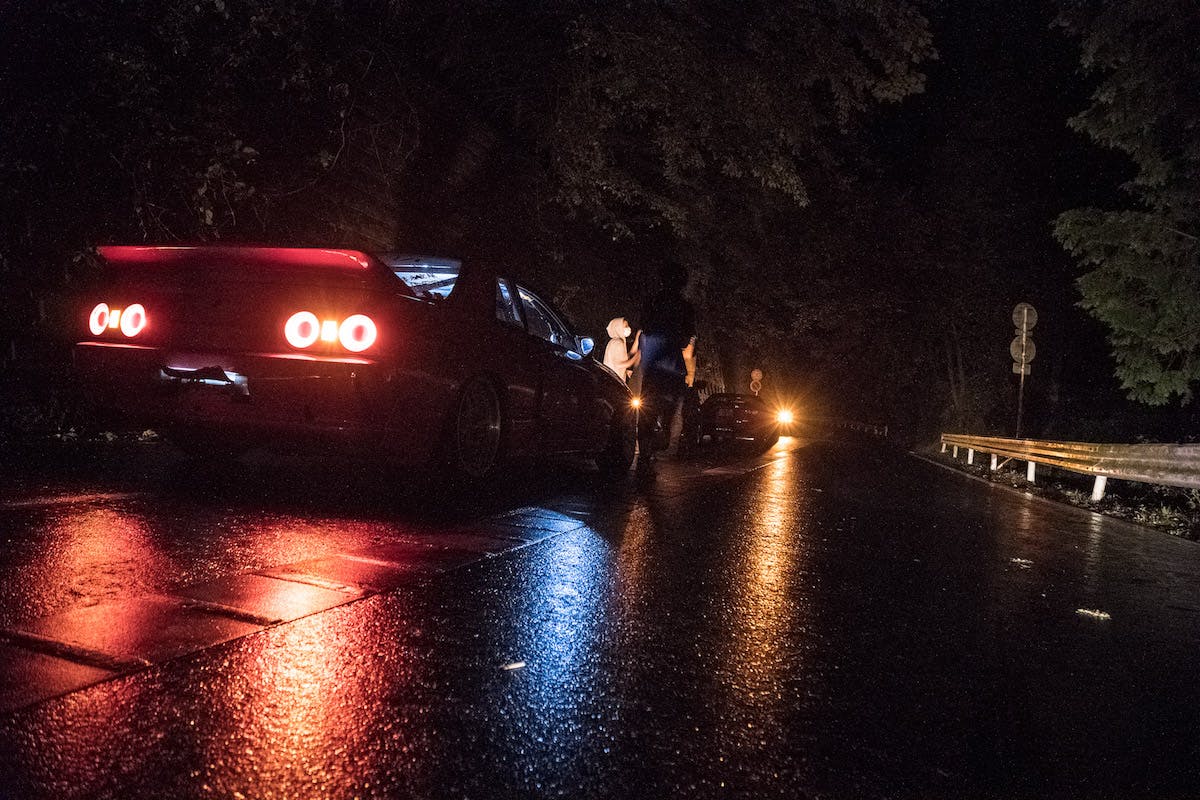 With better breathing, this can easily touch 300hp. When crude weight-saving measures like ditching the back seats are employed, and the old auto 'box is replaced with a stick shift, you have have a very quick, very responsive machine.
I'm barely strapped in before the landscape is blurring in front of my eyes. The rear tires are almost constantly searching for traction when in a straight line. Akira swings out left for something resembling a Scandinavian flick to cause a weight transfer that will help the car oversteer. As the car pendulums into a perfect drift, I look out of the side window up the road straight ahead.
"This is Japanese drifting," he shouts over the din of a fully stressed six cylinder, as the murdered-out Toyota's nose all but trades paint with the apex of the bend. The car seamlessly swings left to right with surgical precision – fitting, because by day he makes medical instruments.
Momentarily, a fox runs out and the car lunges under braking, four-wheel sliding towards the barrier, before Akira expertly reigns it in, laughing. At the top of the run he pulls an oversized, custom acrylic handbrake lever, positioned next to his left hand as in a rally car, and spins a full 180 degrees to a stop.
Hands shaking and holding the camera, I ask him if he has crashed before. "I've crashed over 30 times in 10 years of drifting," he says matter-of-fact, still smiling. "This is my fourth drift car, although one I did drive into a parked truck." Why does he do it, week in, week out? He looks at me, hands going back to 10-and-2 on the steering wheel, and momentarily breaking his recce of the road ahead. "My life is boring," he says, "I do this for excitement."
With this, Akira drops the clutch and the rear wheels break traction again. The set of bespoke dials on the dashboard are dancing their own tune – the speedo and clock behind them have been rendered useless.
Downhill is even more exhilarating. His judgement in lining the car up from drift to drift, and his sixth sense of pendulum swinging a ton and a half of metal from one side to the other, is otherworldly. Whereas people I hang out with on a Friday night might pride themselves on their prowess in a game of darts or pool, these skills are preventing us from leaving the side of a mountain backwards.
My life is boring... I do this for excitement.

Akira, a participant
Halfway down the hill the dashboard lights up and Akira slows the Toyota down. "Overheated," he says, putting on his hazard warning lights. With a car built to ferry middle management along a Tokyo highway, it's hardly surprising.
I am here alongside photographer Oliver Tschernick, who has just secured a ride with Aki in his Skyline. "It was a bit like axing your fifth beer because you've already ordered the sixth," he says, grinning after two runs up the hill.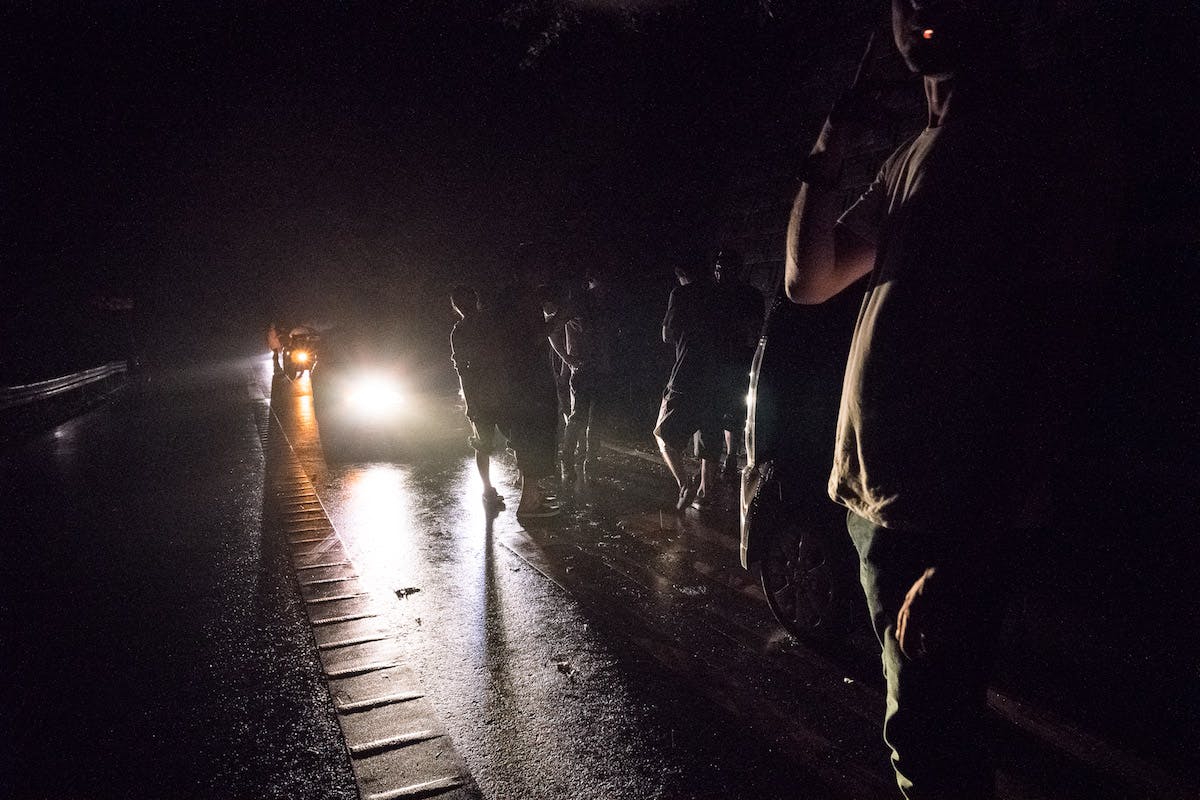 While the mood is one of camaraderie and respect among the drifters, it is hard to ignore the unpredictable undertone. Earlier, one of the racers was punched by a group who arrived in a similar custom sedan – a family dispute, someone tells me. One car has had a big collision with a barrier, leaving half the rear fender hanging off and the rear lights smashed.
While youths across the world sink tequila in search of their kicks on this Friday night, this is a whole different world of recklessness and fun. While other countries have embraced drifting on tracks and bought the Fast and the Furious DVDs, here in the darkness, this is the real thing. There is a real sense of danger coupled with a satisfaction that everyone and everything makes it home in one piece.
But by the time we stop for a McDonalds drive-through back in suburbia, we could be anywhere, and this could be any other Friday night. "In my opinion, what makes the Japanese drifting scene different from other car cultures is the sense that they are the direct descendants of the progenitors of the original touge street racing scene," says Albo. "It's the rich history of the area steeped in legend; it's the aesthetic and texture and smells and sounds of this world" these are the things that makes it so special."
For more on Japan, check out this insane spa-themed amusement park.