Angel Chen is a master blender. Of culture and creativity, that is. The Chinese designer, whose work and inspiration pull from all corners of the globe, has built her brand over the years thanks to a unique point of view and an exciting mixture of design influences.
Melding inspirations from ancient Chinese culture and mythology with modern, global, and future-facing design, Chen captures the zeitgeist in a way very few designers can. Artful bon vivants of the world can rejoice, then, as her captivating process and daring creations caught the eye of craftsmen of another kind — the whisky kind. With the Lunar New Year fast approaching, Chen partnered with Johnnie Walker to design a limited edition bottle for its premium Johnnie Walker Blue Label product to celebrate the upcoming Year of the Rabbit.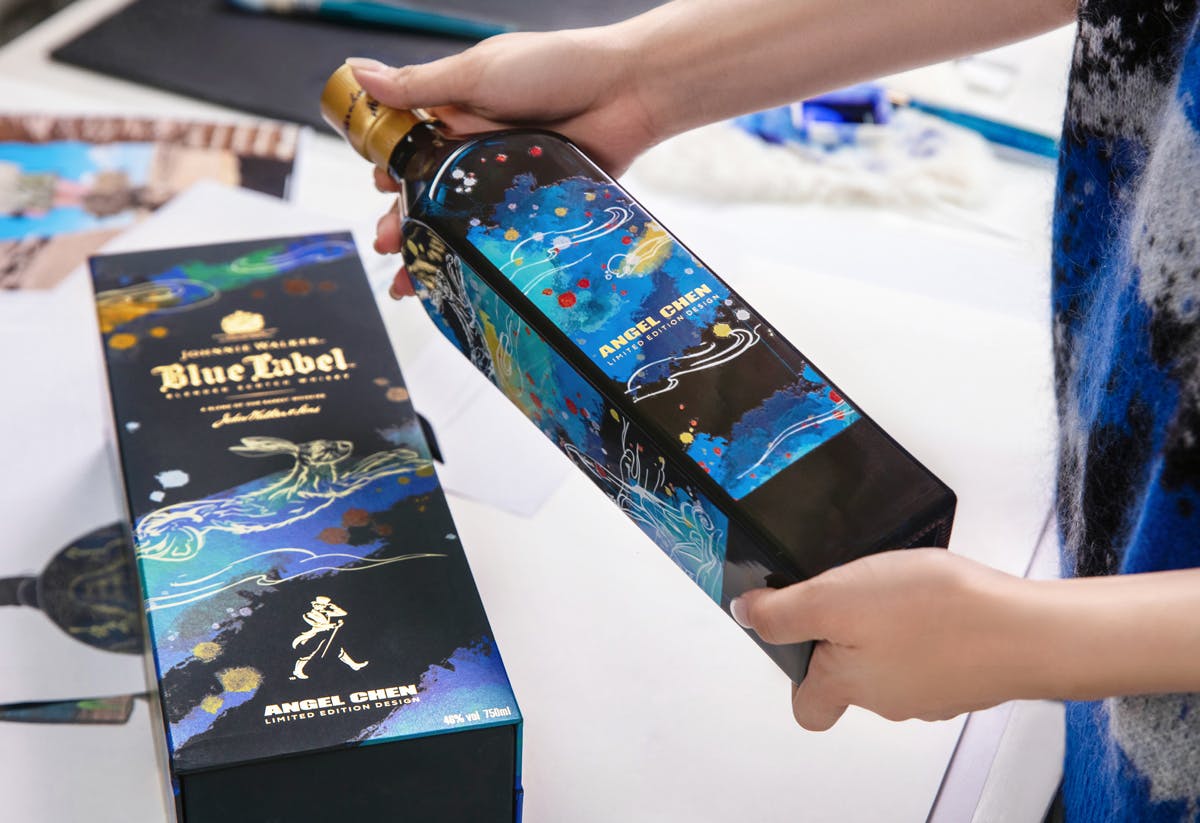 Chen's process as a fashion designer is actually more similar to that of a whisky blender than she thought. Where grains and water are blended and fermented to achieve certain flavors in whisky, Chen blends personal memories, Chinese mythological and natural imagery, and an internationally wandering spirit to create her bold garments and accessories. Indeed, she explains that Johnnie Walker master blender Emma Walker "blends different whiskies to craft a blended Scotch with incredible layers of flavor, which I find really beautiful. What I want to do for this collaboration is blend Chinese culture with western culture, contemporary with traditional. The blending for me is also the depth, it brings out more flavor."
Having grown up in the southern Chinese region of Chaoshan, studied in London, interned in New York, and set up her brand in Shanghai, cultural mixing is nothing new to her. And though the pandemic may have forced Chen to alter her business model, it also changed her creative process in a way that allowed her spirit to wander even further. When border restrictions were implemented around the world, Chen began seeking adventure and inspiration within her own country, embarking on road trips and meeting artisans around China and its surroundings to create new artistic narratives — and she continues her vehicular exploration to this day. "I bring my studio in the car with me, my clothes, my design, my sewing machine, my fabrics, and my team. Everyone comes with me to travel. So we visit tons of different places like Mongolia, Huizhou and also Shenzhen, Guangzhou," she shares.
Chen may find inspiration through travel, tradition, fantasy, and fiction — at the end of the day, it all starts with color. "My whole world is full of color," she declares, explaining that she grew up constantly surrounded by manifestations of it. Her father worked as a color engineer making paints and pigments, and she has vivid recollections and associations with her own personal color palette. Be it the yellow of the fertile fields, the powerful red of the sun, the green of the grass, or the mystical blue of the sea and sky, Chen utilizes different shades to convey emotion, and connect with her Chinese heritage — because despite her global outlook, she shares that "home is the final destination for every travel."
Her iteration of the Blue Label bottle, the jewel in the Johnnie Walker crown, therefore had to present the color blue in a way that conveys her vision of hope for the new year. "The rabbit is traveling from the dark to the bright," she notes, adding that she was experimenting with traditional Chinese calligraphy and watercolors to create the graphics. Keeping traditional crafts alive is something Chen feels strongly about, as she notes that younger generations in China are often out of touch with their own artistic heritage. "They stay in the big city and they're tired of doing those old crafts. For me, it's such a pity," she notes, adding that "there's still a long way for those traditional craftsmen to go in the world. It's something that we should maintain and develop."
Despite the ancient methods used, Chen feels that, much like Johnnie Walker, a timeless, fluid, and boundless approach is essential to successful branding. "You can see the brush I use, the culture I use is quite traditional and inspired by my background. But the whole vision is never... It's never old or too traditional. It always looks contemporary [...] There's no boundary between country, between age, between gender, I love the free spirit of my brand."
Discover Johnnie Walker & Angel Chen's limited edition Blue Label bottle online now.