JPEGMAFIA a.k.a. Peggy is punctual, arriving early to Highsnobiety's office located in the heart of New York's Financial District. At the age of 29, he recognizes the value of time and how important it is to be present in the moment. Even though it's not within sight, we're not far from the Stock Exchange building where West African captives were once sold and traded in humiliating slavery auctions. It's not something that comes up during our conversation, but it's no different from the subjects that appear in his own material.
Hardcore fans of JPEGMAFIA are fully aware that the messages within his music are overtly political, but if you could view America through his eyes then your material would be too. The things that the worldly rapper, producer, and veteran has seen have obviously left a deep impression on his psyche, but Peggy maintains direct eye contact when he candidly speaks on them, briefly pausing to take sips of chamomile tea when his train of thought suddenly vanishes without a trace. There's a comforting softness in his brown iris as it meets your gaze, scanning your energy for a sense of humanity.
Throughout his so-called "hectic" life, Peggy has found himself settling down in states all over the country with his family—New York, Louisiana, Maryland, and California. Baltimore was the first city that he chose for himself, followed by Los Angeles where he now resides. Peggy has always had family based in Baltimore, but it was the cohesive creative community that attracted him to the city—he considers it the first place where he's been surrounded by "like-minded people" with a pure love for the art.
"Living in a lot of places gives you a weird perspective on people," he explains. "It just made me realize how important information is because when you go around to different places, n****s don't know shit in any city."
Peggy's post-grad stint in the Air Force as a legal adult took him across the globe, but serving his country wasn't all stars and stripes. Peggy is upfront about how terrible it was, going as far as to compare the experience to doing time in jail and swearing that he "wouldn't ever recommend that shit" to anyone. He's one of the lucky ones who was able to get out of the Iraq War alive. Whatever mental scars have been left behind with Barrington Hendricks (his government name) will be dealt with later, but for now he's out of harm's way.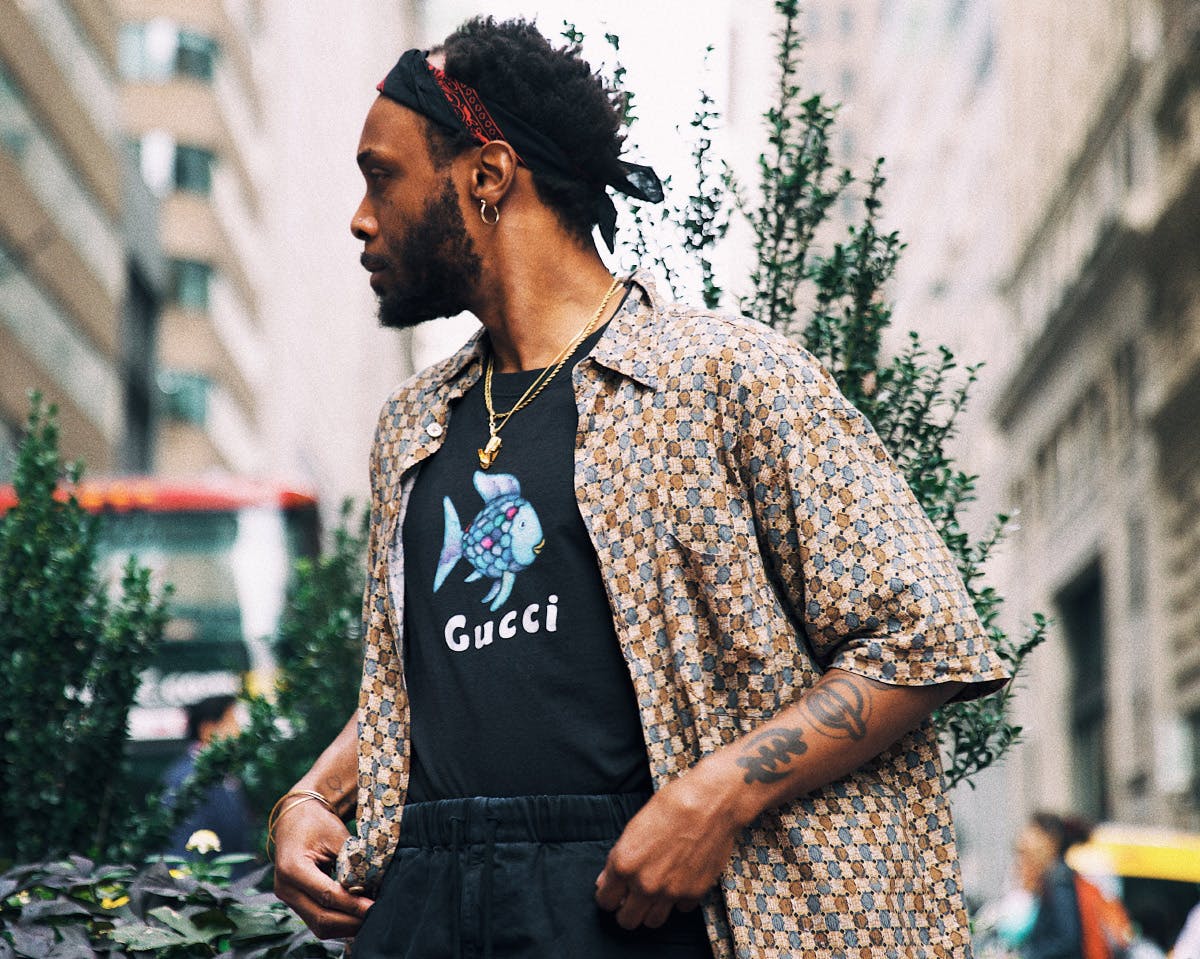 "Anytime I see other veterans, I try to make sure I reach out and lend a hand because I know what it's like," he sighs. "But, I survived. I made it through. I actually can't believe it. When I'm thinking about it, from when I was in to now, it's really surreal. If you would have told me I would even be here having an interview, I wouldn't have even believed it at all."
His back-up plan if rap didn't work out was journalism because he didn't initially believe that he could succeed at making music. "The concept of reviewing music was so confusing to me at first," Peggy explains. "I was like, 'Yo, you just listen to it and say what you think? I can do that...' But the skill is how you articulate it."
He figured that at the very least he could be involved in the conversation around it, especially regarding rap since it's not taken as seriously being a younger genre and all. Peggy points out how there are so many sub-genres within rap, but "it's never broken down in detail because people still see rap as a monolithic thing." Categorization for black artists is even more frustrating because "if you're black and do anything, you're either a rapper or R&B singer."
In an era where the purpose of criticism is constantly being misinterpreted by major artists, he believes in the right to write. The fight for freedom of speech has become more complicated as of late and while everyone is certainly entitled to their own opinion, there's something to be said about the glaring lack of awareness that so many (white) people spew online. That's why Peggy isn't afraid to call out figures like Ben Carson, Stacey Dash, Morrissey ("I Cannot Fucking Wait Until Morrissey Dies"), or the entire police state ("I Just Killed A Cop Now I'm Horny") for their extremely problematic ways.
"Stupidity in this era is you've got to be a truly dumb ass n**** because the information's there," he says. "When you have a Twitter and you can shout in the dark at anybody... I understand the compulsion, but I try to see things from all perspectives and make my own thing. I understand where things come from or I try to. Anyhow, n****s is just so dumb. They don't really think things through, and this is not a new concept either. It's been like that forever, it's just that now we're realizing it."
Even though he has witnessed America at its absolute worst on multiple occasions, Peggy still has a sense of humor about it all. He throws his head back to let out huge bursts of laughter when I tell him about the awkwardness of being at a Solange concert and watching white women nearby in the crowd sing along to "Don't Touch My Hair" and "F.U.B.U." when it's crystal clear that the content is not for them. Between a round of chuckles, Peggy says, "Becky said, 'Don't touch my hair...' Oh god, I wish I saw that."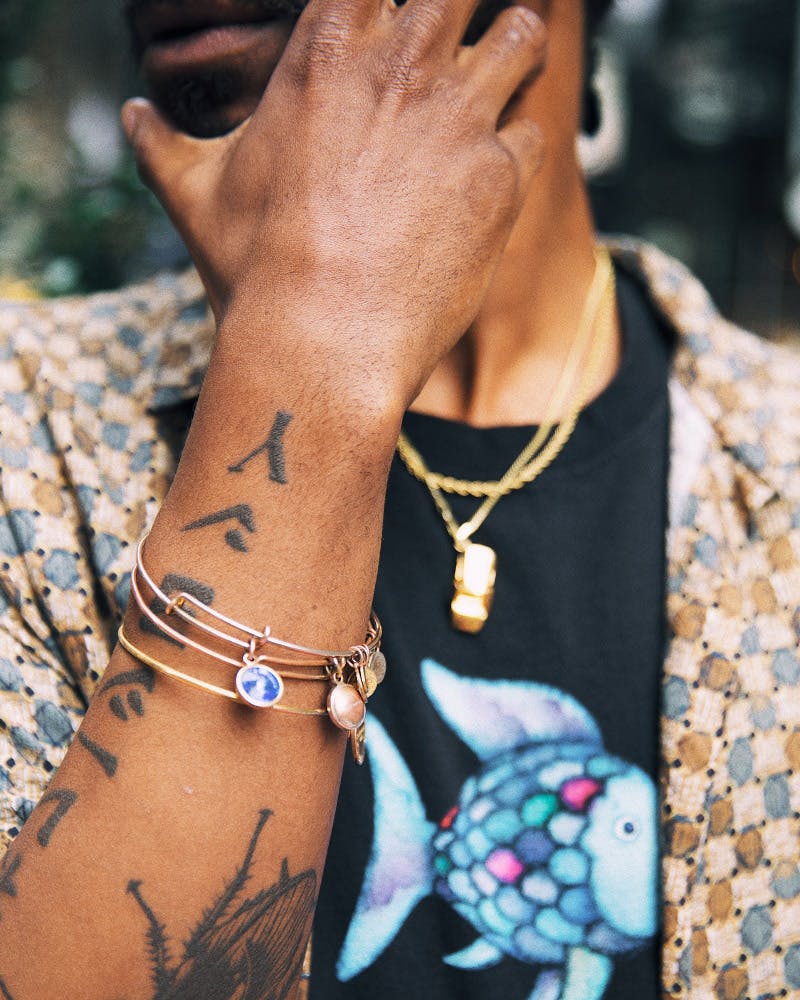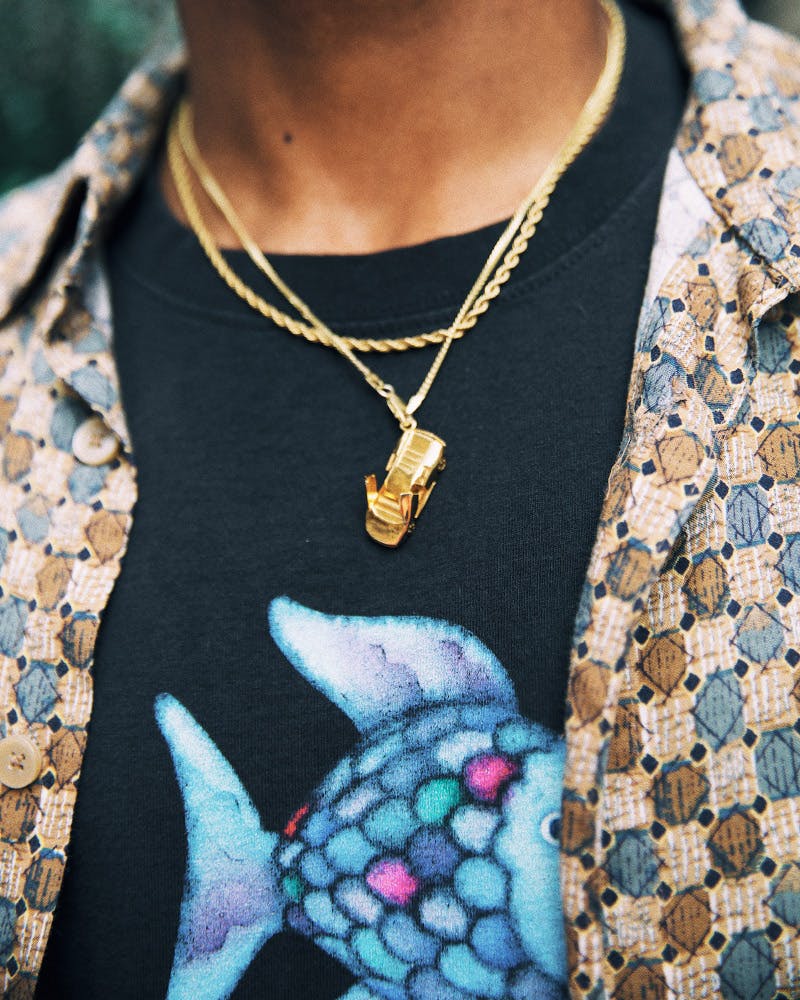 His constant exposure to communities in rural areas made him "confident" that Donald Trump would win the 2016 election because he was "echoing their sentiments." (It's like Peggy says, "trash is an aesthetic.") It's often hard to conceive when you live inside a progressive bubble on the east and west coasts, but traveling across the US exposed Peggy to the fact that "once you're outside, you're like, 'Oh, shit. There's n****s that don't think like you at all.'"
"When I see something I respect and I don't know much about it, I just shut the fuck up and appreciate it," he says. "Part of me is just like I know most [white people] don't even realize they're doing it, and I just don't feel any sympathy for them because it's 2019, and we've got the internet. You can look up your feelings for a minute."
The most Americana aspect of Peggy's image is probably his Vegyn-designed merch which loosely mimics gas station apparel. He describes it as "dirt road, Bob Dylan ass shit," something in the vein of the type of person who comes to pick up a bag of Skittles wearing nothing but "a shirt and a cowboy hat" with an "I'll be on my way" spirit about them. Even though he can't relate, he gets the idea.
"I have this very neutral kind of mindset," he says. "I try to look at things objectively, but I'm human so of course, I'm biased and flawed. That objectivity comes out in ways that say 'I cannot wait until Morrissey dies' because I know what I'm trying to say, but I put that there because I know dumb ass n****s will look at that and think, 'This n****'s just trying to be edgy' or whatever, and that's perfectly fine. I'm completely okay with people thinking that. The art is out there for people to do whatever with."
Two weeks before his album, All My Heroes Are Cornballs dropped, Lana Del Rey kicked off Labor Day weekend by formally bidding the America she once knew adieu with Norman Fucking Rockwell!. The project hits differently for so many reasons as outlined in our review, but it's something in the way that she provides poetic commentary about the destruction of the "American dream" during the present sociopolitical climate. The intention behind using the name of the iconic American illustrator is profound—millennials might recall being exposed to his 1964 painting The Problem We All Live With while learning about the Civil Rights movement. (As easily as we can joke about a potential "race war" now, it was only 55 years ago that congress passed the Civil Rights Act to end segregation in the US, and every street looked like a monochrome battle field.) It's almost like Miss America waking up from a nightmare only to find out that the horror in your head is all real.
But Peggy has been narrating this complicated reality shared by those of us who were not born with the privilege of having access to the fantasy of a comfortable existence—Veteran examined his personal experience as a black man in America, as did the predecessors The 2nd Amendment and Black Ben Carson. Black and brown have never been mixed with the red, white, and blue shades of traditional American patriotism. The schizophrenic beats drop like bombs and the lyrics hit sharp as he sets fire to the chaos that surrounds our minds.
"I want to give people the confidence to not be scared of these racist n****s because they have a strong hold on intimidation and fear, KKK, all these symbols and shit," he says. "No, n****. We're not scared of you. We're from the projects. You guys are not brawlic like that, so I want people to know that. There has to be some kind of thing for that."
With All My Heroes Are Cornballs, Peggy decided to turn his attention inward and further explore how he is affected by his antagonistic world view. The 18-track album covers a wide range of controversial topics like PTSD, beta males, and thot behavior. He also uses religious symbols on songs like "Jesus Forgive Me, I Am A Thot" to parallel real life and challenge the foundation. (Peggy adds, "I was raised kind of religious, but I'm not a religious person—I think a lot of black people grow up in religious households whether they like to or not.") In that same breath, there are blatant references to millennialism sprinkled throughout like "Kenan Vs. Kel," named after the classic Nickelodeon sitcom series, and "BasicBitchTearGas" which is a sensual rework of TLC's 1999 hit "Scrubs."
Something about feeding this course of advanced material to white audiences almost feels wrong, but Peggy accepts that it's simply a part of the job and that "they can enjoy it, but the chances of them really getting it is very slim to none." He cares more about the content reaching the people that it's specifically intended for so he doesn't get hung up about whether or not they show up in the mosh pit. Peggy wants to inspire other black kids out there with the hope that someone "surpasses the fuck out of me in his career."
"If you're, as a black person, not okay with performing to mostly white people for your career, you should pick a different career because there's not enough n****s to even support that shit unless you're Tank—n****s will come out for Tank," he explains. "It's not really something I think too much about. I used to stew on it because I wondered to myself sometimes 'Why do I have to play these for these people?'"
Snail Mail's Lindsey Jordan has been praising his work for years, and he openly reciprocates as you can see in this photo from 2018. Back in March, I watched Peggy perform in front of a predominately white crowd at Treefort Festival in Boise, Idaho and was shocked at how attentive and appreciative they were even though they couldn't actually relate to anything that he was saying.
"I completely misread that place when I first got there," he says. "Usually when I go to states like that or when I used to perform back in the day, it'd just be racist n****s who were just ready to rock, like 'Let's go... ' It really wasn't like that, people were kind of chill. I came out there with intention to be like, 'All right, what's up?' It was actually a nice place. That was a good show."
This respectful attitude of acceptance speaks to his outlook on collaboration, which is more like building a network with artists that he genuinely admires. He recently teamed up with The Avalanches, a group that served as his entry point into sampling, "out of respect and love and admiration for them." The same sentiment of being a fan can be said for his work with HEALTH, Flume, Tkay Maidza, Channel Tres, Denzel Curry, and Injury Reserve. It all comes down to being a good fit on both sides.
"I want to be a living example of someone who is formless," he explains. "I want to exist in areas that people don't think rappers or n****s in general can exist in. I want to exist in them comfortably so I work with whoever I feel compelled to at the time. I'm not trying to do it on purpose, this is just my taste. I'm a product of the internet as well, so my taste reflects the people I collaborate with because that's what I listen to... I just have to fuck with the idea and how it's presented and executed, that's really it."
As we reach the end of our conversation, I ask Peggy what he does to maintain a healthy balance in general. At the moment, music is the most consistent thing in his life—the feeling of making it is the only thing that hasn't changed since he was 14 years old. "That's ultimately what got me where I am," he explains. "Anywhere I've gotten or am going to get is through the music, so that's the best way to balance it."
I congratulate him when he tells me about scheduling his first therapy session the following week—he specifically selected a black woman because "nobody's as mentally strong as a black woman." He adds, "I want to feel like I'm talking to my mother." As a person in the industry with notoriety online, he's constantly challenged to deal with things in real time. Instead of continuing to suffer in silence, he's committed to breaking the cycle.
"I'm going to do it because none of my family does therapy and we bottle up everything," he says. "There's so much trauma that I need to go through, I've got to do that. I need that because even just realizing it puts you in a different level mentally."
JPEGMAFIA is a survivor, but at the moment's he's "buffering, ready to rock."
"I'm very lucky that I have the mental fortitude to make it through," he says. "Moving around so much, doing all that shit, it wasn't easy. But when you're in something, you don't think about it. It's not until afterwards."