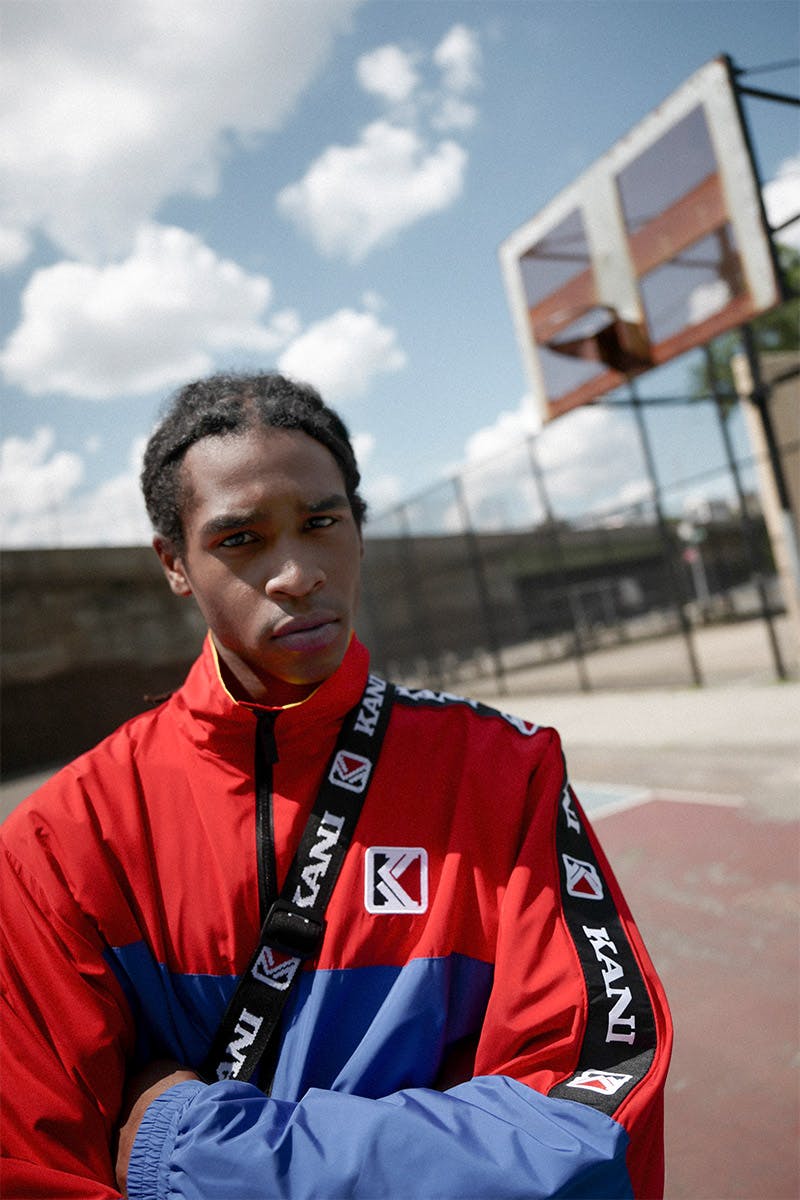 Brand: Karl Kani
Season: Fall/Winter 2019
Key Pieces: The collection is bursting with '90s nostalgia but its outwear offering has to be among the highlights. Color-blocked and boasting large logos reminiscent of that decade, the range of windbreakers and light-weight track jackets are ideal options for transitioning into fall, while the primary-colored paneled puffer is a cozy option for the colder months.
Release Date: Available now
Buy: Widely available worldwide at stores such as KaDeWe, Breuninger, Citadium, and ASOS.
Editor's Notes: The '90s trend hasn't loosed its steadfast grip on current fashion and there's no shortage of brands continuing to draw inspiration from the aesthetic of that decade. Hip-hop styling, in particular, has played a crucial role it that revival with looks championed by brands such as Karl Kani reemerging on seasonal mood boards. As one of the era's defining brands, Karl Kani is paying tribute to that era and the city that defined it for Fall/Winter 2019.
Founded in 1989 by Karl Kani when he was just 19 years old, the Brooklyn-based label struck a chord with kids and artists at the time. Across New York, Karl Kani amassed an influential fanbase who were drawn to the brand for its casual cuts and baggy jeans. The cult label has been sported by the decade's biggest icons from Tupac to the Notorious B.I.G. and JAY-Z.
Although the forthcoming collection commemorates that era, it isn't a retrospective, rather a reimagination of the silhouettes and color schemes to suit today's taste. In that vein, the collection is at once nostalgic and timely with bold colors and patterns, and big logos featured throughout. Referencing signature silhouettes from the brand's '90s heyday, the collection comprises a variety of styles including paneled hoodies brought to life in primary colors, double denim looks, logo-heavy tracksuits, baggy jeans, and patterned jackets.
The campaign video, too, pays tribute to the brand's formative years. Shot in Brooklyn, Karl Kani's voice tells his story, the struggles of starting a brand from the streets, and its progression into the wardrobes of countless hip-hop icons.
Head to Karl Kani's Instagram for more info on the drop.
On this episode of The Dropcast, we are joined by Matt Cohen of sneaker resell platform GOAT, and certified fashion GOD Bruce Pask, currently the head of men's fashion at Bergdorf Goodman and Neiman Marcus. Listen below.