 Whether we're aware of it or not, colors are constantly informing the decisions we make, and when it comes to our clothing, color proves to take on a language entirely of its own.
Wearing calming blues, daring reds, or serene greens all have the influence to alter emotion – colors are so powerful that they can even let other people know how we're feeling without even having to speak. For Levi's®, this idea of color as a form of expression is no new concept as the brand reintroduces Levi's® Fresh, a sustainable color-first initiative originally imagined in the '70s.
Originally dubbed "Fresh Produce", the original collection was driven by an eco-friendly mission to use color derived from fresh fruits and vegetables, creating hues in earthy-toned palettes. Now, with the launch of Levi's® Fresh, the brand takes a deeper dive into the initiative of its predecessor.
The collection is produced eco-consciously through updated techniques like the use of plant-based dyes and water-saving finishing methods. The result? A bright and bold, easy-to-wear collection that serves up some serious sustainable color.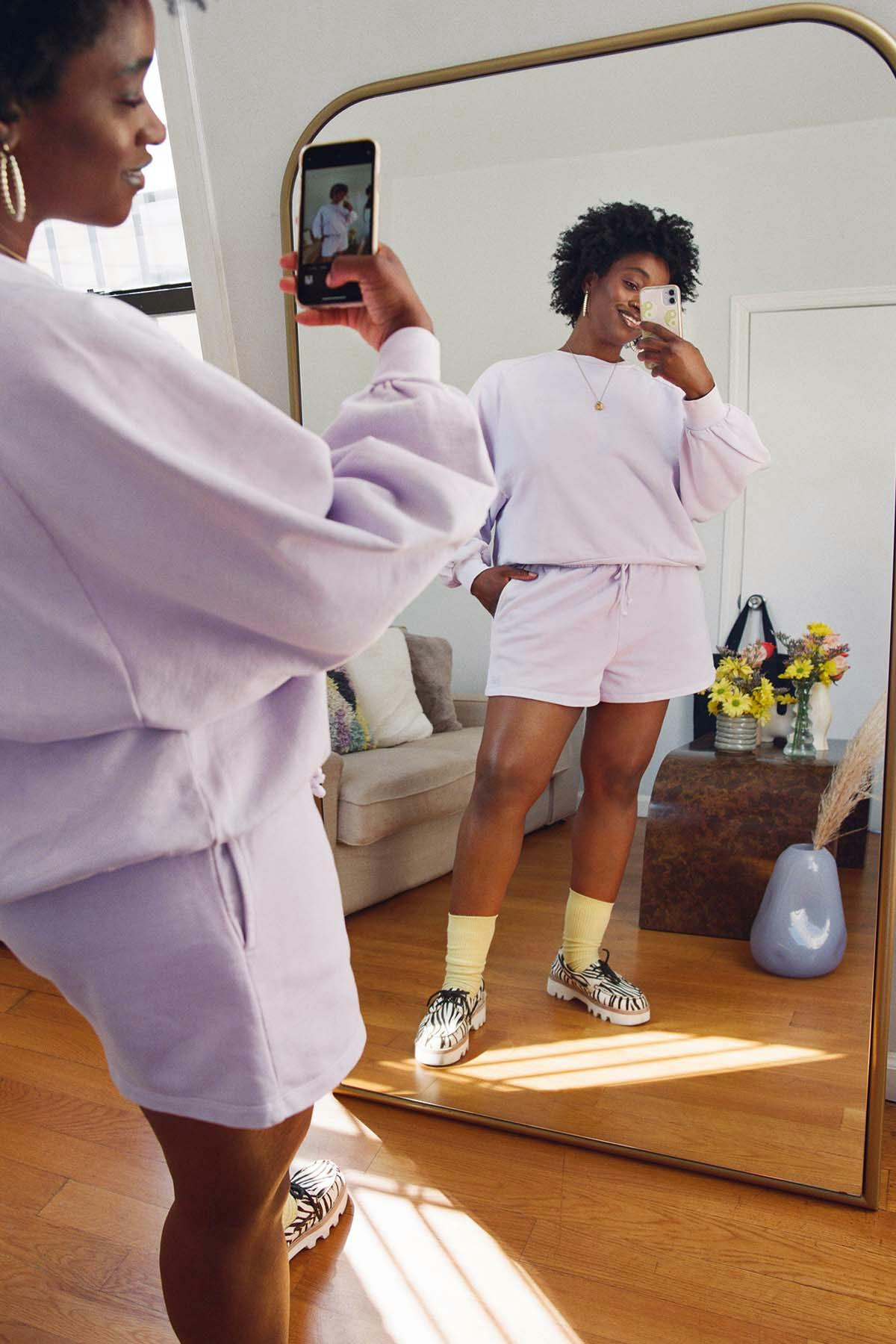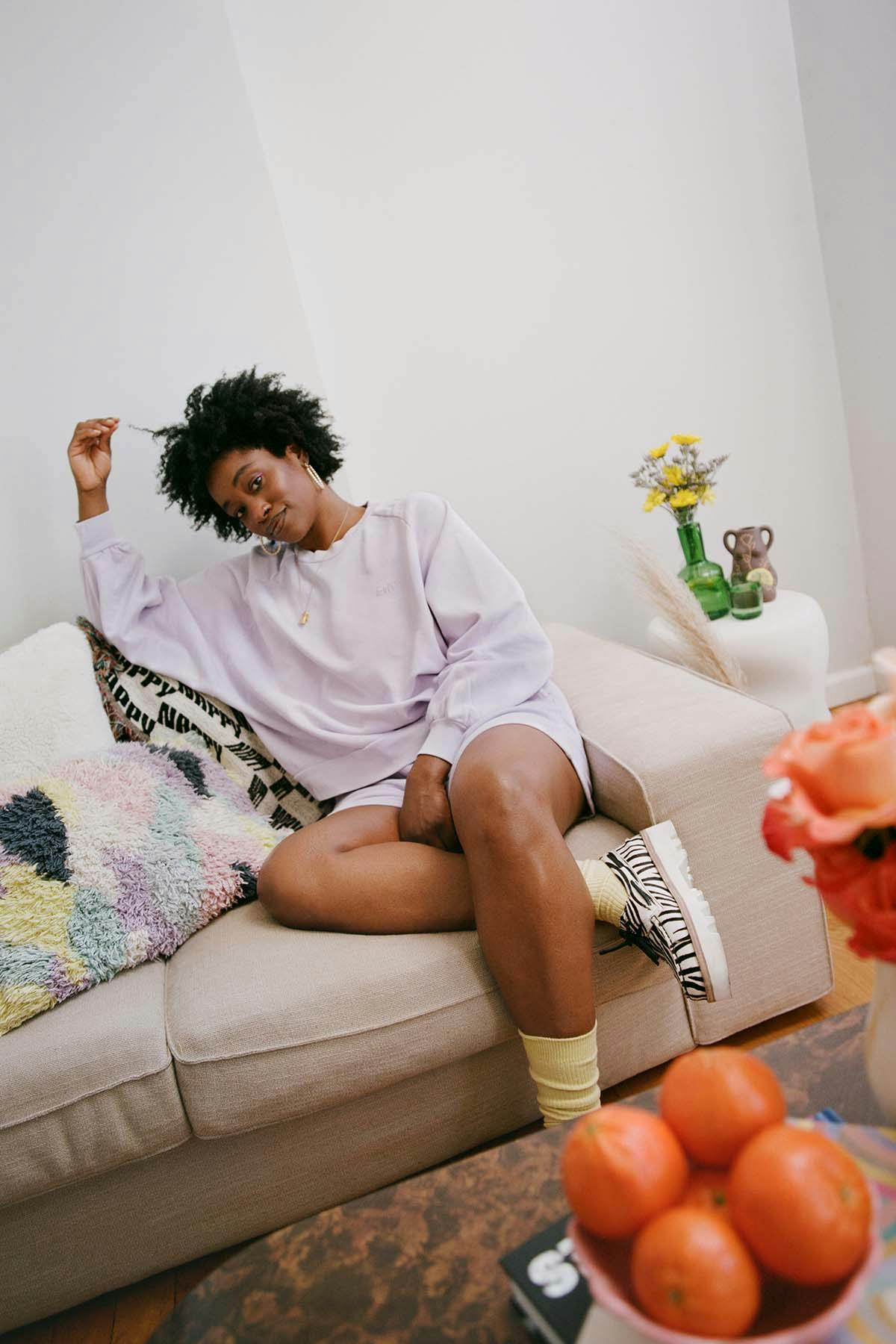 In vibrant shades of peach, lavender, and yellow Levi's® Fresh screams springtime while subsequently conveying all of the season's feel-good sentiments. Its pastel palette echoes a time of awakening, confidence, and growth that effortlessly uplifts and inspires its wearers.
To see how these looks translate on the streets on NYC, we asked digital creator Yolande Macon, who regularly rocks monochrome masterpieces, to style herself in Levi's® Fresh. Noting the inspiration behind her color-blocked fits, Macon adds, "Spring represents freshness and new beginnings to me. I feel like I can conquer anything in Levi's® Fresh pastel palette."
See more below on how Macon styles her colorful sets around NYC and stayed tuned for more from our Levi's® Fresh series featuring musician Aurora Anthony and strategist Landon McGregor.
Describe how color informs your personal style.
To some degree, I'd like to think of myself as fearless and the colors that I choose to wear can represent that emotion well. It takes a lot of confidence to walk into a room wearing bright, bold colors.
What's your favorite way to wear Levi's® Fresh?
I love colorful, comfy pieces and Levi's® Fresh really matches my style – cool pieces that come in soft pastels will always be my vibe. My favorite way to style it is by layering the Levi's® Fresh colors to create a beautiful color story that speaks to my exact mood. My favorite pieces are ones I can wear anywhere whether I'm grabbing dinner with friends, or just hanging out at the park.
What made you choose your specific color?
I've always been interested in color blocking, and there's no greater color palette than the mix of pastels used in Levi's® Fresh. It reminds me of spring and spring represents freshness and new beginnings to me. I feel like I can conquer anything in a pastel palette. There's just something about the colors that quickly catch my eye. I love that Levi's® Fresh took a soft earthy approach to these colors by using plant-based dyes.
My favorite combo is the Levi's® Fresh yellow and purple. The feeling of yellow is synonymous with the feeling I get from hearing the word sunshine, it's so bright and happy, even on the tough days. Purple makes me feel both strong and vulnerable, and it feels very fitting that my name translates to "violet".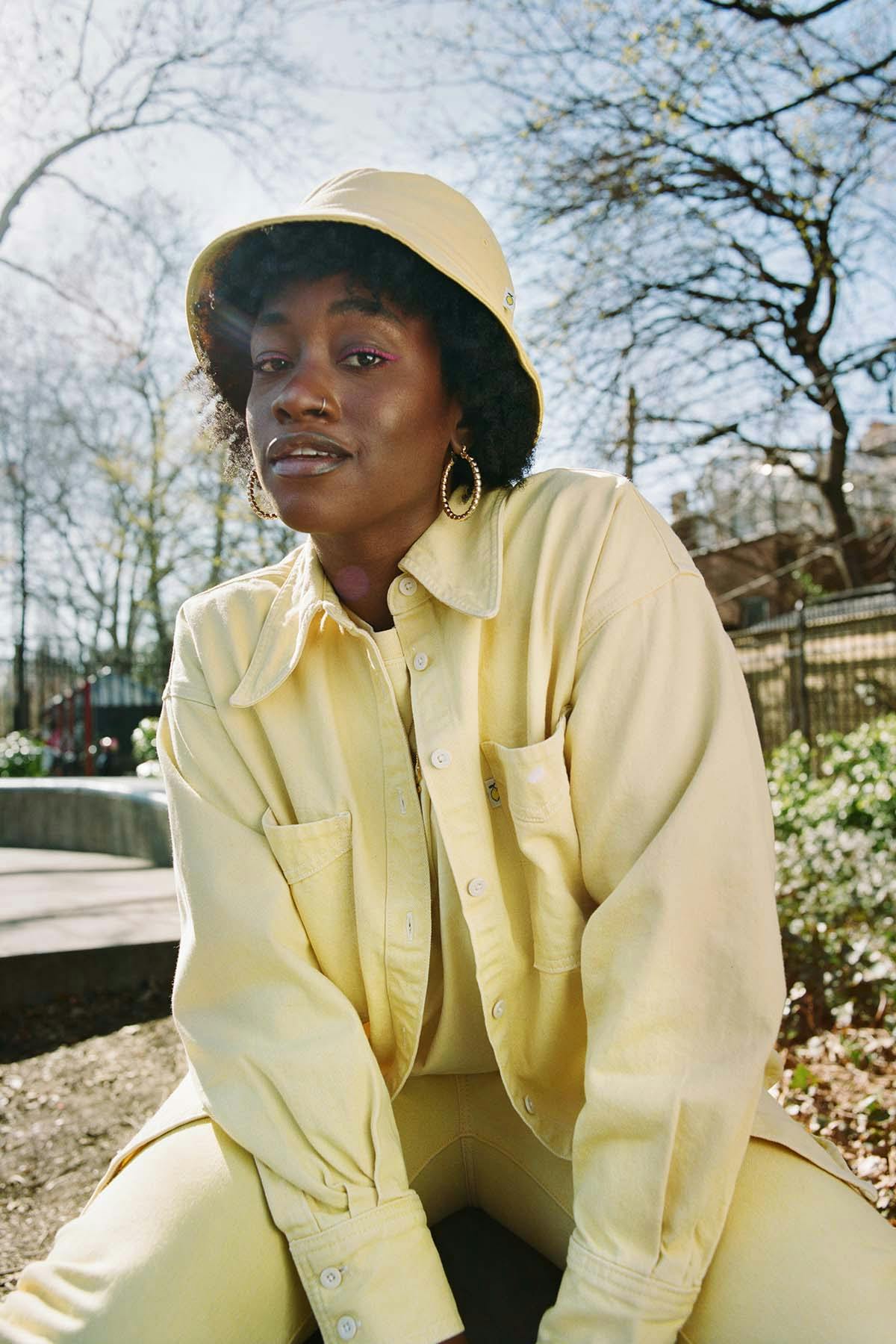 As a visual creator, how does color inform your creative decisions?
I love to challenge myself through the use of color. Discovering new color schemes and mixes. It's rare that my creations aren't driven by color because they are an instant mood changer for me. When I get dressed, I challenge myself to choose colors that match my mood. This dressing is borderline cosplay because there's always a story behind it. Not only does the color match my mood, but it tells a story that ranges from being a funky sista from the '70s to a '90s R&B singer. Color really helps define who I am.
How does your personal fashion style come out in your creative direction?
My style checklist is nostalgic, colorful, and cool which is the same way I approach creative direction. I want everyone's senses to be awakened when they view my art.
What elements within your day-to-day routine inspire your style most?
Living in NYC is definitely the biggest inspiration to my style right now. This city constantly challenges me through new ideas. Here we do a lot of walking so my outfits have to accommodate that. From chunky heels that are easier to walk in to colorful, but warm, outerwear, NYC will forever keep my style on its toes.
Check out the full range of happy pastel pigments and extra-cozy feels of Levi's® Fresh on levi.com.