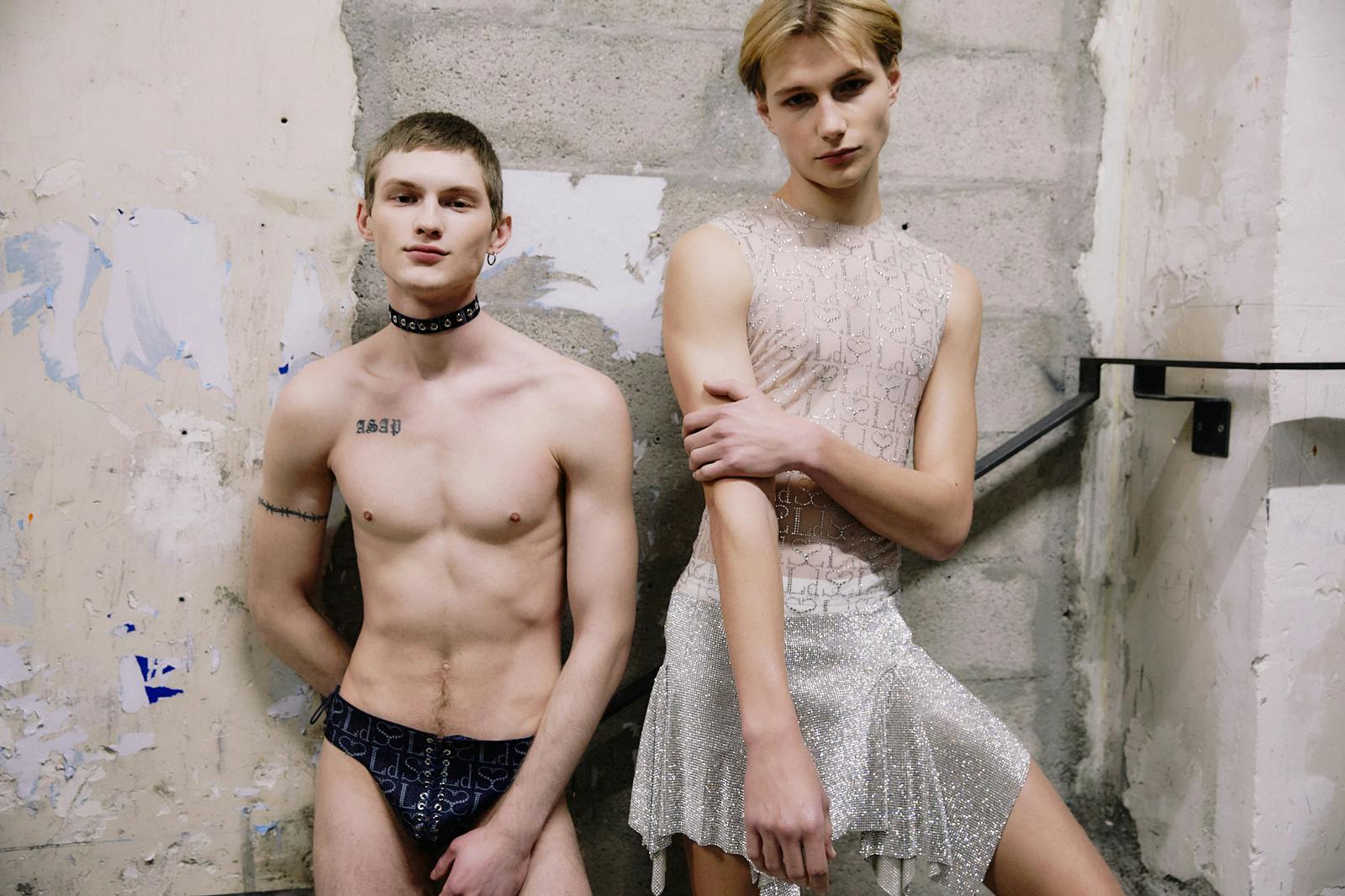 Highsnobiety / Julien Tell
Nine days before his Paris Fashion Week show, Ludovic de Saint Sernin is busier than ever. "I looked at it as if I was on some fashion competition, and all of a sudden I had to do a collection in three weeks," he tells me over Zoom from his Paris office. His recent appointment as creative director of Ann Demeulemeester has made things all the more hectic, but that's only added to the joy. "I was just at the atelier earlier today, it was super exciting," de Saint Sernin says jubilantly, his white smile beaming through the screen.
For Fall/Winter 2023, his namesake label repurposed materials from the previous Fall/Winter 2022 season, specifically reconstructing and reinterpreting knitwear. It's symbolic of de Saint Sernin's desire to look back on his accomplishments thus far and celebrate them, going back to his last five years since founding LdSS to look ahead to the next five. "For me, this collection is a celebration of a dream come true. The 32 year-old me [is] realizing all the dreams that my 14, 15 year-old self was dreaming of accomplishing," he says. "This whole show is as if I was doing a fashion show for the kid that I have inside me."
That personal celebration takes the form of updated crystal numbers, monogrammed denim sets, and body-hugging shearling and leather pieces that make up a sort of winter collection only LdSS could pull off. "Definitely in terms of LdSS in the winter, it's probably a winter in LA more so than anywhere else," the designer says laughingly.
When he's not watching Alix Earle on TikTok ("She's going to be the next Emma Chamberlain!") or getting his hair done, all of his attention has been on LdSS. Ahead of the January show, we caught up with de Saint Sernin about his current inspirations, the future of menswear, and self love.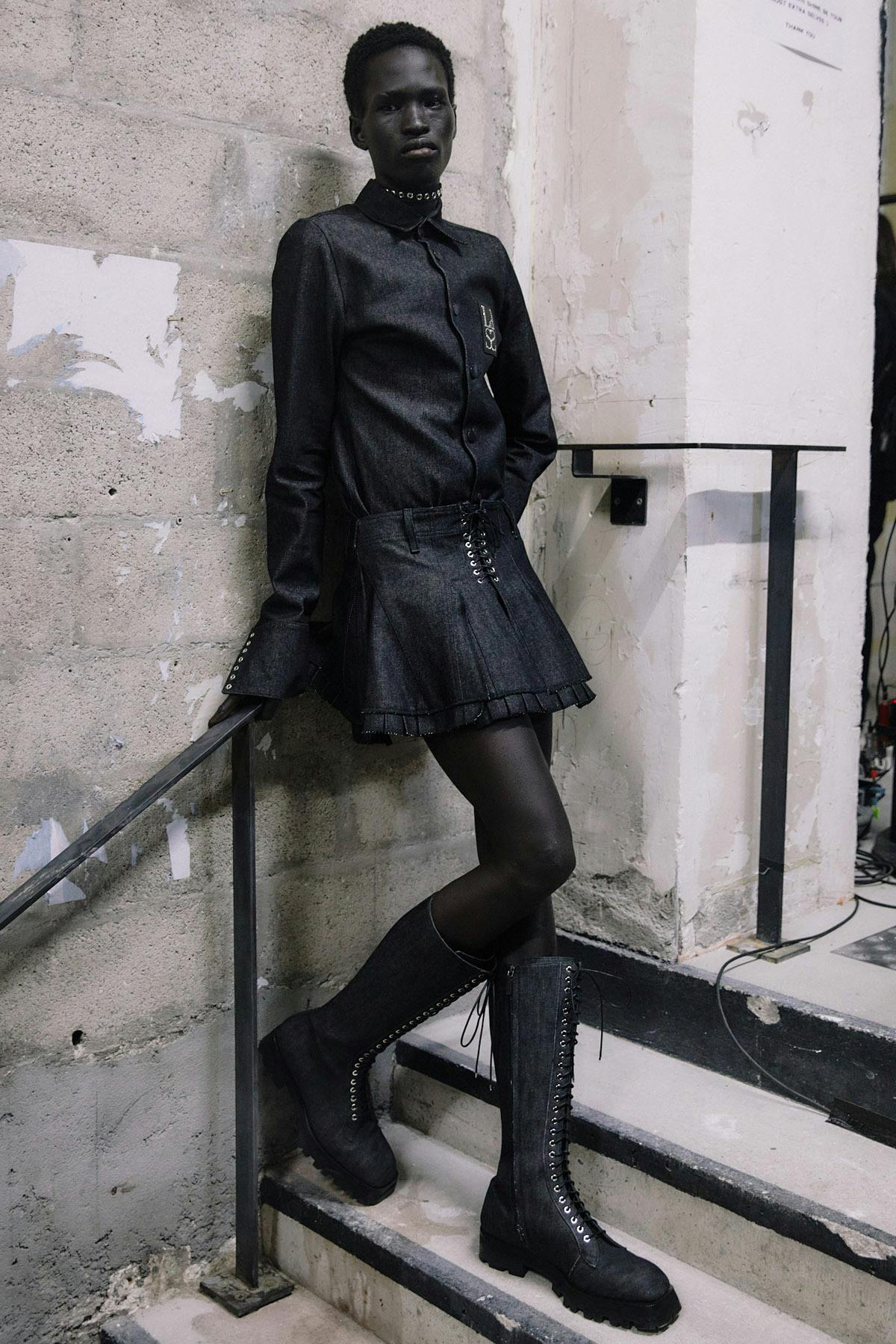 What is your day to day like these days? It's nine days before the show. Is it hectic?
I recently got appointed as creative director of Ann Demeulemeester. It was so exciting, and at the same time, incredibly overwhelming, because all of a sudden, I had to schedule four shows instead of two. I want both of the brands to have their own special moment, so we decided to move my LdSS show to January during Men's Fashion Week, and then have the Ann Demeulemeester show [at] Women's Fashion Week in September.
I had one and a half months to do the collection. It's extremely hectic, but luckily, I'm a Virgo, which means I'm very organized and precise about everything, and a perfectionist. It's been a challenge to work on the collection for my own brand, considering the time frame that we had. I looked at it as if I was on some fashion competition, and all of a sudden, I had to do a collection in three weeks. I'm taking on the challenge as if cameras are filming, and that's what we're doing. It's full-on fashion madness.
It does sound like some impossible Project Runway challenge.
Exactly. I'm a kid from that generation where I was watching fashion TV, Project Runway, America's Next Top Model, all these programs when I was obsessed with fashion and dreaming of becoming a designer. It's that energy that we're channeling for this collection, and just having fun with it.
Usually, I work with crystals, because it's fun for me to work on the mannequin and play with. This time I chose knitwear. I decided to take existing knitwear from our winter collection from last year, and unravel it and take it apart and recreate things with it. It's like those fashion competitions. I'm also kind of tapping into my Belgian heritage and how people look at clothes, and how it can sometimes be an experiment with things that are unexpected or a different approach to constructing a garment. It has this intellectual side to it. I'm going to re-engineer and reuse, repurpose this, and turn it into something completely different, which I think is cool and also very much so in line with the new generation and how we look at things.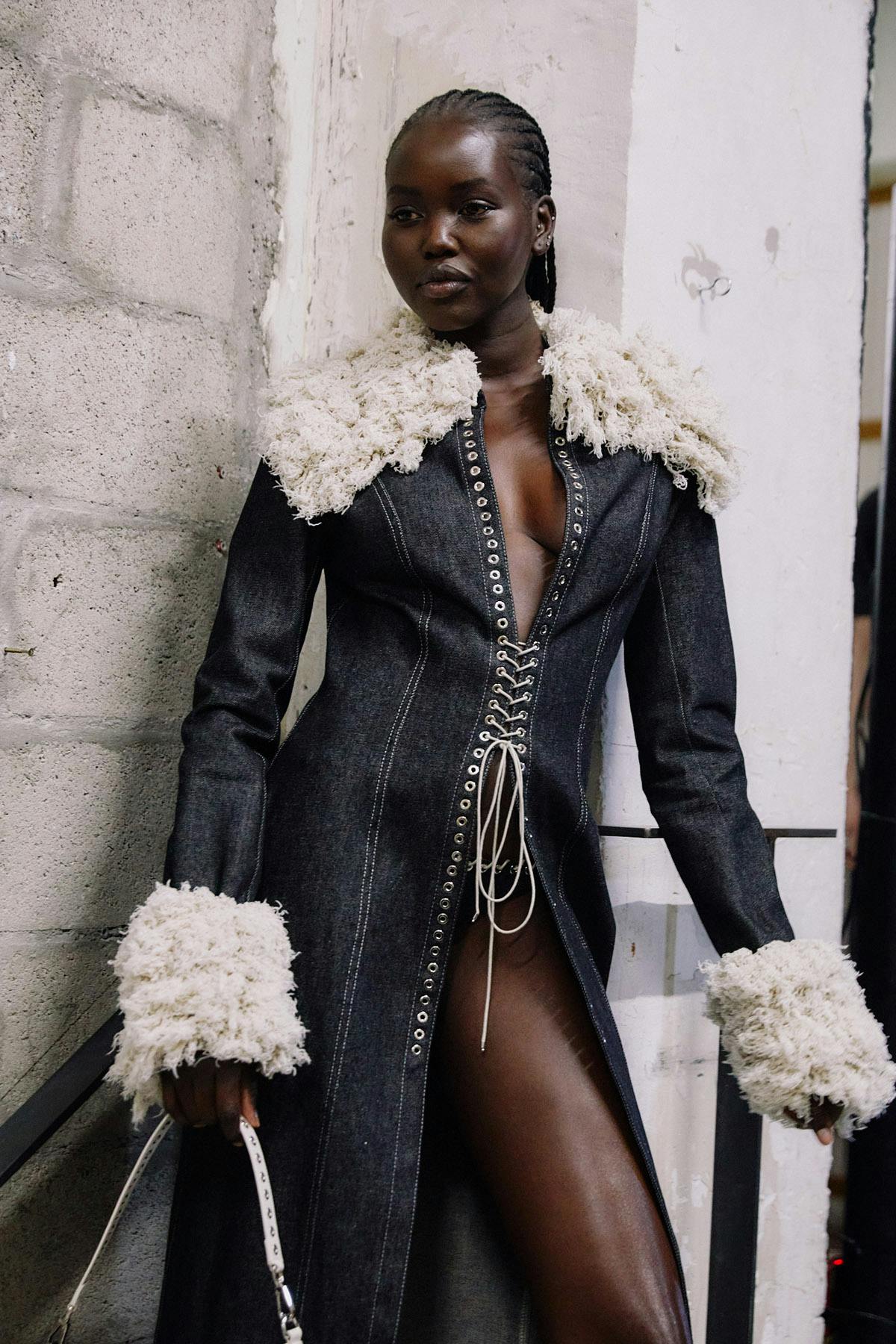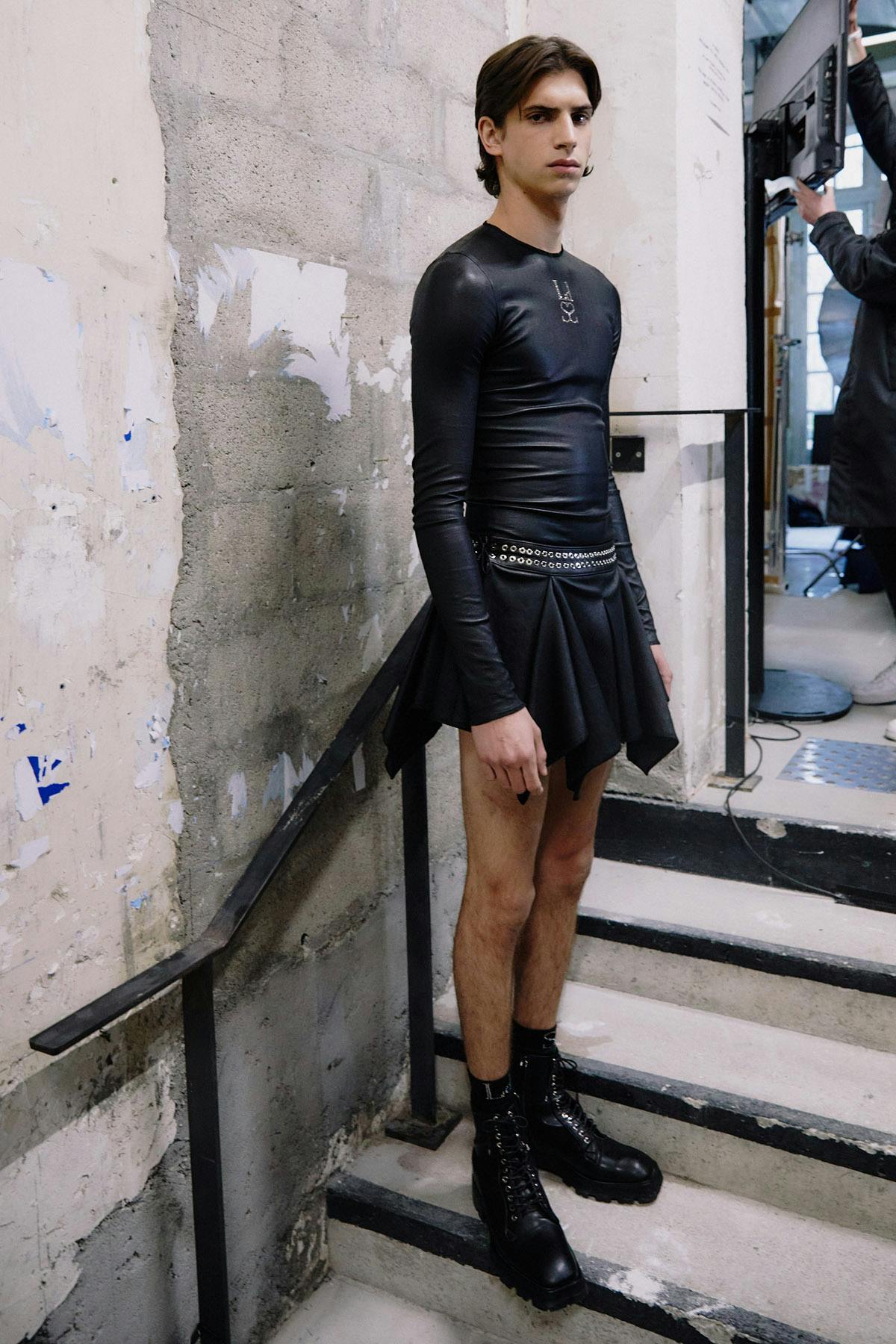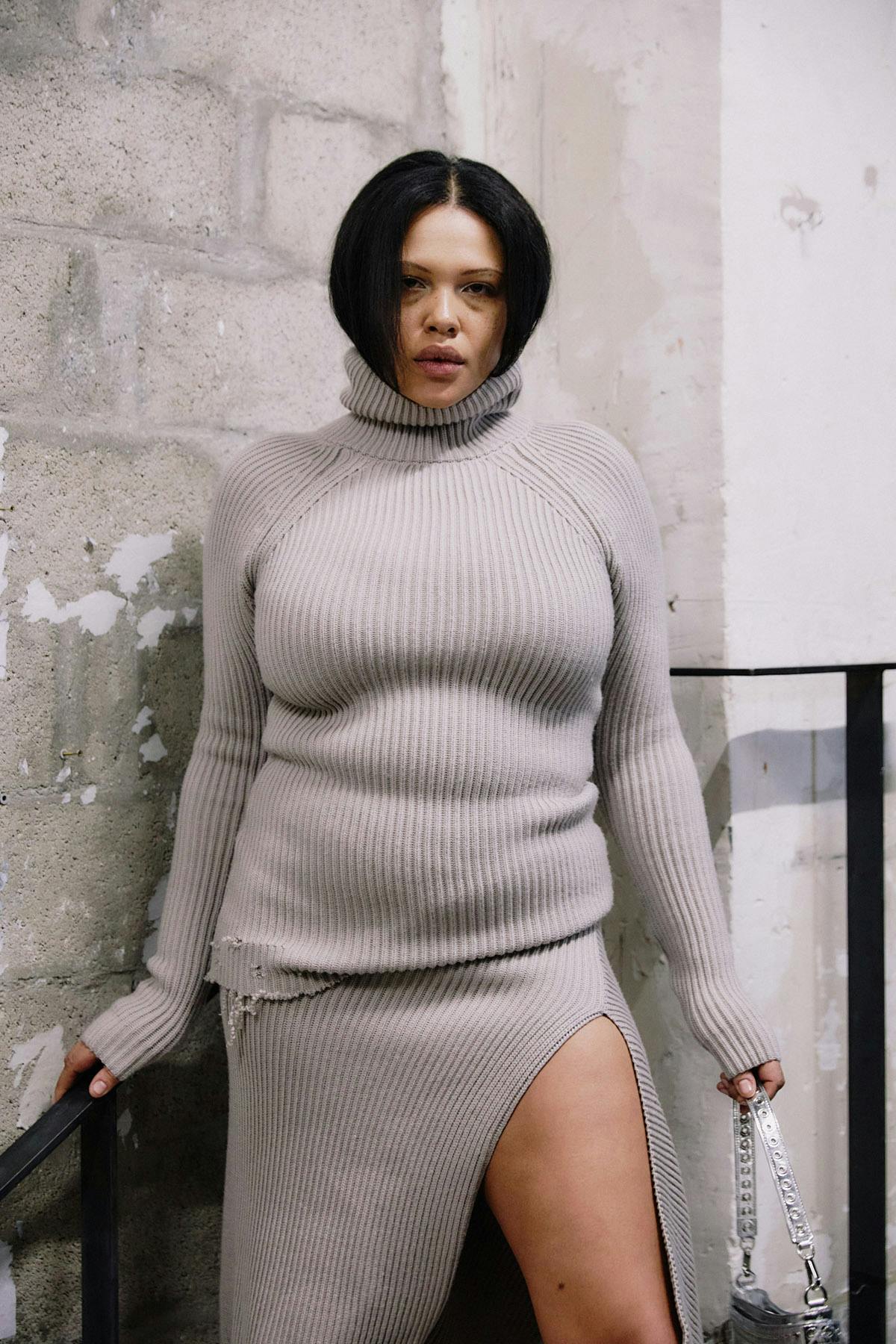 Your collections have always been autobiographical, representing a certain stage or part of your life. Can you start with the theme or inspiration for this collection and if it represents a part of your life right now?
Last year was absolutely amazing, because we celebrated our five year anniversary of the brand. It was so special. Meanwhile, I was negotiating my position for Ann Demuelemeester, which was super exciting and it all became true. It was a realization of how much pleasure and happiness fashion can bring into my life.
For the theme of this new collection, I wanted to take the time to celebrate the moment that I'm living. You know, sometimes you're working so much, you keep moving, and you don't take the time to celebrate each moment. For me, this collection is a celebration of a dream come true. The 32 year-old me [is] realizing all the dreams that my 14, 15 year old self was dreaming of accomplishing, and that's insane. It almost feels like two different people, because I still remember being that kid who was dreaming of becoming a fashion designer and dressing all the supermodels and the celebrities and all of that, and it was so inaccessible to me, because it seemed like such an impossible dream. This whole show is as if I was doing a fashion show for the 15 year-old kid that I have inside me that dreamed of having a show on fashion TV, on that screen. Does that make sense?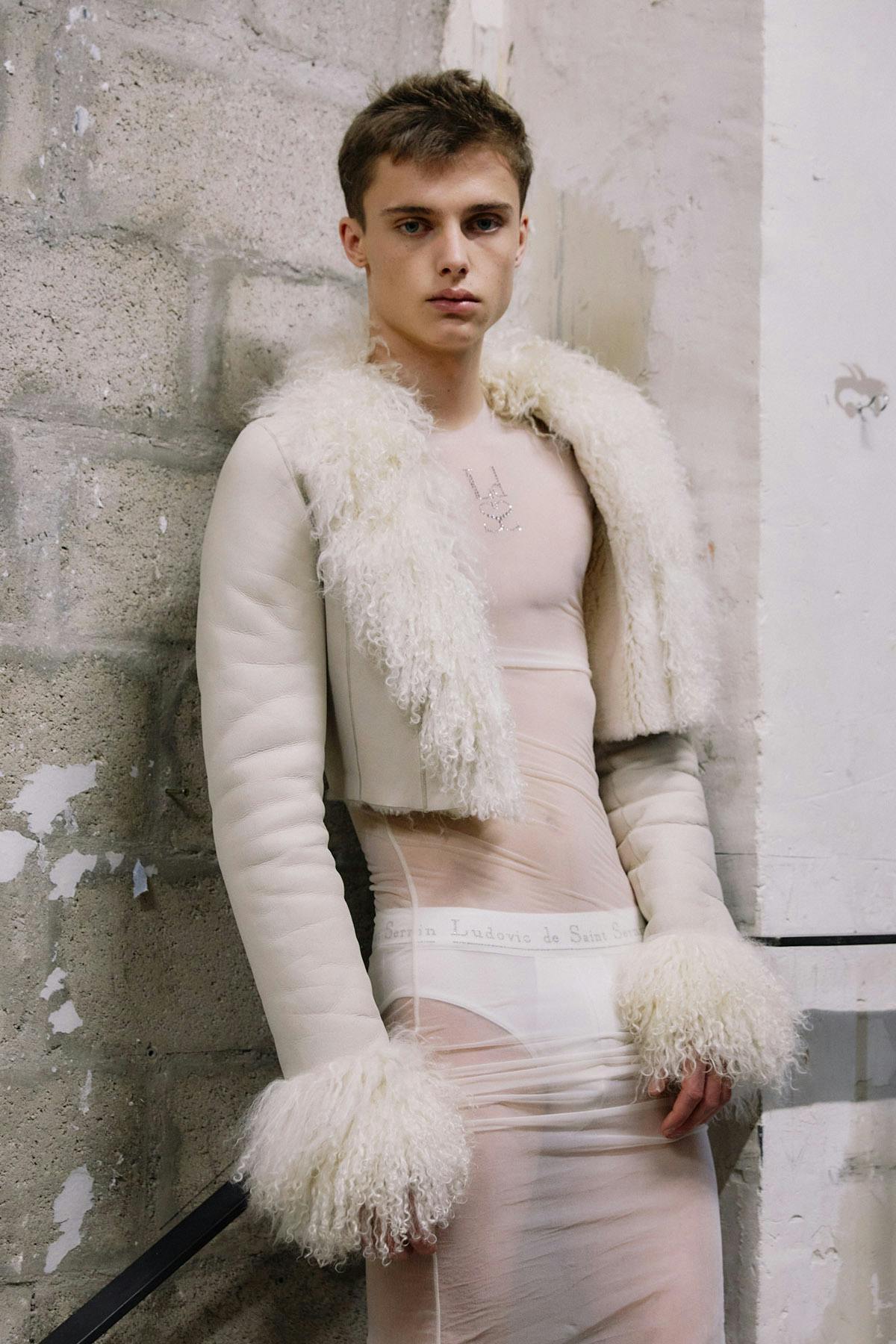 Yeah, totally.
It has a very naïve and innocent feel to it, in the sense that it's also such a different time today in fashion, where we're so heavily involved with social issues and social context and global questions and things that we have to think about that are really important. When I was growing up, for me, fashion was just playing dress-up, having fun with it, and it was a celebration and it was a fun thing, which we lost a little bit along the way.
It's interesting you say naïve and innocent, because your brand is associated with a lot of sexiness and glam. And I'm curious how a Virgo does Fall/Winter.
Well, you can be totally innocent and naïve but also sexy. Definitely in terms of LdSS in the winter, it's probably a winter in LA more so than anywhere else. We're going to have beautiful white shearling pieces. The knitwear is very comfy cozy but sexy. You'll see it's a take on something that I did in the past with crystals where it's unraveling a little bit, which is fun to play with, and then leather. I'll be honest, it's not really warm. There is not a lot of outerwear.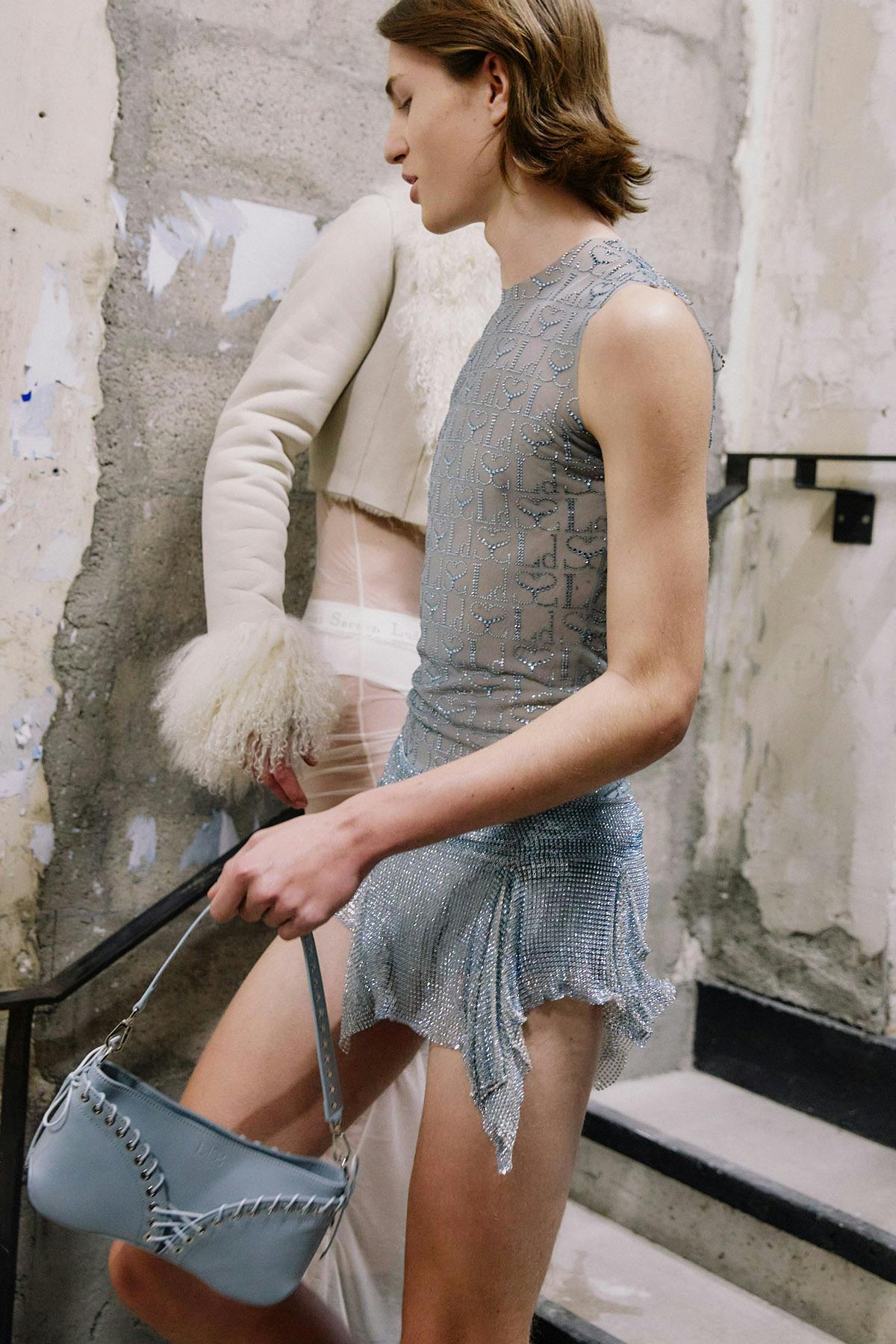 Are there any updated, upgraded signature pieces or a favorite standout item?
Last winter, we explored the monogram for LdSS, because my name is so impossible to pronounce. We're pushing the letters, the initials, on denim and also in crystals. I think [it] is so efficient and referential as well. When you become a fashion house, you have to find your monogram and your identifiable print.
This is my first interview of the year, and you're the perfect person to kick the new year off with, because at Highsnobiety, we've been asking the question, what does menswear mean in 2023? You as a designer do distinguish men's and womenswear. What does menswear mean to you? What does the future of menswear look like?
The thing is with me, like you said, my work is very autobiographical. Therefore, I look at my collections as if I were a singer writing an album, and I pour my thoughts and feelings and my heart in it. Every season is a journal of different thoughts. Ever since I started, people wanted to associate me and the work that I do with one of the leaders of bringing in new menswear and gender fluidity in fashion, and breaking the boundaries and challenging the norms. I never wanted to do it in a way where I was reinventing menswear or anything like that. I think it's amazing how there is menswear and womenswear. That's great. That still works for a lot of people, and that still needs to exist forever. My favorite part of the process is letting the wearer define or not define what they're wearing. The [more] we're growing there are also a lot more straight guys getting into [the brand]. I'm really happy with that.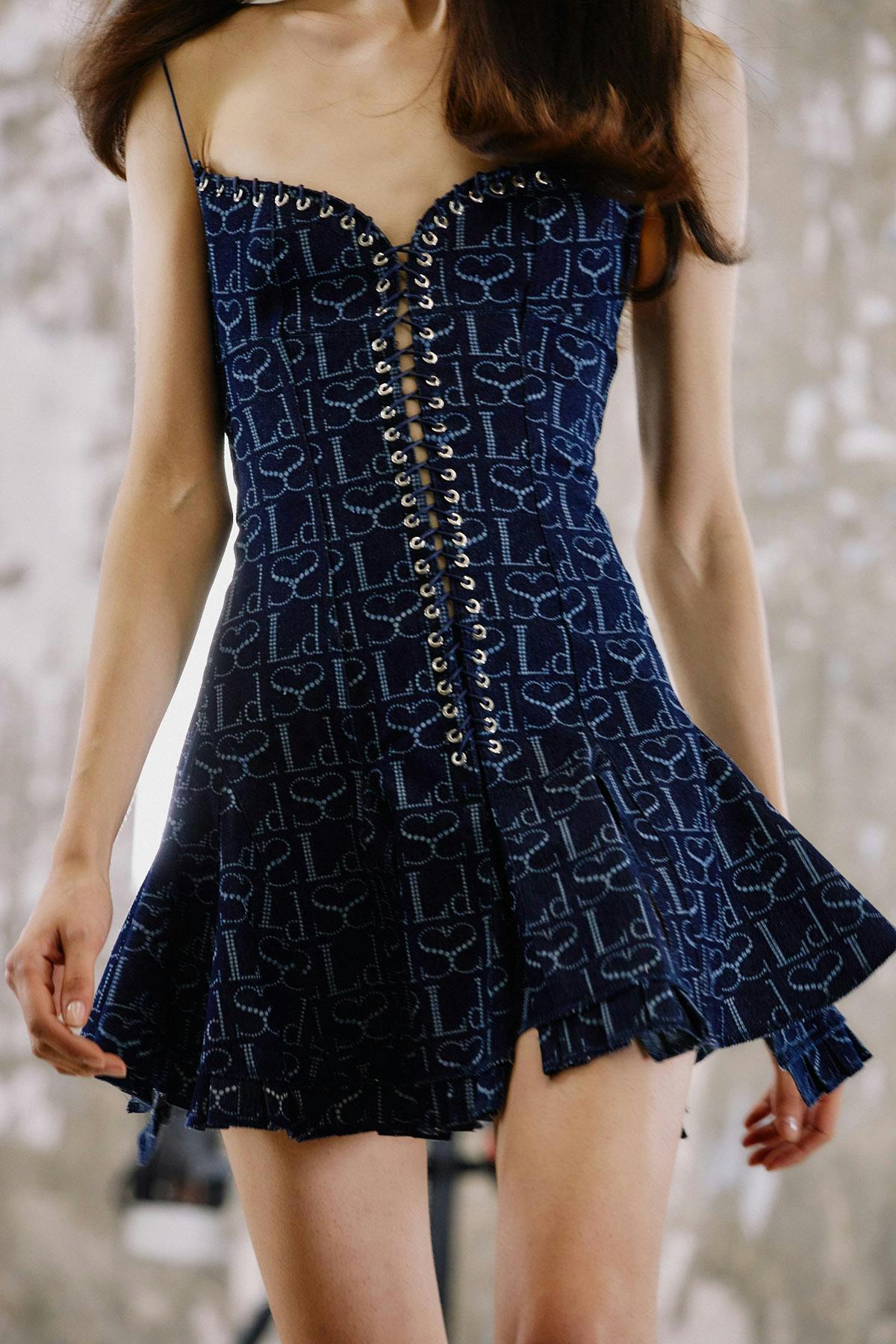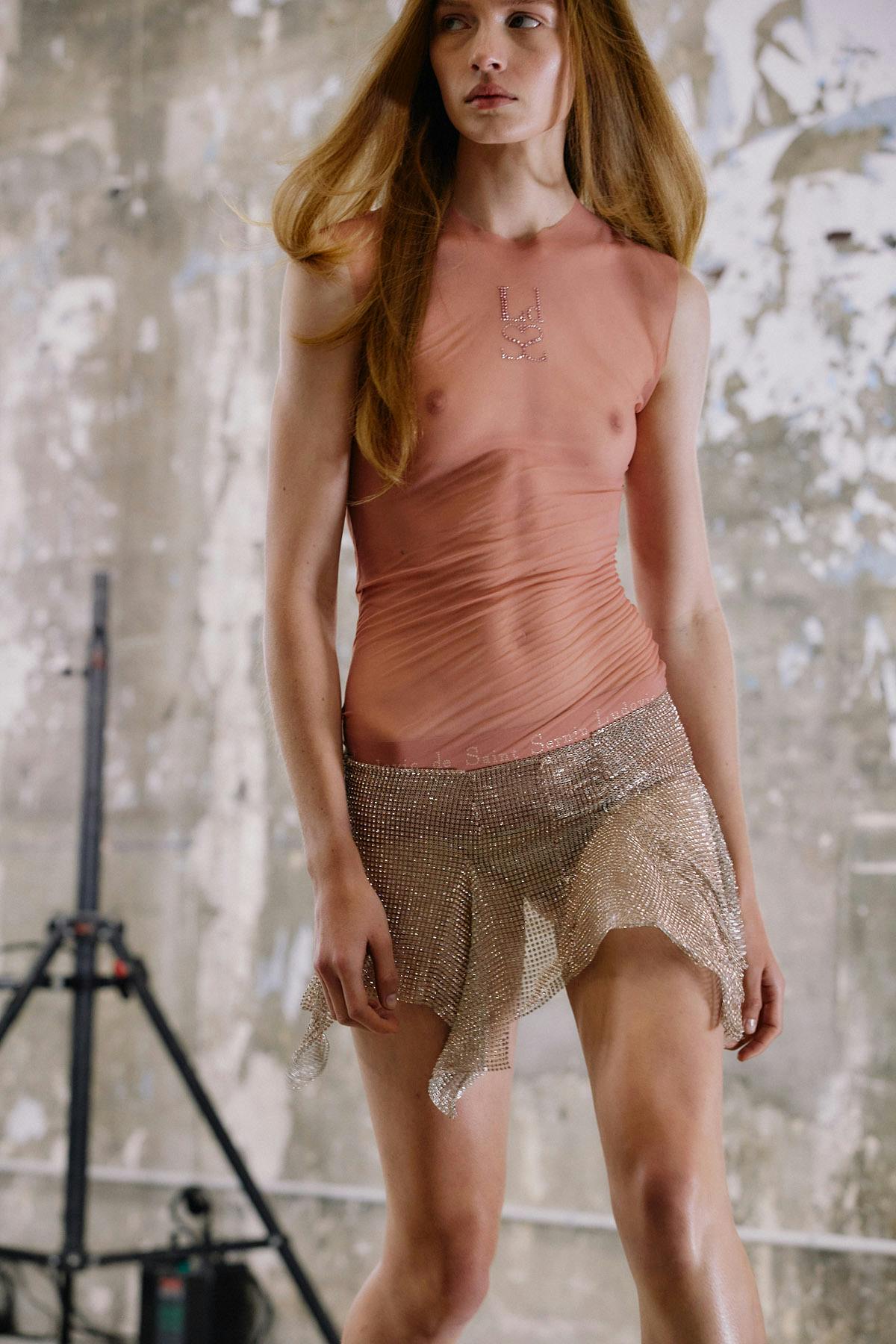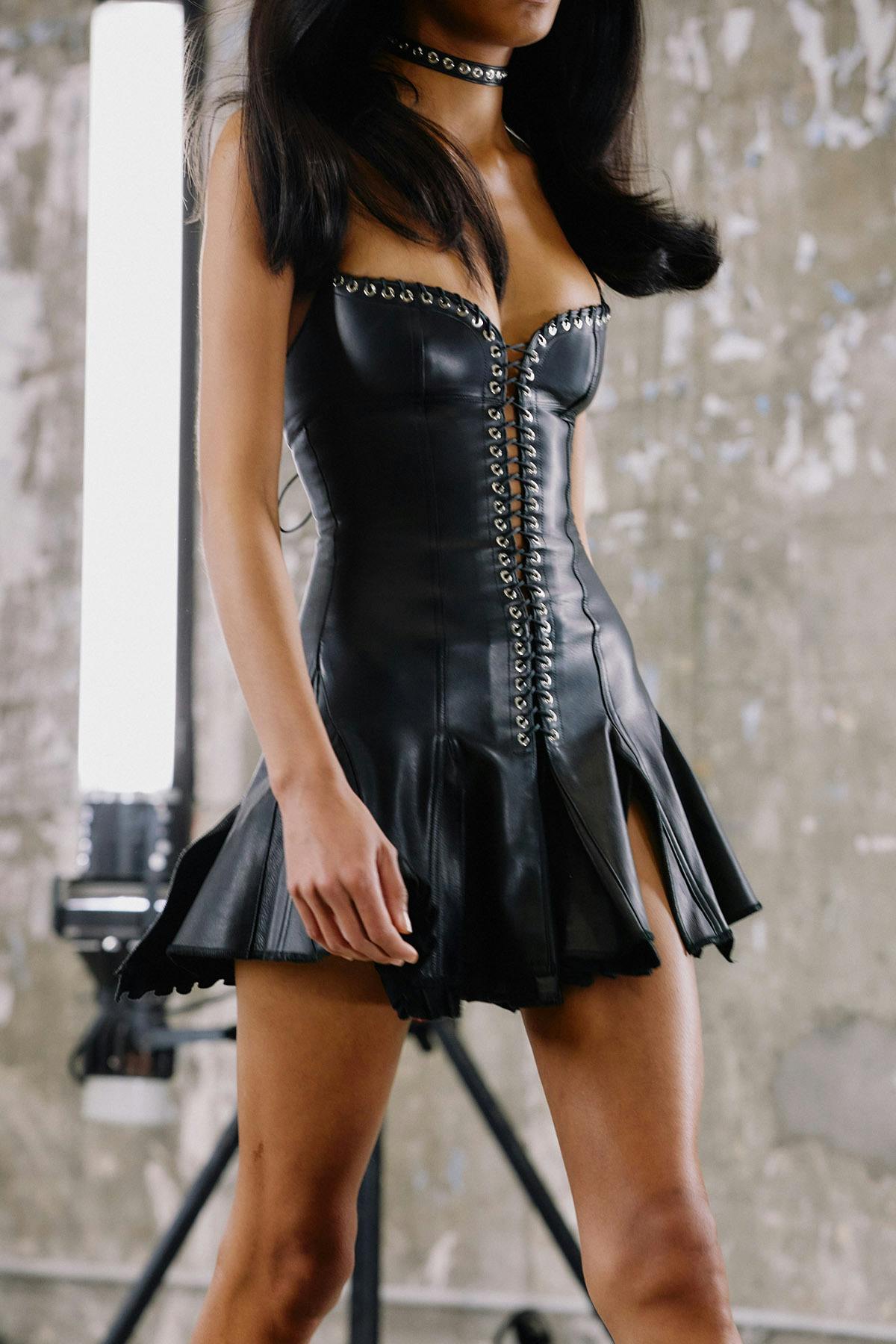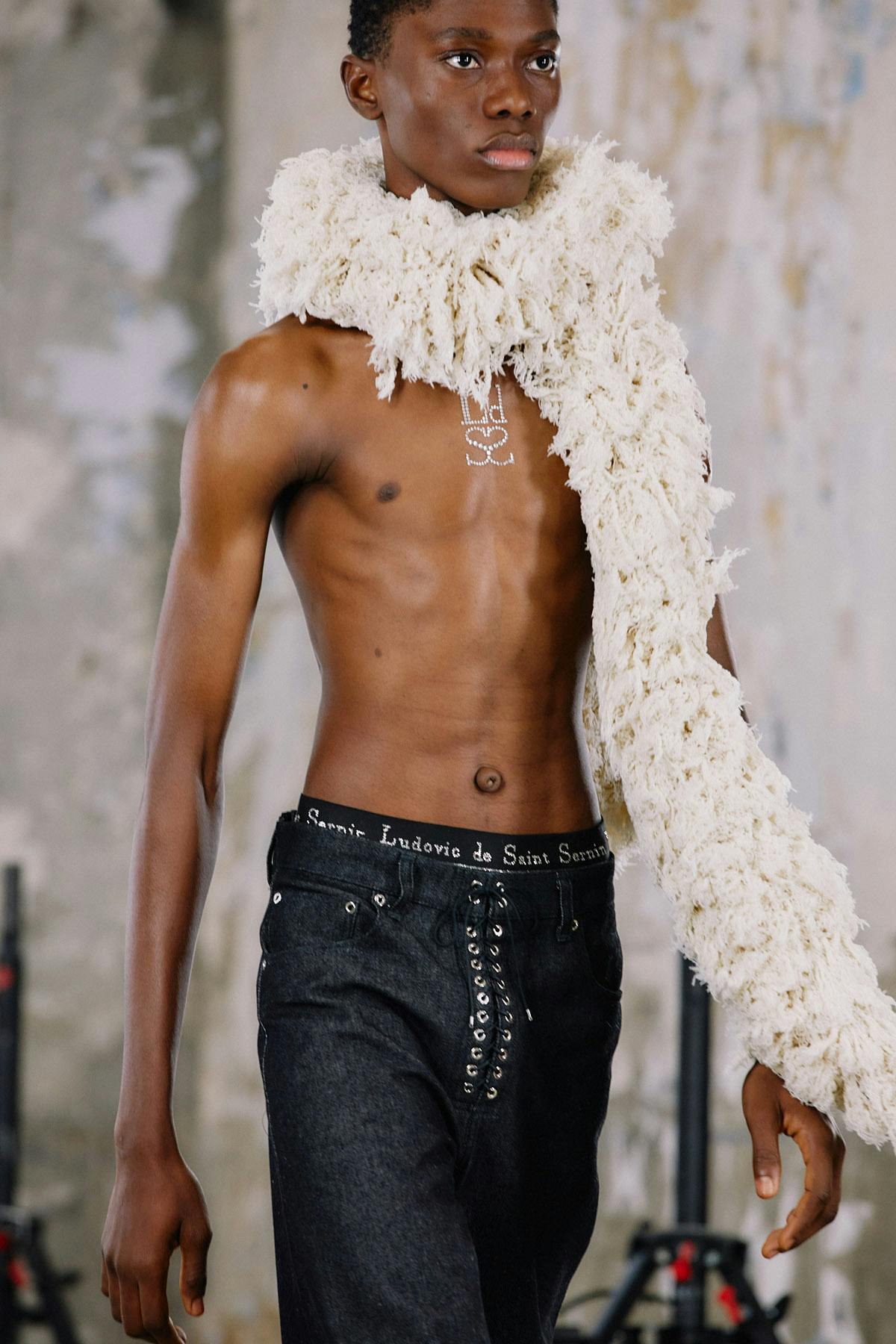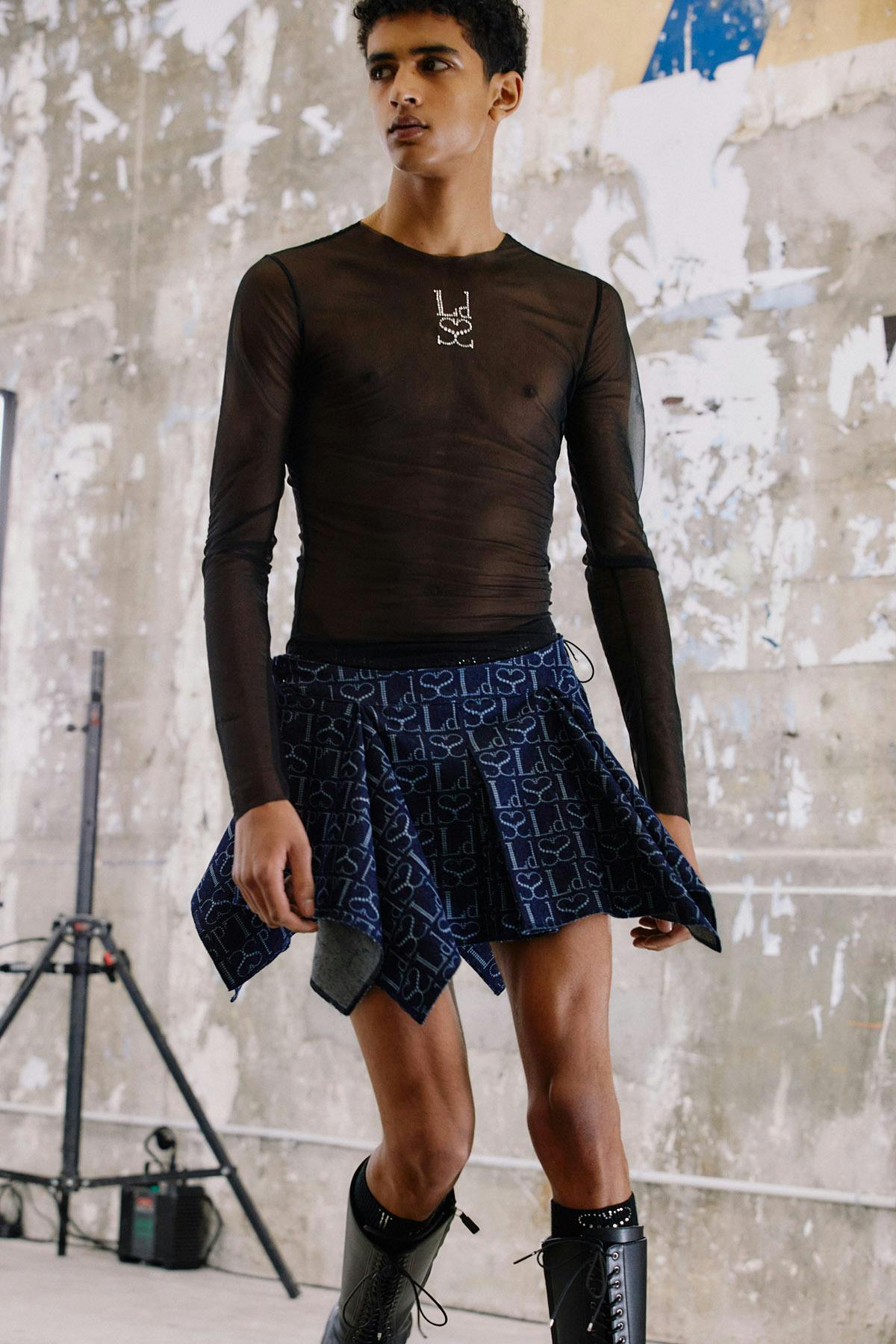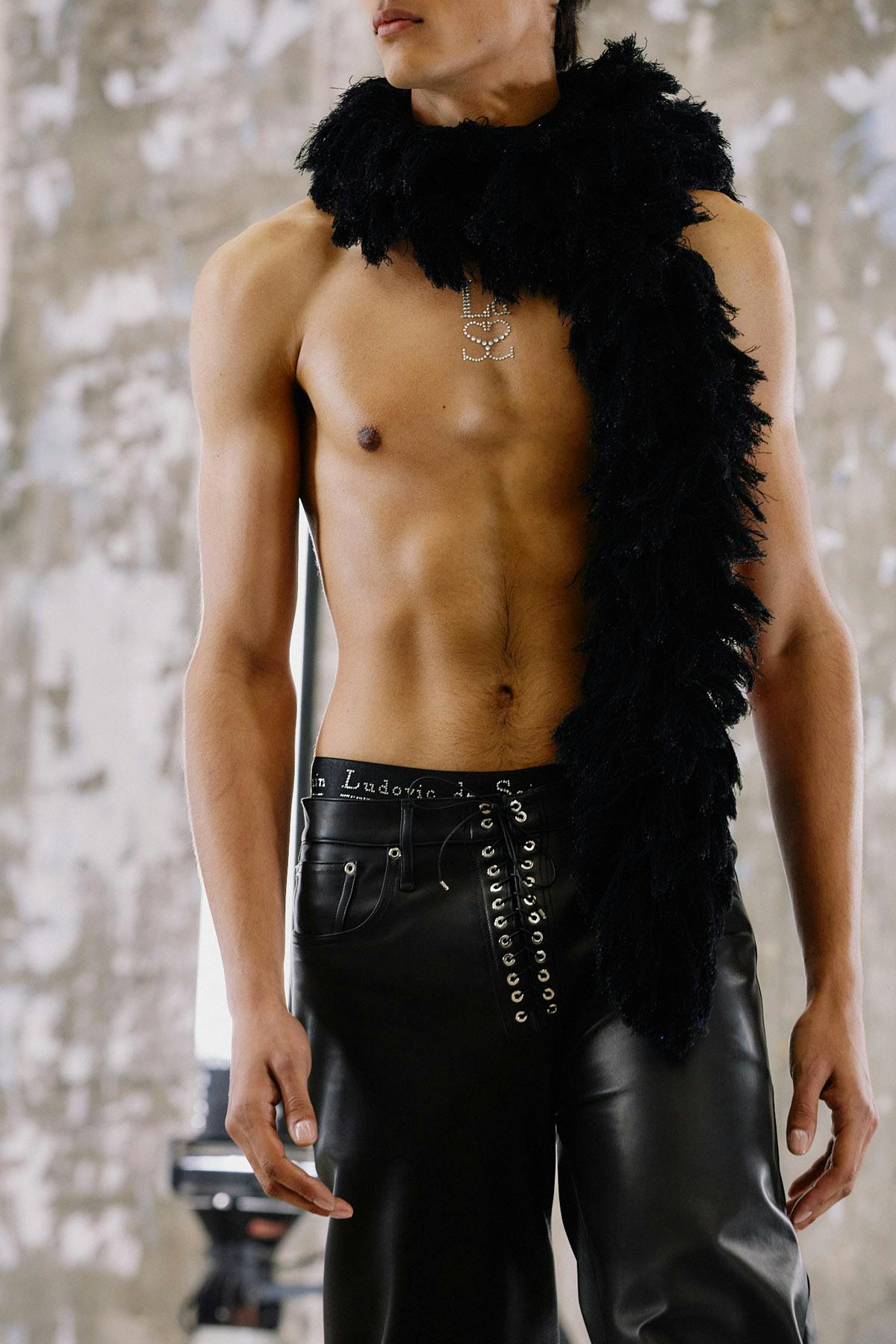 Looking at your brand, it being so confident and exuding this sexiness, I was thinking that kind of self confidence can only come from self-love and awareness. Have you, as a person, always been so sure of yourself? Because LdSS, the brand, seems so sure of itself. Does that make sense?
Yeah. Well, again, I'm going to tap into my Virgo. I'm a rising Virgo, which means I know where I'm coming from, I know exactly where I'm going, and I'm really sure of what I have to deal with today. I have a path that I'm following and I'm going to that goal. This confidence that I've had, I got from this epiphany in my head. I was never confident with my body because growing up in a very classic household, in Paris, with a very traditional education, very straight stereotype, classic education, I didn't have role models that looked like me or felt like me or have a similar body to me, because my body is kind of… I have a tiny waist and hips. It's a little bit feminine, but it's also masculine too. That was confusing to me for a long time, and I was wearing just straight T-shirts, hiding it, being uncomfortable. I never looked good. It was a slow process for sure, but it eventually got me to where I am and I'm so grateful that I get to express that and that it empowers people.
What would you say to people or young people on social media looking at LdSS who might struggle with self-love and confidence?
There is beauty within every single person, and I think that fashion in general has evolved so much since I was a kid and a teenager that, today, the uniqueness and beauty that you have within yourself is something that can be absolutely celebrated and put forward. What makes you different, makes you special. It makes you somebody to look at. Self-love comes from accepting exactly who you are, being very forgiving, not being perfect, not looking exactly the way you want to look like. We can all be a better version of ourselves but we also have to remember that, hey, let me check myself, I'm doing fine, I'm happy with that. When I'm creating collections, it's just trying to add opportunities for self love and bring happiness into somebody's life where they feel better.
This collection is really interesting, because it's almost this mid-checkpoint. It's not your 10-year anniversary but it's in the middle of that, you're stopping and looking back. How do you think you and your brand have grown since the beginning?
The difference is I'm not on my own anymore. That's a huge difference. We're also looking at the way we work and how we can make things better, more efficient. Us returning on the men's calendar is strategic in terms of business, because that means we're showing earlier, selling earlier, delivering earlier, and really wanting to [go] beyond the fantasy and the messages and the intention is also [to] develop as a business. We just launched our first-ever bag for the five year anniversary. It's going to drop in March.
We've developed more womenswear and we want to be able to talk to more people, as many as possible. The bigger the platform, the bigger the message will be. I'm also learning a lot by having that job with Anne, because I'm thinking more product, how to create long-lasting products that you can keep forever. It's exciting to see all the potential that it has and where we can take it.