Ahead of the Met Gala 2018 on Monday, we've charted the most ridiculously unforgettable outfits from the event dubbed the "fashion Oscars" or the "Super Bowl" of the fashion world. We've outlined everything that you could need to know about the event, including a look at some of the weirdest style moments in its recent history. Keep reading to see Beyoncé wear "Becky's skin" (AKA a lavish latex Givenchy dress) or Jaden Smith rock up with his own severed dreadlocks as an accessory.
Wait, What Is the Met Gala?
It's one of the most highly anticipated events on the global fashion calendar, and it's a charity benefit for the Metropolitan Museum of Art, organized by enshrined fashion deity Anna Wintour. Needless to say, it's a star-studded and painfully exclusive event, and while it raises funds for the Met, it also commemorates the Costume Institute's annual blockbuster exhibition. There's also a corresponding theme from the exhibition that influences the dress code for the Met Gala. The theme for 2018 is "Heavenly Bodies: Fashion and the Catholic Imagination", which will left up to the interpretation of the attendees.
What Was Last Year's Theme & Why Does it Matter?
Last year's event was dedicated to the legendary oeuvre of Rei Kawakubo, the reclusive iconoclast behind COMME des GARÇONS as well as the Dover Street Market retail empire. The Japanese brand was the subject of the Met's mammoth exhibition, and according to the Costume Institute, this was only the second time the Met has honored a living designer in this way—the first was Yves Saint Laurent back in 1983.
Rei Kawakubo acted as honorary chair for the event alongside Katy Perry, Pharrell Williams – who launched a fragrance in collaboration with COMME des GARÇONS in 2014 – and Anna Wintour.
COMME des GARÇONS is known for its radical reinvention of the status quo when it comes to fashion. For over three decades, Rei Kawakubo has relentlessly experimented with fashion's codes, and she's considered a revered genius. Always a revolutionary, Rei banned mirrors from the dressing rooms of COMME des GARÇONS' first retail stores. Instead, she wanted customers to focus on feel, instead of appearance. Though mirrors have since returned to COMME des GARÇONS' stores, Kawakubo's enduring commitment to reinvention remains intact.
So, now you're clued up on what the Met Gala is, prime your senses for Monday's red carpet extravaganza with a retrospective look at some of the ridiculous looks from previous Met Gala spectaculars, and of course, how the internet reacted too.
That Time Rihanna Skinned Big Bird Alive
Rihanna does more than turn heads at the Met Gala, she single-handedly sets the internet ablaze. In 2015, the Costume Institute's blockbuster exhibition explored the impact of Chinese aesthetics on Western fashion. Miss Fenty tapped Chinese couturier Guo Pei to craft her stunning ensemble, and the internet responded with some truly majestic memes.
Rihanna as an XXL pizza is as delicious as it looks, obviously.
Rihanna for brunch, anyone?
If Rihanna isn't on the menu at your local brunch joint, then simply follow the recipe below at home.
Once you've digested the glory of Bad Gal Riri, simply follow that yellow brick road.
Beyoncé Skins "Becky" Alive and Wears Her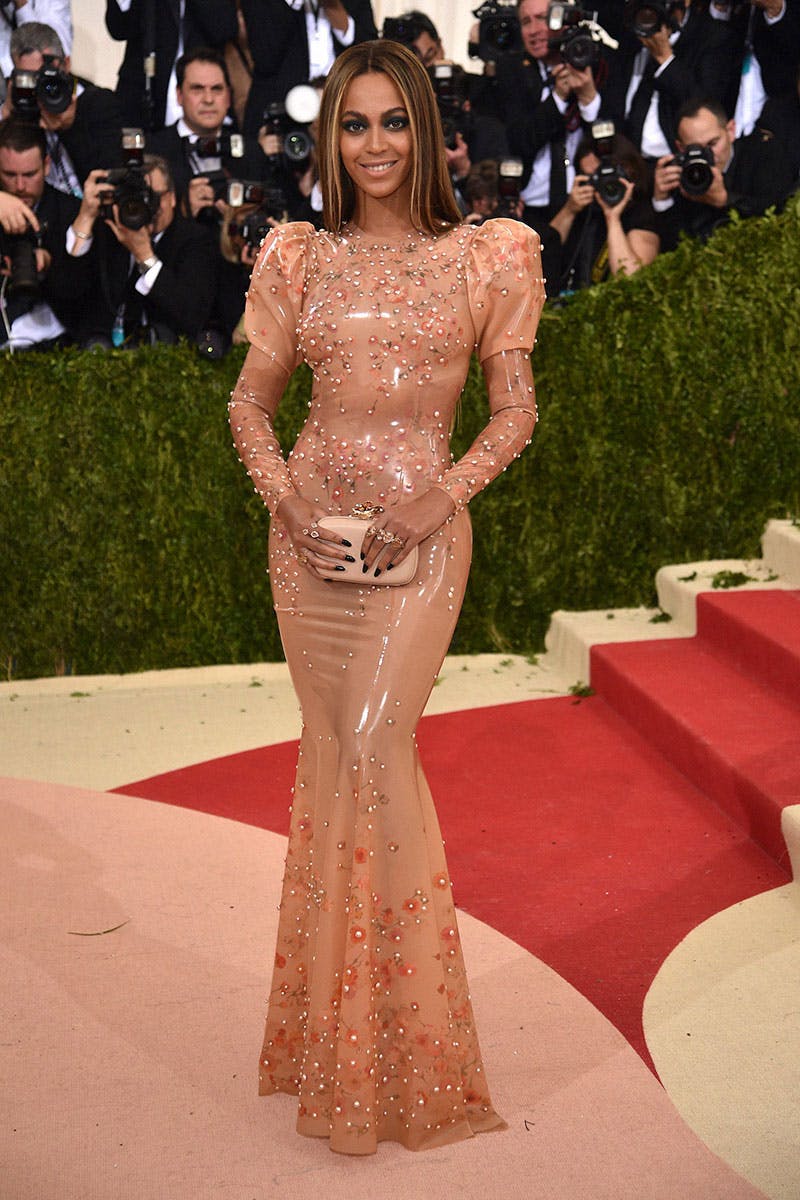 Last year, Beyoncé made a surprise appearance at the Met Gala, taking a break from her Formation world tour, hot off the release of Lemonade. Yoncé's 2016 sonic masterpiece included the single "Sorry," in which the songstress references a mysterious Becky, singing, "You Better Call Becky With the Good Hair." In another poetic interlude on Lemonade, the singer recites the words: "I can wear her skin over mine." That seems to be what Beyoncé did.
Beyonce's nude latex gown with sparkly embellishments was the work of ex-Givenchy designer Riccardo Tisci. Beyoncé, a Goddess among us mere mortals, quite literally slayed. Seeing as Beyoncé has exclusively worn Givenchy for the last five years running at the Met Gala, it will be interesting to see if she will stay with tradition now that Riccardo Tisci has departed the French fashion house.
An inside joke among dermatologists everywhere.
Kanye West and Kim Kardashian Strike Back
The Met Gala 2016 theme drew on the Costume Institute's "Manus x Machina" exhibition that celebrated the handmade and the machine-made in the creation of haute couture and avant-garde ready-to-wear. The un-official monarchs of pop-culture, Kanye West, and Kim Kardashian did not disappoint in coordinating metallic Balmain looks plucked straight from a galaxy far, far away.
Kanye opted for a double-denim ensemble, heavily brandished with achingly expensive gems and finished his look with some eerie-looking contact lenses. Kim opted for a sculpted Balmain dress, and she explained to E! on the red carpet that, "I wanted to be like a robot, a blingy, sexy robot." Suffice to say, her mission to restore peace in the galaxy was accomplished.
Kanye and his date, C-3PO set to stun and stunt.
Did Kim and Kanye really outmaneuver the couple co-ord of the century?
Solange Dresses Up As Your Fave Salty Snack
Solange might have served one of the best albums of 2016, but before she reserved you A Seat at The Table, she gave fans a moment of sartorial nourishment at the Met Gala 2016. Wearing a bold, bright lemon yellow dress by David Laport, she paired her avant-garde ensemble with matching latex leggings and pleated top. It was a bold move by Solange, and the internet wasted no time in retaliating with some dank memery, with many even comparing her look to potato chips. Rude.
Well, you can't spill all that hot tea without some snacks on the side.
Savage, but accurate.
Kim Kardashian or Mrs. Doubtfire?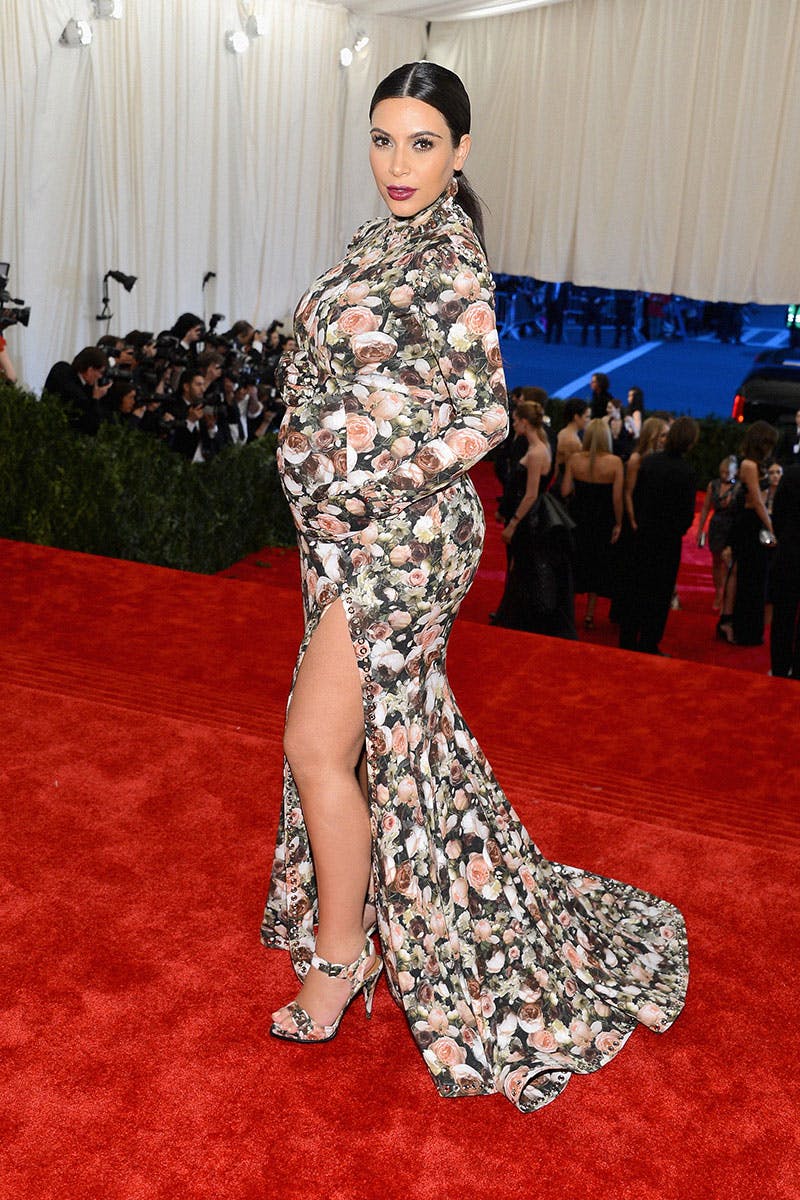 At the 2013 Met Gala, a heavily pregnant Kim Kardashian glowed in a custom Givenchy dress, subverting the "punk" theme of the event with a deliciously dark take on bohemian florals. Of course, the internet wasn't having it and quickly responded with many a meme.
There's no doubt Kim Kardashian inspired plenty of interior re-designs in 2013.
Many on the internet, including the late comedian Robin Williams himself, made comparisons between Kim and Williams' iconic namesake character in Mrs. Doubtfire. Who wore it better?
Zayn Malik Goes Full Winter Solider
Former Highsnobiety cover star Zayn Malik took 2016's technology theme at the Met Gala pretty seriously. He showed up to the red-carpet armed with a bionic-esque metallic arm courtesy of Versace. Of course, the internet went into complete meltdown over his cyborg herculean look. Who was he channeling? The Terminator? Bicentennial Man? Forrest Gump? Half-robot and half-man?
Luka Sabbat hit back with some brazen sass.
An utterly savage meme-based analysis of a blossoming relationship.
Sultan SJP Goes Full Blown Jafar
Alongside Rihanna, Sarah Jessica Parker of Sex and the City fame was among the most meme-d at the Met Gala. Sarah Jessica Parker's Philip Treacy Custom headdress had several social media onlookers comparing it to the flame emoji and Disney villain Jafar from Aladdin.
Linguists have already speculated whether emojis could become the language of our generation, so SJP was seriously ahead of the curve with this one.
An unlikely coupling where Rihanna's epic omelet ensemble requires the heat of Sarah Jessica Parker's fire emoji-inspired headpiece.
Nicki Minaj Gets Sado Sexy
Many mega pop stars attend the annual Met Gala at the invitation of designers and fashion brands who put down a few hundred thousand dollars for a table (it's for a good cause, after all). Last year, Nicki Minaj and Demi Lovato attended the festivities as the dates of Jeremy Scott, creative director of Moschino.
Before Nicki threw some stingy shade at an unsuspecting Demi, the rapper put on a buxom display on the red carpet in a sheer, strappy Moschino gown.
João Paulo, a 23-year-old blogger and style genius from Salvador, Brazil dared to bare all and recreated Nicki's show-stopping ensemble below with some DIY imagination and the result is utter art.
That Time Marc Jacobs Forgot To Wear Clothes
In 2012, Marc Jacobs wore a bizarre (but stunning) sheer COMME des GARÇONS lace dress shirt, revealing his naked body and white boxer briefs. Though it was certainly a questionable style decision, it was a bold move for Jacobs to subvert the archaic tuxedo dress code that every other male at the event upheld that year.
Since then, style choices among men at the Met Gala have become a lot bolder, and fashion more broadly has become way more transgressive in terms of queering gender binaries on the runway.
Katy Perry Wore a Tamagotchi
Last year, pop siren Katy Perry was co-chairing the Met Gala, but let's look back to the year before when she opted for a gold-embellished Prada number. The dress was decked out in plenty of glitchy gadgets, and she even wore matching Tamagotchis with then-beau Orlando Bloom. To seal off her techno-witchy vibe, Katy bleached her eyebrows and sculpted her hair into a gothic Marge Simpson-inspired do.
Of course, the internet has no chill and managed to compare her to look to Chicken Run-inspired hen-house couture.
Jaden Smith Accessorizes with His Own Dreads in Hand
Practicing philosopher and former Highsnobiety cover star Jaden Smith riled fansafter shaving off his dreads for an upcoming role in the movie Life In A Year. Never one to disappoint, Jaden took to the most exclusive event on the fashion calendar wearing Louis Vuitton and clutching his old dreads in hand. While it is a very post-modern accessory, we don't quite understand why he felt shorn locks of his hair somehow honored the "Art and In Between" theme, but we're sure Jaden will follow up with an appropriately symbolic move for 2018 come Monday evening.
Here's everything we know about the Met Gala 2018.