The latest installment from Moncler's on-going Genius project, 2 MONCLER 1952, has been revealed and, while previous Genius collections have pushed forward a narrative of experimentation (last month's Craig Green for example) or street savviness (the inaugural Fragment Design collection as case in point), the latest is very much defined by a spirit of regeneration.
Shot by rising Berlin-based photographer (and frequent Highsnobiety collaborator) Vitali Gelwich, the collection itself is named after the year in which the famous luxe skiwear label was founded in the Haute Savoie mountains of the French Alps. The 1952 collection revisits and reinterprets the type of brand signatures that make Moncler the iconic, fun, and eye-poppingly theatrical label we know it is. Forever a staple of fashion-conscious skiers and the Italian paninaro kids of the '80s, it was arguably these two cultural-sartorial pillars that have sustained Moncler's cult-luxe status.
2 MONCLER 1952 is therefore dominated by two of the label's icons: the logo and the puffer. While the logo gets blown up to ironically exaggerated proportions, Moncler's signature jacket is reapplied in bright and glossy vitamin colorways: orange and deep purples rub up against minty greens, a bunch of reds, and blues. And if it's not colorblocked, the remaining pieces are swathed in mosaic patterns, Navaho motifs and, referencing Moncler's skiing heritage, bold patches call out legendary ski-resorts St Moritz, Aspen, Gstaad, Zermatt, and Megève on Tees and sweats.
The Moncler Genius project was the brainchild of Moncler CEO and Chairman Remo Ruffini who famously continues to lead the brand to continued success. Divided into eight collections, or 'sections', each draw upon and involve an array of differing creative inputs— whether in-house collection designers or independent outside names like the aforementioned Green or streetwear 'godfather' Hiroshi Fujiwara. Further upcoming projects involving Palm Angels (whose founder Francesco Ragazzi has been working at Moncler for over a decade), Pierpaolo Piccioli, and Simone Rocha are due in the coming months.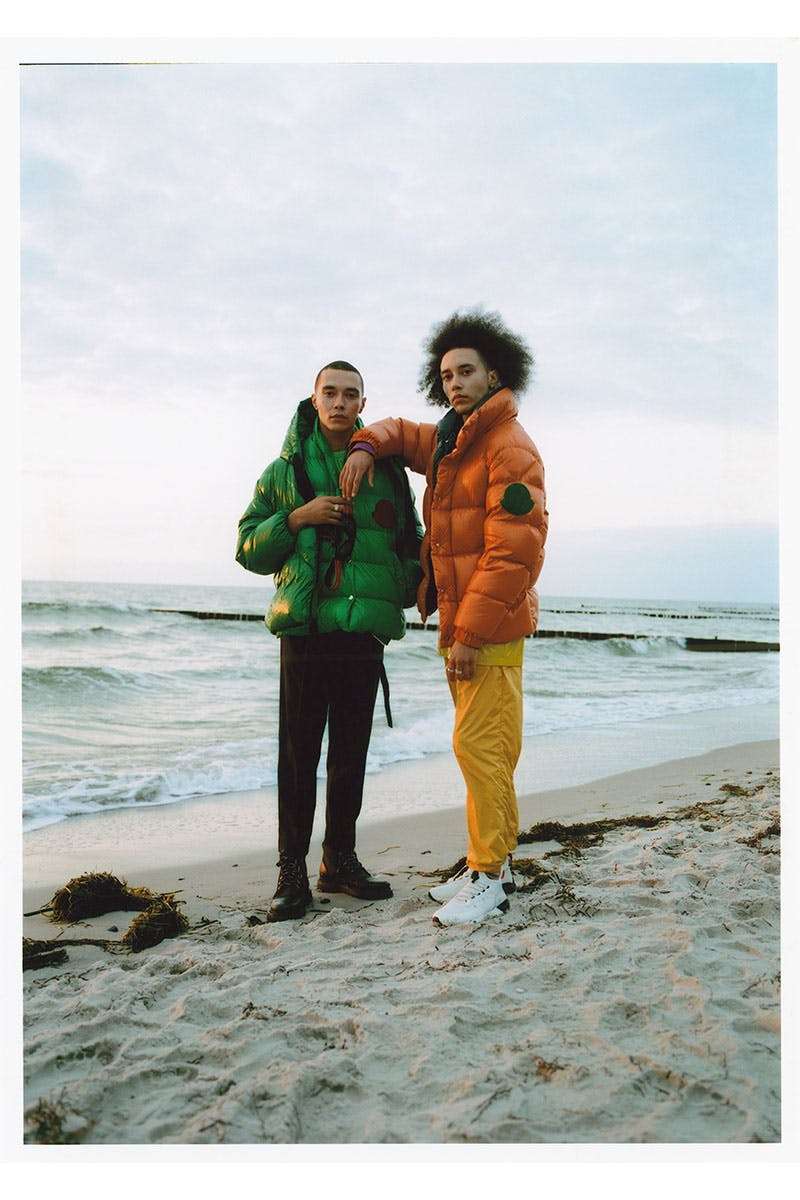 However, the drops happen seemingly at random, but occur at a frequency that means that every month there's something completely new coming out of Moncler. "Our approach is monthly, weekly, daily. An approach which considerably reduces the time that elapses between the collections' presentation and when they actually arrive in the stores," adds Ruffini. "We have overhauled everything, by overcoming the very concept of seasons."
"The world has changed," he adds. "The digital era has given us a new strength. The consumer wants a less filtered, more direct and above all a continuous relationship."
All Moncler Genius collections have been making their appearance in Moncler boutiques and selected shops and department stores since June 2018 and will continue to drop throughout the year. They'll then be brought together in Moncler flagship stores and special Moncler Genius temporary stores in New York and Tokyo and in pop-ups around the world.
However, right now, the 2 MONCLER 1952 collection is available from Moncler.com, matchesfashion.com, and ssence.com.