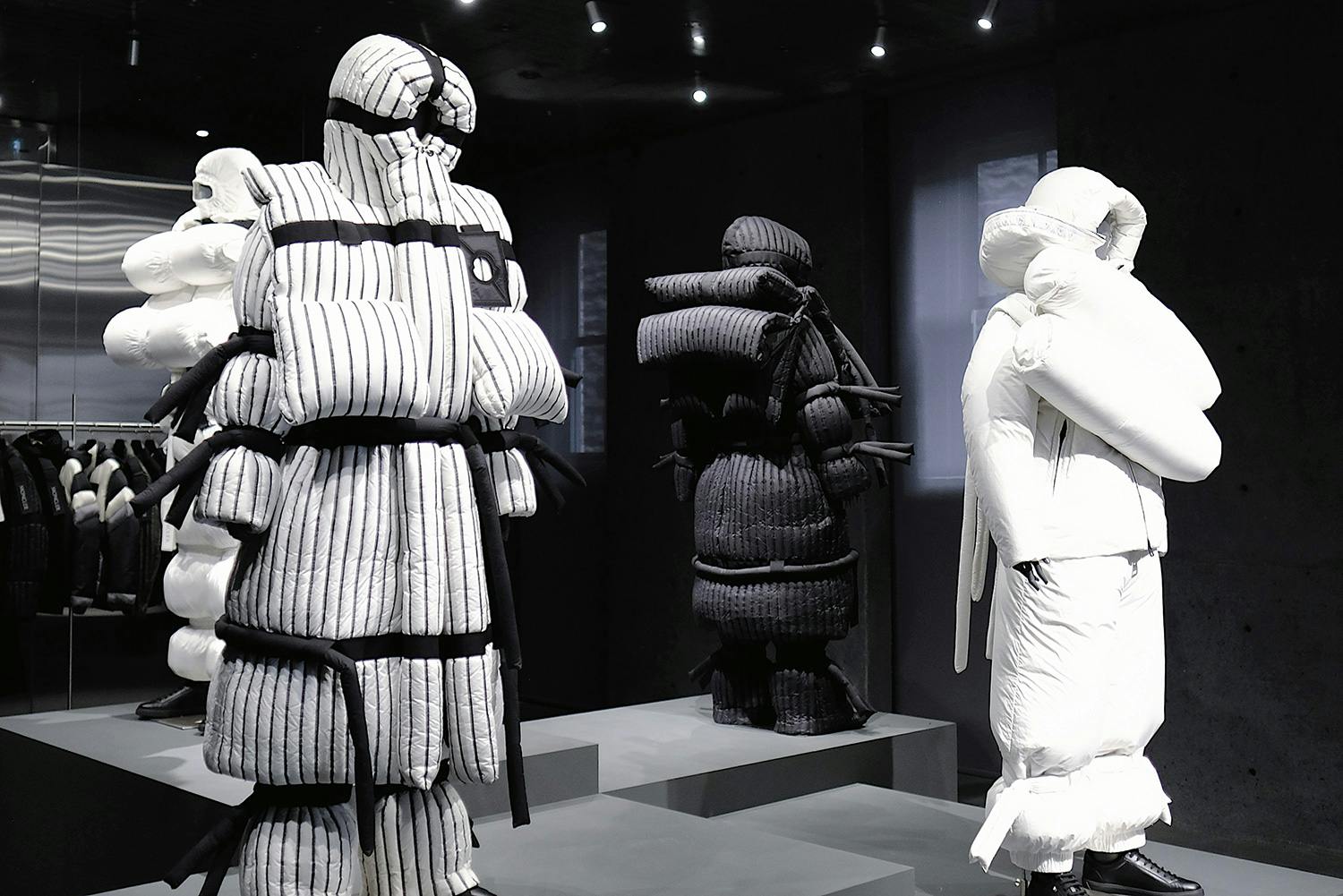 This week SSENSE Montréal unveiled an exclusive retail/art installation in celebration of Moncler's new collaboration with British fashion talent Craig Green, the latest release in the historic outerwear label's ongoing Genius project. Taking shape as a recreation of the 5 Moncler Craig Green global debut at Milan Fashion Week, the Canadian fashion-platform transformed their physical space into a dark, brooding environment highlighting Green's extreme reimagining of Moncler's iconic down-filled product.
Set against the brutalist grey concrete of SSENSE's building-within-a-building by architect David Chipperfield, a living, breathing "pumping tower" by sculptural designers Isabel + Helen sets the stage for an otherworldly, immersive experience. Droning with a pulsing frequency that can be heard faintly from down the block, the "breathing" sound gets increasingly louder until you realize it's a three-story tall, rising, falling (and slightly terrifying) "lung" heralding your arrival into the conceptual world of 5 Moncler Craig Green.
Four padded suits stand on guard at the end of a dimly lit concrete hallway, engulfed in ambient, mechanical sounds by Frédéric Sanchez. The looks bring to mind a range of interpretations: from inflated Japanese warriors or sumo wrestlers to human life-rafts or swollen space suits. Or, of course, the Michelin Man. Someone even mentions a Tardigrade.
While the central focus of the installation is on Green's lofty, futuristic vision of "clothing as protection," racks along the walls are lined with a selection of more commercially viable 5 Moncler Craig Green pieces, which in a pragmatic sense, offer Green and Moncler protection from a business standpoint as well. Incorporating elements from Green's highly praised namesake label, the garments display visible stitching and quilting, mixed with symbolic and functional elements designed for extreme conditions. Although, even with his most extreme takes, Green's immense down-filled gear doesn't feel too far-fetched for a proper (-40C) Montréal snowstorm.
We caught up with Craig Green at SSENSE to discuss his sculptural creations with Moncler.
The key comment you made on this collection was how you have always explored ideas of protection and functionality, and that is something that is also at the core of Moncler's heritage. Can you expand on how you're pushing these ideas further with this collection?
Craig Green: Whilst discussing the first collaboration with Moncler (Moncler C) and through researching deeper into their brand history, I realized that Moncler at its core is about protection and functionality, with a strong heritage of protecting from the elements, winter sports and extreme expeditions. Alongside this are down-filled garments that have been developed into modern highly functional lightweight apparel, easy to pack and travel with.
I have always explored the idea of protection and functionality within my own collections; the similarity between the two brands is what I thought could be an interesting mix for the collaboration. For the FW18 collection we explored the most extreme ideas of protection: isolation tanks, life rafts, life vests, the internals of spacesuits. Developing the shapes of the collection through the layering of these protective devices and garments to create full-body protective suits.
Moncler has a clear performance-based history, were you able to take things to a higher level with their technical expertise?
Through working with Moncler I have learned a lot from their technical teams - the level of expertise and knowledge is really impressive. The heritage of Moncler alongside the performance aspect of what they are able to achieve is incredible. We explore the potential in feather-down technologies, which is a process like no other garment construction. Learning how to work within the limitations and how to embrace the potential possibilities is something really exciting to me.
These garments feel like functional sculptures or, as you say, life vests or life rafts. Your FW17 campaign featured a group of five humans creating a life raft in rough waters. Can you expand on what this means to you?
I think that everybody wants to feel protected in some way, both physically and mentally.  I am fascinated with clothing as a protective layer, clothing for work or a purpose, clothing to shield and to protect from the elements. At the same time, I am also interested in the idea of uniform being a form of protection, feeling that you belong to something or part of a group.
Was there any specific place or culture you drew inspiration from for these pieces?
There was a lot of brutalist architecture in the collection research; tension and contrast between things that were very light and very heavy.
My favorite building in London is the Hayward Gallery, and the idea of structural weight was definitely present in our Genius show installation in February.
Canada and Montreal specifically are known for their harsh winters. I can envision one floating through the Montreal streets in one of these, completely immune to the elements. Was that a conscious choice in launching in Montreal?
The FW18 collection is based around the most extreme ideas of protection, so it made sense that we would launch somewhere that experiences the most extreme weather. Montreal as a city and the incredible brutalist concrete interior of SSENSE Montreal made for the perfect setting.
Do you see these garments being worn in the street - as we saw with your slightly less lofty bubble jacket (worn most-famously by Skepta) - or do you view it more as conceptual fashion with something of a streetwear drop model?
The collection that is presented is the most extreme and direct expression of the ideas that run through the whole collection. I have always believed that a show should be a show, although it is also important that this story translates into more accessible pieces available in store. I have always liked the tension between reality and fantasy, something I always explore. It's really important to dream, but equally important to have a sense of reality.
The 5 Moncler Craig Green installation is now on view at SSENSE Montréal (418 rue Saint-Sulpice) until September 10. The collection is available in-store and online through both SSENSE and Moncler now.
For more 5 Moncler Craig Green see our editorial photographed by Vitali Gelwich here.