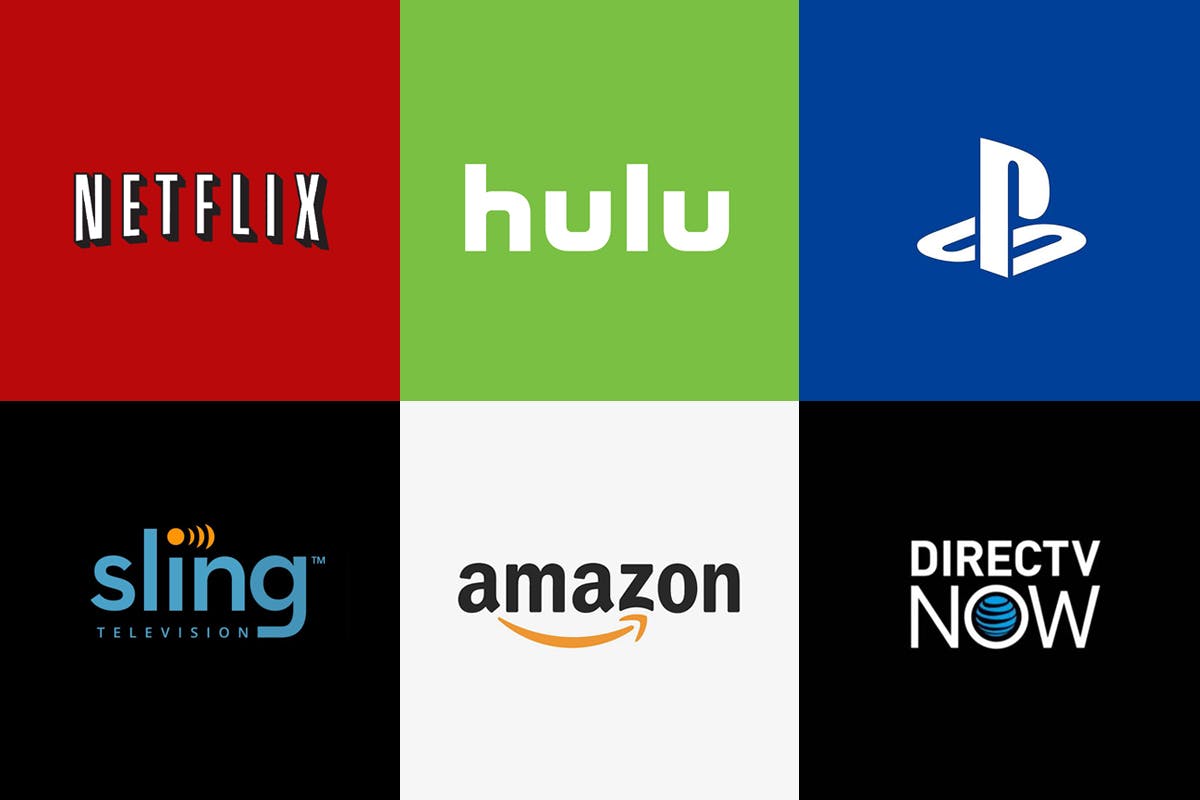 It might sound crazy, but 2017 officially marks the fifth year of the Cord-Cutting Revolution. By that, I mean 2012 was the very last year traditional TV subscription services saw an increase in customers. From 2013 onward—thanks to the rise of streaming services like Netflix, Hulu, Amazon Prime and others—there has occurred a steady decline in paid TV.
With streaming studios even beginning to fund and release their own original content to varying degrees of success, and with TV companies answering back with, well, nothing, it seems like we really are beginning to see the end of the American—nay, global—broadcasting network.
Personally, far as I'm concerned, fuck 'em. If you're reading this article and haven't gotten into a petty shouting match with your cable provider over some bullshit in your lifetime, please raise your hand. I'll wait.
… Nobody?
Which brings me to my point. The streaming frontier is a beautiful and plentiful one, filled with a varying degree of options for every adventurous media consumer. Of course, with such a bountiful offering, finding the right streaming service for you can be difficult. Until now. We've compared the leading (and some of the smaller) services out there, so you don't have to. You can thank us later.
Netflix
The beginning of it all and still one of the primary contenders, Netflix is a streaming service popular for its wide variety of new and classic movie and television titles, as well as its groundbreaking self-funded content.
There are three subscription tiers. The Basic subscription, which is $7.99 per month, is for one standard-definition stream to Netflix's expansive library. The Standard subscription is $9.99 per month and includes two streams, as well as HD content. The final tier, Premium, is $11.99 per month and includes HD and Ultra HD content, along with four streams.
On the whole, Netflix is an excellent value for what subscribers get. You're guaranteed dozens of new titles every month, and because the company is investing heavily in its self-funded studios, it's coming out with some incredible original content. Shows like Narcos, Orange is the New Black, Santa Clarita Diet, Trailer Park Boys, Stranger Things, The Get Down, House of Cards and Master of None (and many others, frankly), along with some incredible documentary film work, standup comedy specials and even full-length feature films put it deep into the running for best streaming service.
The only drawback is that, while it does offer plenty of hit TV shows—Breaking Bad, Better Call Saul, The Walking Dead, Sons of Anarchy and Shameless to name a few—it does not offer live streaming. For current shows, previous seasons are only released a few days before the debut of the show's new season on network TV, which means if you're a Netflix subscriber, you're at least a year behind on the world's most popular television programming.
Hulu
If you're a TV buff who wants to remain up to date with your favorite shows when they debut, Hulu is a solid selection. While Hulu can't touch the amount of titles or the original content Netflix is putting out, it's a contender because of its unbeatable industry partnerships. In total, Hulu LLC is owned by NBCUniversal, Fox Entertainment Group, Disney-ABC Television Group and Turner Broadcasting System. So, while Netflix subscribers have to wait months or even years for the latest episodes of their favorite TV shows (and that's if Netflix can get them), Hulu subscribers can usually get them the very next day.
Hulu comes in at two price points. For $7.99 per month, you get everything Hulu has to offer, including its day-after (or thereabout) access to the most popular TV shows out there, as well as its own selection of available movie titles and its own original content. For $11.99, subscribers get all that, but in an ad-free platform.
Hulu also offers an add-on program, where if you spend another $8.99 a month, you can have access to all of Showtime's best content, too. So there's that.
I can't say Hulu is a direct competitor of Netflix's because it can't compete where Netflix excels (the massive offering of movies and television, and the award-winning original content), but shines in an avenue that Netflix has no vested interest in (making all your favorite TV shows available right after they originally air).
Amazon Prime
Netflix's hands-down biggest competitor, Amazon Prime is particularly dangerous because it's already included in everyone's yearly $99 Amazon Prime subscription. So, aside from having access to all of Amazon Prime's video streaming titles, you also have access to tens of thousands of songs and albums on Amazon Prime's music streaming service, along with the free two-day shipping option for which the platform first became known. You can also opt just for the Prime Streaming service for $8.99 a month, or add two-day shipping to the monthly fee for another two bucks (that's $10.99/month, for the numerically challenged among us).
While Amazon won't give estimates about the number of videos or visual content available on its platform (none of the services do, really), it's estimated that it has something like three times the streamable content Netflix does. However, as the statistics point out, not all of Amazon's streamable content is worth watching.
Nevertheless, Amazon is also investing big in its original content, with hits like Bosch, The Man in the High Castle, Transparent, Sneaky Pete and Mozart in the Jungle rounding out top spots. While they aren't quite the self-funded powerhouse Netflix is, they're slowly but steadily putting all the pieces together.
Amazon's strength comes from its added perks. For less than what you pay for Netflix every month (if you get the yearly subscription), you're getting a whole hell of a lot more than just a streaming service. Additionally, thanks to Amazon Channels, for additional monthly fees, you can get access to the latest programming from premium channels like HBO ($14.99/month), Cinemax ($9.99/month), Showtime ($8.99) and others.
If you're looking for bang-for-your-buck value, Amazon Prime is probably your huckleberry.
Playstation Vue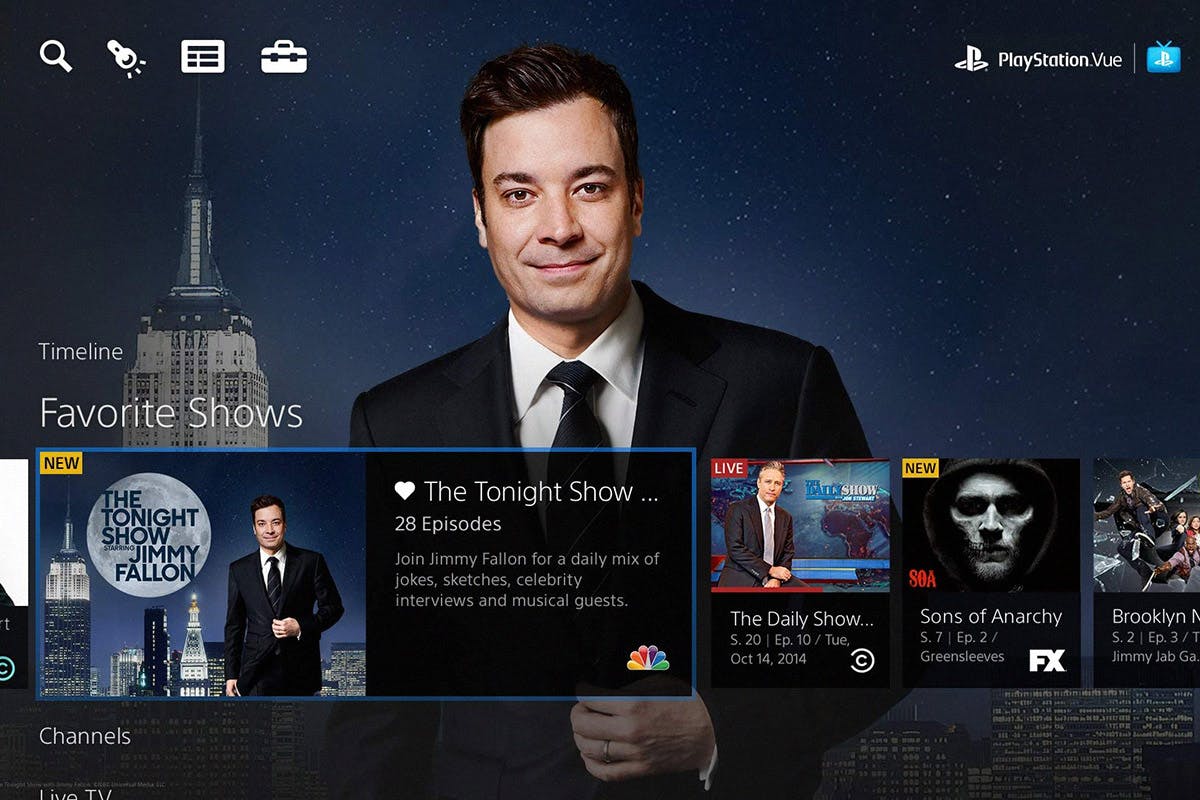 People talk a lot of shit about Playstation Vue, but for what you get, I think it's a pretty excellent service. First, let me mention that it's the first TV/streaming service I've mentioned here that has live TV viewing. So, if that kind of stuff is important to you, then the Playstation Vue may very well be ideal.
What many people don't like right off the bat about Playstation Vue are its price points. Compared to $7.99 for Hulu and $9.99 for Netflix, paying anywhere from $39.99 to as high as $74.99 a month for PS Vue seems crazy.
However, it's important to understand that PS Vue is more like a standalone cable subscription than a Netflix-esque streaming service. When framed inside of that perspective, the pricing suddenly becomes super reasonable. That, coupled with the fact that there are no contracts with PS Vue and that it's a monthly package that can be canceled at any time makes it suddenly attractive.
For the basic $39.99-per-month Access subscription, users get over 45 popular broadcast, cable, movie and sports channels in complete HD, including AMC, FX, CNN, BBC America, ABC, FOX and others. For the Core package at $44.99 per month, subscribers receive access to have 60 channels, including the NFL Network, ESPN U and ESPNews. The $54.99 Elite Package includes 90 channels, such as Telemundo, Chiller, Epix Hits, the Esquire Network, E! and more. Finally, the Ultra package, which is admittedly a little steep at $74.99, includes everything—all 90 Elite channels, as well as the premium channels like Showtime, HBO, etc.
For the cost of your subscription, you also get the ability to use it on up to five devices (only in your home network), and you also have DVR access with unlimited storage for up to 30 days.
Oh, and, contrary to popular belief, you don't need a Playstation system to have a PS Vue subscription. So, there ya go.
DirecTV Now
To cord-cutters, the name "DirecTV" is practically banned (unless you're shit talking how awful their rates are). However, it's important to understand that there's a massive difference being made between those three little letters: "Now."
DirecTV Now is an all-online streaming service that's very similar to PS Vue's setup. With a starting price of $35 dollars, the introductory package seems great. Over 60 channels, including FOX News, MSNBC, Comedy Central, ESPN, CNN, Syfy, and plenty of others, all being streamed live through the device of your choice. However, as cable providers are wont to fucking do, that price doubles at some unknown point to 60-dollars, as the $35 is only part of an introductory offer. There's also the $50/mo. package that includes regional sports networks, as well as all the other channels from the first package. The $60 package includes over 100 channels that include all the basics, but also MTV, Oxygen, FYI, the NHL network, and Sundance TV. And finally, the last option is $70/mo, but includes everything from basic to premium channels. Can't complain about that!
Sling TV
Billing itself as "Live cable TV without the headache," Sling TV has managed to become one of the other preeminent live TV streaming services in the game because, well, it is easy to sign up for and start using. No monthly contracts, no bulky equipment and the ability to be used everywhere, Sling TV is making a lot of noise with cord-cutters because it's both affordable and modernly practical.
Like the PS Vue and DirecTV Now setups, it comes with a few different price packages. The first package, Sling Orange, is $20 per month and comes with 30 different channels, including CNN, Comedy Central, AMC, Disney, VICELAND, Bloomberg and others. The second package, Sling Blue, is $25 per month and features 40 channels, including most of what Sling Orange offers (except FreeForm, Disney, and ESPN), with the addition of FOX Sports, the NFL Network, National Geographic, BET, FX, FXX and others. And the final tier, conveniently called "Orange + Blue," is $40 and includes everything.
The amount of streams you get all depends on the service you have. With the standard Orange subscription, you're only allowed one stream at a time. However, with the premium Orange + Blue subscription, you're allowed three streams at once.
Sling TV also offers on-demand streaming of a lot of popular TV shows, as well as a DVR program that's still in beta, but essentially gives subscribers 100 hours of free cloud-based DVR storage at no extra charge.
Others
The on-demand streaming services are getting bigger and bigger by the day, so there are a crop of newer-generation services or network-based programming available right now. Rather than give them their own space (which would make this article damn near biblical in length), we've compared them and decided it best to just include down here at the bottom.
A lot of these packages are available as add-ons to supplement other subscription packages, but do stand alone on their own.
HBO Now
First, there's HBO Now. For $14.99 per month, subscribers receive access to all of HBO's premium content, including Game of Thrones, Veep, Girls, Silicon Valley and so much more. If you're as big a fan of HBO's programming as I am, this is more than worth its weight in gold.
Showtime
Showtime is also in on the on-demand streaming game. For $10.99 a month, you can pay for the same setup as you would for HBO Now, but for Showtime's premium content. Starz has the same deal for its programming at $8.99 per month.
CBS
CBS, one of the top basic cable networks, also offers CBS All Access for $5.99 per month, which gives subscribers access to all of CBS's hit shows, including 2 Broke Girls, The Big Bang Theory, The Amazing Race, Survivor and Mom, as well as access to all the old favorites like Hawaii Five-0, The Twilight Zone and every iteration of Star Trek.
YouTube Red
Finally, there's YouTube Red. Now, I know what you're thinking: "But Max, YouTube is already a free service. Why would I pay the $9.99/month subscription fee for YouTube Red?"
That's a valid point. Far as video streaming content goes, YouTube Red offers ad-free viewing, as well as a few (mostly bad) pieces of YouTube Red-exclusive original content. However, YouTube Red subscribers also get free access to Google Play Music—a $9.99 per month value in and of itself. The only way I'd ever consider YouTube Red is if I was looking to replace Spotify, which I'm not.
In case you are looking to leave Spotify, make sure you read our other Battle of the Streaming Services: Apple Music vs. Tidal vs. Spotify edition.