With temperatures getting ready to nosedive into single-digit territory, it's fair to say the only way to make it out of this season alive is to get down. Courtesy of the New Balance Lifestyle Collection is the Heat Down 800D Jacket–a tremendous collab of style and function that kicks winter straight in its icy nuts. Meet your new go-to winter jacket.
This lightweight, water-resistant poly ripstop shell fabric is packed to the gills with 800 power fill down and features a hood, bottom cinch, and zip pockets for a little extra protection on those icy-cold days. That's the beauty of genuine down: you turn into a superhero who's impervious to the elements and never gets cold. Just like a real goose.
The women's line leans on that sporty, varsity look while featuring center-front snaps, welt pockets, and a relaxed boyfriend-inspired fit perfect for layering. If you're gonna match jackets with your boo this winter the least you can do is make sure you both keep warm.
Over here at Highsnobiety's New York HQ, staffers got a chance to model some of the new Heat Down jackets and it's pretty fair to say a couple of us found our new go-to winter coat. Super warm, super light, what's not to love? Peep how they're rocking it and what they had to say.
Daniel So, Branded Content Editor
Daniel wears the NB Heat Down 800D jacket in Pigment.
When temperatures dip, I like to dress in layers so I don't get too hot when commuting between a crowded subway. With NB's Heat Down jacket, it's light enough where I can easily take it on and off without a hitch, and the pigment navy is a good option when I want to rock something a bit louder underneath, like this crazy Needles flannel.

Daniel So
Sydney Gore, Associate Music Editor
Sydney wearing the NB Heat Down 800D jacket in Flat White.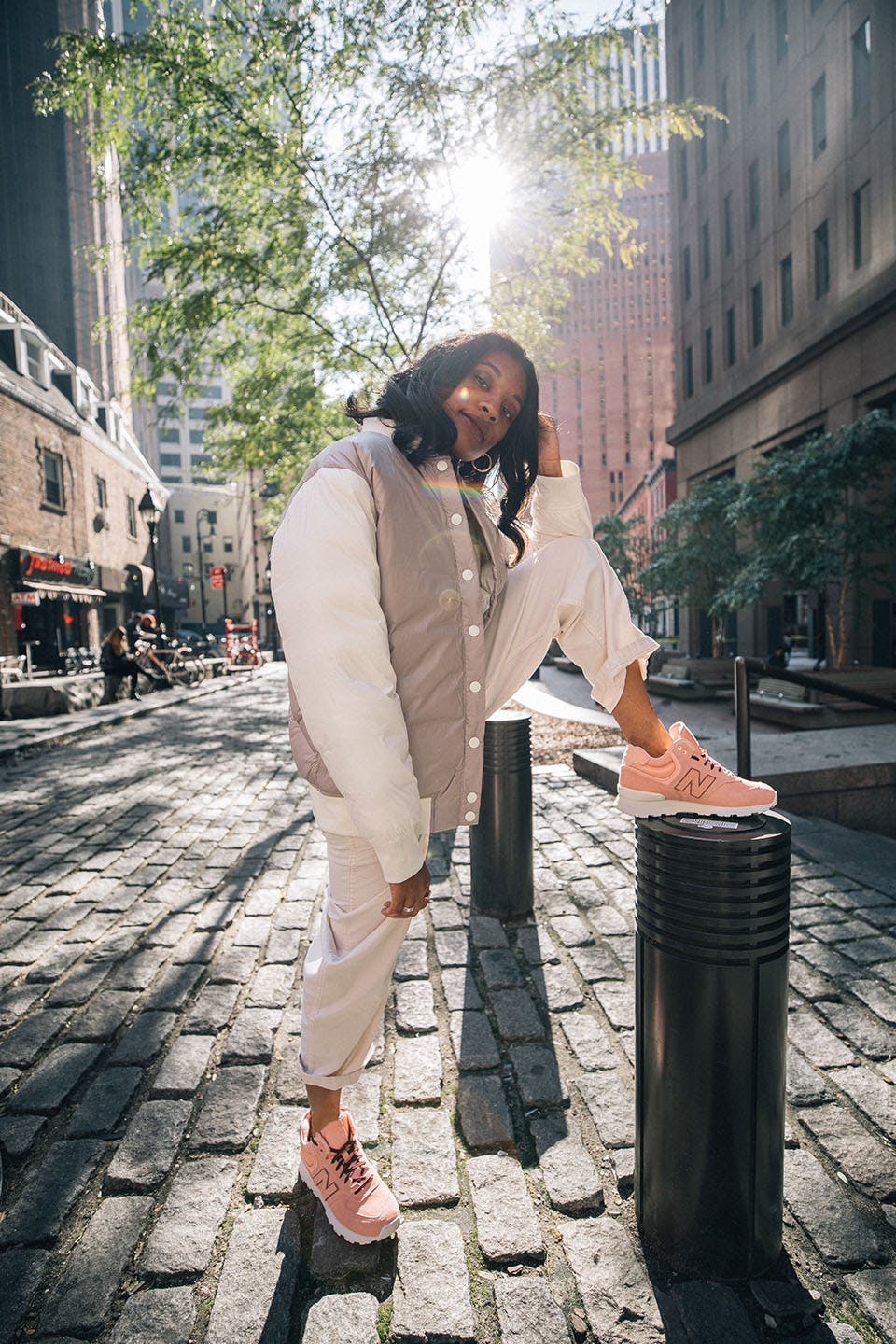 I love stepping out in a layered look during the fall season and this jacket makes that mission possible to complete. As someone who prefers oversized outerwear, it's great having a piece like this that is light and doesn't weigh you down when you're running around a congested city that is constantly in motion like NYC. I also appreciate how the two-tone coloring gives you more flexibility for the palette of your 'fit!

Sydney Gore
Sachin Bhola, Branded Content Editor
Sachin wears the NB Heat Down 800D jacket in Black.
It's an easy piece to style. I used the drawstrings to cinch it at the waist and tucked the jacket into my jeans to play with its fit.

Sachin Bhola
Byron Stewart, Instagram Manager
Byron wears the NB Heat Down 800D jacket in Black.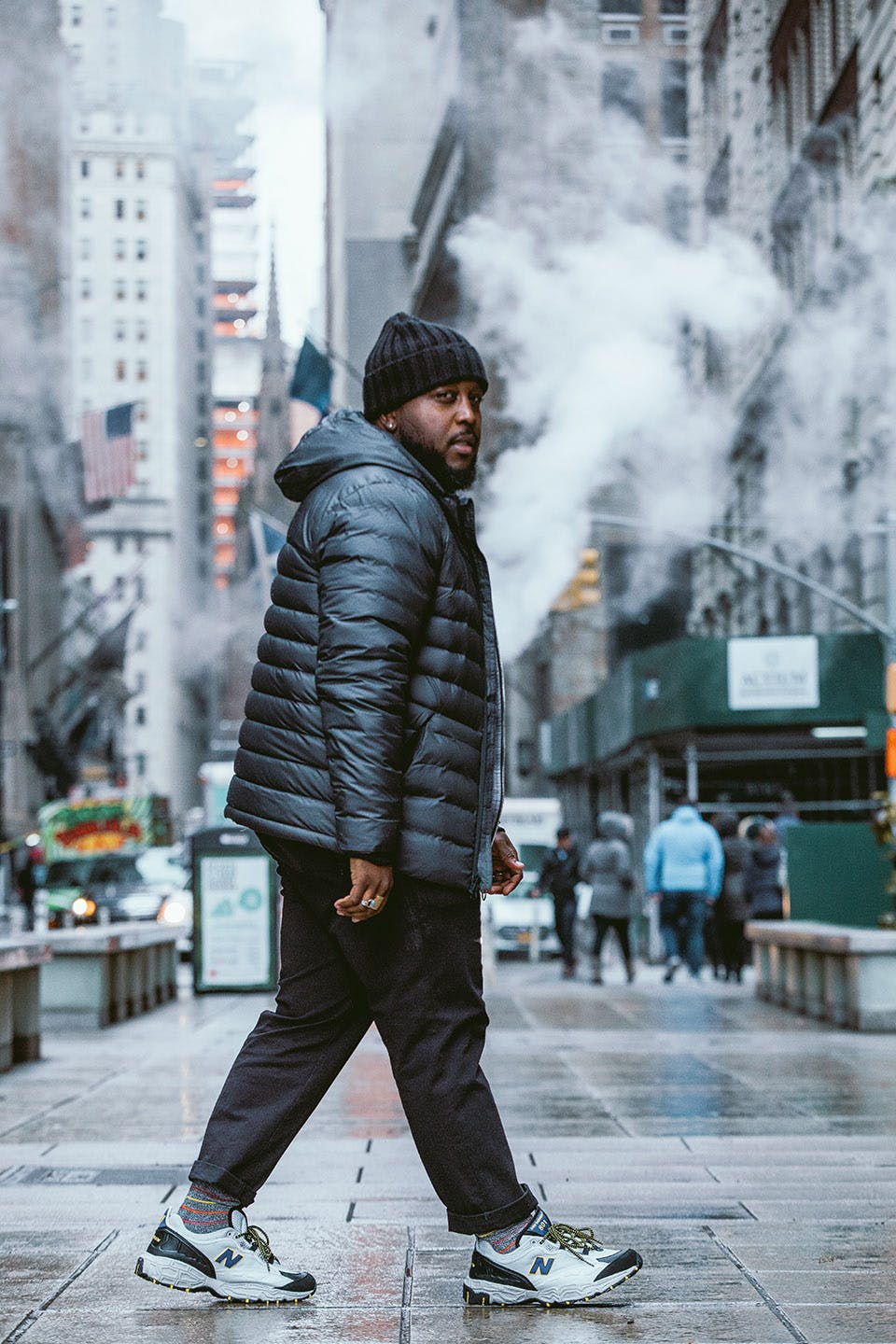 Winter in NYC can be brutal, so it's important to have a jacket that is cozy and able to be styled with different outfits. The Heat Down jacket can be worn daily. Cool and comfortable is the way to go when you're trekking through the city.

Byron Stewart
Ian Servantes, Social Media Editor
Wearing the NB Heat Down 800D jacket in Pigment.
It was all about the high-low mix. Puffers are essential in the NYC winter, but you've gotta step it up with the rest of your 'fit. The jacket itself is super lightweight and warm, and the kicks are comfortable and toasty, proving you can still live your best cozy life without looking like a slob.

Ian Servantes
Tara Dabuni, Fashion Partnerships Director
Wearing the NB Heat Down 800D jacket in Black Multi.
I'm constantly on the move from meeting to meeting. I need a jacket that keeps me warm, but something that's also light and easy to travel with. It's perfect for a busy day running around the city. The colorway also makes it easy for me to elevate my look while staying comfortable.

Tara Dabuni
Shop the full collection of New Balance's Heat Down 800D jackets here.