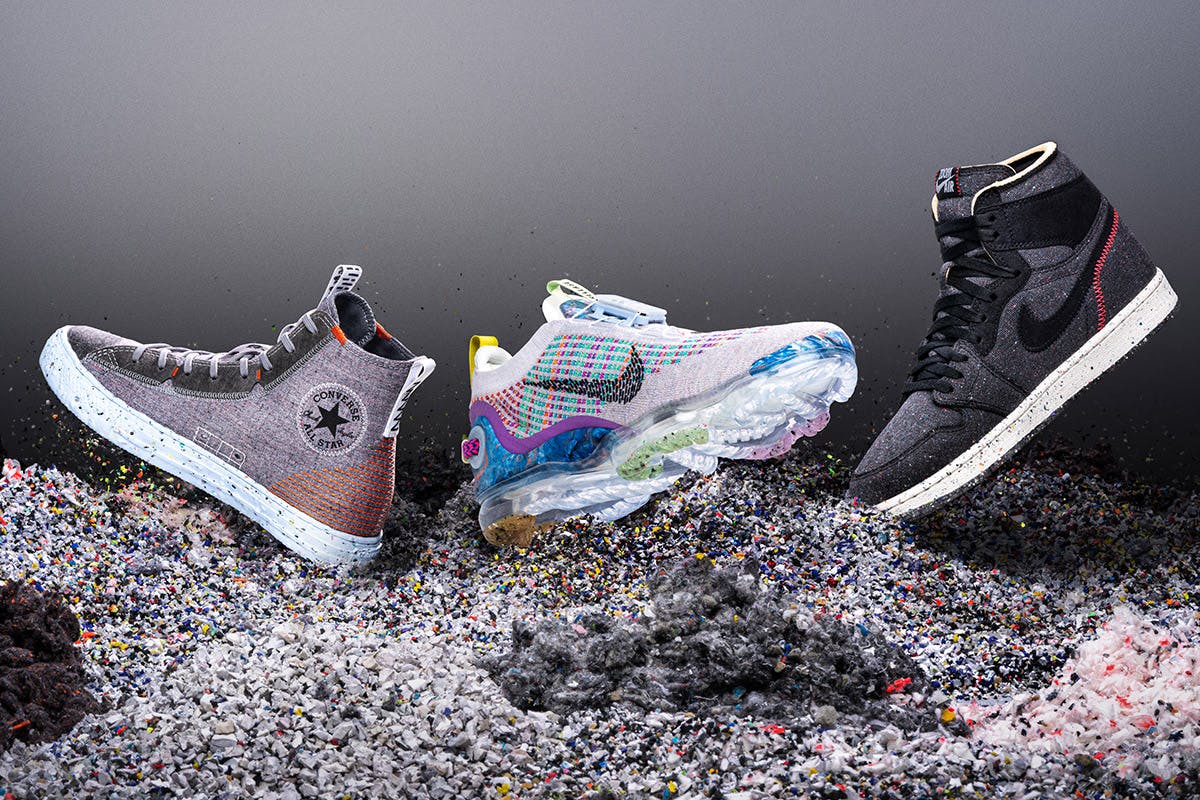 The relationship between sustainability and the fashion industry is today's biggest and most important Catch-22. To save the planet, we need to stop producing new clothes and sneakers – we already have more than enough. Because a sudden shutdown of production isn't economically realistic, sportswear and fashion companies have begun producing more environmentally-conscious products. Nike, with its Move to Zero campaign, is a company that has been more vocal than most about its pledge to reduce its carbon footprint.
"One of Nike's mottos is that there is no finish line," Nike chief sustainability officer Noel Kinder says after a digital Move to Zero panel talk in late September. "I think that's especially true in sustainability. You're never going to reach perfection, or even zero." So why start a race that you know you'll never finish, let alone win? Because manufacturing and consumption aren't going to stop, so the progress you make along the way by offering consumers better alternatives is our most realistic way forward.
Nike's Move to Zero is the company's pursuit of science-based goals to reduce its waste. The Swoosh measures its success against five-year targets, the progress of which can be seen in Nike's annual impact report. The panel talk in late September was a sort of sustainability state of the union, where leading Nike employees discussed what the company had done so far, what challenges lie ahead, and what the next steps are.
Generally, we should just assume most industry giants are only driven by dollar signs and beating out their competition. But at the same time, there are very real people working at all levels of these companies, many of whom want a better and more environmentally-friendly future themselves. It's this balancing act — juggling economic targets with shifting consumer behavior and cultural expectations (both internal and external) — that provides one of the biggest challenges to Nike (and to many of its competitors).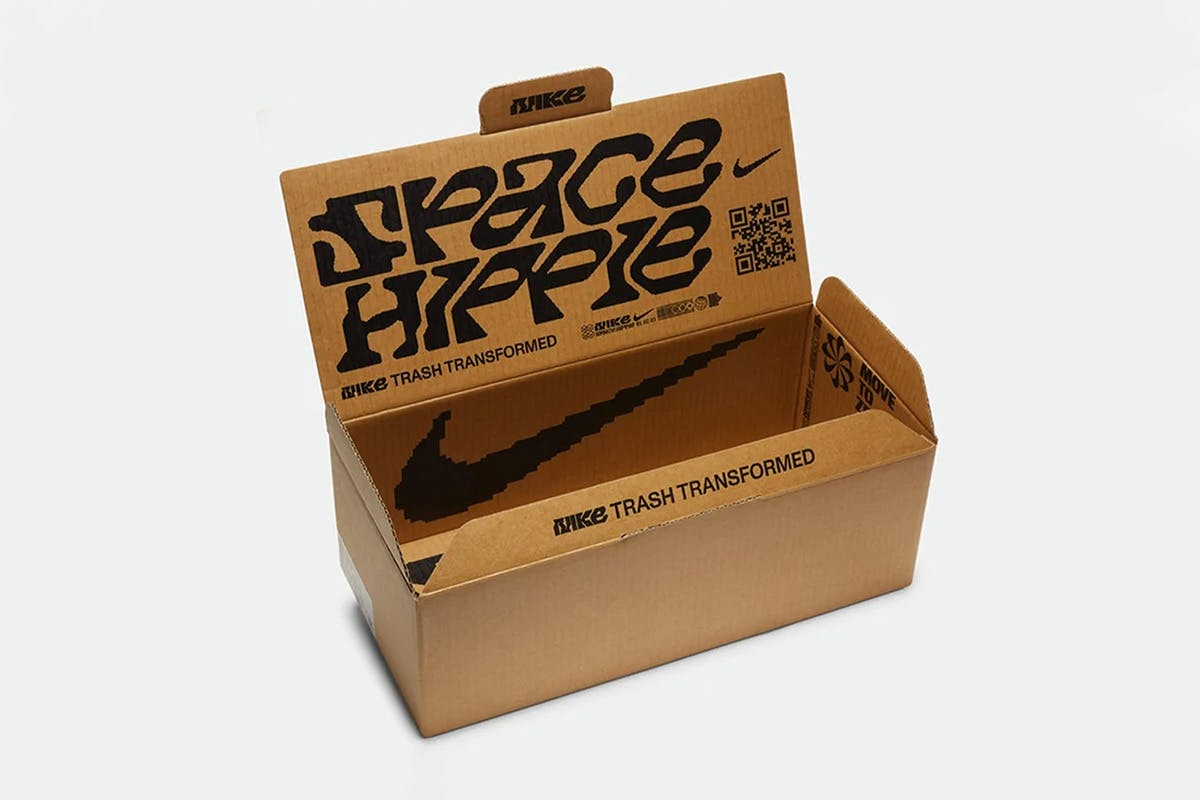 Kinder, however, believes it's not a case of "either-or" as much as it' a case of "and." He cites the Move to Zero boxes, which the wildly popular Space Hippie collection arrived in, as a prime example. "The smaller your boxes are, the less they weigh, the less air that's between the box and the shoe, the less you pay for that shipping. So the company saved money, you're more profitable, and you're emitting less carbon and creating less waste in the process," he says.
That approach is an interesting one, as it shows that production and distribution can be more environmentally conscious, while also being profitable. And if there's one thing that convinces shareholders to pursue a new market aggressively, it's the prospect of making more money. The big question here is whether the production of products such as Space Hippie replaces non-sustainable products, or if it complements that production. And it's a hard question to answer without complete insight into the capacity of Nike's supply chains and the allocation of its resources — information that likely won't be publicly available.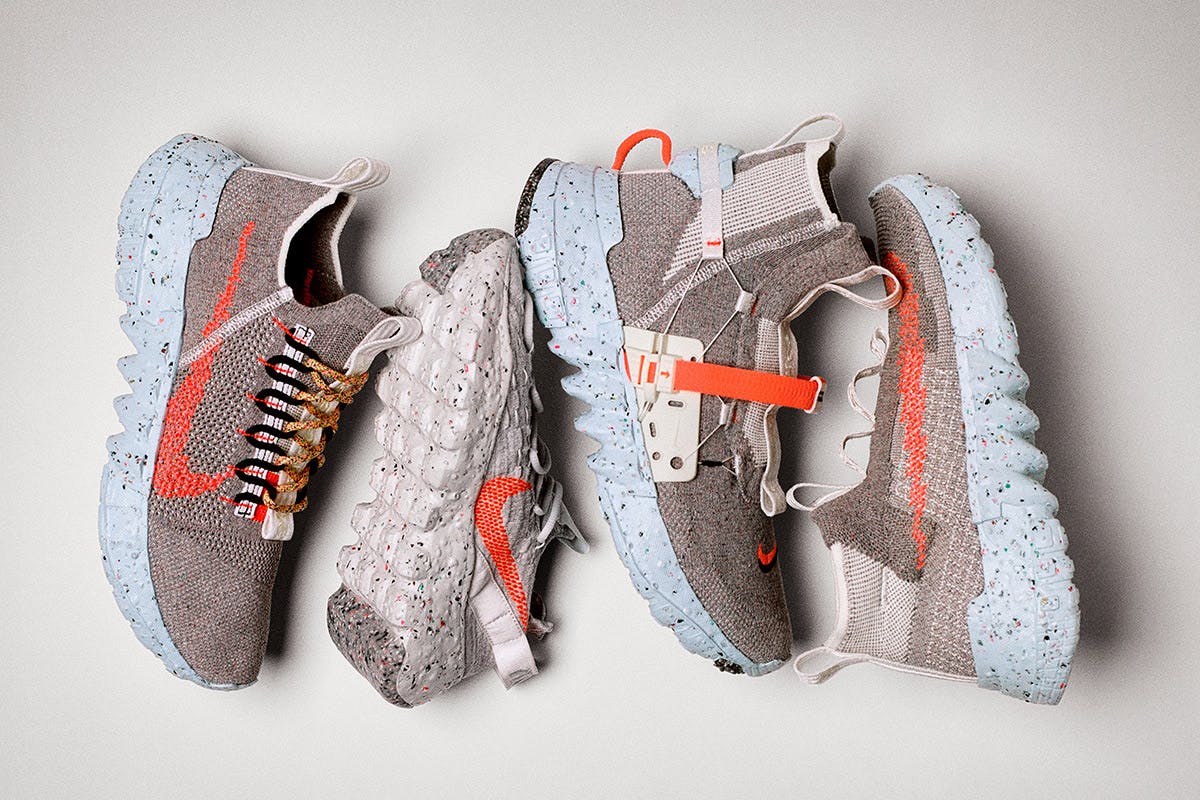 Space Hippie, for example, is made using scrap materials and the same manufacturing process as other Nike products, which is a start. But ultimately, brands will need to replace existing product with the more environmentally-sustainable product — or, at the very least, produce a larger share of the "better" products. The adoption of certain processes — such as Flyknit, which uses recycled fibers — in mainline products is one way Nike is moving in the right direction, though it's important to stress that it's only one step and not enough on its own. Kinder's box example is one of many potential solutions outside of the actual product that, when combined, can make a real difference.
Strategically speaking, it's also incredibly important to identify where your company will have the most impact and focusing your resources there. Making those commitments public can also help with accountability. "It's so important to have tangible and public targets. That puts the right pressure on you to actually achieve those things," Kinder says, explaining why Nike continues to push its Move to Zero campaign on all fronts.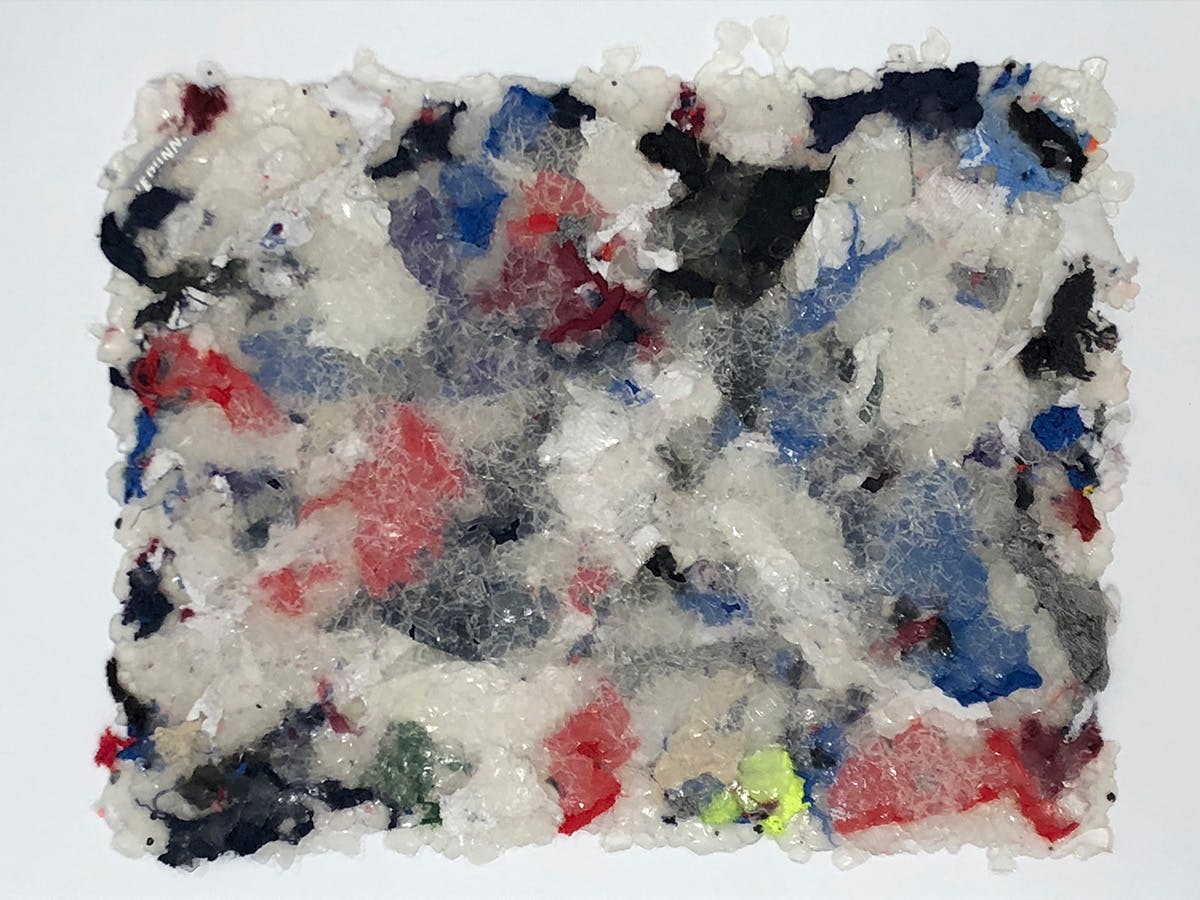 Accountability and authenticity are two of the most important factors in sustainability. If a brand jumps on the sustainable bandwagon for a quick payday, most consumers will see right through it. "Consumers are voting with their wallets," Kinder explains. "They want to see brands to be more transparent. They want products that they know are sustainable. They want to know where they come from and how they're made."
Highsnobiety's Q3 Sneaker Report shows that hype and sustainability can coexist — in fact, they must — for consumer behavior to truly change. And while each individual bears a certain level of responsibility regarding their spending habits, there is a big onus on companies to help influence that behavior. After all, it is the companies who spend millions on marketing to get consumers to buy their product; it's not much to ask that the product marketed (and the means to producing it) should be better for the environment.
Nike knows it's not perfect and that it needs to do better. That's why Kinder's position and his team exist. "It's a big company and it's complex," Kinder says, explaining why change sometimes doesn't come as quick as it should. "It takes a lot to orient all these different groups and to get them all marching in the same direction."
It's also not just on Nike to solve this problem. Its' competitors and peers are all working on their own strategies pertaining to environmental sustainability. In many cases, these competitors would actually benefit from working together. "We all share the same supply chain," Kinder admits. "Sometimes we use the same suppliers in the same countries."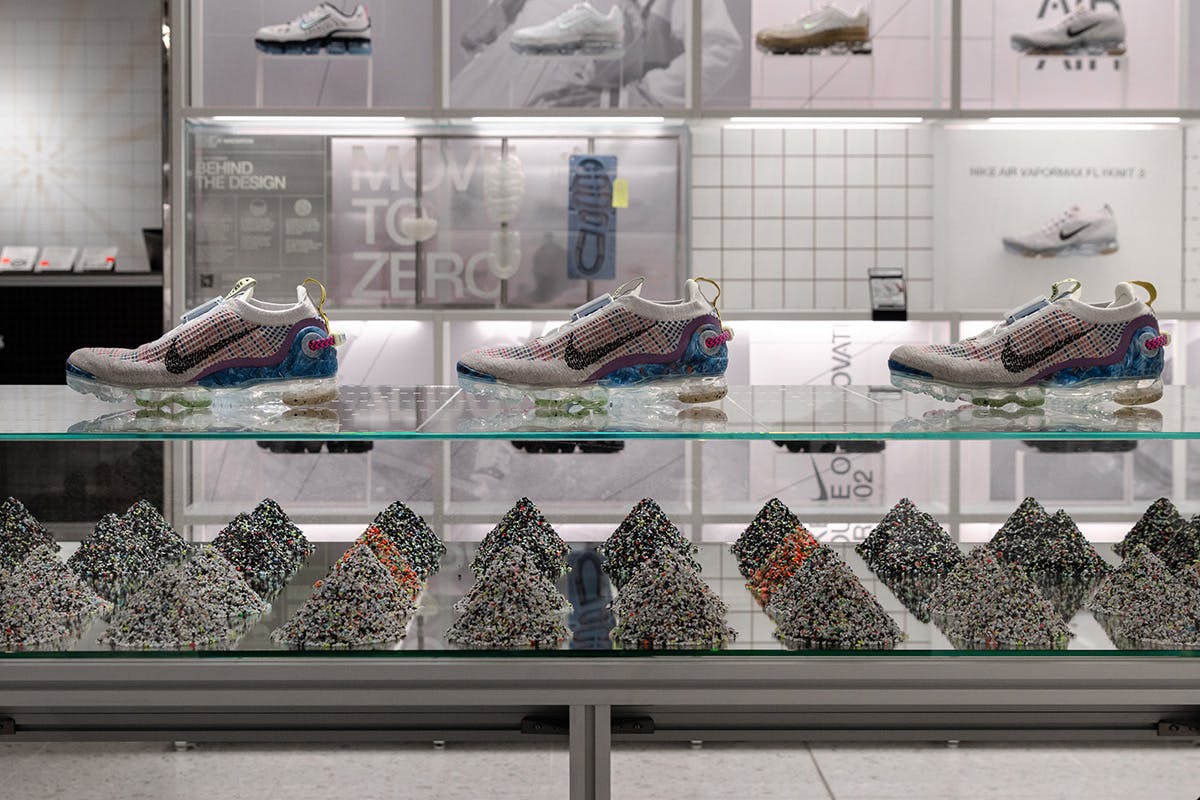 Organizations such as the United Nations, the Global Fashion Agenda, or the Fashion Pact all exist so that brands can work together and orient around a common goal. Just as a single consumer can't save the world on their own, a single brand — albeit with infinitely more power, resources, and influence — can't either.
Nike's Move to Zero is an important step, just as Allbirds' aggressive approach to sustainability or adidas' Clean Classics campaign are. But a lot more steps like these are needed to keep us all moving in the right direction.