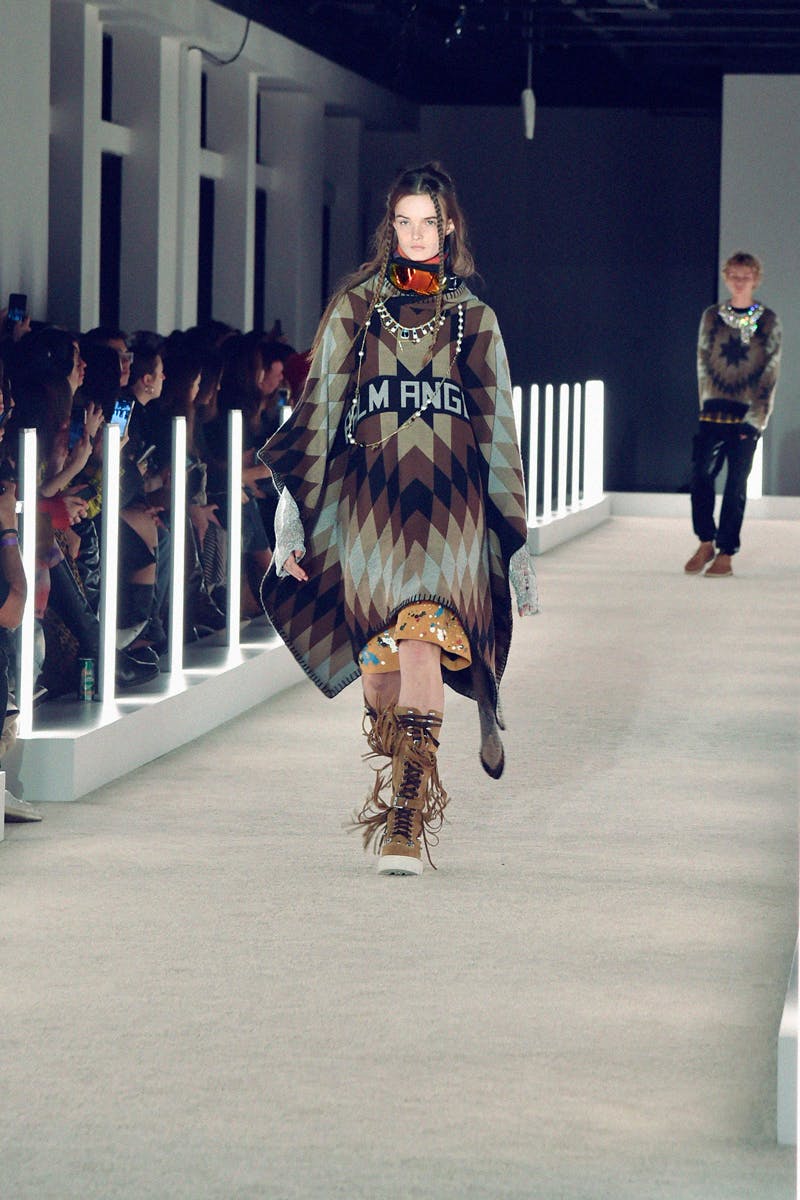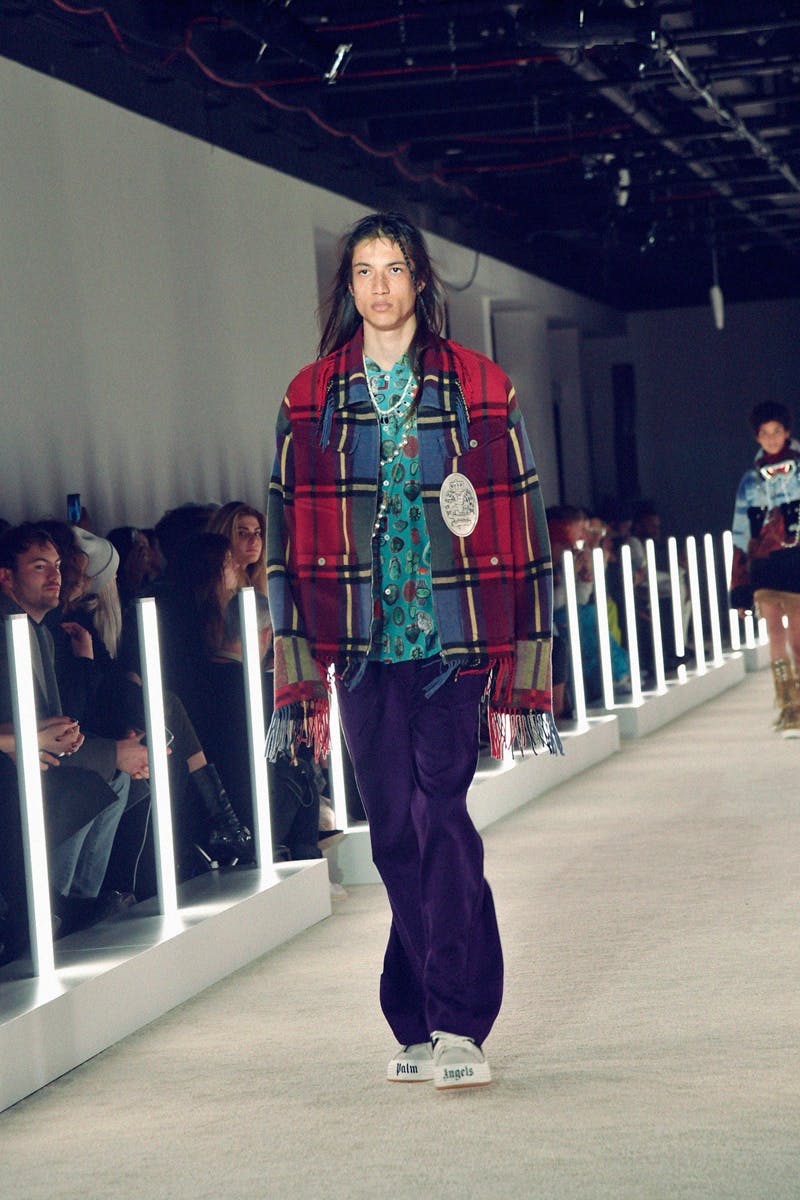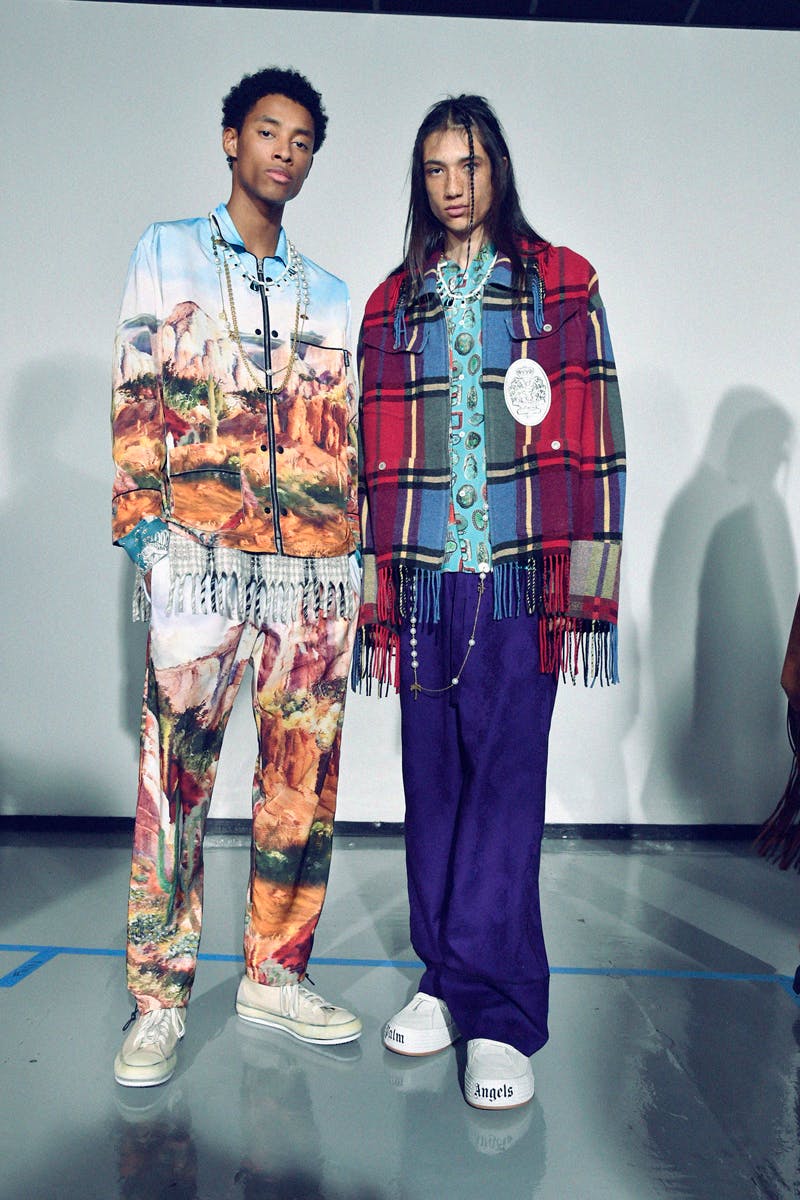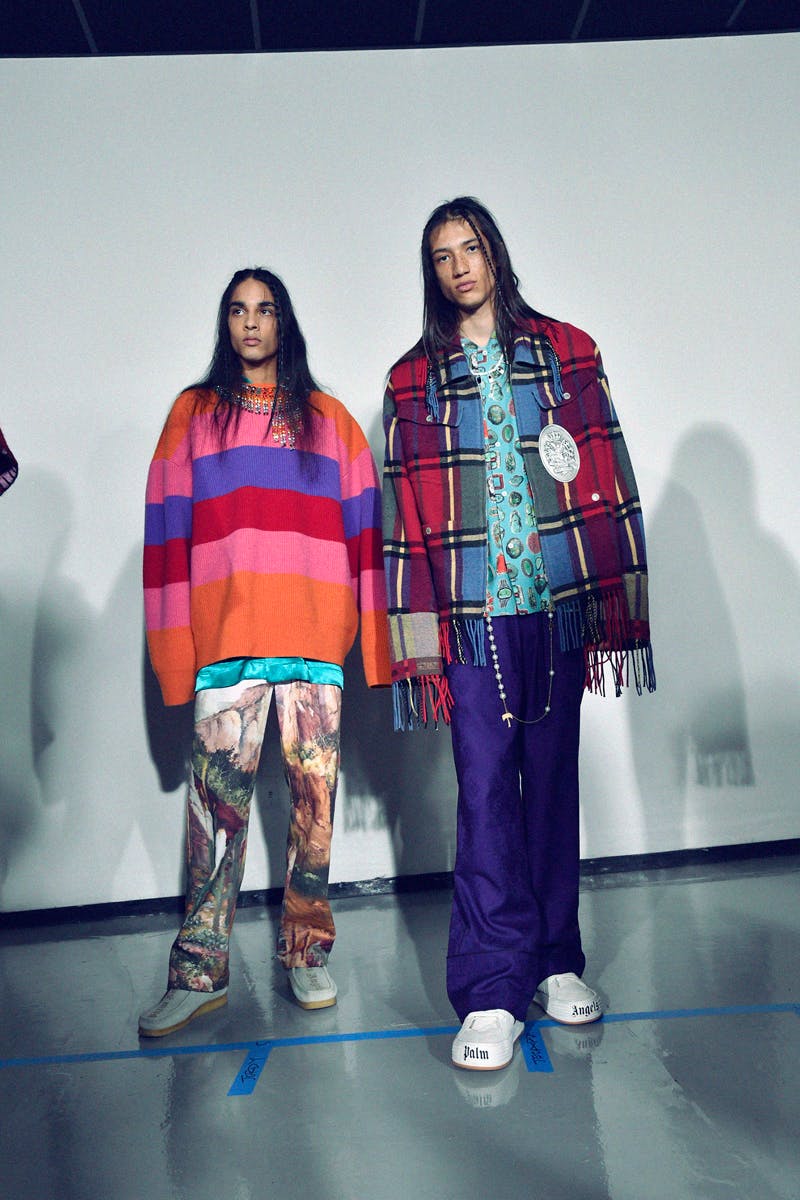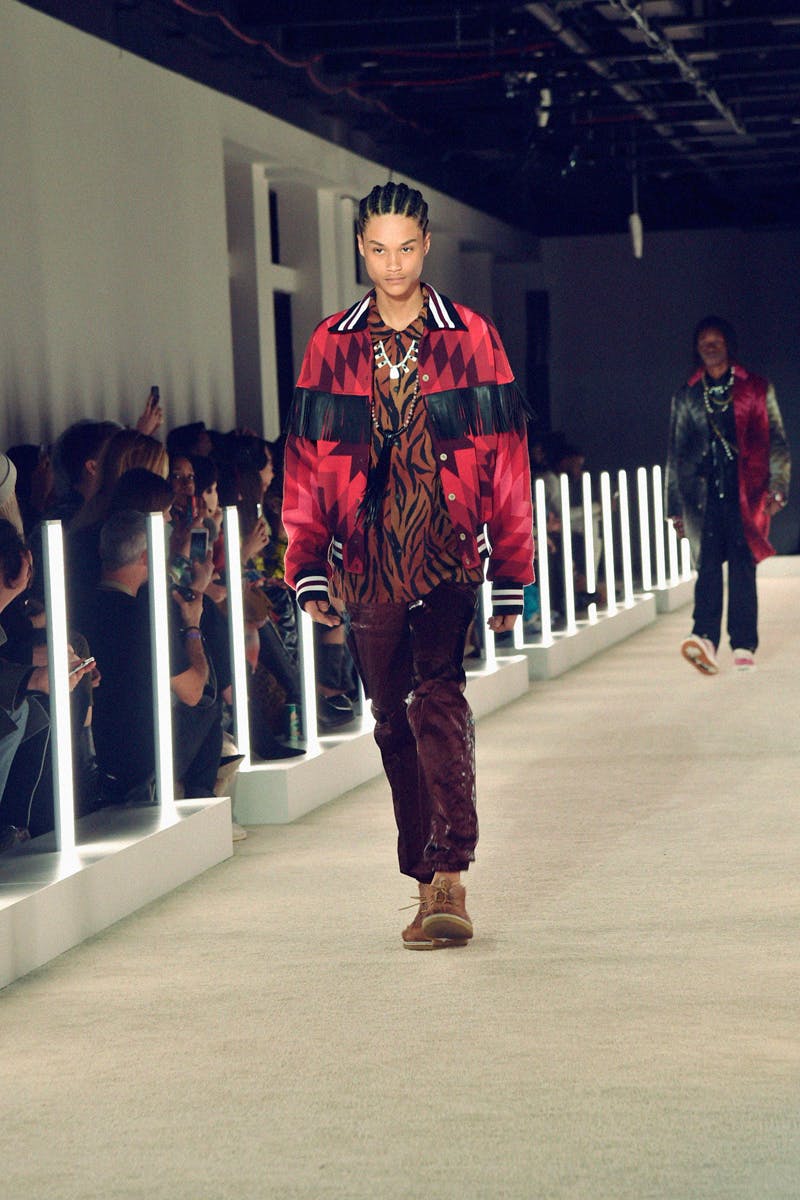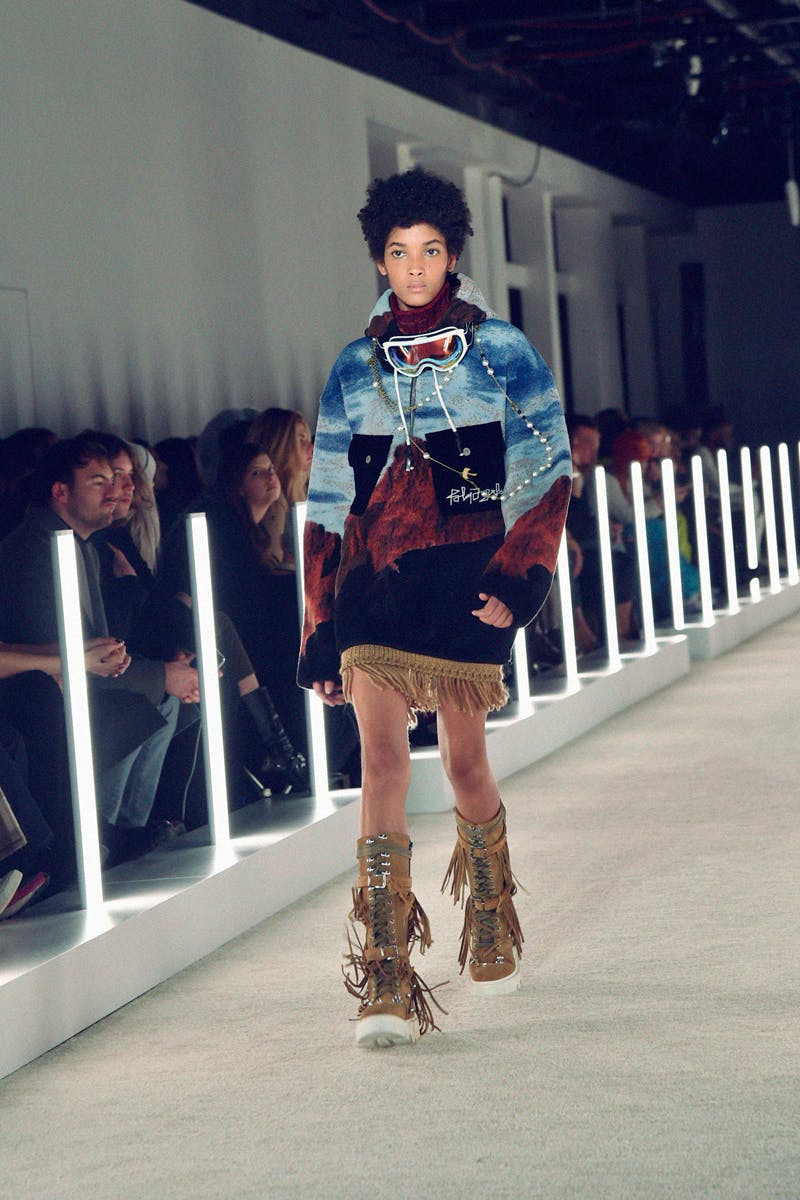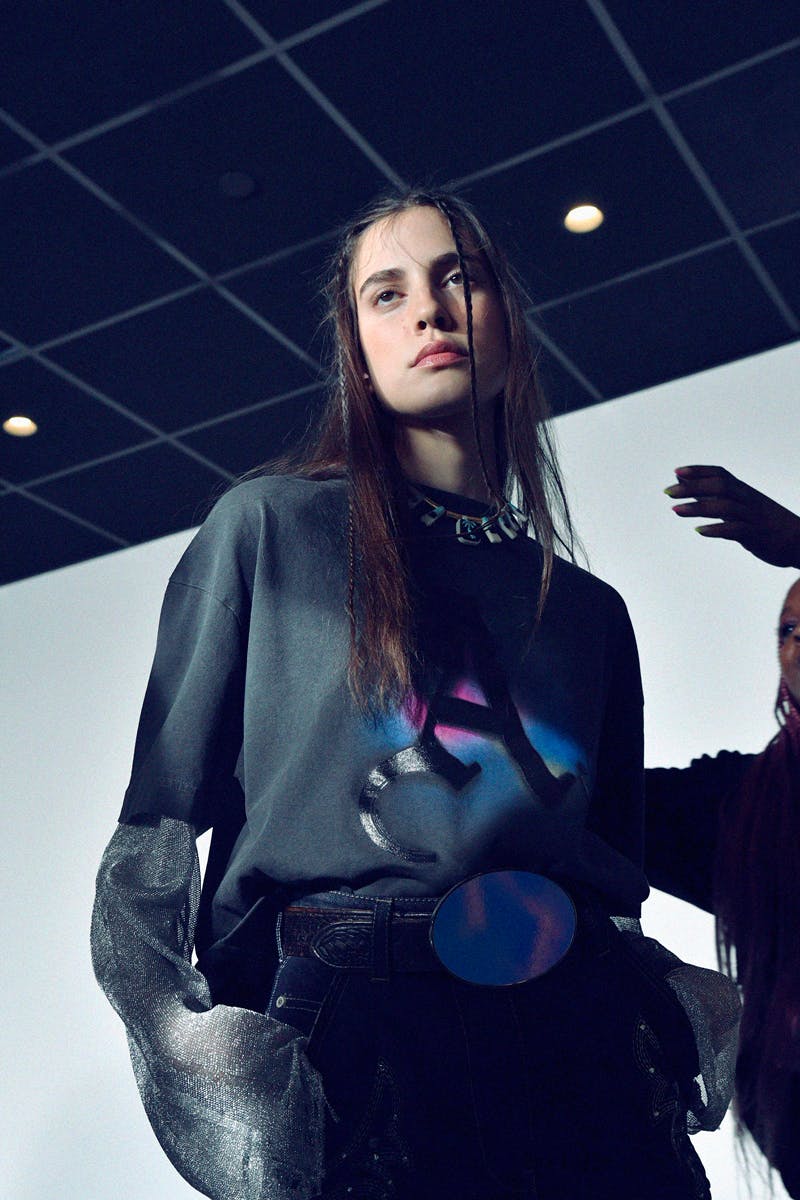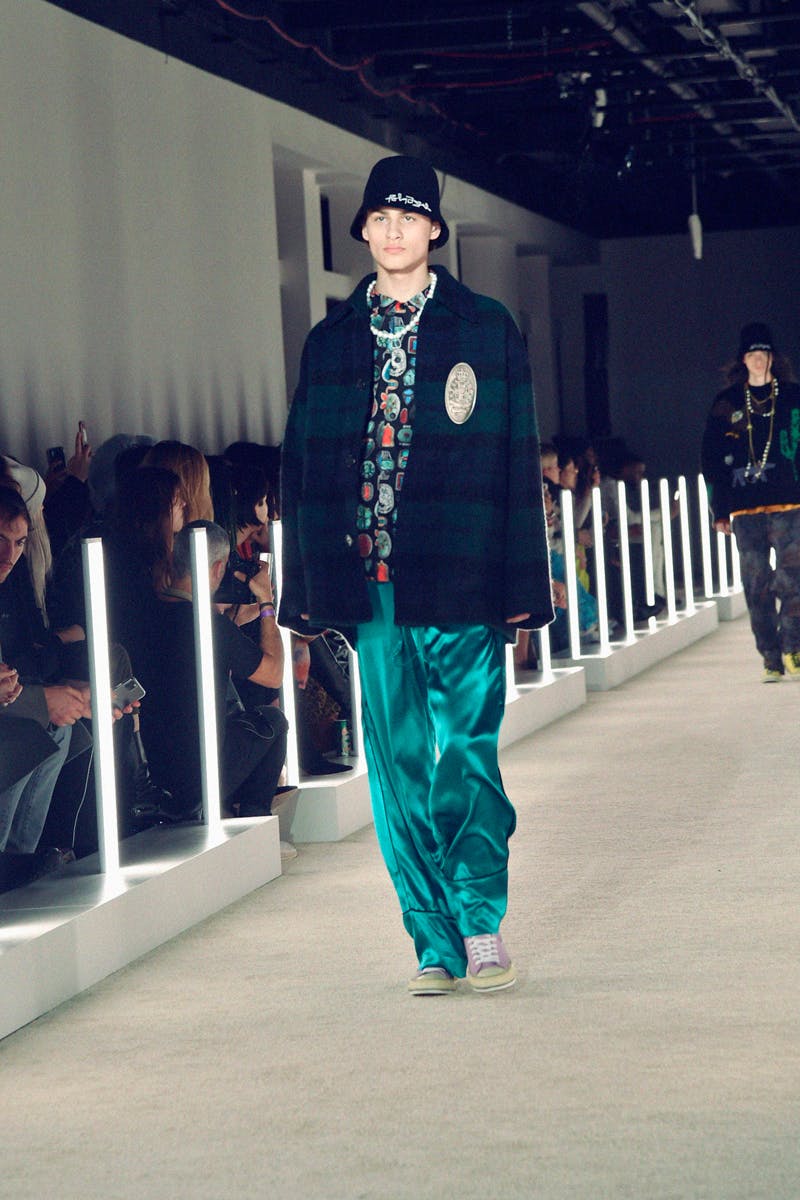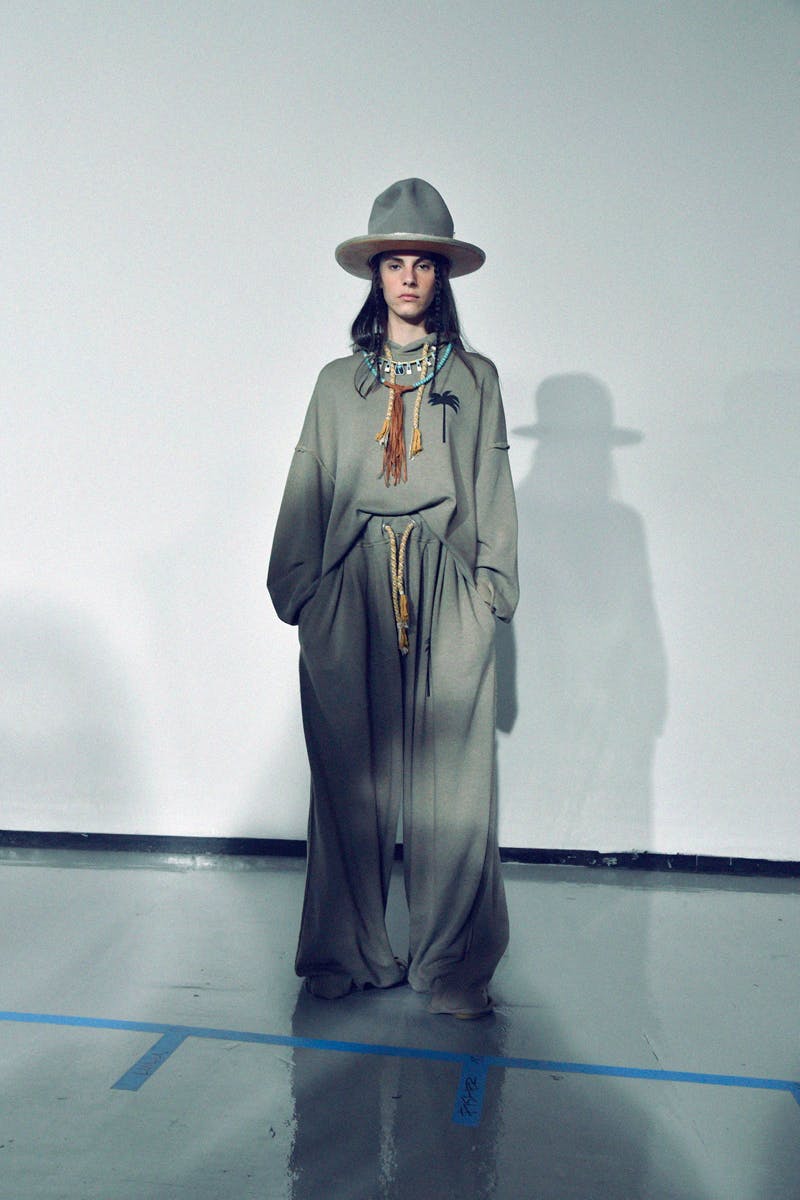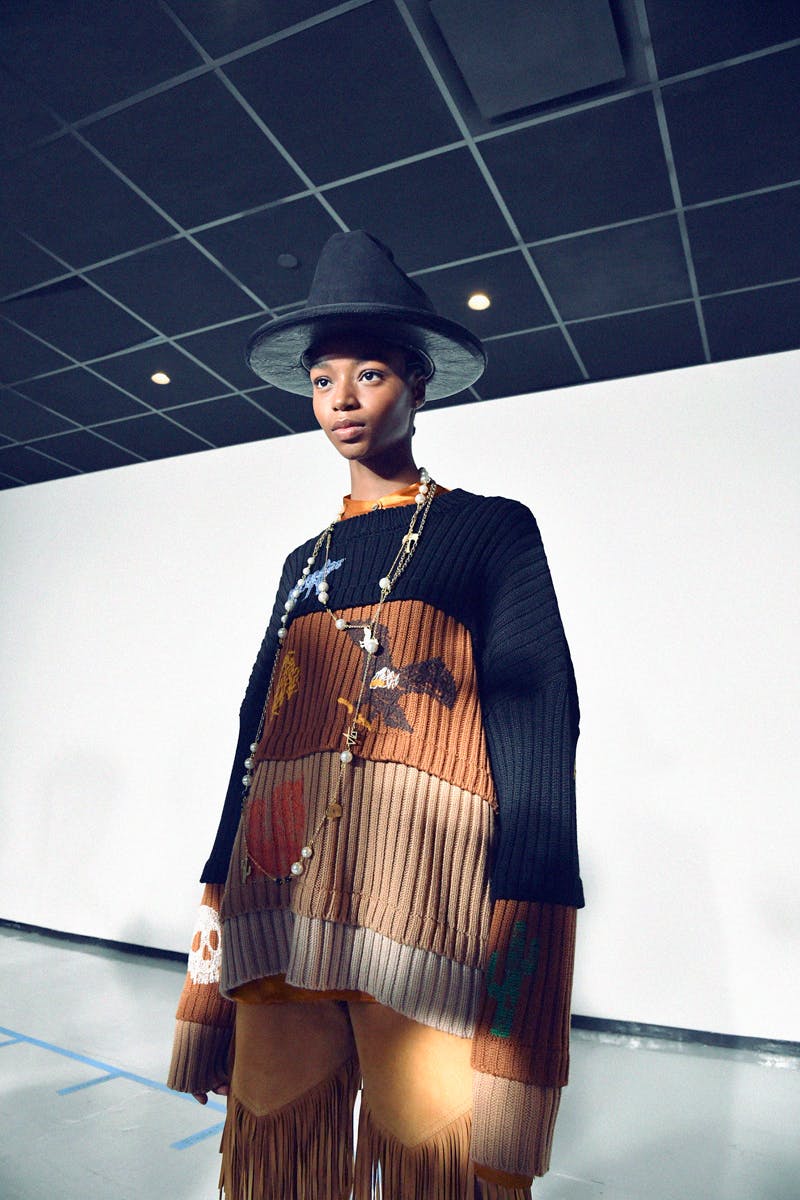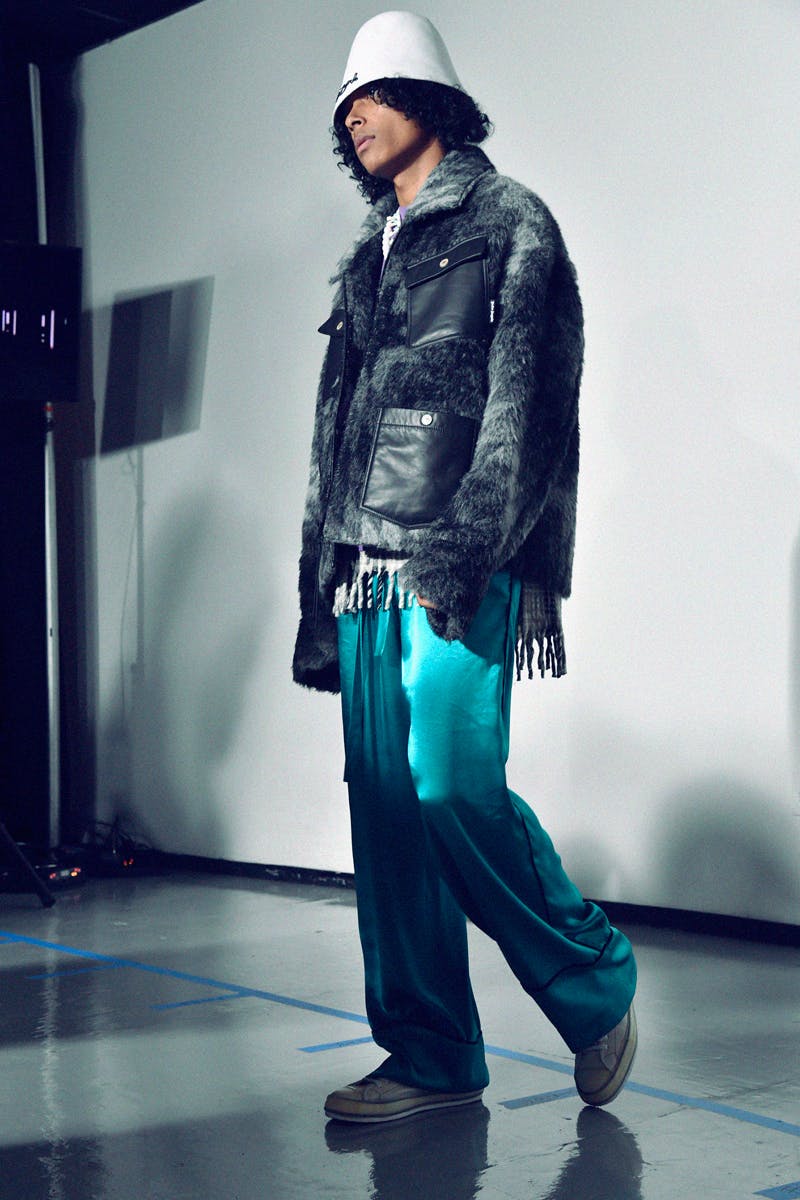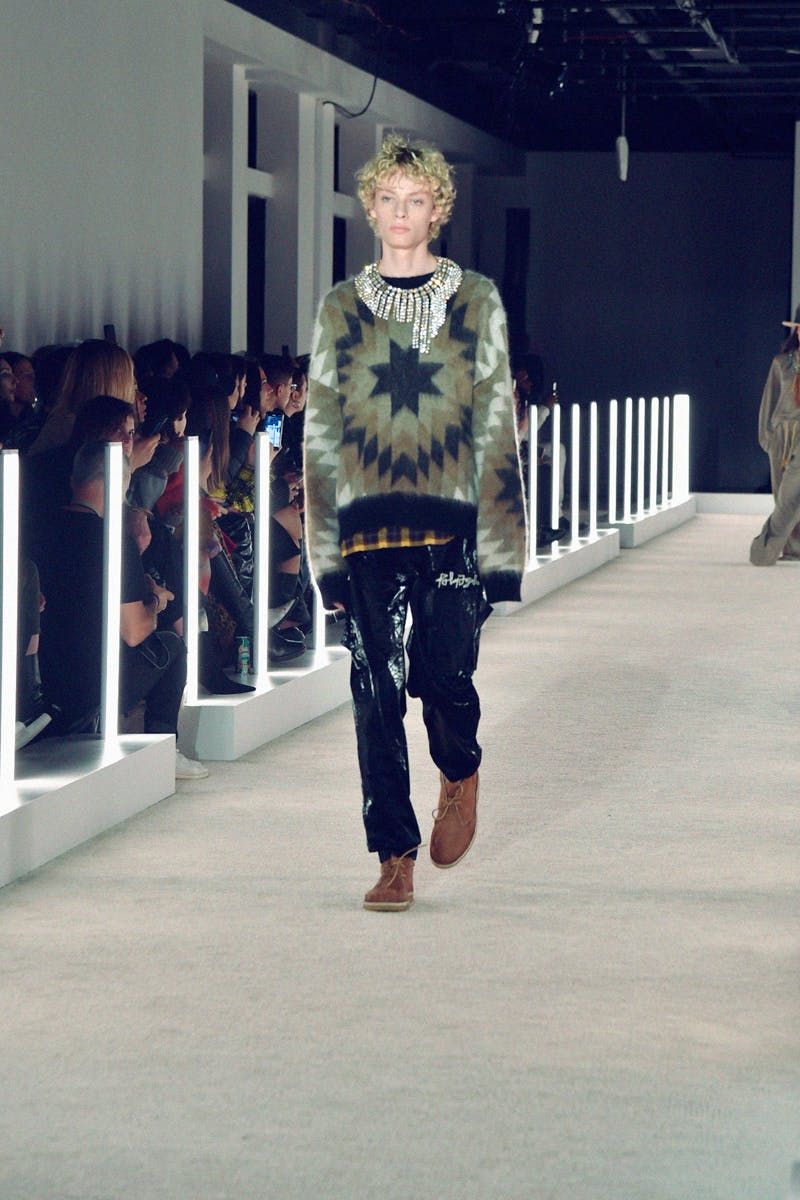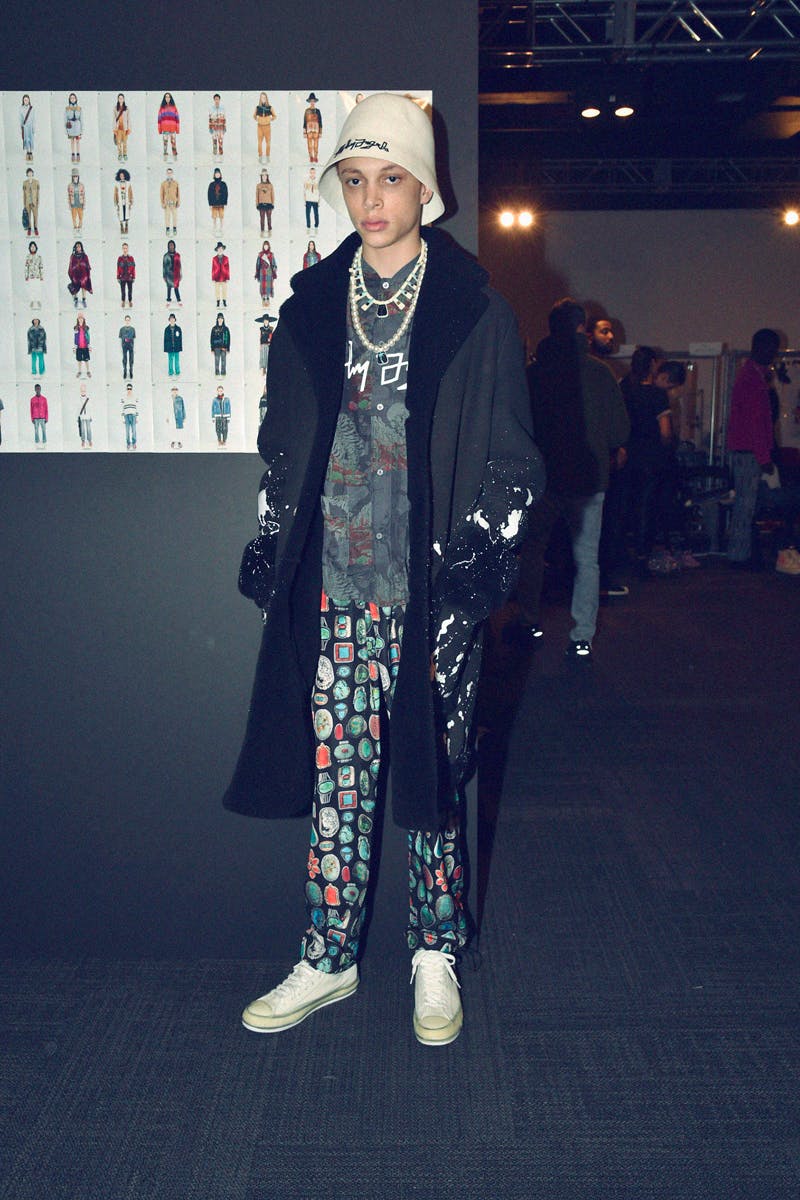 Palm Angels Fall/Winter 2020. New York, NY. Editor's Notes The Oscars may have been telecast while Francesco Ragazzi presented his latest Palm Angels collection, but that didn't stop celebrities and friends of the California-by-way-of-Italy label from coming out to support the show. The audience was lined with the likes of Heron Preston, Jonathan "Foodgod" Cheban, Tinashe, Justine Skye, Nigel Sylvester, Westside Gunn, and Reese LaFlare, many of whom came out dripping in their best Palm Angels gear.
Ragazzi looked to the past for inspiration, settling on a Wild West theme replete with plenty of Southwestern patterns and prints reimagined in his signature way. Reminiscent of Sergio Leone's Spaghetti Western films —  where Italy served as a proxy for the American frontier — Ragazzi sought to update that heritage within these garments. His other main inspiration: The personal style of Pharrell Williams.
We caught up with Ragazzi backstage to talk about the new collection, his collaboration with Clarks, and whether or not streetwear is really dead.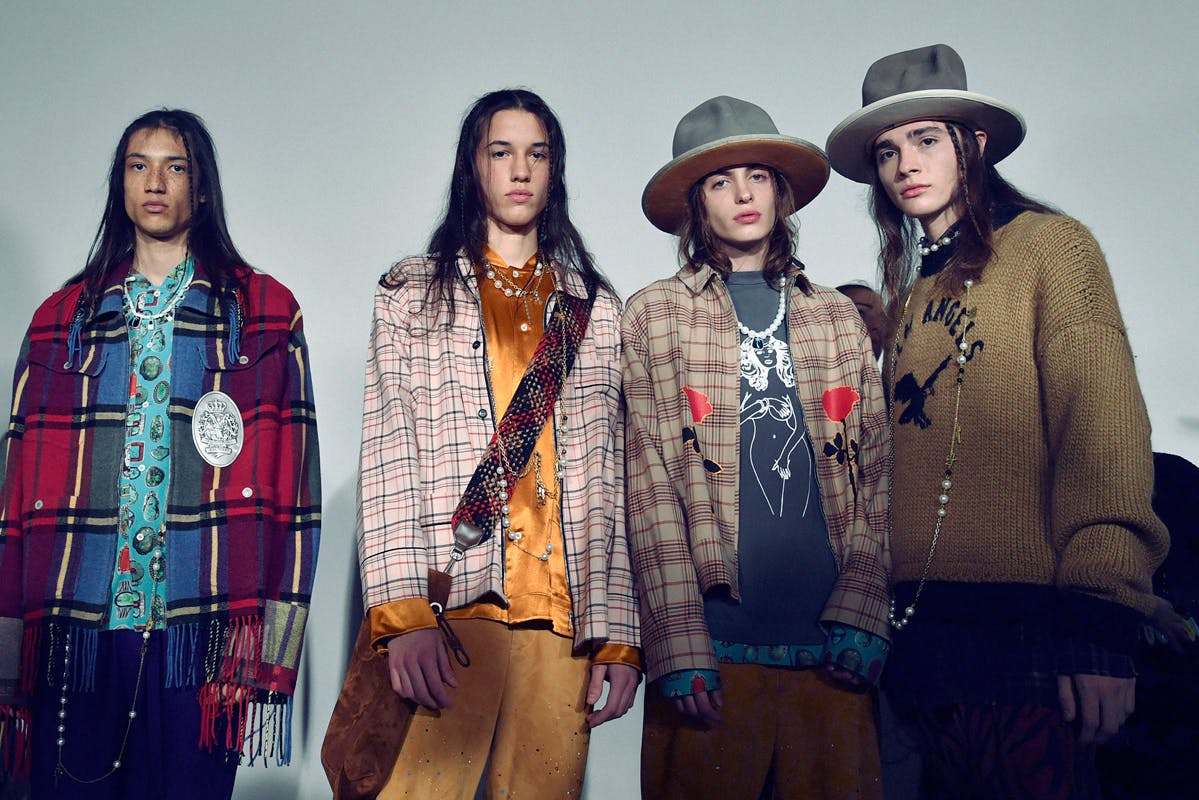 The first thing that came to my mind was Sergio Leone and those Spaghetti Western films. Was that an influence at all? Definitely, definitely. It's a little bit Clint Eastwood and those Spaghetti Western movies, but trying to make that relevant for now. I don't want to do fashion. I'm not a fashion designer. I don't want to create a trend. I want to do something that is cool and timeless.
I always start with interpreting American culture. I think it's really important for me — being an outsider, being Italian — to tell the story in a different way. This is my take on everything I like and trying to interpret it. I was definitely inspired by Western culture, the movies, and the music. There's also a little bit of Pharrell Williams.
Your perspective with Palm Angels is looking at American culture and subcultures as an outsider and flipping it in your own way. How did that apply to the Western uniform and the title of the collection, "A Thing Called Sunset?" The sunset is also in the color story, but it's also about details. How do you do fringes? That's something you see a lot in the Western spirit. I try to do it in a different way, taking pinstripes on shirts and making them into fringes. I think what's interesting in this collection is how I tried to mix my passion for music in it. There is a lot of Pharrell Williams' spirit in the way the boys were wearing the clothes and the jewelry.
The footwear was also a standout in the collection. Is that a Clarks collab we saw? Yes, those are Clarks collaborations on a few models. We also have a new sneaker, a chunky skater sneaker. It's pretty good.
There's a lot of talk about the death of streetwear, but this collection charts its own path in a way. I hate to say streetwear is dead. Streetwear is not dead. You don't see anyone here wearing a suit. This collection is really a way in between for me. Between streetwear and sartorial is a love of craftsmanship, a love for beautiful clothes, and beautiful fabrics.
So streetwear isn't riding off into the sunset? Definitely not.
Streetwear is not dead. You don't see anyone here wearing a suit.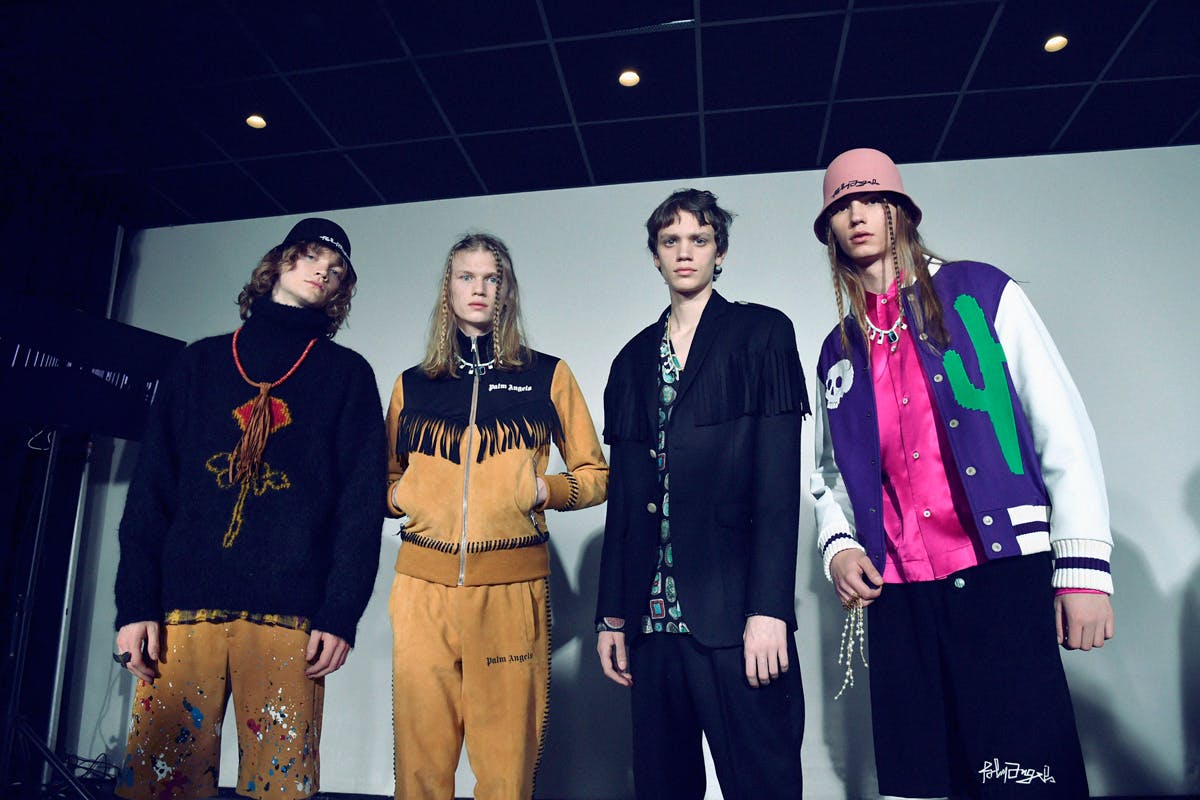 Highsnobiety Shopping List Textured Leather Jacket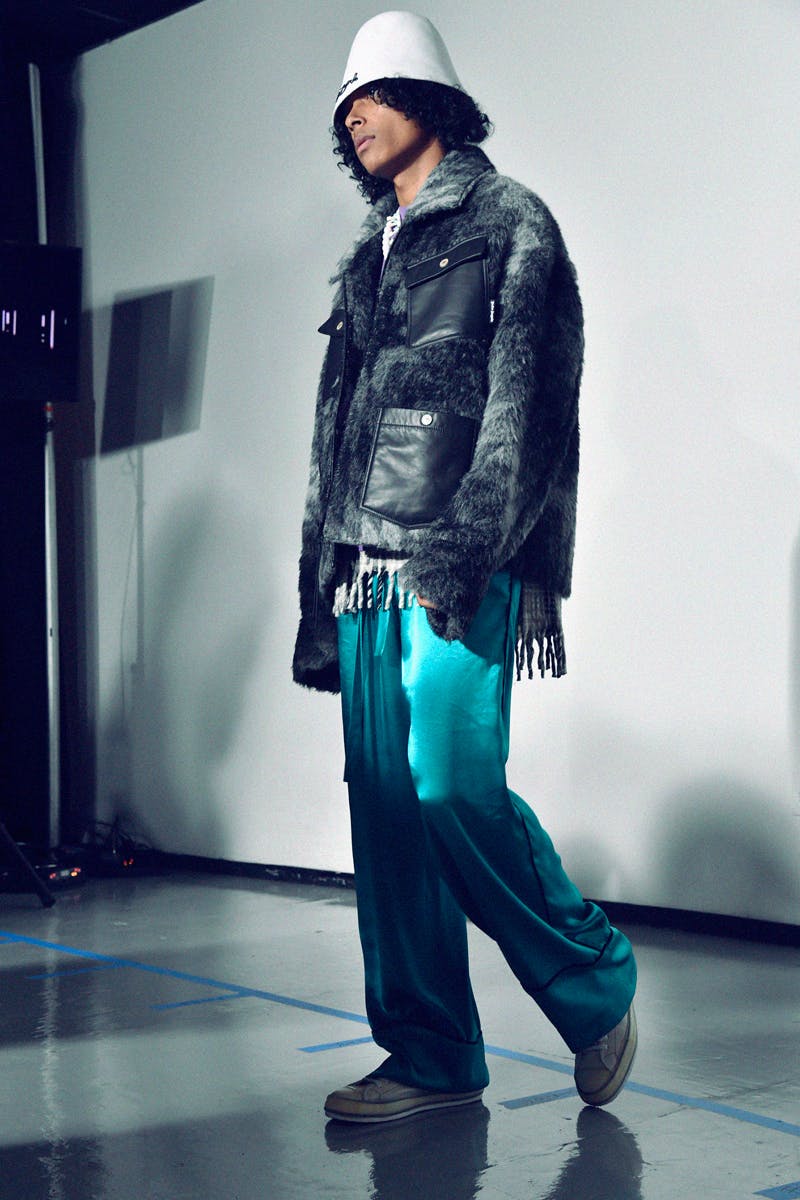 A cozy upgrade to a perennially cool piece of outerwear.
Pajama Set
The rustic print on this silk set channels classic Ralph and new-school streetwear.
Patterned Poncho
A luxe piece worth absolutely going dumb on, this is the kind of splurge you just make up reasons to wear.
Two-Tone Cardigan
Part-checkerboard, part-animal print, all totally sick.
Printed Trousers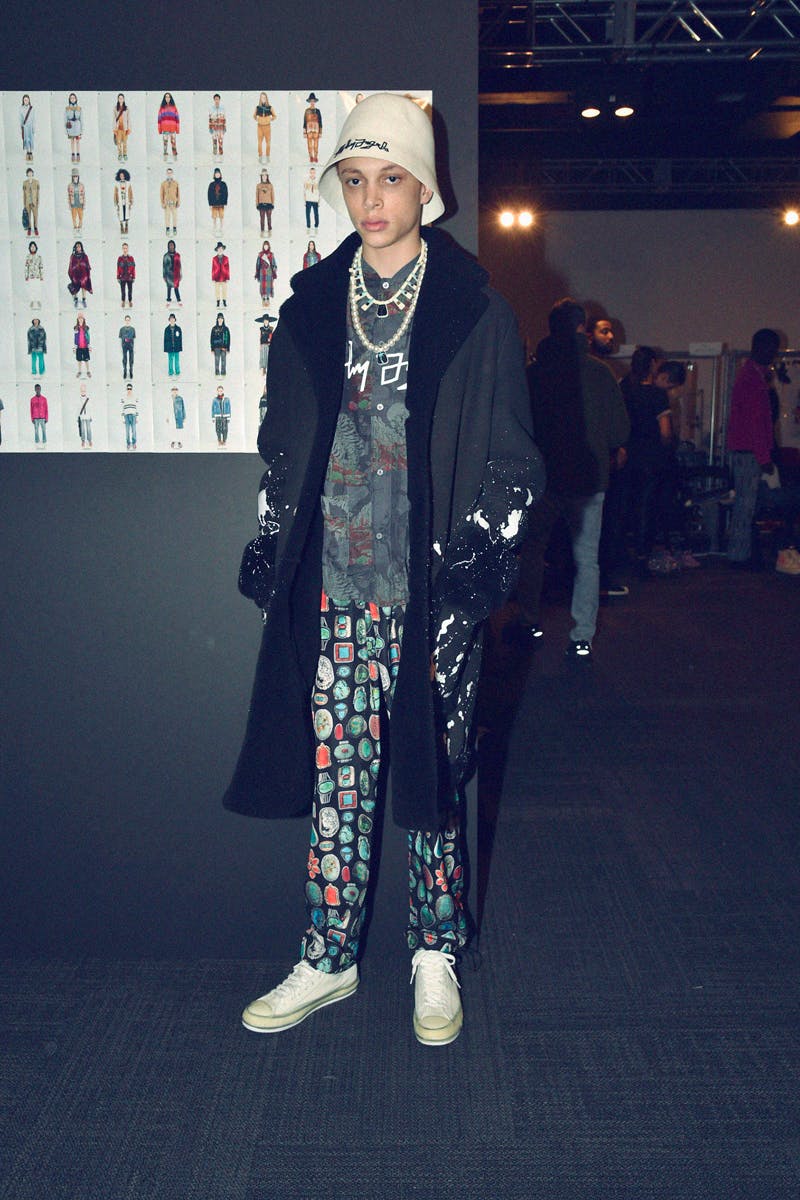 We're suckers for statement pants, and this pair is especially worthy of our attention.