Last year, I asked a friend who runs a creative studio in Berlin what tunes they usually play in HQ while working. Maybe non-intrusive Brian Eno ambiance? The hypnotically focusing blows of the city's adopted techno don, Blawan? Perhaps something else entirely, like Steely Dan's mellow masterpiece, Aja? "Nah," he replied. "Pavarotti." Consider myself shook.
As someone whose knowledge of the great man previously extended to "Nessun Dorma" — the towering ballad you'll usually hear blaring over World Cup '90 montages where Gazza cries, dramatic high points in films, or elegiac "in memoriam" segments about Pavarotti himself — it seemed an odd choice. Several months on, and I am a convert. It is entirely cliché, I know, but there's something transportive about listening to opera music in that it makes even the most mundane tasks feel vital. Think of Friday's deadline as L'Orfeo, with your KPI spreadsheet being the final act. Or something like that.
Aside from possessing the voice of a lion, Pavarotti was a Sprezzatura god who knew how to get a fit off. His tuxedo game was the personification of dapper, but his casual wardrobe was equally tasteful. With a scarf collection that would make your stereotypical Parisian woman seem like a dilettante, he fully embraced the flamboyant side of fashion. What else for an international cultural icon with a larger-than-life personality? According to some close accounts, his shawls were detracting from his huge size, almost like a security blanket, yet looking through archives it's clear he was also someone who just liked having some fun with clothes. Eat your heart out, Paninaro yuppies.
Apropos of nothing whatsoever, find some of Pavarotti's best looks below.
The True Style Highness
Step aside please, Diana, real fashion royalty is in town. In this photo, Big P kinda looks like Bluto from Popeye if he pursued a career in the visual arts. The lesson? Don't be scared to color-coordinate your accessories.
Are You in a Band?
Rather than a tenor, this grungy look is typical of someone who plays bass in a Sub Pop-affiliated alternative rock group. Pav tones down the preppiness of his white jeans — so often a dire look for many — with perfectly scuffed MEPHISTO kicks. Great brand, BTW.
Big Barbour Bossman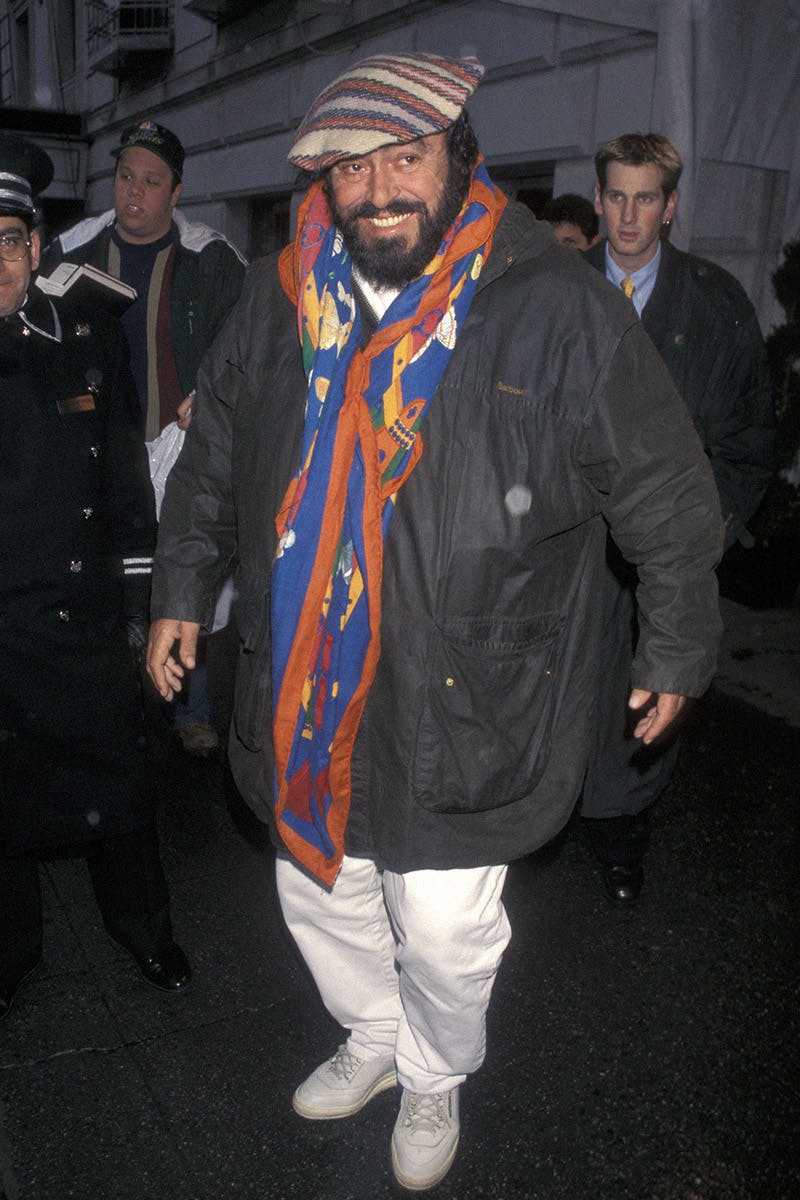 With the help of Supreme, Barbour returned last year in a way not seen since the days when Alexa Chung would amble about UK music festivals clutching a pint of lukewarm cider. To serve one up with a particularly colorful Hermès Carré is the type of high-low dressing that takes serious sartorial chops to even imagine, let alone execute.
Send Mulez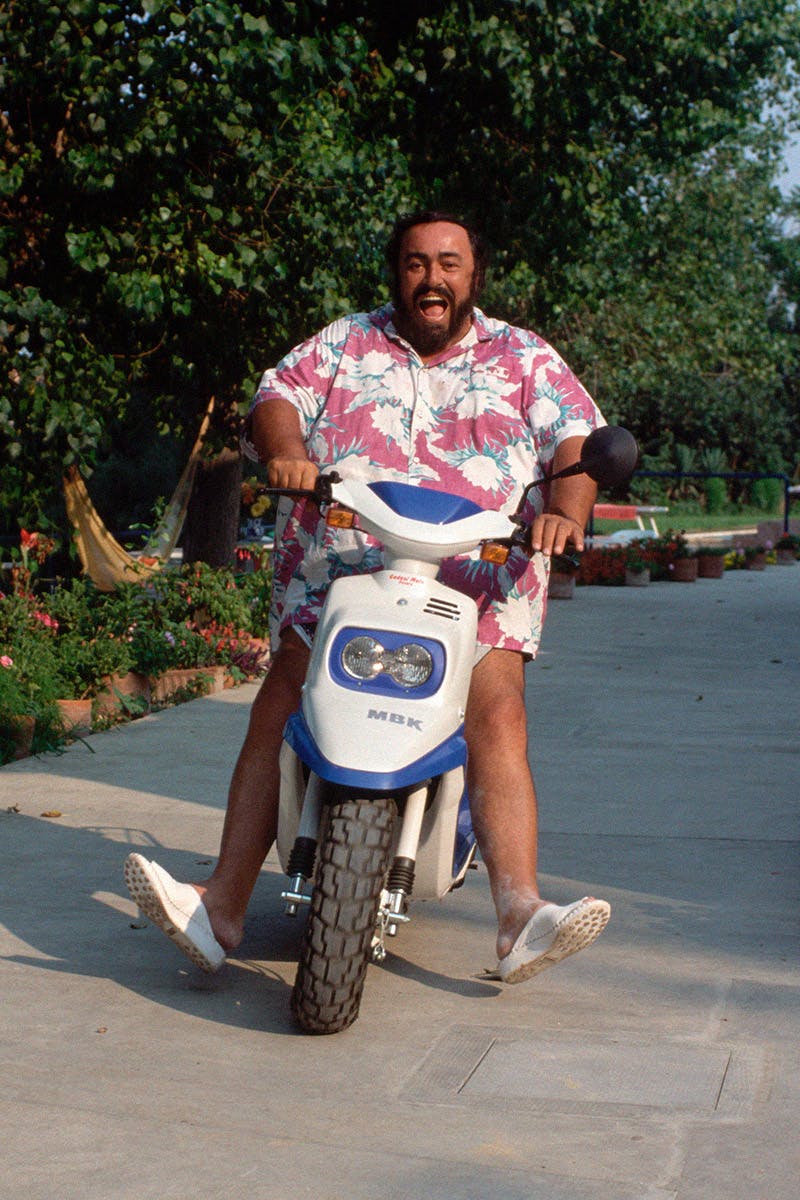 Let's ignore the floral shirt that looks like some boogaloo dork channeling my grandmother's wallpaper in the '90s and instead focus on the fact Pavarotti is a card-carrying member of the mulement. They're ideal for summer, albeit not suited to careening around mansion grounds on a Vespa.