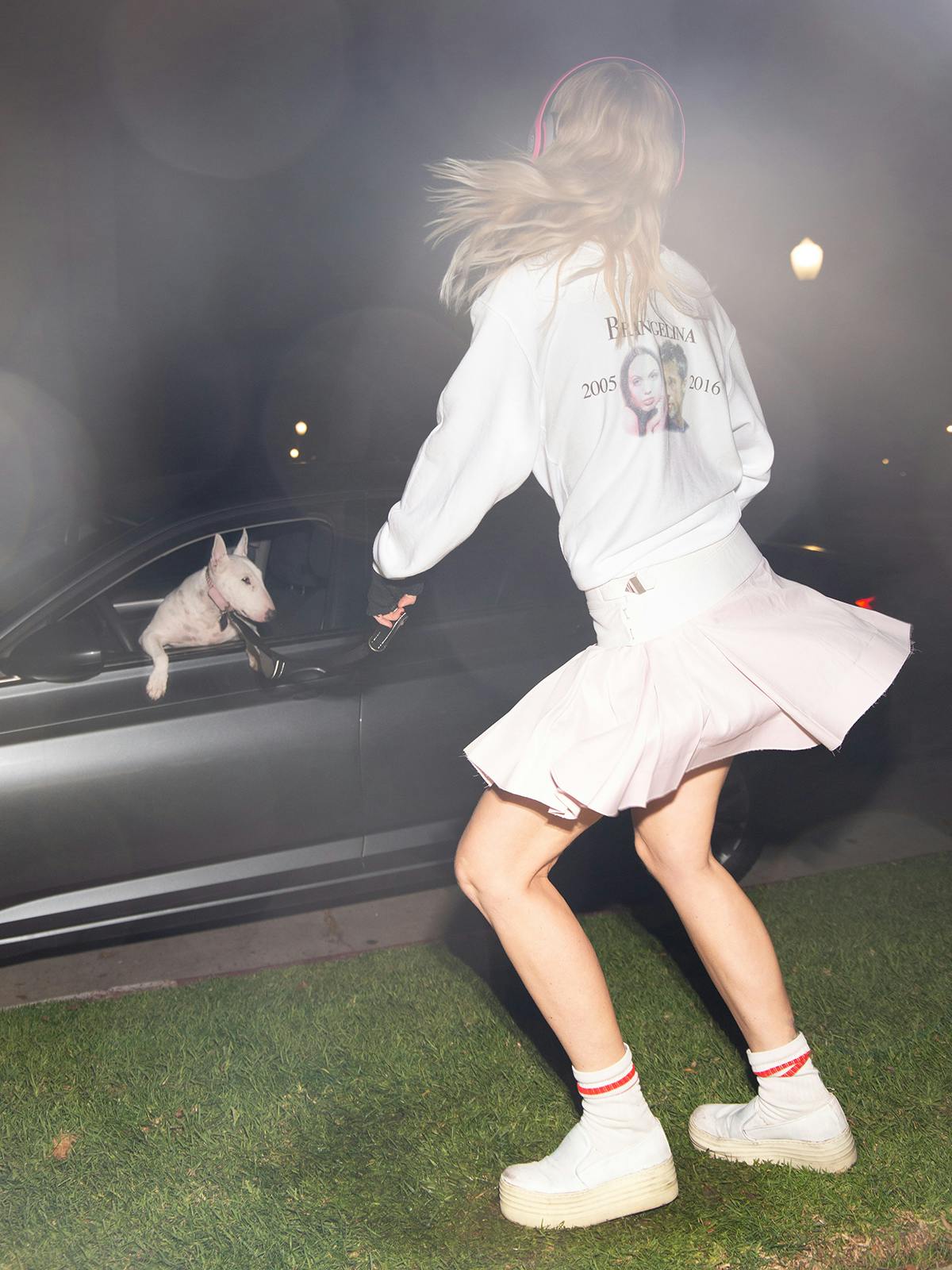 Experience this story and others in the new issue of Highsnobiety Magazine, available from retailers around the world and our online store.
From Ye's Sunday Service to the rise of "Dark Academia" (a Catholic school-inspired trend featuring wearable rosaries and plaid skirts), God is back in style. On social media, once-agnostic teens post memes about the Lord, while a recent Lil Nas X music video showed the performer grinding on the Devil. Not all religious references are so literal. In fashion, brands that pander to the return of worship in the cultural mainstream tend to do so with labels rather than aesthetics. Notable are Fear of God and Heaven by Marc Jacobs, but only Praying, an LA-based streetwear line of heavenly merch for the Catholic-curious, captures the ambiguous aesthetic of faith-based practices in a time of global upheaval.
Founded in late 2019 by 30-year-old Alexander Haddad and 29-year-old Skylar Newman, Praying was born out of nihilism. "We had these jobs we didn't really care about. And we were partying a lot, so we were always hungover," Newman tells me over Zoom. At the time, he was traveling to New York from San Francisco for a software job, and crashed on Haddad's sofa. "You know when you're hungover and your brain is kind of broken? Everything we saw during that time was insane to us." Throughout our choppy video call, the two founders sit side-by-side on a couch and practically finish each other's sentences. They tell me about witnessing a man pouring bleach down a sidewalk into a storm drain, and the absurdity of banning plastic straws to save the environment. Both are examples of trashworld, a slogan they use to describe a feeling of powerlessness pervasive in the time of climate change and platform capitalism. "It's like Nick Land or some accelerationist philosopher shit," says Haddad, who studied philosophy at the University of San Francisco and later architecture at Columbia. "The idea that the world is broken beyond repair."
Worshipped by both angsty teens and pop stars like Olivia Rodrigo and Megan Thee Stallion (the brand also insinuated they inspired a line of merch by Billie Eilish), it's not only God but also the God-like power of celebrities and algorithms that Praying has to be thankful for. The line of highly grammable T-shirts, hoodies, slip dresses, and accessories is littered with slogans like "GOD'S FAVORITE" and "How much can I get away with and still go to heaven?" While hats that spell out "MAIN CHARACTER" and purses screen-printed with Twilight stills and song lyrics blend religious worship with that of celebrities and memelords, or at least the content they create. Put simply: Praying is both a religious and memetic brand — with a mission that's up for interpretation.
Praying popped off during the pandemic, when the potential for revolutionary social change was peaking. But while leftists lusted over infographics and the alt-right ramped up their conspiracy machine, an alternative form of cynicism, popular on podcasts like Red Scare and amongst memelord artists like Brad Troemel, was brewing. Call it alt-woke, or trashworld, or just straight-up nihilism — those who favor this ideological viewpoint cringe at overt optimism and side-eye bigotry, all while remaining distrustful of government institutions, cancel culture, and right-wing politicians.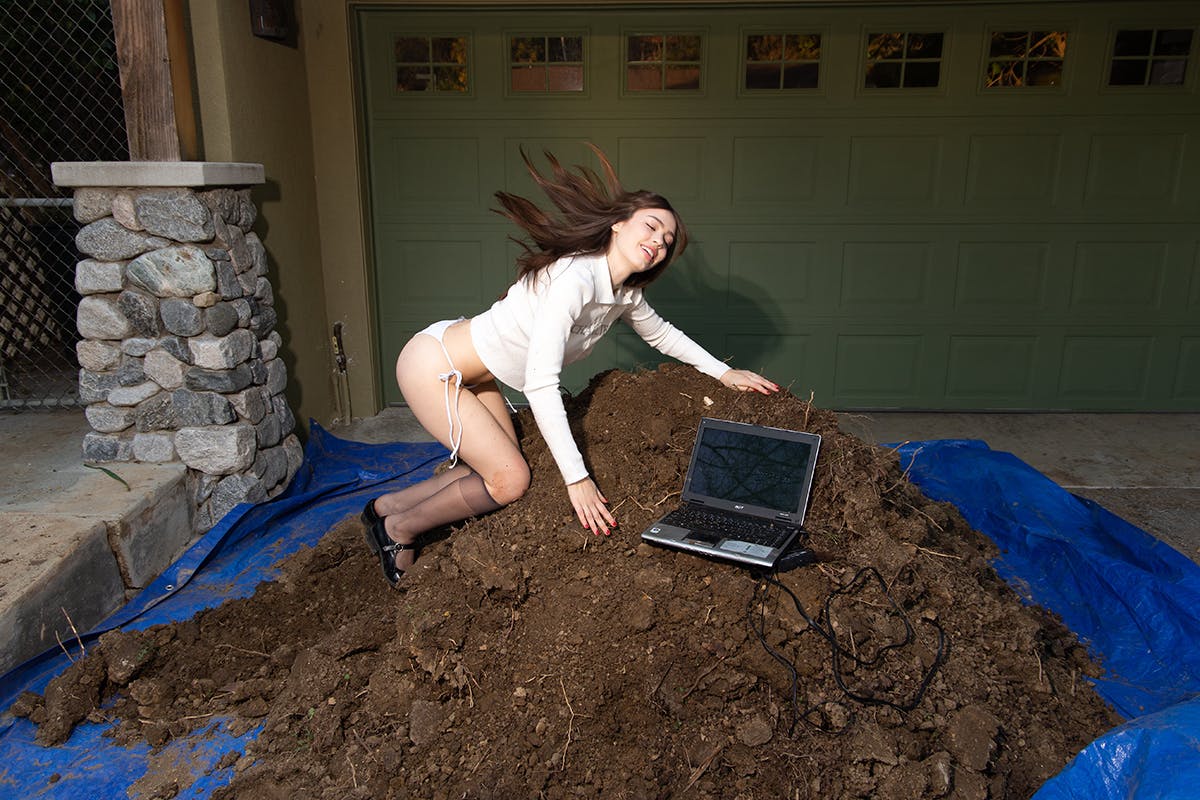 Born on the Internet, Praying has managed to capture the nuance of that scene, adopting religious iconography, memetic slogans, and oxymoronic silk-screened graphics that appeal to a subset of e-girls and edgelords who favor ambiguity. "It's a way of using nihilism to move past nihilism," Newman explains. "What we're trying to do is say things and show images that have two meanings. A lot of the time, these meanings are competitive. They can be ironic or completely sincere." Consumers of Praying see the return of Christian iconography as both a LARP and a lesson in faith. As a result, barely-there bikinis that spell out the Holy Trinity ("Father" and "Son" on the top, "Holy Spirit" on the bottom) are both contemptuous tools of self-expression: a means to offend evangelical aunts and uncles, and talismans for the newly devout.
Though they claim it's unintentional, Praying subsequently fits within the trad-cath movement, an Internet subculture that encourages people to pose as Catholics who ascribe to traditional social mores, like the sanctity of heterosexual marriage and the right to bear children. Some adopt trad-cath aesthetics and ideology for an edge, while others sincerely explore faith as an alternative to the chaotic present. But not all are on board with Praying's message. "A lot of catholic LARPers don't actually like it," says Haddad. "It's almost like they're saying the same thing as traditional religious people, like, 'How could you disgrace my religion like that?' but they're just Twitter users adopting religion as a brand."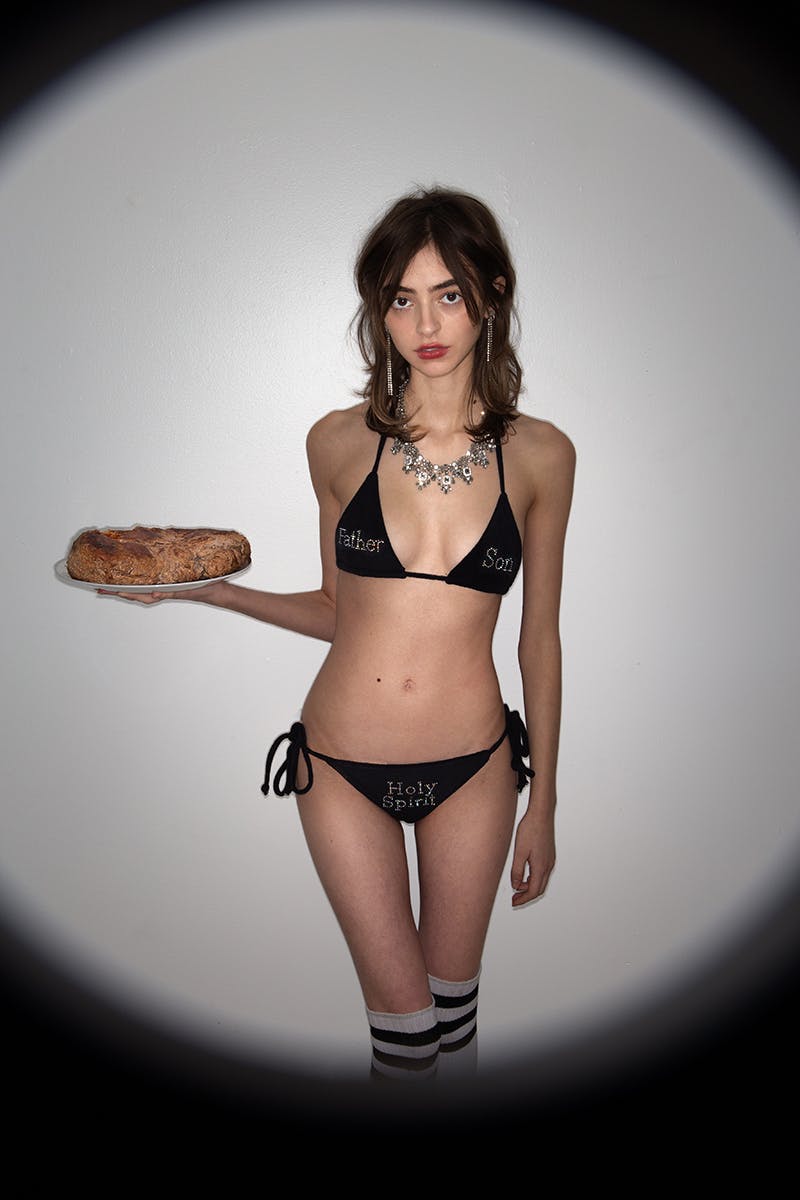 If you look at Praying's Instagram page, you'll notice that the majority of tagged photos are of young white women, the type who may have exposed their hairy armpits and childlike underwear during the days of selfie feminism, but who've since traded optimism surrounding the female gaze and the so-called democratizing force of social media for a more ambiguous, if not pessimistic way of thinking. But that doesn't mean Praying is strictly an edgelord-adjacent brand. If anything, what it represents is the desire to ascend the rigidity, to playfully repudiate binary modes of thinking in religion and politics. It's not a centrist perspective so much as it's a rejection of the system altogether.
As the hipsterdom of yesteryear, the ambiguous Internet culture that Praying is in conversation with often stems from a privileged perspective. Like tuning in and dropping out in the 1960s, today's radically minded teens are more likely to disassociate on ketamine than they are to start a movement (Praying recently produced a "I've been living in a k.hole" T-shirt). Praying's founders seem to understand this, yet they proceed without judgment. "People send me memes like 'You're not God's favorite, you're just doing whippets in the bathroom,'" Newman says. "I'm like: 'That person could be God's favorite, they're just doing what they want.'" And why shouldn't they be? At a time when everything feels hopeless, indulging in playful fashion, like a bag screen-printed with "Brangelina" or a shirt that reads "Rotisserie Chicken $5.99" can feel like taking the moral high ground, even if the proceeds of those sales aren't going to support a charity or a local business (as was most popular merch during lockdown).
If fashion is a mirror of the times, then Praying is a reflection of the feed. In fact, the brand's value is not in its designs but in its ability to respond quickly to shifting sentiments online. Thanks to Haddad's graphic design prowess and Newman's past experience producing movie merch for Netflix, the duo understand the production side of the business. And because they favor simple, screen-printed designs, they're able to get things made quickly, not unlike their fast fashion counterparts. This strategy is particularly valuable given the brand's allegiance to memes and Internet-speak. "The speed at which we make stuff and how quickly we're able to react is helpful," Newman says. "The rotisserie chicken shirt, for example, we saw the sign and thought it was the funniest shit in the world, so we made it right away."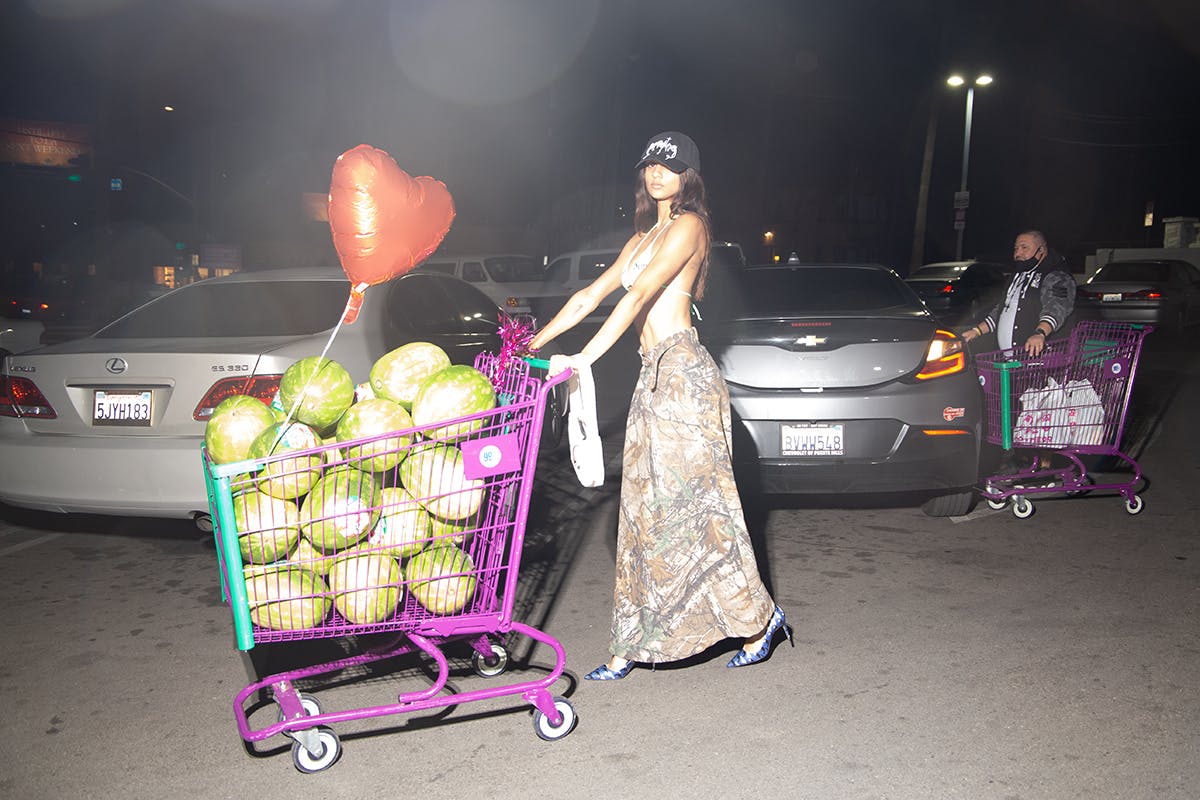 On Praying's Instagram page, editorials set in drab motels and suburban homes are interspersed with product shots and meme-like promotional content, including a doctored image of Mark Zuckerberg featuring a photo of "God's Favorite Bag," and a viral Photoshopped image of Adam Sandler draped head-to-toe in Praying. Here, memes mix with the power of celebrity to create the perfect marketing machine. Notable is a pleated skirt screen-printed with Angelina Jolie as Lara Croft and a T-shirt adorned with "Princess Diana" and an image of the limited edition purple Beanie Baby bear that was created in her name. "I just saw the Princess Diana movie Spencer," Newman says. "I didn't know any of that stuff about her. I had just known her as the Beanie Baby because my sister had one. It was a way to reinterpret our perception of these people we only know in a removed way."
Others have taken note of Praying's success, and are doing their best to mimic the brand's line of spiritual merch. The popular Instagram meme account @ineedgodineverymomentofmylife dropped a collection of similarly branded T-shirts and hoodies in collaboration with literary press WONDER (a T-shirt by Insta-famous sex worker-cum-poet Rachel Rabbit White says "As long as there's a poem I'm walking in God's path") around the same time Fashion Nova released a carbon copy of "God's Favorite T-shirt." But the duo behind Praying don't seem to be concerned. In fact, they themselves have copied a design from a fast fashion giant, though they rather I don't specify which.
In the age of merchtainment, staying relevant is harder than ever, particularly for streetwear brands that rely on hype to maintain interest in their offerings, but for Praying, having fun while building a brand is what's most important, at least on a spiritual level. Throughout our conversation, the two founders maintain a child-like sense of optimism, regardless of how they feel about the world crumbling around them. "The brand is relevant right now for whatever reason, but we're just doing what we want to do," says Haddad. "We make things that are funny to us right now. We print them on a T-shirt and it goes out. If it's not funny, it's not relevant."
What about trashworld?
"For me, overcoming nihilism comes from faith and faith in God," says Haddad. "I have faith in our brand. We always said that Praying will save us."
"Praying saved me," Newman gushes.
Head here to get a copy of the new issue of Highsnobiety Magazine.