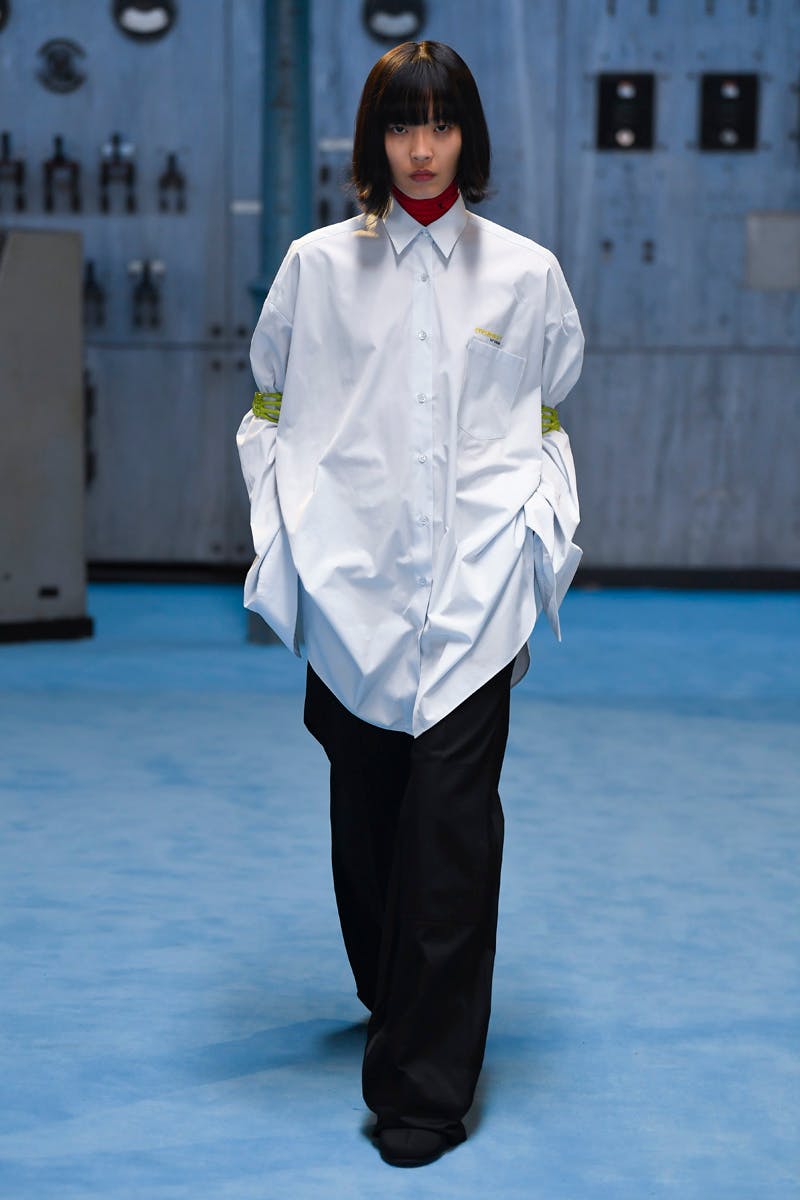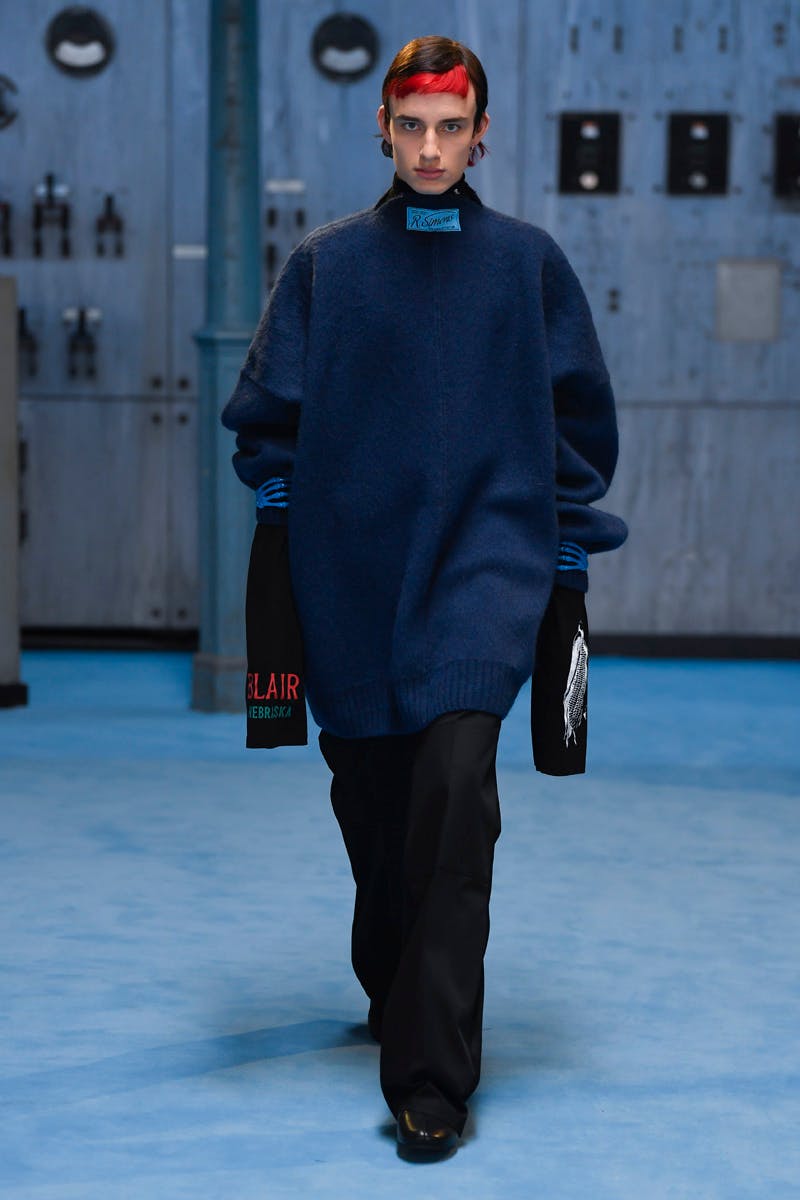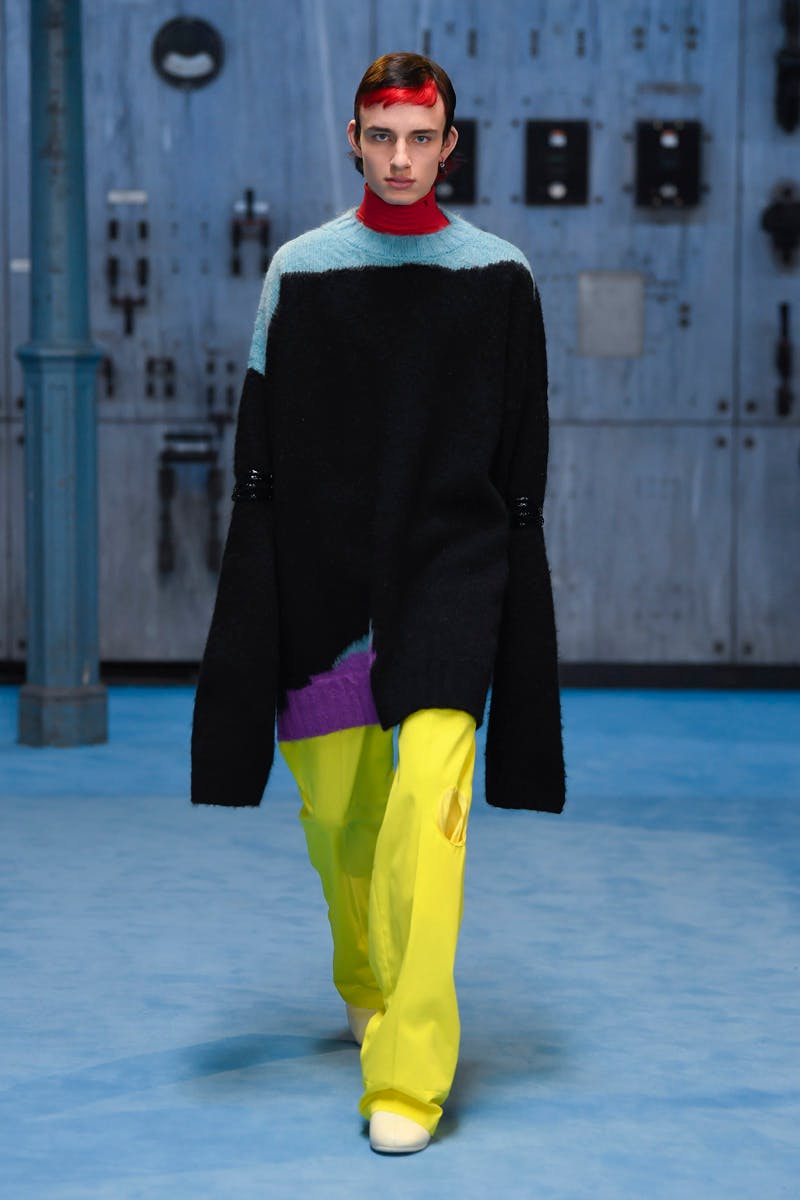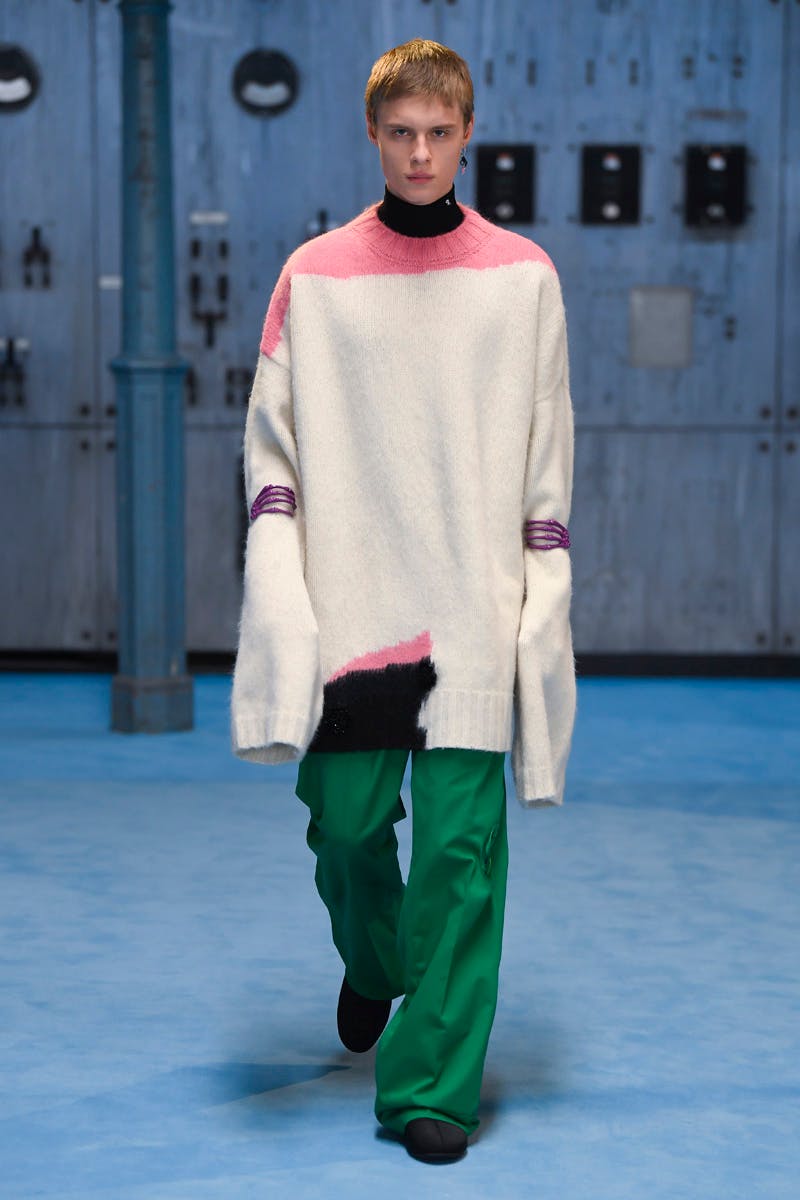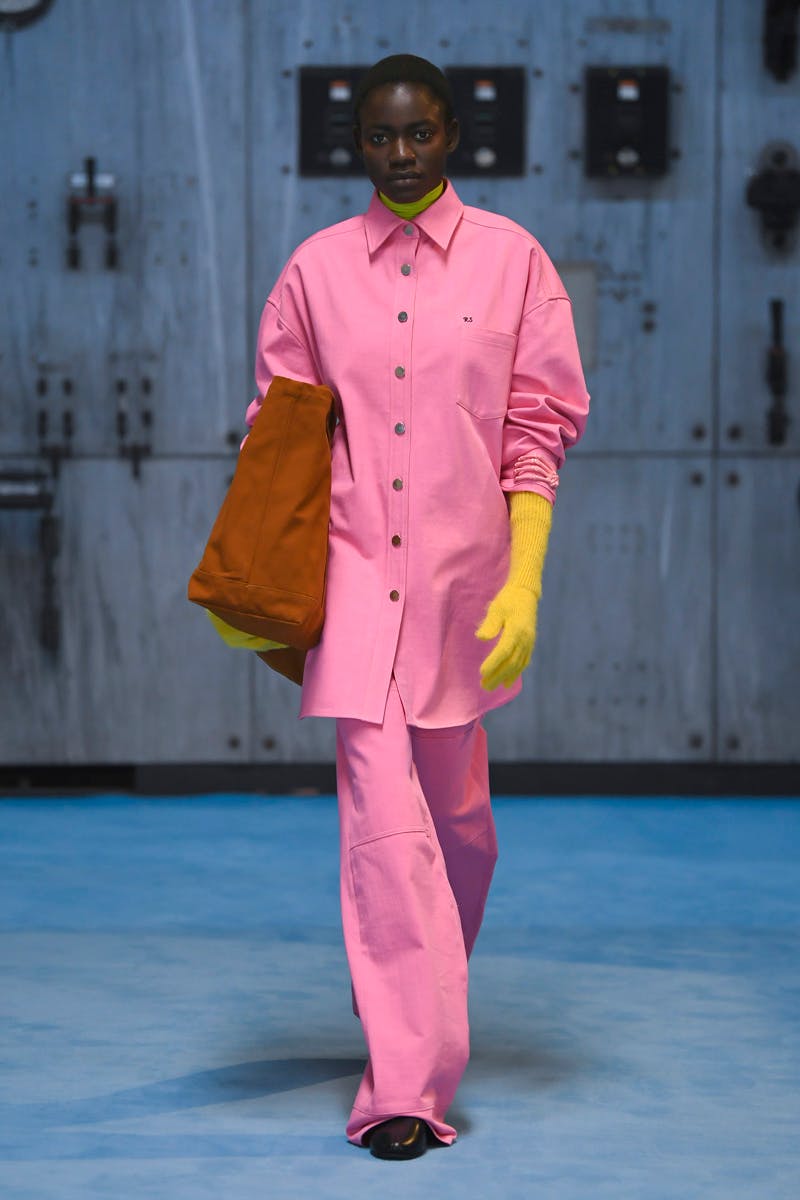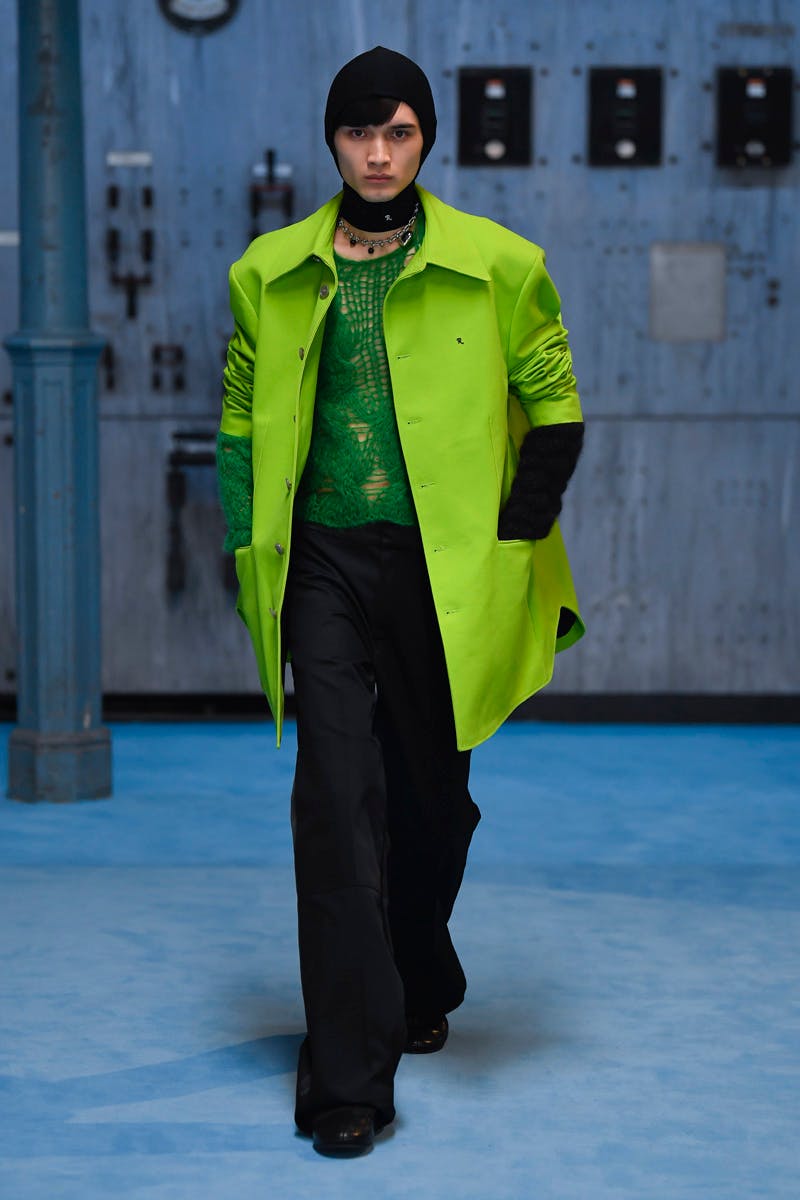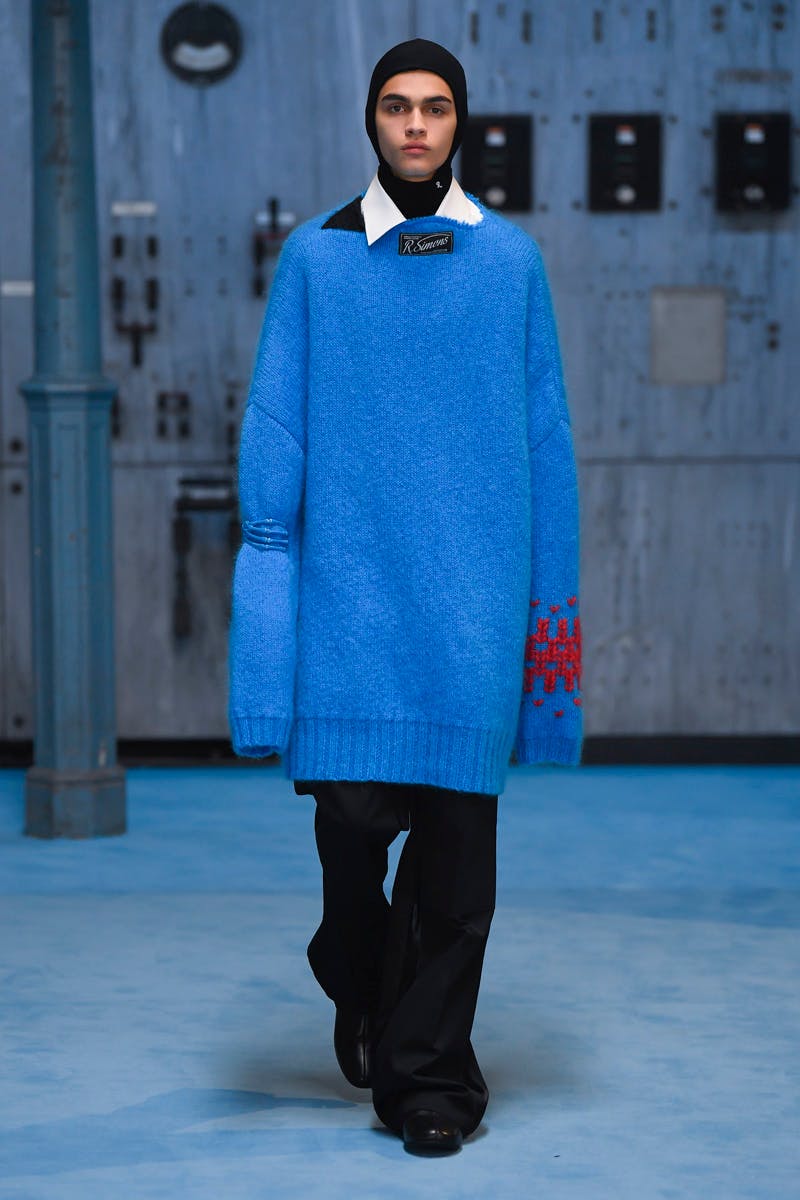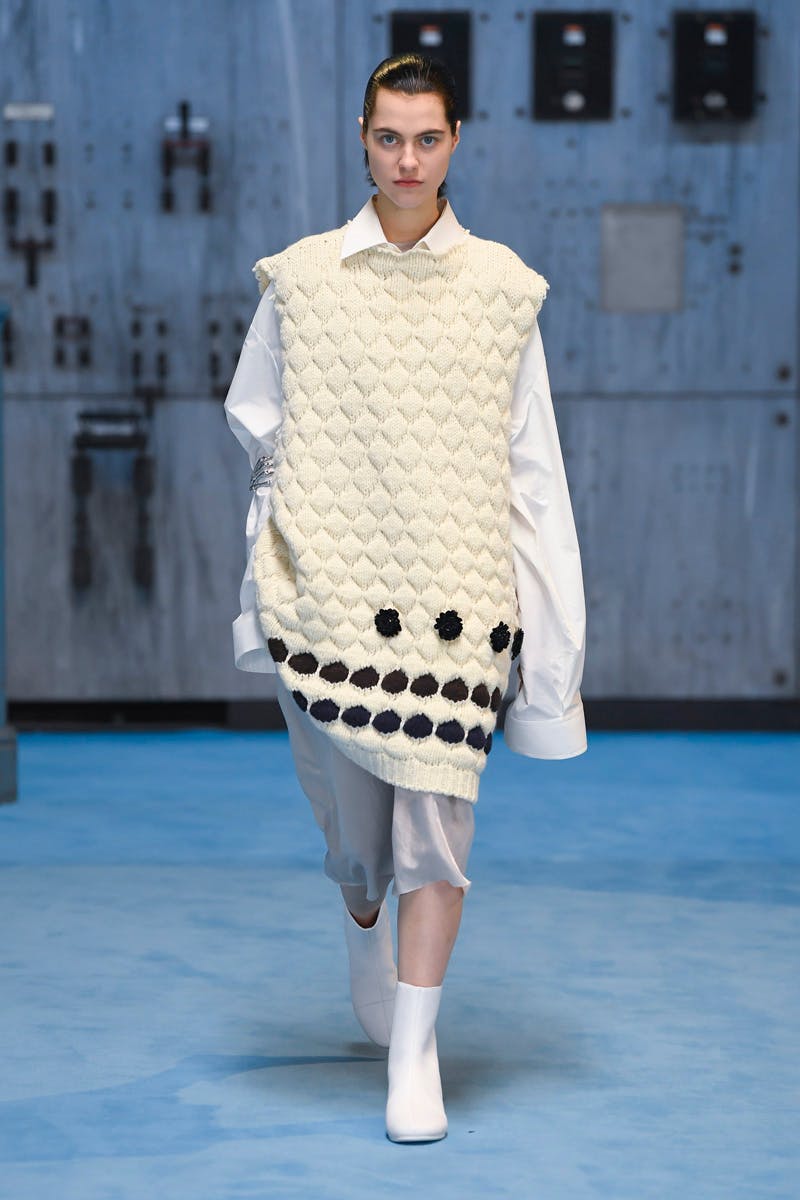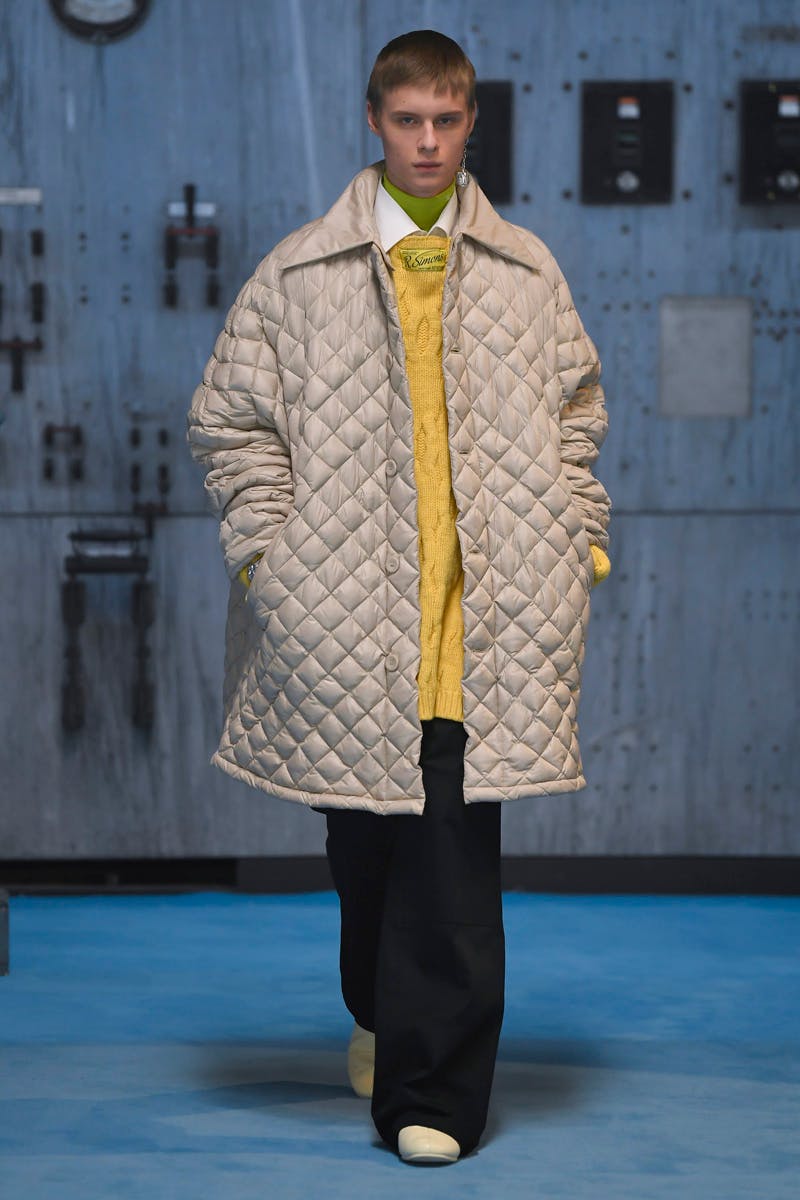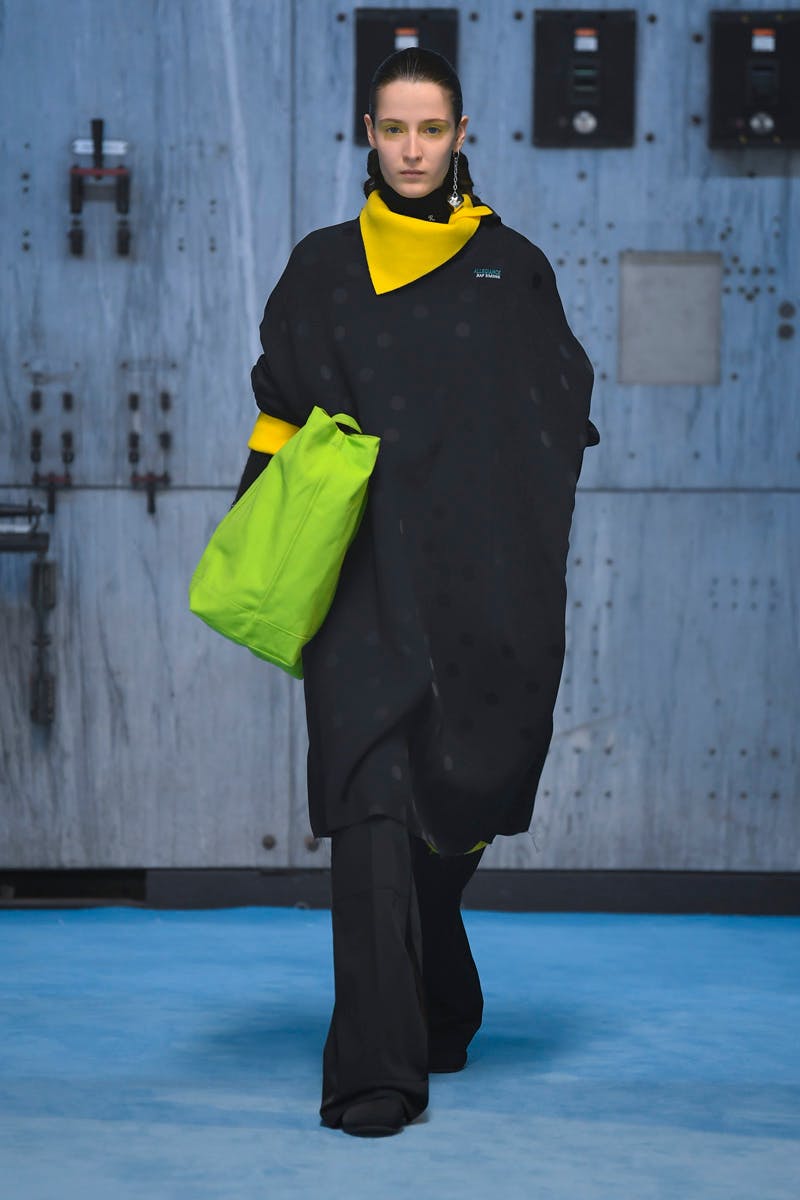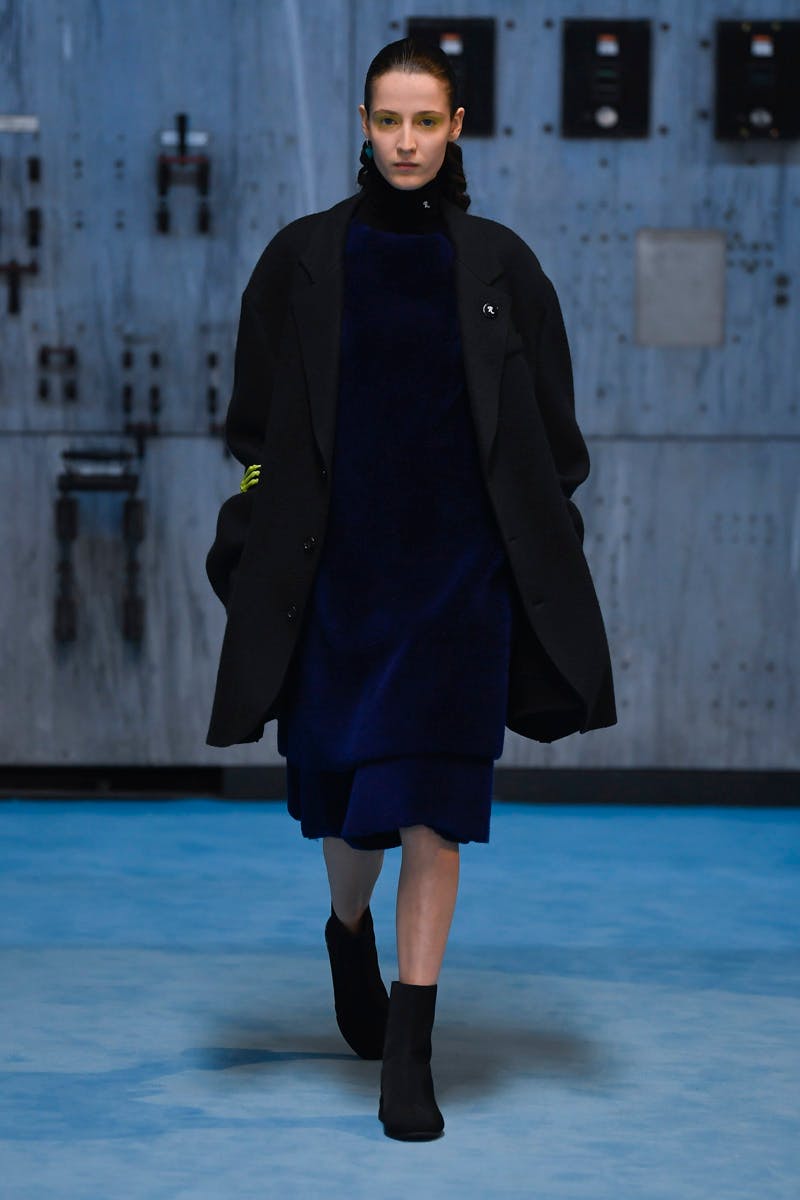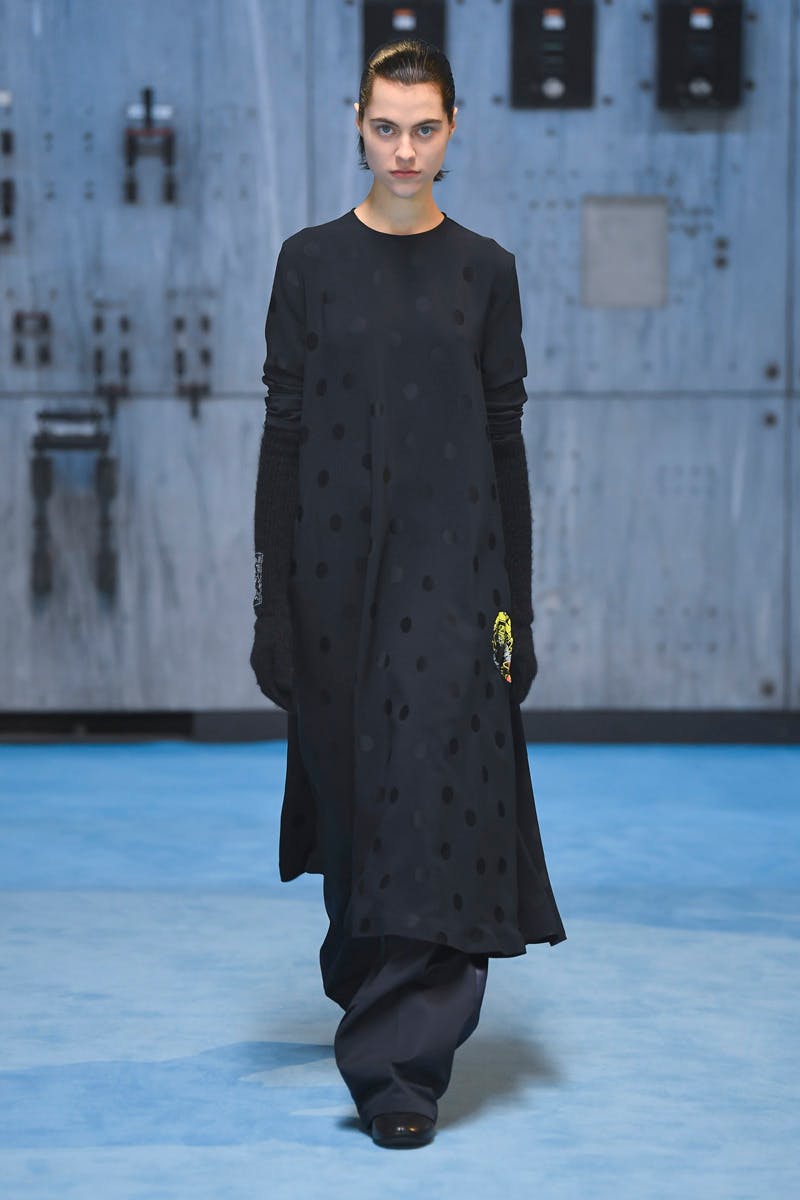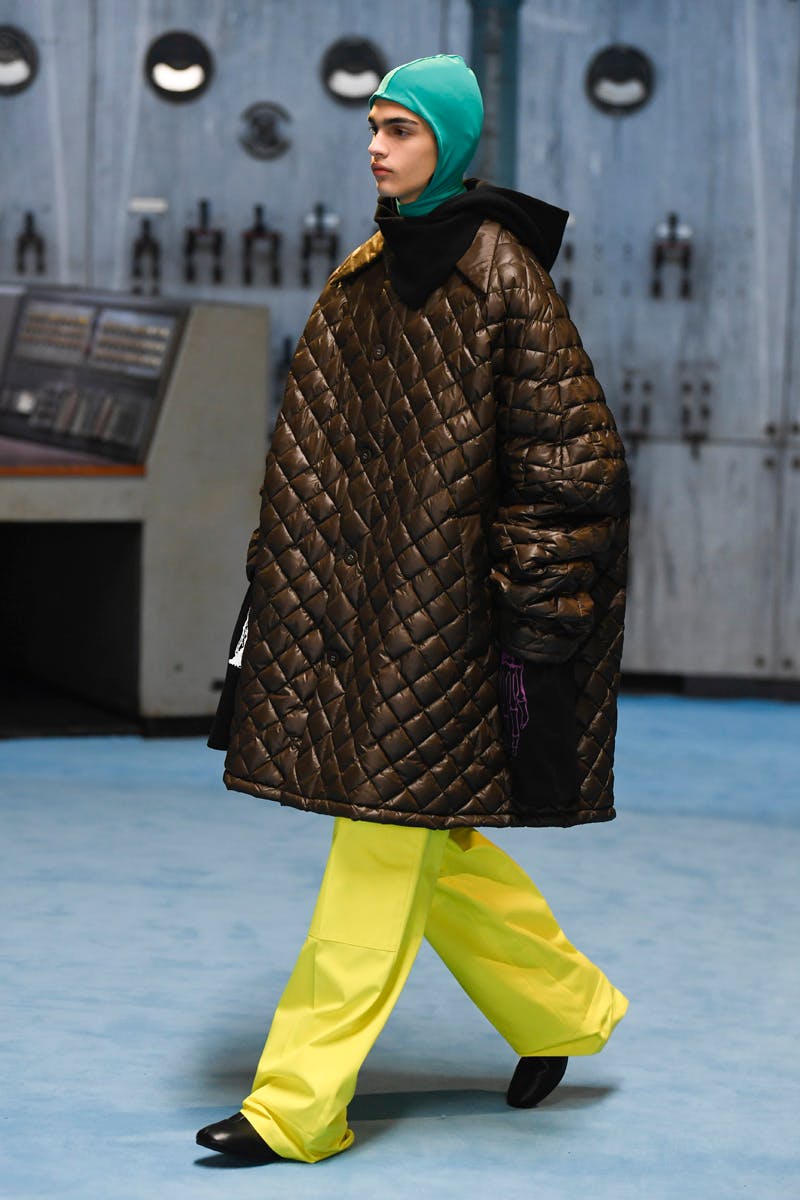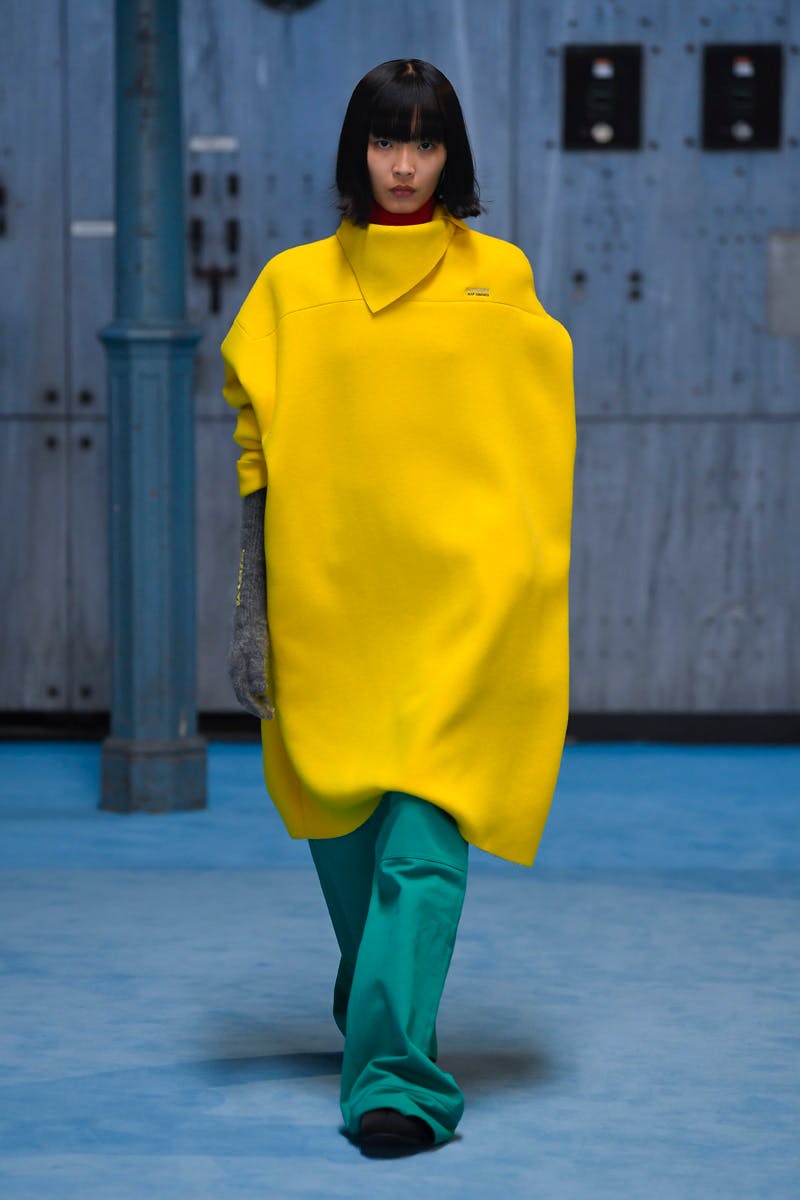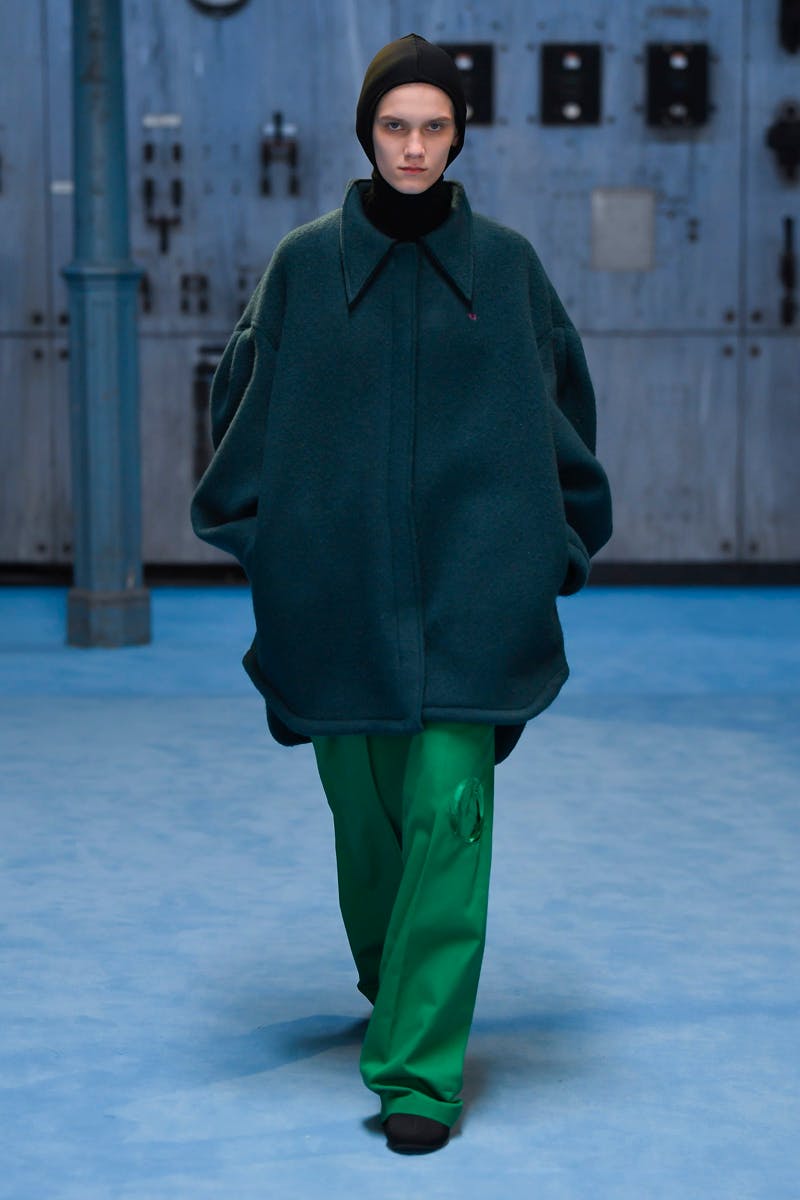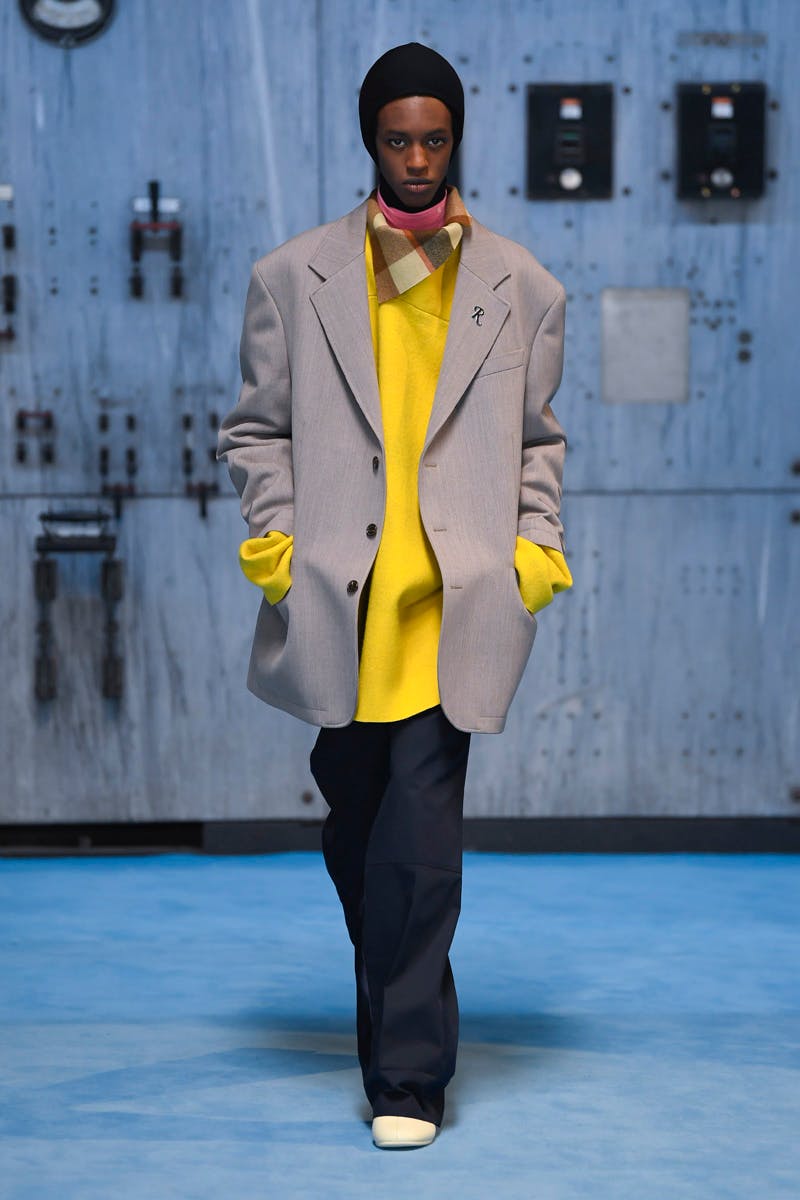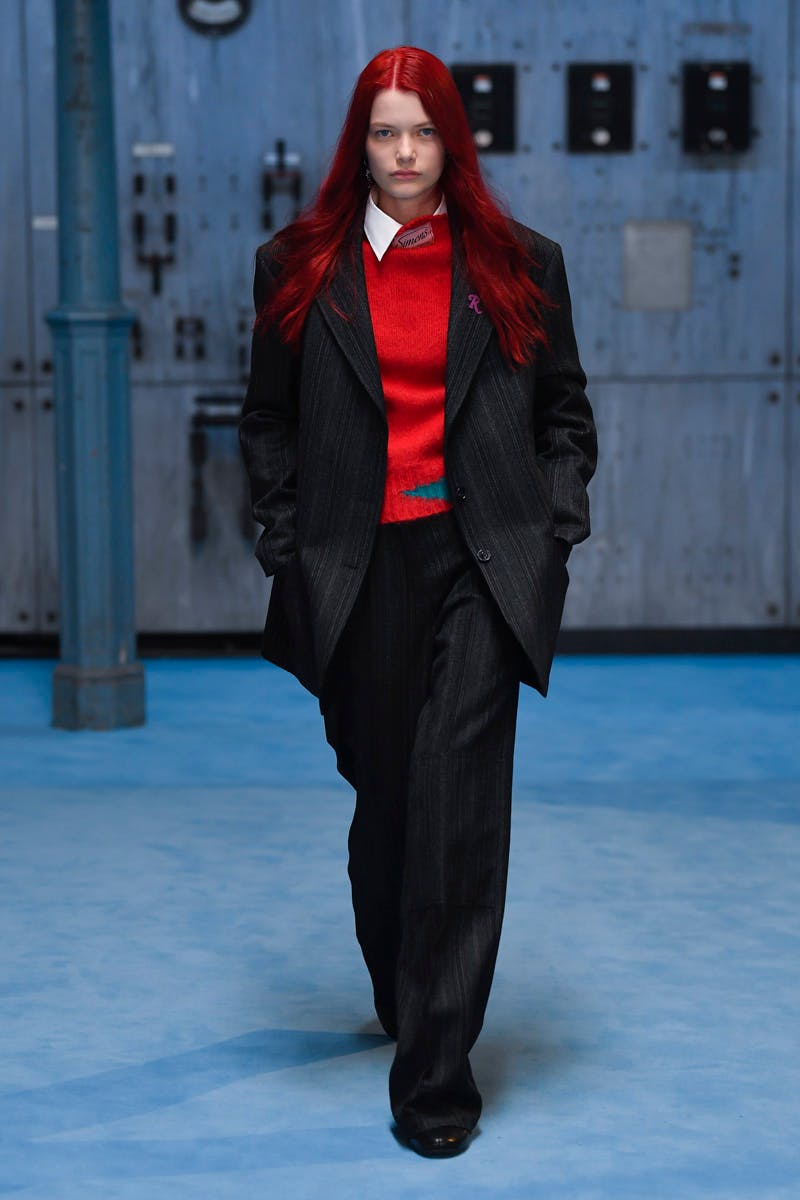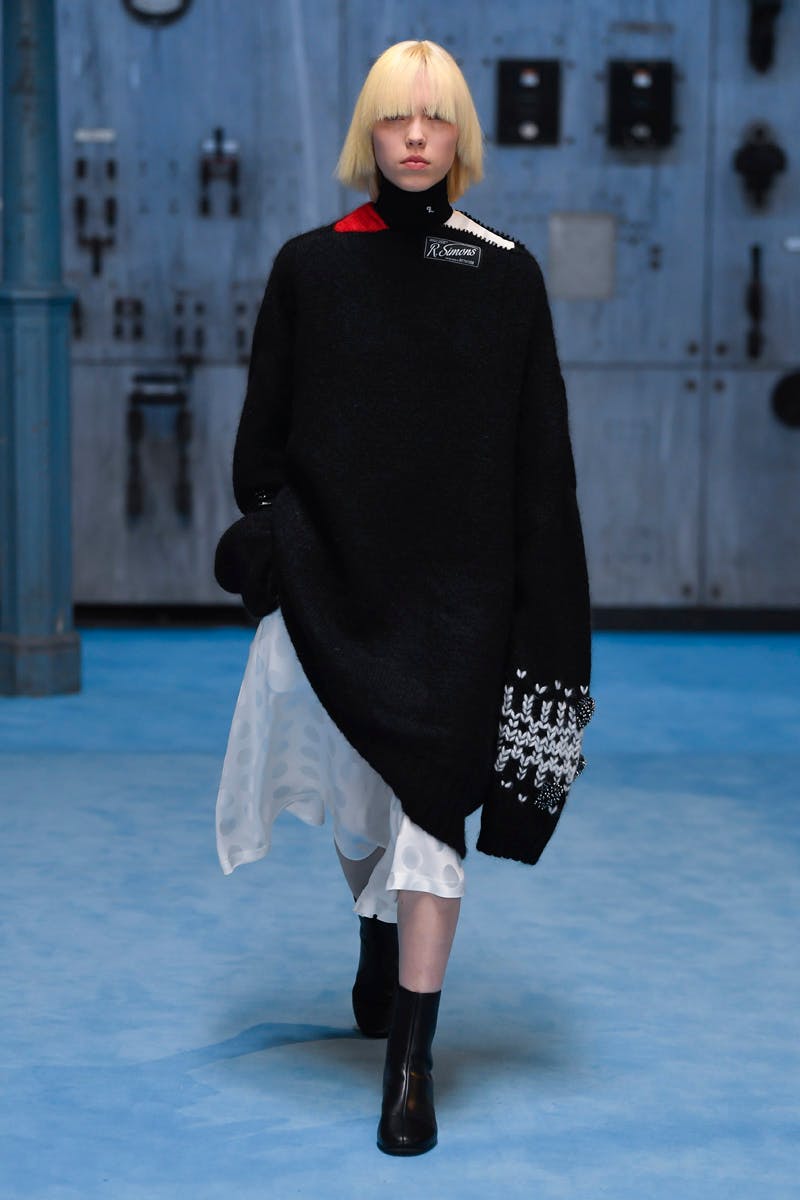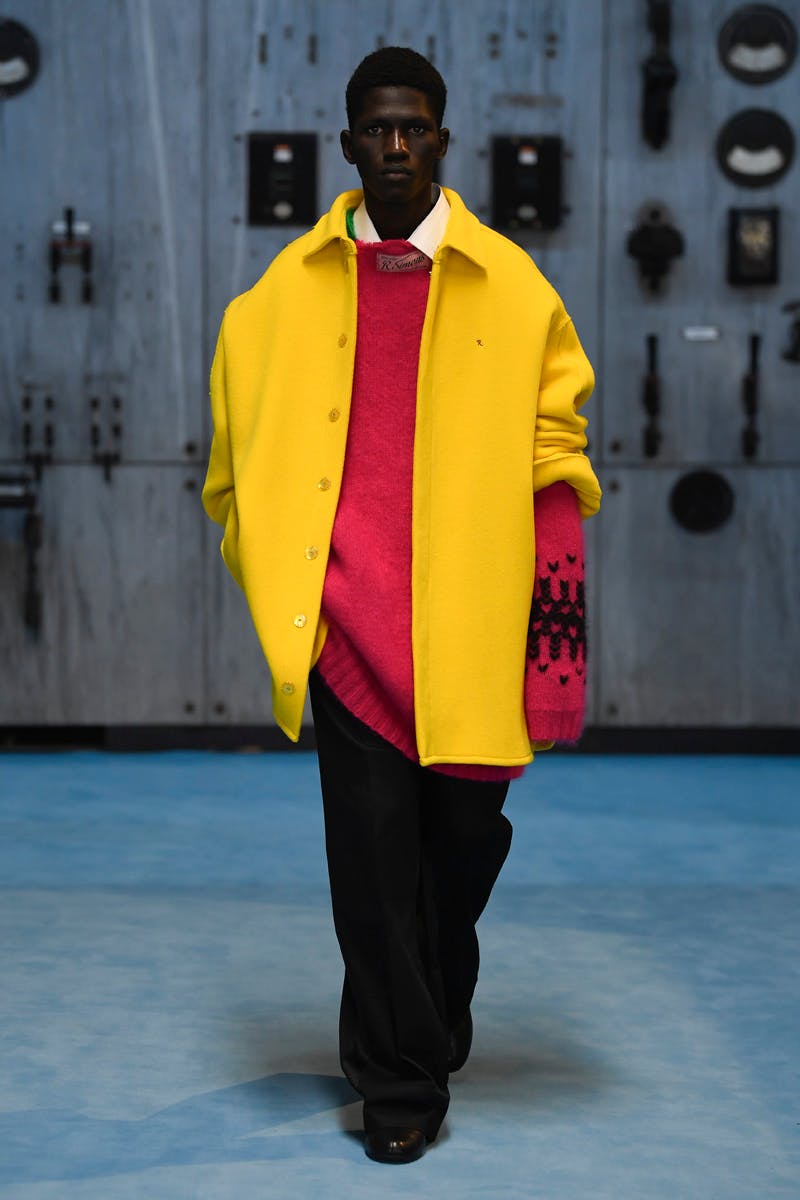 Today marks the second time Raf Simons showed a women's collection for his own brand, in addition to menswear. Last season's presentation was served with the text "Welcome Home Children of the Revolution" — with that in mind, our anticipation for the FW21/22 show was built around the question: What follows next in the RS revolution?
Before the show arrived, we were given some loaded, teasing terminology for inspiration: "DEVOTION," "DICHOTOMY," "ALLEGIANCE", "EQUANIMITY," "SYNCHRONICITY," and "ATRAXIA," a greek word meaning a state of freedom from emotional disturbance and anxiety.
If anything, a future riffing off these ideas sounds optimistic, but the clothes presented depicted a more complicated utopia for the knitwear-wearing androgynes of the RS cult.
FW21/22 was introduced with a prototypical soundtrack from the Raf Simons archives: seminal German electronic band Kraftwerk. So far, pretty familiar. This feeling is furthered by a return of key elements from Raf Simons' oeuvre – polo necks, button-downs, workwear shirts – presented in a wash of red, blue, pink, chartreuse, turquoise, and sunflower yellow. The knitwear felt like pure "raf," too, rendered in large and comforting shapes with a wide wale stitch, exposed raw hems, and a new "R.SIMONS" label just below the neck. There was also a throwback to Simons' legendary FW02 "Virginia Creeper" show via a reference to Nebraska on a few of the sleeves.
Talks of "old vs new" have been on Simons's mind for a while now. In a Q&A with his Prada co-creative director Miuccia Prada, Simons said "Every designer wants to be new. But I think when you are in it for a long time, let's say a few decades, it's important to be able to refresh your own body of work."
While there's plenty here to appeal to the die-hard Raf Simons crowd, there is indeed some newness, some of which gets pretty morbid. Check out our favorite key pieces from the Raf Simons FW21/22 collection below.
Memento Mori
The collection was imbued with a lingering skeleton motif, appearing as an enlarged print on hoodies and conceptualized as a bracelet clasped around the arm of oversized shirts, and bolting together sleeve openings. The overall effect is one of a skeleton urgently needing our attention, but for what?
N.b. If this piece doesn't show up on a virtual red carpet via famed-skeleton print enthusiast Phoebe Bridgers, then what was any of this even for?
Singular Earrings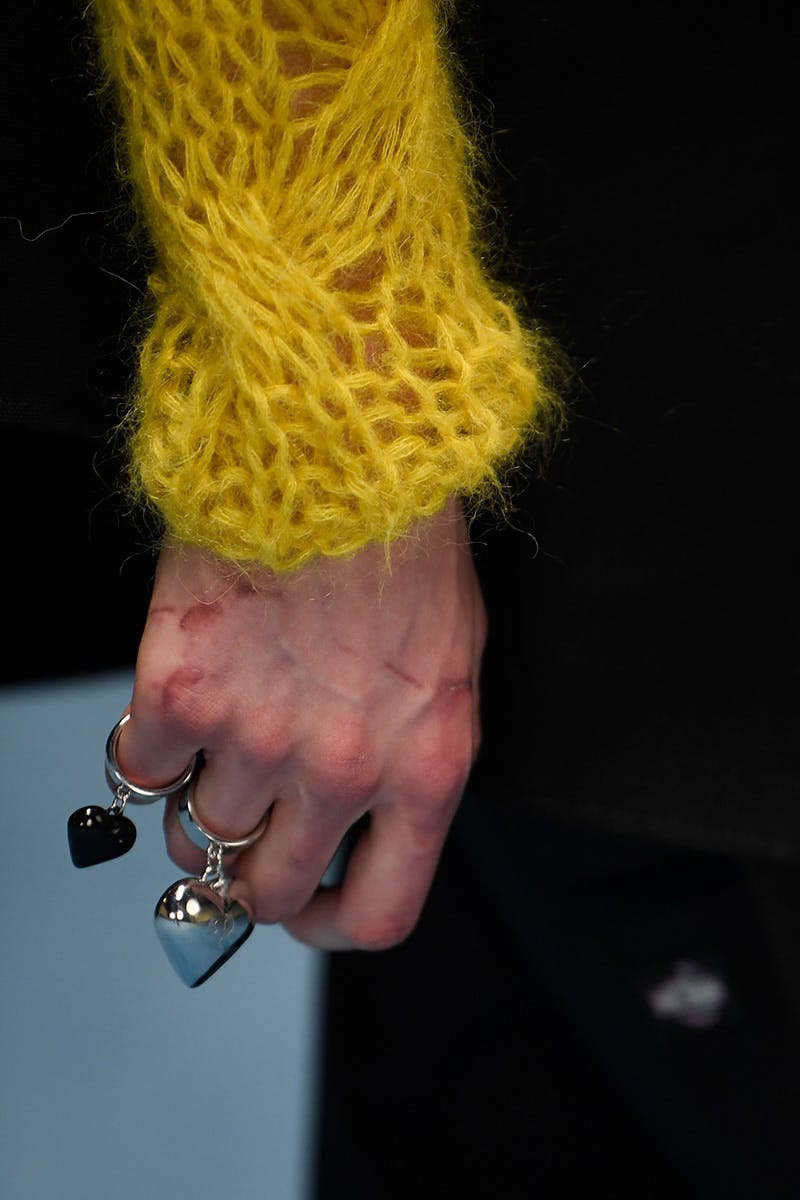 The lone dangly earring is the fashion accessory that just won't quit. A frequent go-to for Lil Nas X, Harry Styles, and Odell Beckham Jr, a singular pink "R" earring can be very effective if executed correctly. The heart charms as rings are a nice touch too.
WFH Revolution
This is where the collection gets modern. A big white shirt is a veritable WFH staple. The smart collar provides Zoom-appropriate coverage from the waist-up, and then you can style it however you want down below: sweatpants, slides, underwear, or whatever's available. Maybe a blanket from his "History of my World" collection?
Serious Bonnets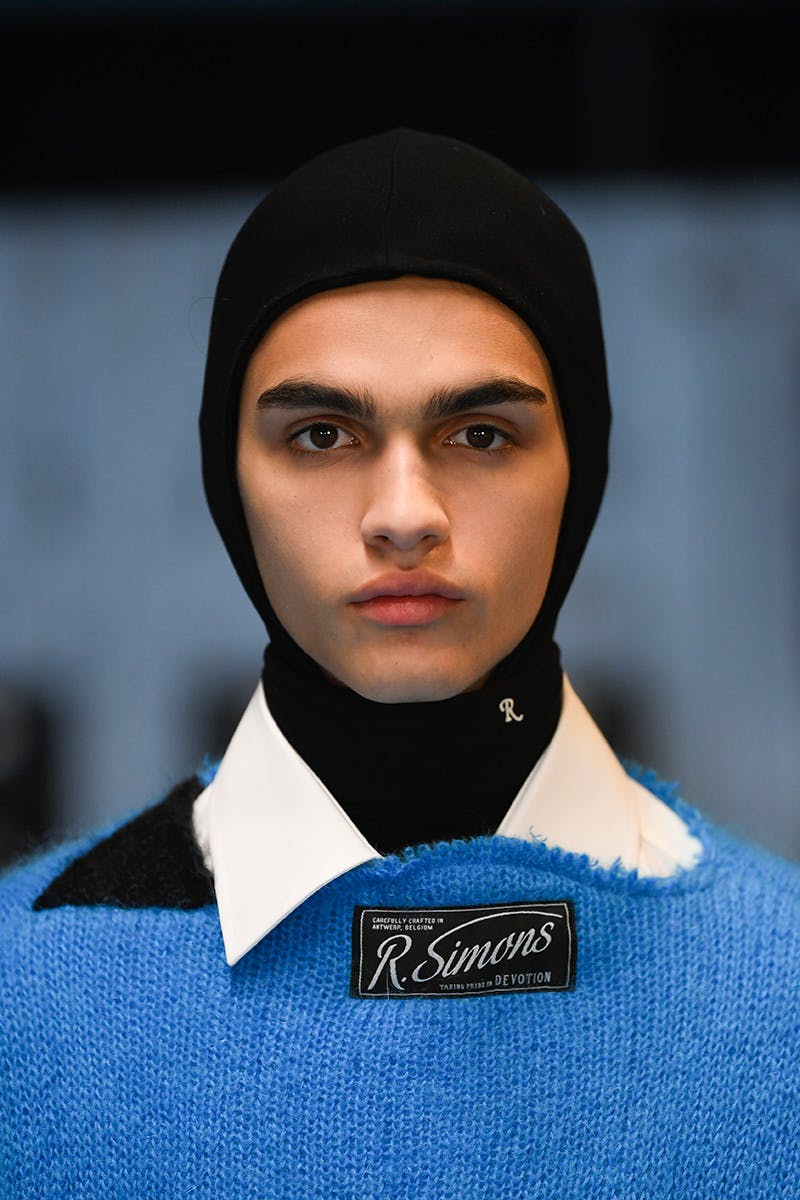 More bonnets? Miu Miu made a case for cozy knitted headwear in it's mountainside FW21 presentation, and Raf Simons offers slightly more severe, sausage-casing option in green, black, and pink.
Knitted Gauntlet
The Raf Simons blazer with the sleeve rolled up is an '80s inspired style tip. But when layered with a neon/gray knitted gauntlet underneath, printed with "DEVOTION" on the silk patch, it takes the look into the 2021 and beyond.
Quilted Future
The key fabric of the new collection is the quilted jackets, landing well below the hip with an exaggerated sleeve and unstructured shoulder. The insulating materials wrap around the body like a blanket or shawl with a new "R.SIMONS" tag poking egregiously out from the back.
Raf Simons' SS21 collection will soon be available on Highsnobiety Shop