Titelmedia / Jeremy Jude Lee
This story appears in Issue 16 of Highsnobiety Magazine. A highly influential figure of Canada's fashion scene, Raif Adelberg is the foremost member of #teamearly, the type of prescient person who was so ahead of the game that, more often than not, it acted in his detriment.
Streetwear, as it's often lazily called today, wouldn't exist without figures like Raif Adelberg, and no amount of flowery language will make that statement more convincing. Over the years, subcultures (including graffiti, hip-hop, skateboarding, and b-boying) have been cross-bred in various ways, and the best resulting descriptor we have to encapsulate that mixture is "streetwear." We use that word while fully recognizing that is not an apt characterization of what has turned into a complex, cultural layer cake.
They say being early can be just as bad as being late, and Adelberg has made a habit of being really, really early, almost detrimentally ahead of the curve. After hosting a KAWS exhibition in 2002, he didn't think twice about simply painting over eight original pieces done by the American artist. His store Richard Kidd had the exclusive on Balenciaga handbags for all of Canada, and was one of the rare stockists of Supreme, Rick Owens, and UNDERCOVER in the early 2000s.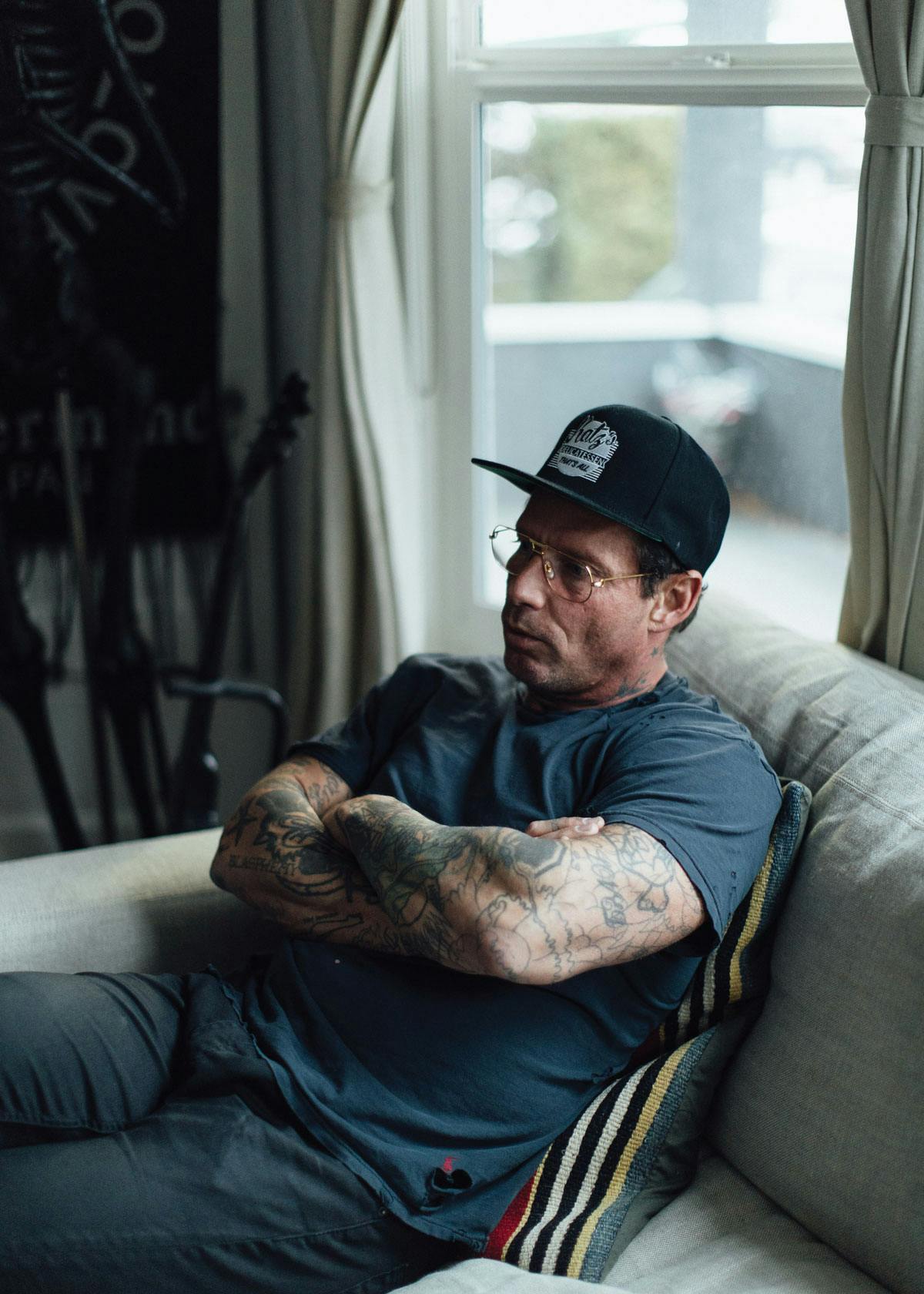 "I was a person that was always told I was too far ahead, I was always five years ahead of the curve, and I was like: 'Well if I'm five years ahead of the curve, then why am I thinking of it,'" says Adelberg. "I just felt that, I want people to like this, but as soon as it got popular, and people liked it, I found myself running away from it again."
Some of Adelberg's most notable projects include curating hand-spun Cowichan knitwear for Stüssy, helping co-found military-inspired Canadian label wings+horns, as well as heading up Vancouver-based clothing label Deadboys Clubhouse and the aforementioned Conde Nast-acclaimed boutique Richard Kidd. He's even been likened to originators like Shawn Stüssy, Rick Klotz of Freshjive, and Russ Karablin of SSUR.
Around 2001, Adelberg started experimenting with Nike Air Force 1s, cutting off the standard Swoosh and adding a leather Louis Vuitton Swoosh to the low-top basketball silhouette. These custom Air Force 1 creations started flying off the shelves of UNION LA before he could even figure out a failsafe way to consistently send the shoes across the American border without arousing suspicion from customs agents. More than once, Adelberg has been a victim of his own uncanny foresight.
Sitting in his Vancouver home, Adelberg explains how he made them: "I basically took an old [Louis Vuitton] bag, like a real bag, and cut it up. Took the Swooshes off, and took them to a cobbler in the city. "
He sold the shoes in Vancouver's Twenty4 store, at a retail price of $300. Eddie Cruz, the future founder of Undefeated and longtime employee of influential boutique UNION, convinced Adelberg to send some pairs to UNION's now-shuttered New York location, which was actually where the shop was founded. Owned by Mary Ann Fusco and future Supreme founder James Jebbia, the shop's legacy and off-kilter coolness lives on in its current iteration in Los Angeles, helmed by former shop guy Chris Gibbs.
"I basically took an old [Louis Vuitton] bag, like a real bag, 
and cut it up. Took the Swooshes off, and took them to a cobbler 
in the city."
Adelberg ended up sending a few pairs to Fusco, and the shoes caught on quickly, selling out fast. They became even more sought after, prompting Cruz to ask him for more pairs. Adelberg made a dozen more, which got stuck in customs. The situation led to UNION taking matters into their own hands making a few pairs themselves.
"I remember Greg Johnson [of Snafu and Supreme] calling me one time, he was on Staten Island visiting his family," recalls Adelberg. "He was at a mall and he was like: 'Dude, a kid just walked by me wearing a pair.' I was like: 'The shoes?' He's like: 'This thing is huge, it's big.'"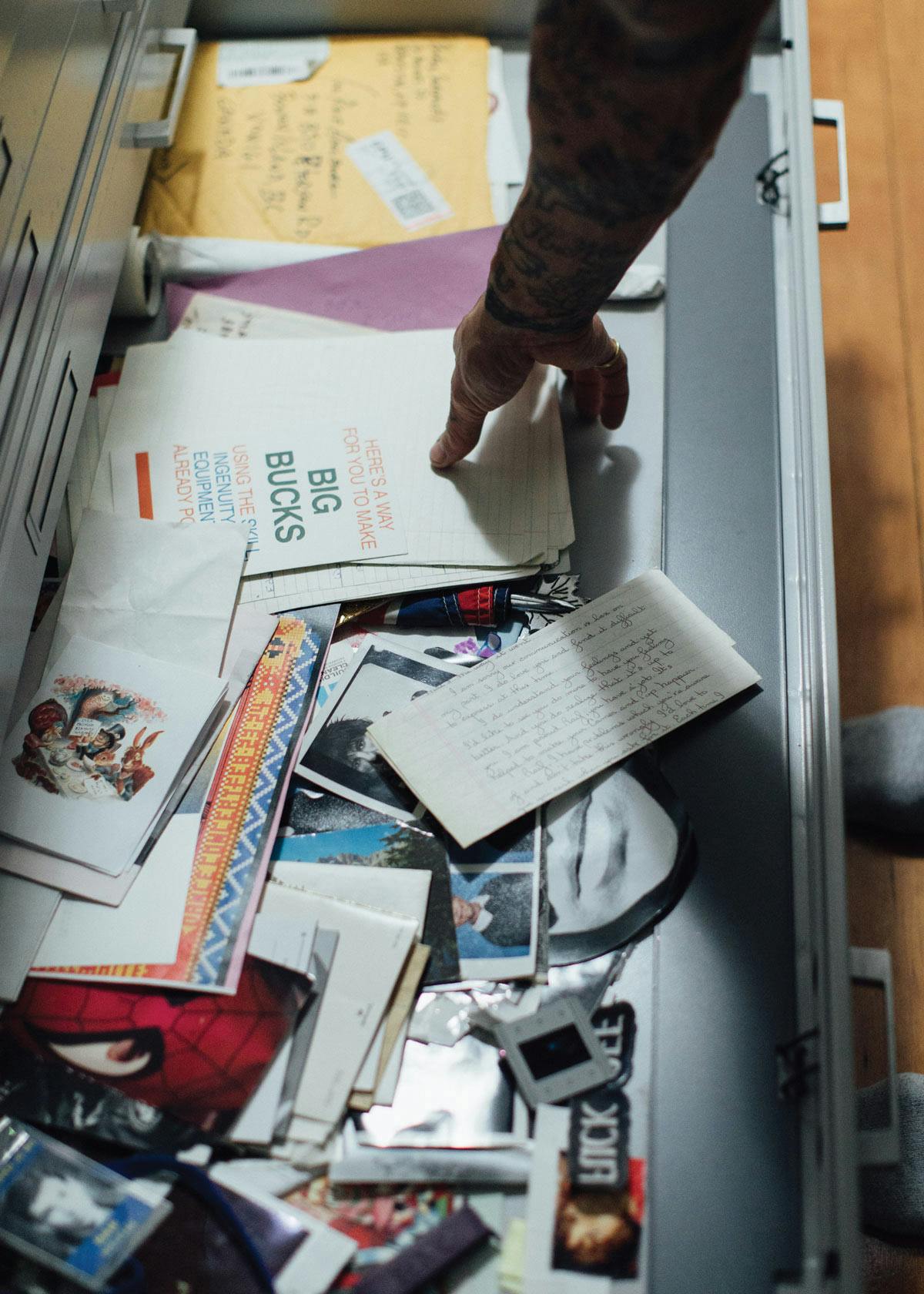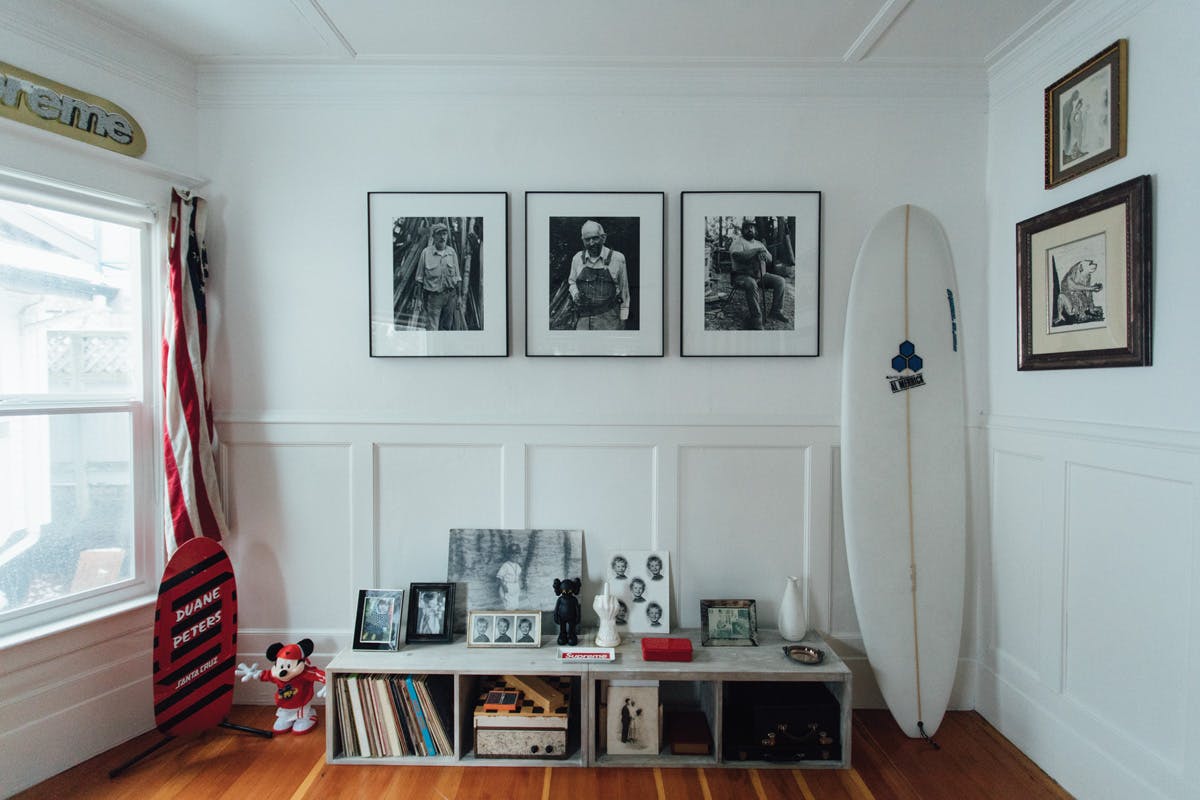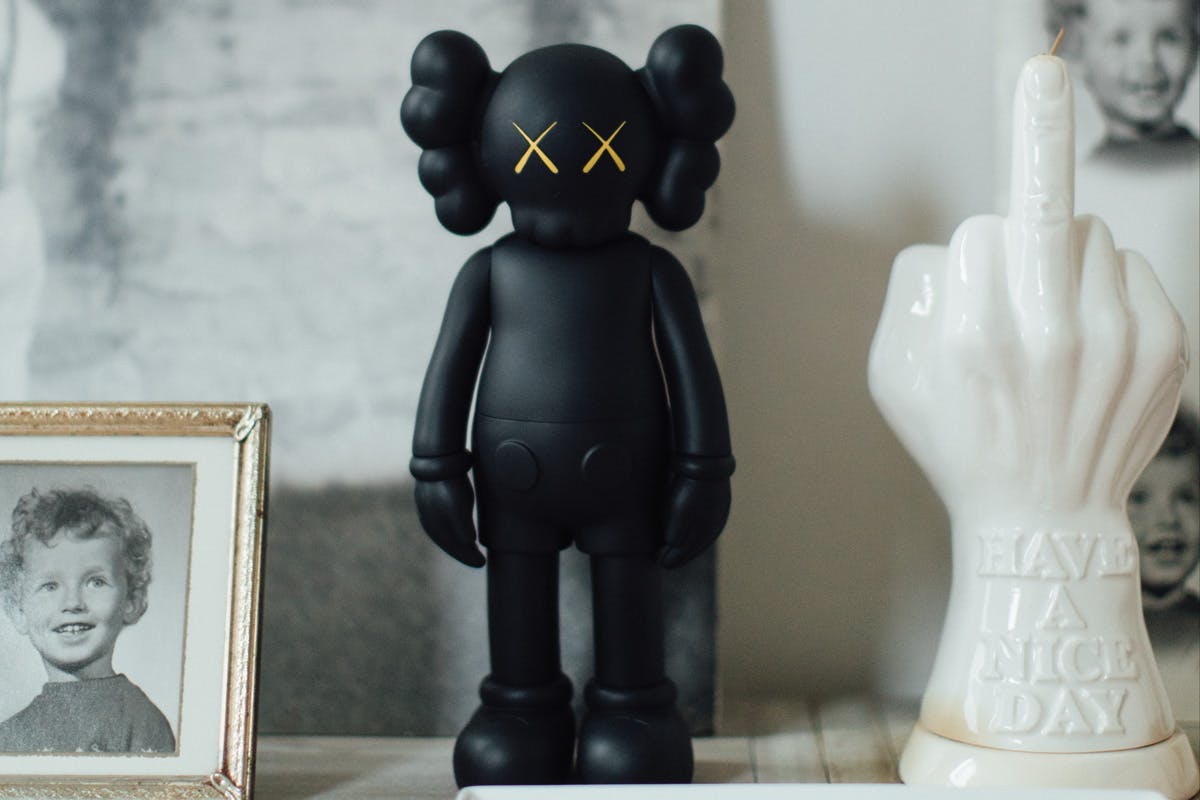 This story was first told by Stüssy in a video that you can still find on the web. The video also explains how Adelberg obtained the Air Force 1s at a discount from a sporting goods store in Vancouver, under the guise that he was coaching a youth basketball team. While he is clear about not laying claim to the trend, the custom sneaker fad quickly escalated beyond the point that Adelberg could even directly observe.
"I don't claim to be the first, Dapper Dan and all those guys were the first, they influenced me and I just kind of brought it back," he says.
In the 1980s and early '90s, Dapper Dan reworked luxury items into unique, one-of-one creations for the period's hip-hop elite like Rakim and LL Cool J, but his storefront was shut down by the likes of Gucci, who litigated against Dapper Dan with the intention of permanently shuttering his business. Decades later, Gucci validated Dapper Dan's work by collaborating with him under Gucci's current Creative Director Alessandro Michele, and even reopened his Harlem atelier, where he continues to create one-of-a-kind pieces utilizing official Gucci fabrics.
Similarly, Nike introduced customization service NIKEiD around 2001, allowing consumers to customize a pair of Nikes with a pre-established set of colors and materials. They upped the ante in 2009 with the introduction of Nike Bespoke, a program run out of their store on 21 Mercer Street in New York that enables people to craft a fully custom Air Force 1 at the steep price of $800 a pair. More recently, Nike has embraced a DIY attitude at a mass level, offering a whole slew of customization workshops largely based around the Air Force 1. In 2018, they released a pack of shoes (including an Air Force 1) that includes a bundle of interchangeable Swooshes in different colors.
Released at the same time, the Nike "90/10" pack reimagines silhouettes like the Vandal, Air More Money, Huarache, and Air Force 1 with uppers made from industrial Tyvek. The idea behind it is the shoes are 90% finished by Nike, with the remaining 10% left up to the final wearer. As Victor Hugo famously said: "You can resist an invading army; you cannot resist an idea whose time has come."
Now, a customized Air Force 1 featuring a Louis Vuitton Swoosh wouldn't make most sneakerheads look twice, especially in this post-Louis Vuitton × Supreme world. In fact, today most sneaker brands are offering customization services of their own, just like NIKEiD, miadidas, or similar services offered by Vans, New Balance, and others. But Adelberg's custom creations went beyond just personalization, or the desire to make something that stood out from the crowd. Surely, Adelberg's message was about context and subverting expectations. But his body of work extends beyond footwear or even things you can wear. His Vancouver home is a memory bank of trinkets, Supreme accessories, books, catalogs, and references that he seems to have obsessively collected over the decades.
"I can always pull references," he mentions, looking towards a jam-packed bookcase in the front room of his house.
But as much as mainstream tastes have adopted streetwear—a once-niche culture—Adelberg doesn't seem to think the industry has changed all that much. Younger generations today identify with clothing brands, and see them as status symbols in the same way that people used to make strong connections over music, which was at one point a hunting game to find vinyl—and then cassettes. It's a good parallel with the early days of streetwear, which before the internet, demanded going so far as getting on a plane to find certain pieces or visit certain stores. While shared interests in groups like Led Zeppelin or Nirvana used to create bonds between music fans, important connections today are now made in the cult groups that follow brands like Supreme. Streetwear used to be about discovering the cool shit that no one else was on to yet, but is it valid to lament how the culture has blown up?
"When we started out doing it, there wasn't as big of an audience. It's gotten broader, the audience has become bigger, and there's more product being generated because of that. But I think that there's a lack of knowledge."
"I don't think it's changed, I think the audience has gotten bigger," says Adelberg. "When we started out doing it, there wasn't as big of an audience. It's gotten broader, the audience has become bigger, and there's more product being generated because of that. But I think that there's a lack of knowledge."
Adelberg's sentiments ring true in the contemporary climate. There is certainly a saturation of product in the market, but perhaps less of an understanding of the stones that were laid to open a space for that product to exist, or for that product to make sense. Handfuls of new brands are started every day, but few make an impact.
"I feel now that, looking at everything that's in the marketplace, there's a million jackets, there's a million shirts, there's a million pairs of pants," he comments.
Titelmedia / Jeremy Jude Lee
Adelberg, and creatives of his ilk, created the all-important context for today's streetwear scene to thrive. A sneakerhead today might rotate between athletic shoes, skateboarding shoes, work boots like Timberlands, and basketball shoes, without any sense of irony. Subcultures have merged into one, a "streetwear singularity" if you will.
"There was so much into it, when you got into something it was the graphics, it was the lifestyle, it was just the style of clothing, the music—it was this whole thing that you put together and it was this romance," he laments. "I feel like the romance is gone now. When I first heard that there were skate shoes, I was like, what, there are skate shoes? We just wore shoes. We had Converse or Nikes or Vans, that's what we skated in. We didn't go out and buy a specific skate shoe. A style of clothing was geared toward rock or hip-hop. There were different styles that went with different genres."
Adelberg certainly has a lot to share, having watched (and most definitely aided) the streetwear and sneaker industry explode from the inside out. But why have Stüssy and Supreme lasted, while countless other brands and startups have fallen by the wayside?
"They listen to the youth. They stay current with pop culture. They have a point of view, a lifestyle, and I think that they stay true to it. It's like a good director or a good musician. They have more to say than the one song or the one recipe or the one outfit. They've got stories to tell, but they stay true to their story, and they keep doing it," comments Adelberg. "Like a Rick Owens T-shirt, how many brands knock that T-shirt off, or tried to knock the T-shirt off? He'll continue making that T-shirt because that's true to who he is. That's what makes it authentic, and that's why people will continue to buy it, because it's real. It's not a trend, it's a real part of what he does. Stüssy, they do what they do. They don't chase. They create what they've done and that has longevity, because it is authentic."
These days, Adelberg is fully dedicated to his latest project, HERMAN MARKET, designed and made in Vancouver. It's a portmanteau that started as a reference to the brand's androgynous designs, Her + Man. Early on, the brand has received cosigns from the likes of Kendall Jenner and Future and is sold at top global retailers including Ron Herman, Barneys, and Raif's long-term stockist UNION (in both LA and Tokyo). One aspect of Adelberg's design prerogative that doesn't seem to have changed is his love of DIY. With the same attitude as when he was cutting up Louis Vuitton bags, Adelberg is still creating in his own way, pausing the conversation as he screen prints sweaters in his studio, working through crunch time for an upcoming New York Fashion Week pop-up. He is clearly comfortable taking projects into his own hands, cutting, sewing, printing, and truly dedicating himself to making cool stuff across mediums. The quality of the product remains as important as ever, but Adelberg has learned that an equally compelling story is what makes it relevant for a modern audience.
"I stay focused on the story that I'm telling. There are a lot of times where you look at what's popular in the youth market, and you feel like: 'Oh my god, I got to get on that,' but you have to apply it in your own way," he says. "Just as a dictionary holds all the words, it matters how you apply those and create a story in your own way. It's the same way with clothing. I find that if it's authentic to who you are, people will see the clothing and see you, and understand the point of view, and understand your story."