When Damien Hirst asked fellow artist Richard Prince if he cared what people thought, Prince's response was nothing short of quote-worthy: "Honestly? No. The ten reactions of people when I put out a new body of work? The first person has an orgasm. The second and third are over the top, the fourth person congratulates, the fifth person doesn't say anything, the sixth and seventh avoid me on the street, the eighth person doesn't return my phone calls, the ninth person talks trash behind my back and the tenth person says the work is vomit."
Just as he predicted, Prince's latest work has elicited exactly that. Teaming up with High Times magazine on a marijuana-filled issue and exhibition, the king of controversy has contributed rolling papers and (unusually) original artwork "which recall[s] paintings by the mentally ill."
If you're unfamiliar with Prince's name, you may remember his headline-making "New Portraits" series from last year. But stealing Instagram posts belonging to several young women and selling them for vast sums of money was far from the beginning of his scandalous history.
The man has built his entire career on appropriating others' work, earning the New York resident a plethora of negative reviews and copyright lawsuits left, right and center.
How can one man cause such venom in the art community? To better understand Prince and his ethos, you need to go back to his creative origins.
Born in the Panama Canal Zone in 1949, Richard Prince moved to New York almost thirty years later. One of his very first jobs was in the tear sheets department of Time-Life, where he would spend days tearing out article after article from the company's eight magazines. After developing a fascination with the leftover adverts, Prince started on his lifetime course of appropriation. Beginning with furniture, watches and jewelry, he re-photographed the original ads to create his own works of art.
In 1980, the Marlboro cowboy became the object of Prince's desire. Sticking to the stereotypical cowboy image complete with horse, lasso and a tumbleweed backdrop, Prince simply re-photographed the cigarette ads, removing the Marlboro logo.
"I had limited technical skills. Actually I had no skills. I played the camera. I used a cheap commercial lab to blow up the pictures. I never went into a darkroom," Prince told Artforum in 2003. Prince's lack of skill didn't stop him from picking apart the Marlboro Man (AKA the pinnacle of American masculinity at the time), prompting everyone around him to ponder the eternal question: what is art?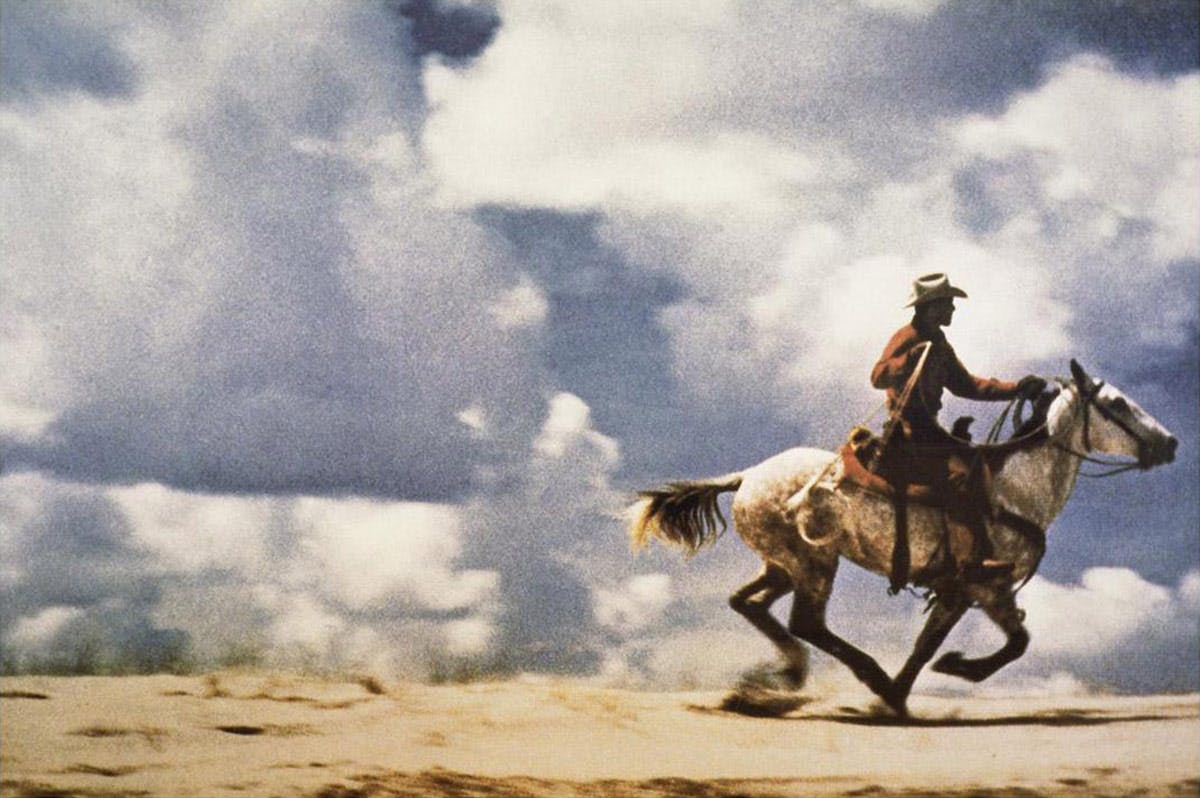 The morality surrounding stealing artwork didn't seem to enter Prince's mind at this point. One photographer he took from, however, was all too ready to have his say (though it took him almost three decades to do so).
Sam Abell, the original Marlboro ad creator, told PDN Prince had broken the golden rule, commenting: "I'm not particularly amused … it's obviously plagiarism, and I was taught by my parents the sin of that." It must have hit a sore spot when one of Prince's appropriated images, "Untitled (Cowboy)," sold for over a million dollars in 2005.
Back to the '80s, and Richard Prince was yet to find fame and fortune. Unlike other artists of his generation (including Cindy Sherman, who he used to date), Prince's mass media cowboys and subsequent documentation of American subcultures did not provide immediate success. Yet this slow start didn't deter him from from the controversial path.
In fact, you could say Prince sought out the shock factor. And what disturbs more than the concept of sexualized children? Gary Gross's 1975 snapshot of a 10-year-old Brooke Shields standing naked in the bath, red-lipped and glistening, had already garnered its fair share of criticism. In 1983, Prince upped the ante by re-photographing the image and renaming it "Spiritual America"; a title taken from Alfred Steiglitz's close-up shot of a male horse's genitalia.
"Spiritual America" earned Prince a portion of the attention he had been craving, and still does to this day. In 2009, the Tate Modern was told by the police to take the image down in fear it might "inadvertently break the law or cause offense to visitors," and Prince's own Instagram account was temporarily suspended after his post of the same image was reported for obscenity.
After the fleeting popularity of what some would describe as child exploitation, Prince was broke: "I'd hit rock bottom. I'd been working ten years and I still wasn't known. So I wrote a joke in pencil on a piece of paper, and I'd invite people over and ask them, 'Will you give me $10 for this?'"
Using humor to target the fantasies and frustrations of America's middle class, Prince's "joke" paintings became a roaring success. "[I] never had a penny to my name so i changed my name," joined riskier one-liners that tore into religion, women and marriage; "I took my wife to a wife-swapping party, I had to throw in some cash" being one that may have ruffled the most feathers.
Progressing from small handwritten pieces to two-panel canvases incorporating obscure images and satirical cartoons taken from The New Yorker, Prince teamed up with infamous art dealer Barbara Gladstone to sell, sell, sell. Demand rose until even Prince's earlier – and once ridiculed works – began to shift.
The jokes were "what I wanted to become known for," remarked Prince in a 2000 interview with W Magazine. It was Prince's ability to move from one medium to another that enabled the art world to finally see his worth. Larry Gagosian, owner of the Gagosian Gallery which houses a lot of Richard Prince works, agrees, telling Vulture: "He is not an overnight success. His market struggled; his career struggled. He got used to trying different things. 'If they don't like this, what about this?'"
Prince had tasted wealth and wasn't prepared to go back. "I've been rich and I've been poor. I'd rather be rich," he once said in a conversation with Damien Hirst. So he began collecting some seriously expensive stuff that would coincidentally spark more profitable projects: first edition novels, rare magazine issues and the cancelled checks of famous figures such as Andy Warhol and Jack Kerouac.
Although he loved capturing the zeitgeist of modern society, Prince's main passion lay with literature. Much of his vast collection of pulp romance novels featured somewhat erotic nurses on the covers. In 1998, he began scanning the covers, blowing them up on canvas and "editing" each one with acrylic paint.
His first thought was to write all of the bad things that could happen to a person. So that's what he did, carving acne, gunshot, rape, cancer and incontinence next to the figure of the nurse. The resulting artwork depressed him so much it wouldn't see the light of day for three whole years.
2001 saw Richard Prince replace the macabre text with pure white paint, transforming each nurse into a ghostly figure. Changing his mind once again, Prince found his eureka moment. "I made a mistake painting all this white. After I had wiped some off, it looked like a mask on the nurse's face and suddenly it was one of those moments," he told RUSSH Magazine.
The "Nurse" paintings debuted in 2003 with accompanying titles of "Naughty Nurse," "Millionaire Nurse" and "Dude Ranch Nurse." Unfortunately, not all met the asking price of $50,000. That didn't matter according to one art insider, who was overheard saying, "'Spiritual America' made [Prince] great, but the 'Nurses' made him rich."
Richard Prince himself wasn't down-hearted either, stating, "The problem with art is, it's not like the game of golf. There's no umpire. There's no judge. There are no rules. It's one of the problems, but it's also one of the great things about art: it becomes a question of what lasts." And the lasting power of his "Nurse" paintings certainly resonated with Marc Jacobs, who asked Prince to collaborate with him on Louis Vuitton's Spring/Summer 2008 collection, which saw eerily similar nurses take to the runway.
With no major legal backlash thus far, Prince was about to showcase work that would land him in the middle of a big legal battle. Prince became enamored with photographer Patrick Cariou's Yes Rasta book, a documentation of Rastafarians living in Jamaica. For a Gagosian Gallery exhibition entitled "Canal Zone", he appropriated 35 of Cariou's photographs - barely changing most of them – and created 28 paintings that included several more of Cariou's images.
In December 2008, Cariou filed a lawsuit for copyright infringement against Prince, the Gagosian, Larry Gagosian and Rizzoli. Prince's defense relied on the fair use argument but in March 2011, the judge ruled against Prince and co. However, after a lengthy appeal, a court reversed the ruling, stating that Prince's use of the photographs was "transformative" and therefore could be described as fair use.
"Copyright has never interested me. For most of my life I owned half a stereo, so there was no point in suing me, but that's changed now and it's interesting… I knew what I was stealing 30 years ago, but it didn't matter, because no one was paying any attention," Prince said in 2011, finishing with: "Sometimes, it's better not to be successful and well-known. You can get away with much more." The eventual settlement regarding "Canal Zone" was made out of court at the end of 2014, the year that arguably put Prince on the copyright infringement map forever.
After admitting to not being too skilled with a camera, Prince took to using his iPhone for his art. And when his daughter and niece showed him the wonders of Tumblr and Instagram, Prince couldn't get enough. Instead of re-photographing, he began screenshotting random posts, adding his own comments underneath.
Wanting to make his comment the center of attention, Prince reported other people's declarations of love and fire emojis as spam, thereby removing them from his screen. He would then send the screenshot to his assistant who would ink-jet the edited Instagrams onto large canvases.
Doesn't sound too provocative, right? Well, when Prince's comments turned out to be rather risqué (or "short wacko stupid sentences," as he liked to call them) and the majority of the images turned out to be seductive selfies belonging to a number of young women, the internet went wild - especially when the 38 "New Portraits" were unveiled at the Gagosian.
Not only were Prince's unwilling subjects unhappy that their images had been stolen, they were angry that he had sold the prints for a whopping $90,000. Student Anna Collins told Business Insider: "I'm extremely broke, and here is a middle-aged white man making a huge profit off of my image. Kind of makes me sick."
Some, however, were happy for the exposure, with Karley Sciortino calling it "an honor" to have been included. Selena Mooney, otherwise known as SuicideGirls' co-founder Missy Suicide, went so far as to play Prince at his own game, selling her own version of his re-photograph for $90 with all proceeds going to a digital rights company; a move Prince called "smart".
Prince had quite a lot to say on the series and its surrounding controversy: "The truth is, I don't care who they are; I care who I think they are. I'm not a very social person. I don't go out at night. So maybe I wish I looked like them or I could be them. In the end, it's fun. And a lot of the art I've made isn't that much fun. What was really strange was that I had a hit, meaning people wanted them right away. Which was a very strange experience."
The legality of "New Portraits" has recently been challenged in court with the outcome looking to be in Prince's favor, prompting the question: have we lost ownership of ourselves? Instagram itself believes people do own their photos and that "content owners can enforce their legal rights" for any incidents outside the platform. One subject, Nitecore, was even given her print for free after asking Prince directly.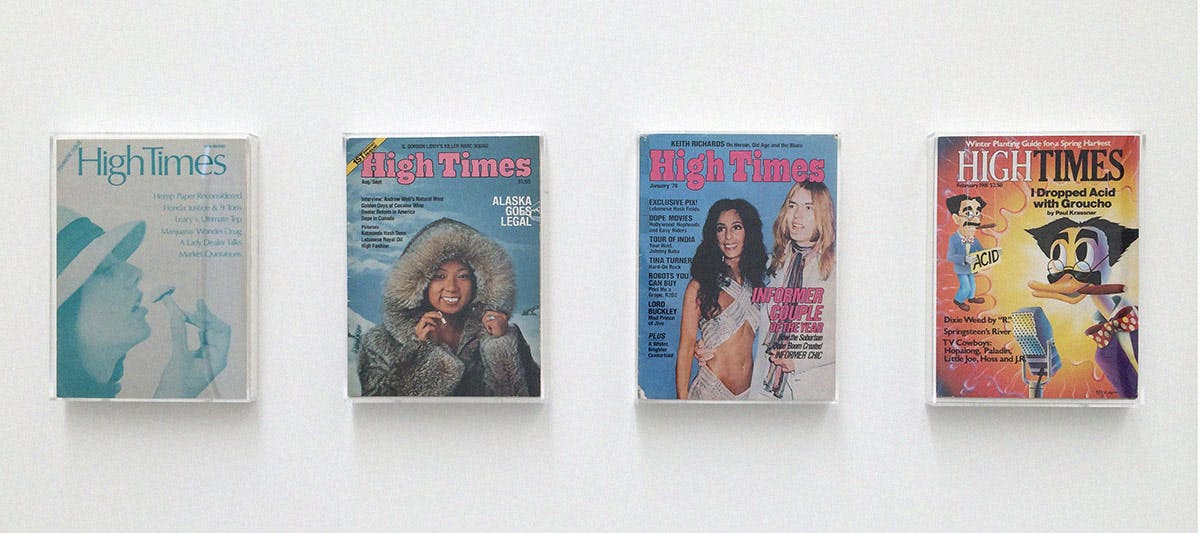 As of now, Prince is embroiled in another copyright case over a derivative work of Sex Pistols bass player Sid Vicious by music photographer Dennis Morris. Prince is undoubtedly unfazed, if past interviews are anything to go by. Speaking to Vulture earlier this year, he commented: "I'm not going to change, I'm not going to ask for permission, I'm not going to do it. I'm in fucking plenty of lawsuits. And always have been. I sometimes spend more time in my lawyer's office than in my studio."
Friend and director Harmony Korine thinks it's all part of his game plan: "The consequences of trouble almost don't matter. The trouble is what is exciting. The trickery is the really fun part. For Richard Prince, the lawsuits are also the artwork."
If anything's certain in Richard Prince's world, it's this: the controversy will continue. We'd just better get used to it.
In music news, check out the "Hold Up" video that Beyonce just released.