New York City is known as much for its illustrious sense of history as it it for its colorful denizens. It's the birthplace of hip-hop and the home of dreamers, designers and artists of all ilk.
As the saying goes: "If you can make it in New York, you can make it anywhere." Legendary portrait photographer and Brooklyn-born city slicker Ricky Powell is a testament to the serendipitous nature of an urban landscape in which a few chance encounters can lead to the career of a lifetime.
The North Face caught up with the honorary Beastie Boy - who was rocking their latest Cryos line designed to keep New York's harsh weather at bay - and retraced some of his fondest memories of being a photographer during Gotham's creative heydey...
The Haring Squad
In 1985, Keith Haring opened a shop on Lafayette Street called The Pop Shop. At the time, Powell had made a name for himself as a downtown fixture and photographer of the cultural scene. After a chance street encounter, the burgeoning legend convinced Haring to pose for a photo in front of his store - that moment (and Haring's bold pants choice) would lead to several more run-ins over the years.
"He was a very nice guy for a super star," Powell reflects. "He did a lot and I'm fortunate as a photographer and New York person that I got to meet and hang out with Keith Haring. Very cool dude, I consider him a positive force. I started shooting professionally in '85 so that was an early shot. I also shot him several times in '86 - those two years I shot lots of pictures of him at openings, at clubs. I actually have one picture of him bringing me a Budweiser at Irving Plaza."
The Notorious Debi Mazar
Right around the corner from the Gansevoort hotel, a friendship blossomed in the summer of 1990 between Powell and actress Debi Mazar. Now, when the average New Yorker ambles along the sidewalks around 14 Street, there's a polished air - restaurants, boutiques and showrooms are neatly aligned, enticing consumers to spend an hour or two in their shops. Back then, it was a gritty locale with dilapidated apartments and an abandoned parking lot that Powell and Mazar playfully turned into an impromptu set.
"Debi was a really cool chick. She used to take me to this place, Trixie's Restaurant, and she'd always say, 'I'm going to make it big in show biz one day!' And then three years laters, somewhere in the '90s, she got in the movie Goodfellas," Powell recounts. "We met up one day to just do some shots and she just showed up with all of her natural panache. I had her stand right around this bummy ass parking lot, you know, but the composition was good."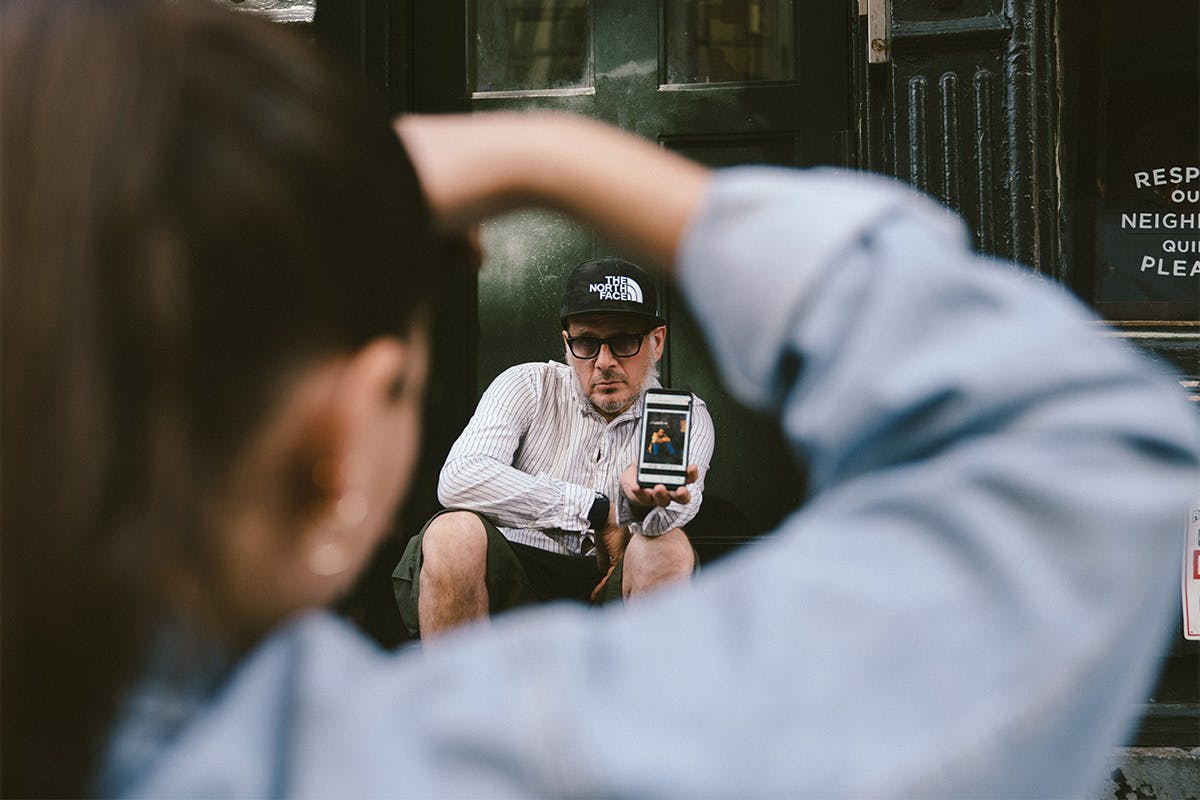 Froze-ade with Basquiat
Take a stroll along W Broadway just off of Houston and you'll retrace the footsteps of legendary artist Jean-Michel Basquiat, who, among other things, enjoyed a frozen lemonade on one of New York's notoriously steamy summer days. Long before he was a famous photographer, Powell was a fresh college graduate who made ends meet as a slick-talking street vendor who quickly became fast friends with SoHo's artist crowd.
"One summer in the '80s my first job out of college was a frozen lemonade vendor. I had two locations. During the week I was in Sheridan Square by 7th Avenue. On the weekends I was on West Broadway. My stand was well-known because I would have my big radio, a couple of chairs and a bottle of rum in case someone wanted a shot in their lemon slush."
The SoHo we know today is a hotbed of restaurants and well-heeled stores with price tags that would have made a young Powell balk. Back then, before it sparked the interest of real estate tycoons who bought million dollar penthouse developments, the photographer remembers the pulsating energy of nightlife, art and invention. "I used to tease Basquiat by saying, 'Yo, what up Jeen?'" Powell recalls.
"One day he comes up to my stand and says, 'All right, can I get one?' "He pulls out a one hundred dollar bill and I'm like, 'Dude, you ain't got nothin' smaller?' So as he's reaching into his pocket, that's when I pulled out the camera and took the shot. It's become a very famous picture and the significance of that shot is that I took a number of famous photos while I was working 'bullshit' jobs."
Wooing the Good Dr. Smith
On the 100 block of 7th Avenue sits a nondescript, family-owned bodega. Back when Powell was a young man, the shop's grand dame was a woman named Lorraine. Lorraine, now 94-years-old, still likes to have a hand in the operations although her daughter has long since taken over day-to-day affairs. Though the average city dweller likely won't know this when they stop in for a coffee, Lorraine's little slice of New York is steeped in the stuff of jazz lore.
It was in front of her store that Powell had an unexpected run-in with the legendary Dr. Lonnie Smith, whose soulful organ melodies have seen him share the stage with fellow legends ranging from Dionne Warwick and Gladys Knight to Etta James, Dizzy Gillespie, and countless more.
"Oh my god, it was such an exciting moment," Powell said, who's a rabid jazz fan. "I love even touching this place, the history is sick," he continued. "I had come to see the Lou Donaldson Quartet, very famous, Blue Note. In between the two sets I had a little bit of the house wine so I was a little drunk. Then I saw Dr. Lonnie Smith, (legendary Hammond B organ player), standing there by himself. Being a street photographer you must always have your camera. So I said, 'Doctor, can I please get a shot?"
Meeting the Beastie Boys
In May, summer of 1986, New York would deliver Ricky Powell a plot twist only a city like the Big Apple could. A mere stones throw from the elementary school he attended in the early '70s, he would meet up with the Beastie Boys for the very first time. The Charles Street address, though an innocuous space, hides a deceptively rich history. Little did Powell know, it would be the beginning of a photographer-subject relationship that endures to this day.
"I met up to do my first band photo shoot with them [the Beastie Boys]. It was for a magazine called The East Village Eye, which is now defunct, but it was a very prominent downtown magazine on culture. I had them all stand right here. MCA was up there; Ad Rock was there; and Mikey was here," Powell said, pointing to spaces trafficked daily by city dwellers who are none the wiser of the memories they tread on. Perhaps next time they'll take a pause and imagine the moment a young, hopeful trio first posed their way to stardom.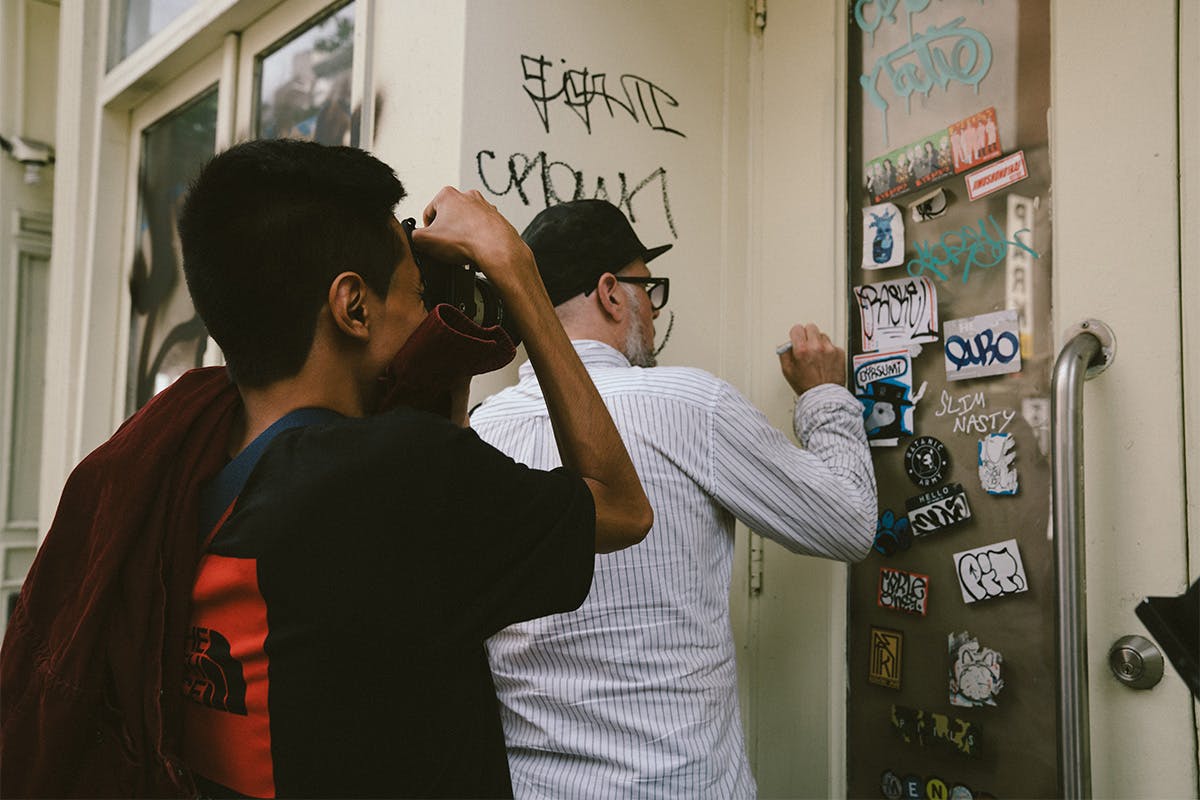 Tagging Dondi White
Stoop culture is as inherent to New York's DNA as delayed trains and dollar slices. Even back in the '80s when Powell was a free-wheeling nightclub fixture, it was on the stoops of various buildings that he captured some of his most candid portraits and formed friendships that would last a lifetime. One such moment happened at 340 W Broadway where Powell photographed the late graffiti legend Dondi White, whose pioneering wildstyle pieces would become a ubiquitous influence to modern artists.
"One day I was doing an article on graffiti artists who became legendary outlaws - they'd come into nightclubs and we'd be like, 'Oh shit, that's so and so!' So I went over here and shot him. I kind of call him the Leonardo Da Vinci of graffiti because he was on a higher, crazy intellectual level. He was a beautiful soul and I was very, very privileged and honored for him to let me walk around with him. We actually became friends and I had the utmost respect for him."
The Magnificent Jam Master Jay
One of Powell's fondest career moments took place near Elizabeth Street in front of the building that was once Def Jam Records/Rush Productions (after Russell Simmons), the management company of Run DMC. "This photo of the MC with Jam Master Jay is one of my favorite photos I've ever shot in my 32 years," said Powell of the iconic pictures which appears in one of his photo books.
At the time, the building featured a distinctive glass wall where Powell would often camp in hopes of catching an artist on their way to a meeting. "I used to sit out here because you never knew who would show up. I was hanging here when they pulled up. They probably had a meeting at Rush but I had a good rapport with them since I was their photographer when they went on tour to Europe in May of '87. I actually shot the picture down the block because it was such a good place."
The Making of "Children's Story"
The true beauty of New York is that even the most seemingly unremarkable places are awash with vibrant histories. Marked by a brown brick facade, 97 Sullivan Street doesn't immediately appear as a storied landmark of hip-hop culture. However, students of the "Golden Era" of rap (1986-1989) will soon recognize the structure's ruddy, unassuming exterior as the backdrop of Powell's iconic photo of Slick Rick and Run DMC. Not only that, the former also shot the music video for "Children's Story" along Sullivan Street's well-traversed sidewalks.
"I was shooting for Def Jam and working with the Beastie Boys and Run DMC through Def Jam," Powell recalls. "Slick Rick was one of the coolest dudes - he still is - so Run came by the set just to say hello. I saw them and I was like, 'Oh my God, I gotta get this shot.' I had a good knack for photographing certain people together."
The Princes of Pop Culture
25 W Houston proved to be a lucky place for Powell. On one particular day in 1985, the one-time artist's haunt yielded two of the most memorable photographs of his career - the first being a photo of Andy Warhol and Jean-Michael Basquiat making their way to their joint show opening at Tony Shafrazi Gallery, which is now home to the Marc Jacobs store.
"It was a big deal that Warhol and Basquiat collaborated," Powell explained. "It was two different generations of art. Warhol was the king of pop art and Basquiat had just blown the fuck up. There were hundreds of people in the street anticipating their arrival. It was a frenzy and I was there taking pictures. When I saw them coming I went over like, 'What's up Jeen?' [just as he did when he sold frozen lemonade] and he was like, 'it's Jean,' and I said, 'Yo, can I get a quick flick?" He said to Warhol, 'Yeah, he's cool.' So they paused for me and I just said, 'Alright, thanks dude,'and that was it. That one moment."
Scoping the Graffiti Outlaws
Moments before the arrival of Basquiat and Warhol, Powell had been sharing a stoop with two graffiti legends, Zephyr and Revolt. The duo's involvement in the Bandshell scene of the '70s yielded a complementary body of work that is still emulated today. "I was a big fan of theirs so I was excited I was hanging out with these two looking at the scene. I was taking pictures of them that day too," Powell said.
Today, some of New York City's older trains still bear the influence of the pair. During the mid to late '70s they were largely tagging subways and tunnels. On trains, Zephyr would often tag the ceilings of trains while Revolt would tag the top of the doors. However, by the mid-'80s police crackdowns and New York's concerted effort to eradicate graffiti made tunnels too risky. By the time Powell encountered them they had graduated to train yards and other more static and hard to reach targets.